Recipe: chow mein
How can so much time have passed so quickly? Jeremy and I puzzled over this on our 25th wedding anniversary earlier this month. We celebrated with a low-key home-cooked meal. My parents congratulated us. The pups were business as usual.
The past several weeks have been busy and roller coaster-y (and that's without considering the insanity of the world). I switched to a new primary care physician who helped me untangle some nuisance ailments. I've changed my diet and exercise patterns to fast track myself to a healthier me in the last month. It's a lot of work, but I'm here for it.

chinese new year's eve dinner: potstickers, mochi rice, stem and leaf mandarin oranges, cellophane noodles soup, lucky ten vegetables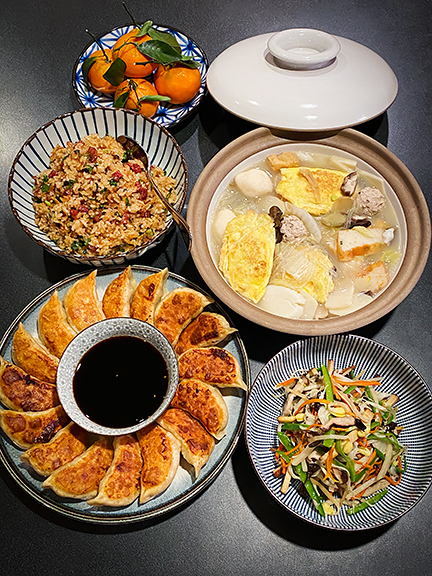 chinese new year breakfast: sweet red bean rice balls, sesame balls, oranges, steamed barbecue pork buns, moon cakes, peanuts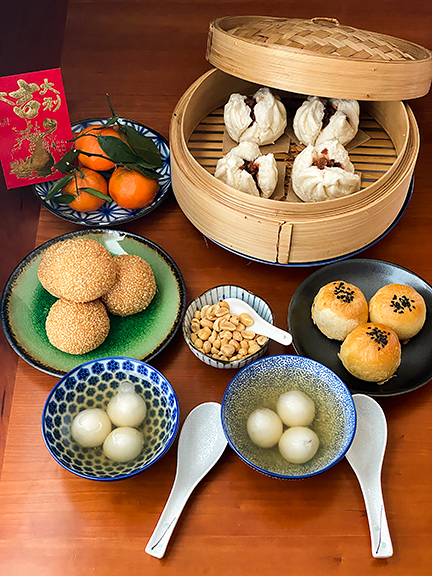 neva and yuki couldn't be happier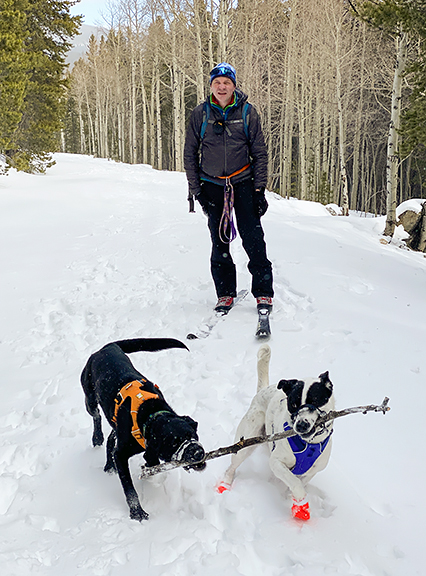 a tired dog is a good dog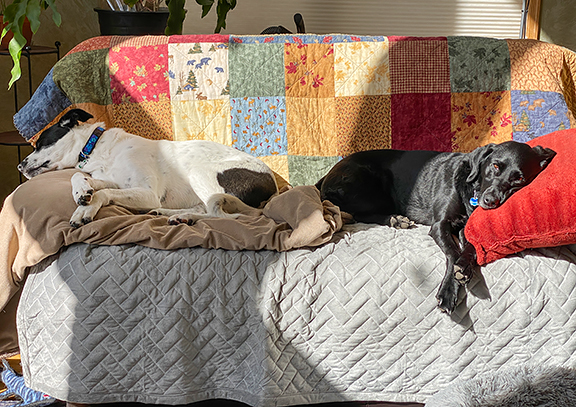 the powder, it is fun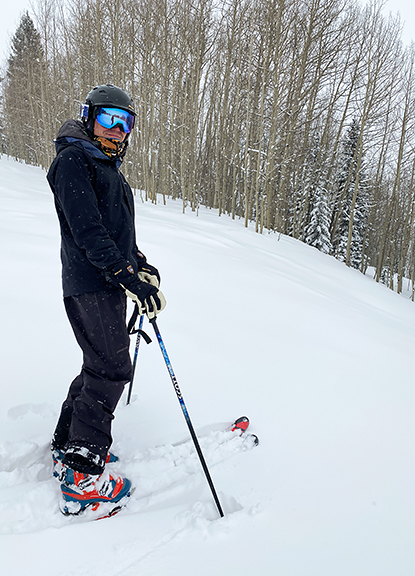 yuki test drives her warm coat on a frigid day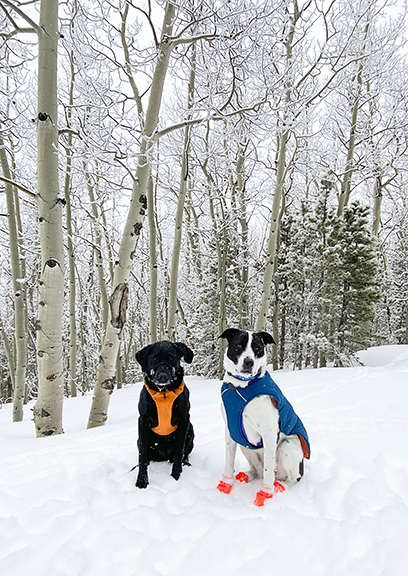 At the end of last year, I finally tackled my decades-long mystery of how to make chow mein. I know there are many interpretations of chow mein out there because I have ordered them at various restaurants throughout my adult years. The soft, barely seasoned noodles or crunchy pre-fried crisps from a bag tossed with gloppy sauce were not what I had in mind. I wanted that plate piled high with savory thin noodles lightly adorned with slivers of green onion and stray bean sprouts, trundling past on a dim sum cart.
dark soy sauce, light soy sauce, chow mein (hong kong style noodles)
Turns out, chow mein is rather simple to make once you procure the right noodles. And look,
chow mein
literally translates to fried noodles, so it could be and sometimes is, ANY noodle that is stir fried, deep fried, or pan fried. If you are like me, you've scrutinized the dozens of packaged fresh noodles in the refrigerated section of the Asian market, scanning for recognizable English words on the labels while remaining skeptical of the original translator's qualifications, and wound up making your best guess. A little time spent on the internets guided me to the right noodles. In this case, Hong Kong-style or chow mein is what you seek, but take care because I've seen chow mein labels on all manner of noodles. We want thin egg noodles (thin like angel hair pasta). You can also purchase them dried, but I have yet to try those.
And while you are at the Asian market to get your Hong Kong-style noodles, you might as well pick up a bottle of dark soy sauce and a bottle of light soy sauce. Dark soy sauce is thicker with more soy flavor and deep caramel color. Light soy sauce is thinner and closer to regular soy sauce. Does combining light and dark soy sauce equal regular soy sauce? No. If you had to sub regular soy sauce for light soy sauce, okay – but the dark soy sauce is what gives the noodles that special umaminess.

sesame oil, light soy sauce, dark soy sauce, vegetable oil, mung bean sprouts, chow mein, green onions, chinese broccoli (gai lan), shiitake mushrooms
always prep your ingredients before you start cooking
mix the soy sauces and sesame oil together
One of the reasons I am keen on making chow mein at home is that the restaurant versions NEVER have enough vegetables. My favorite green to add is Chinese broccoli or
gai lan
for the slight sweetness and crunch of the stems, but feel free to use bok choy, Napa cabbage, broccolini, cabbage, kale, etc. It's really up to you what to include, but green onions are the bare minimum and mung bean sprouts if you can get them (I cannot always procure these). And if you want some protein like fried or baked tofu, beef, chicken, shrimp, pork – these all work great with these noodles. Make it what you want.
The first time I made these noodles and photographed the process, I didn't cook my noodles because the package claimed they were ready to fry. The resulting chow mein was fine, but… I have since learned – and prefer – to cook the noodles in boiling water for about a minute or two until al dente, then drain and rinse in cold water. So be sure to have your noodles cooked and drained, and your vegetables ready to stir fry.

stir-fry the chinese broccoli (gai lan)
sauté the mushrooms, mung bean sprouts, and green onions
Even when using my 13-inch nonstick sauté pan, it is impractical to cook the entire package of noodles (in this case, 400 grams or nearly a pound) in one fell swoop. Cook half at a time, adding half of the cooked vegetables to each batch. The sauce will have a better distribution and you will avoid overcrowding and uneven cooking. Avoid doubling the sauce and pouring half of it into each batch of noodles because the sesame oil separates from the soy sauces and you won't get the right proportions. Simply mix up a single batch of sauce for each round of noodles for maximum happiness.
pan-fry the noodles
add the sauce and cooked vegetables
toss to coat the noodles evenly
a recent version with properly cooked noodles
Well, one more of (my) life's mysteries solved! The recipe was truly quite simple and quick to make once I figured out the right noodles and how to prep them. The packaged noodles freeze well, too, if you want to keep a few handy without making that extra trip to the Asian grocery.
great for lunch, dinner, and especially leftovers
Chow Mein
[print recipe]
adapted from Soy Sauce Chow Mein in To Asia, With Love by Hetty McKinnon
sauce
1 tbsp light soy sauce*
1 tbsp dark soy sauce*
2 tsps sesame oil
noodles
7 oz. (200g) Hong Kong-style chow mein noodles (not the fried crunchy noodles you sprinkle on stuff)
3-4 tbsps vegetable oil
3-4 cups gai lan (Chinese broccoli), or bok choy, or Napa cabbage, cut into bite-size pieces
salt
2 green onions, sliced thin
7 oz. mung bean sprouts
2 cups shiitake mushrooms, stemmed and sliced
*You cannot substitute 2 tablespoons of regular soy sauce for 1 tablepoon of light soy sauce and 1 tablespoon of dark soy sauce. Soy sauce doesn't work that way. You should be able to find light and dark soy sauces at an Asian market. Sometimes they are in bottles, sometimes they are in jars.
Stir the sauce ingredients together in a small bowl or cup. Set aside.
Bring a large pot of water to a boil. Add the noodles to the pot and cook until al dente. If you use dried noodles, this will take several minutes. If you are using par-cooked or pre-steamed noodles, this can take anywhere from 10 seconds to a minute or more. Drain the noodles, rinse with cold water. Set aside.
Heat 1 tablespoon of vegetable oil in a large sauté pan over medium-high heat (use less oil if using a non-stick pan). Add the gai lan (or whatever green you are using) and stir fry. Sprinkle a little salt and continue to stir fry until cooked. Remove the greens from the pan and set aside. Heat 1 tablespoon of vegetable oil in the same pan over medium high heat and sauté the green onions, mung bean sprouts, and shiitake mushrooms until cooked. Remove from pan and add to the greens. Wipe down any liquid from the pan.
Heat another tablespoon of vegetable oil in the same pan over medium-high flame. Add the noodles to the pan and stir to coat in oil, allowing the noodles to fry undisturbed for several seconds at a time. Pour the sauce over the noodles and stir to distribute evenly over the noodles. Add the cooked vegetables and stir fry for a few (2-3) more minutes. Serve hot. Serves 2-4.
more goodness from the use real butter archives