Recipe: baked oats
Time is doing strange things because of my intense focus on my health, diet, and exercise of late. I feel as if all the moods of spring have been smashed into the past few weeks. As we stare an approaching heat wave in the face, it's hard not to reminisce about the late May snow just two weeks ago. And then there is the delirium of morel season, getting buzzed by countless hummingbirds, bright green new growth popping up at every turn, and all of the baby animals we catch glimpses of in the woods. It's dizzyingly wonderful.

emerging sunshine melts snow off our weather station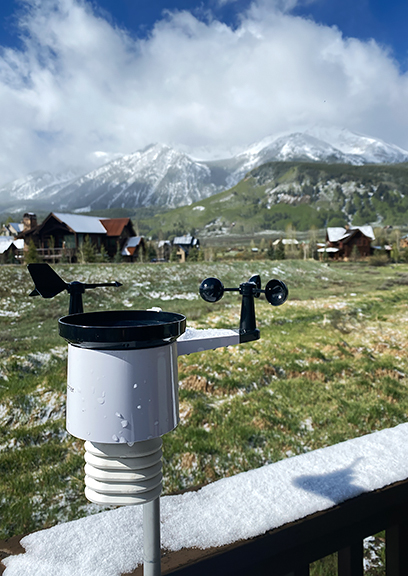 brilliant crimson columbine in bloom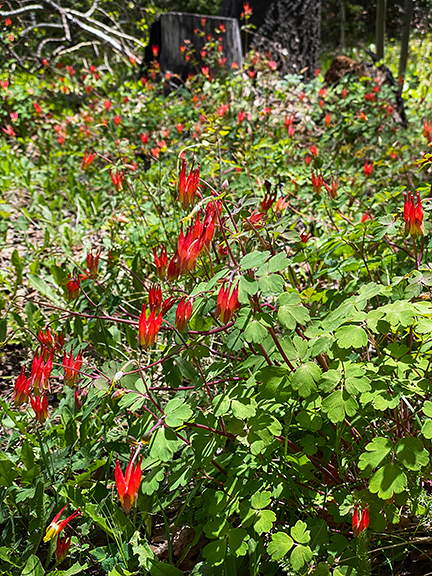 friends gave us baby asparagus seedlings from feral seeds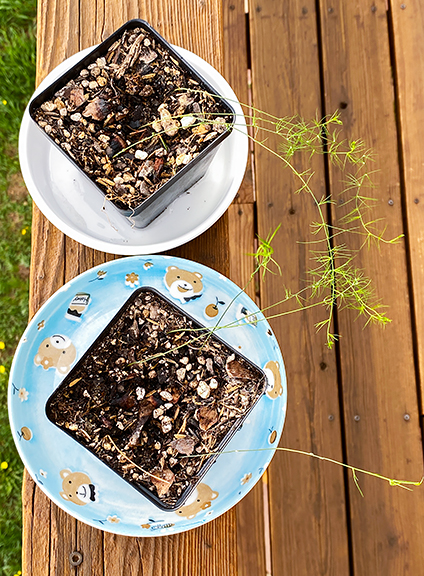 never certain if the morels will come up, but always jubilant to see them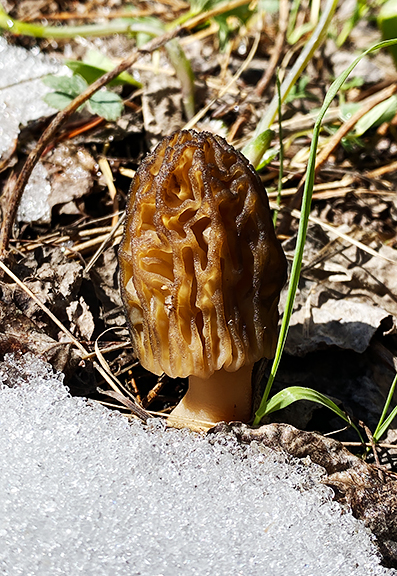 As with any first batch of morels, I'm tempted to reserve some for the express purpose of frying and shoving them in my pie hole. But I've worked hard to wean myself off of sugary, fried, fatty, and refined carb foods the last three months – so much so that many of these foods have lost some of their once irresistible appeal. I made a
morel bourbon cream sauce
for Jeremy to enjoy on steak (his reward for finding the first morel of the season!) and reserved
a dozen morels to fry
. Instead of the usual flour-based breading, I opted for fine cornmeal as a healthier whole-grain alternative. They were good, but I stopped after a few when that initial fried deliciousness gave way to mindless consumption.
cornmeal-coated fried morels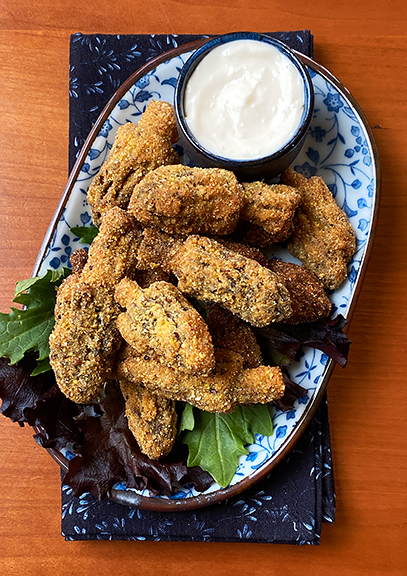 Some folks have asked what I've been eating since I learned I am diabetic. That's a hard question to answer. It was all pretty overwhelming at the start as I had to educate myself on type 2 diabetes, blood sugar levels and how they are affected by different foods and exercise, nutrient requirements, and the best way for *me* to lose weight. I now have a decent set of recipes in my quiver to get me through a good month of meals and have begun to tinker with new recipes that don't require much effort and are hugely convenient for breakfast or a snack.
baked oats with huckleberries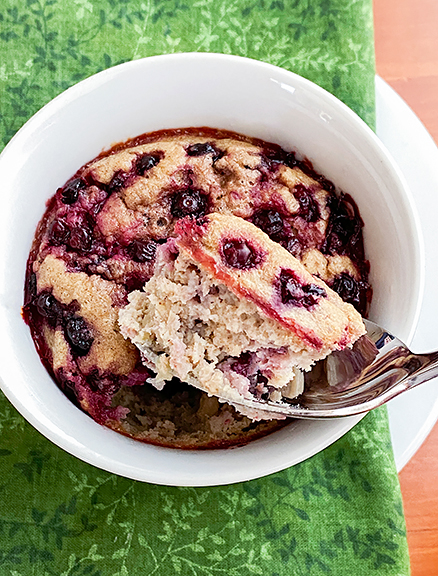 I came across baked oats in my search for healthier snacks which led me to
i am a food blog's baked oats
. Apparently this recipe was all the rage on TikTok a million years ago and I was completely unaware because social media is a garbage hole time suck that I am treating like added sugar: unnecessary and not good for me. The claim is that this is like having cake for breakfast, but "healthy" because it is made from rolled oats (or oat flour). I made it healthier by omitting the sugar, using almond milk, opting for add-ins like fruit instead of cookies or candy or cream cheese, and reducing the serving size. I really like that it is highly customizable.
the base recipe: almond milk, vanilla extract, rolled oats, eggs, bananas, salt, baking powder, cinnamon, oil (for greasing the vessels)
If using rolled oats (don't use steel cut oats), a high speed blender is needed to get the batter to a smooth consistency. If you don't have a high speed blender, you can use the equivalent
weight
(not volume) of oat flour and mix everything together with a food processor or hand mixer. Just be sure to mash the heck out of those bananas. And if you have no issues adding sweetener to your baked oats, you can use sugar, honey, maple syrup or other substitutes in the appropriate amounts, since some are not 1:1 sugar replacements. I don't have any experience with sugar replacements like Stevia or monkfruit sugar other than unknowingly buying an iced tea that was sweetened with Stevia and pouring it out after one sip. It was disgusting. Not sure if you want to omit the sugar? I think if you can enjoy unflavored oatmeal with just added fruit and no other sweeteners, you will be fine with this. The banana does contribute some sugar to the base recipe.
into the blender it goes
a smooth batter
I tested three different "flavors" of baked oats: strawberry with lemon zest, huckleberry with lemon zest, and chocolate with raspberries. I made enough batter for 6 half-cup bakes. Most recipes make 1-cup bakes, but that is a lot of carbohydrates in one sitting. I find the lemon zest and berries boost the sweetness nicely. I chop my strawberries into tiny pieces to get a better distribution of fruit. Instead of huckleberries, you can always use blueberries.
add-ins: strawberries and lemon zest, huckleberries (frozen) and lemon zest, raspberries and unsweetened cocoa powder
whisking the cocoa powder into the batter
blendering the lemon zest with the rest of the batter
Chocolate was my least favorite, but that's because I'm not a huge fan of chocolate. It would have benefited the most from some added sugar in the batter, sweet add-ins (like chocolate chunks, crumbled cookies, etc.) or sweetened whipped cream on top if you wanted to emulate a more dessert-like experience. Both fruity versions were perfect for my breakfasts or snacks. When baking these individual "cakes", I found it helpful to lightly grease the ramekins. You could also try to bake them in muffin tins lined with parchment paper (I have read that they stick like crazy to muffin papers).
brushing a light coat of oil inside the ramekins
topped with fruit to bake
cooling
I delayed posting this recipe by a day because I wanted to try making baked oats in a baking pan. I'm all for minimizing effort and cleanup and having several grab-and-go portions on hand. I doubled the recipe below and poured it into an 8×8-inch baking pan lined with parchment paper and baked at a slightly higher temperature for longer. It worked beautifully except for the flap of parchment that curled over and stuck to a quarter of the "cake" surface. I just left it in place and after it cooled, the parchment peeled back without any complaint. I sliced it into 16 2-inch squares. The edges are more baked through with a more open crumb. The center pieces tend to be dense and almost custard-like.
baked oats with huckleberries in a pan
a corner piece
Baked oats can be baked longer to get a fluffier (think dense cake) texture or baked less for more gooey centers. They are truly best when warm from the oven, but perfectly fine when cooled and/or reheated. I really love these in bar form to tuck into my pack for a hike, or bring with me when running errands all day. They store well in the refrigerator and can be frozen for longer term (up to 3 months). Substitute for the eggs and milk to make these vegan, use gluten-free oats for gluten-free baked oats. Be sure to check out
Steph's post
for all manner of substitutions and flavor combinations.
happy to be baking again
the edges are my favorite part
Baked Oats
[print recipe]
from i am a food blog
base recipe
1 cup (90g) rolled oats
1/2 cup almond milk (any milk will do)
1 (120g) medium banana
2 eggs
2 tbsps sugar, honey, or maple syrup (I omitted this)
1/2 tsp cinnamon
1/2 tsp vanilla extract
1/2 tsp baking powder
pinch of sea salt
Preheat oven to 350°F. Grease two 8-ounce capacity ramekins or other oven-safe vessels if making full servings. Grease four if you want half-servings. Place ingredients in a high-powered blender and blend until smooth. Stir any add-ins into the batter and divvy evenly among the ramekins. Bake 20-35 minutes for half servings and 25-45 minutes for full servings until a toothpick inserted into the center comes out clean and the tops rebound when gently pushed. Makes 2 full servings or 4 half servings. Let cool completely and store refrigerated in an airtight container for up to 3 days.
Cake pan option: Preheat oven to 375°F. Lightly grease an 8×8-inch baking pan and line with parchment paper. Double the recipe above. Stir in your add-ins. Pour the batter into your prepared pan. Bake 30-45 minutes (doneness depends on your oven, your pan, and any add-ins) until a toothpick inserted into the center comes out clean and the top rebounds when gently pushed. Remove from oven and let cool completely. Makes 16 2-inch squares. Store refrigerated in an airtight container for up to 3 days or cut, wrap, seal in airtight packaging, and freeze for up to 3 months.
berry variation
2 tsps freshly grated lemon zest
1/4 cup (60g or 2 oz.) berries (huckleberries, chopped strawberries, blueberries, etc.)
Add the lemon zest to the base recipe. Blender the batter until smooth. Gently stir the berries into the batter.
chocolate-raspberry variation
1 tbsp cocoa powder
2 tbsps (30g or 1 oz.) fresh raspberries
Add the cocoa powder to the base recipe ingredients and blend together. Gently fold the raspberries into the batter.
more goodness from the use real butter archives