This morning before we set off to ski, I made myself eat something. I usually dislike eating in the morning, and I'm typically not a huge fan of breakfast foods. But the last time I was in the grocery store, I decided it was high time I got more calcium and fruit. This idea was spurred by Nicole's magical smoothie recipe which includes, of all things, two scoops of vanilla ice cream – no wonder it's so magical! I opted for a slightly healthier version.

fat free vanilla yogurt, blueberries, strawberry naked juice, and a banana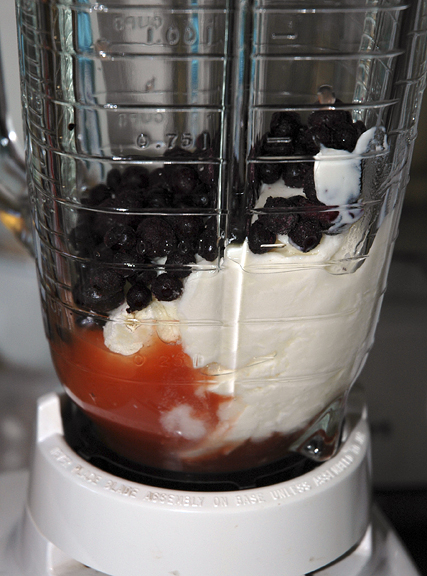 quick to drink, energy, healthy raw foods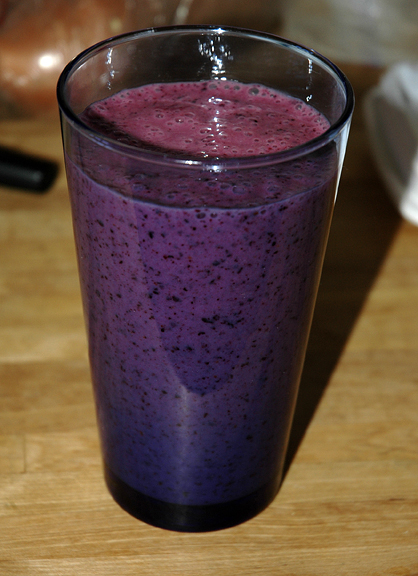 On a spur of the moment decision tonight, we went into town for dinner because I was craving a buffalo burger. That's all I could think of, so we went to Zolo Grill. I'm not sure if it's skiing or being out in the cold that works up the appetite (or both!), but there you have it. I brought my camera in case I wanted to review Zolo, even though there are about five other places I'd prefer to review instead. I just wasn't in the mood for anything but my buffalo burger. I went ahead reviewed it, although it's not in the same league as the first three. Jeremy said once I determined to review it, my facial expression became serious and I was thoughtfully tasting each dish. Hey – I take food seriously.
zolo grill
On a Saturday night, we had a 25 minute wait at 7 pm to be seated. The bar was packed, the restaurant was packed. The majority of the patrons were in the 30-something range, dressed casually and carrying their martinis in shakers from the bar to their dinner tables. From the moment we sat down, our water glasses never fell below the 75% volume. The wait staff here was on top of things.
zolo's has an upbeat, noisy atmosphere
We began our meal with the boar quesadilla ($10) off of the appetizer menu. It arrived within five minutes after the order was taken. It is a whole wheat flour tortilla folded in half with shredded boar, anjou pear, asadero cheese, smoked white bean puree, topped with chipotle chayote pico de gallo. The flavors worked well together and I gave mine a squeeze of lime. I found the subtle presence of the pear to be a nice touch. If you just start eating, the whole thing is a pleasure. If you think carefully about what you are tasting, all of the individual components are there – like listening to a symphony performance and picking out the strings, the brass, the winds.
boar quesadilla with chipotle chayote pico de gallo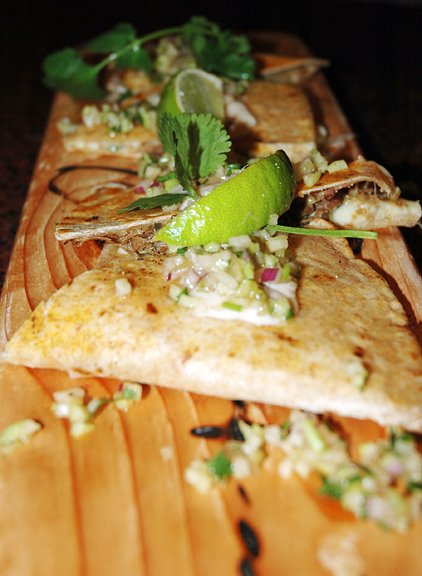 I ordered the buffalo burger for dinner because that was what I had been craving all afternoon. I prefer my burgers on the medium rare side, but since I didn't grind the meat myself, it's probably safer to order medium in a restaurant. The burger is large and served with fried red onions and chipotle tomato jam on top (I opted against the cheese), with seven chili steak sauce on the side. My burger was fabulous, juicy, full of flavors. The sauce was a good compliment to the burger. Unfortunately, the spicy fries that came with my burger were soggy, limp, and barely warm. The napa-bok choy slaw was underwhelming with hints of cumin and sweet soy sauce.
buffalo burger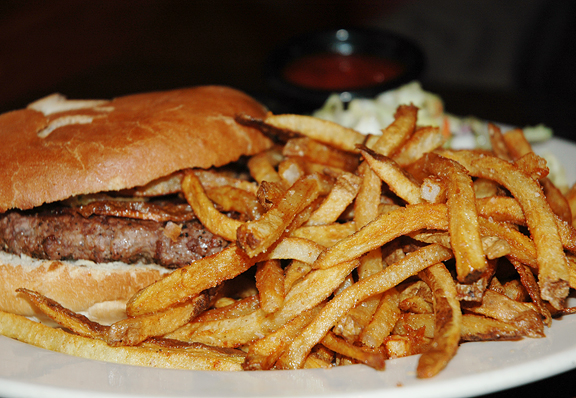 Jeremy ordered the special for the night, a pan-seared 6 oz. piece of mahi mahi ($17) with fennel slaw, chipotle chips, jalapeno crema, and hush puppies. I wasn't thinking when I took the picture, so the mahi mahi is behind the gi-normous hush puppies. The fish was tender and juicy. I thought the hush puppies were good, but overly fried and what was with the coating of sugar? The chips were hot, fresh, and crispy. I tasted the sauces which were fine. Jeremy didn't seem to care for them or his slaw at all.
pan-seared mahi mahi hiding behind giant hush puppies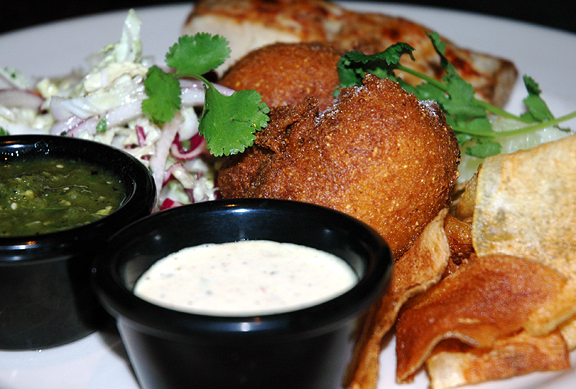 I ordered the banana cream pie ($7) out of curiosity. The pie came adorned with tremendous amounts of whipped cream, drizzled in fudge sauce, caramel, and candied almond crunch. I think the cream part was quite overwhelming. I really liked the almond crunch. The crust was a thick, dense, chocolate ganache ginger dough, which was wasted on me because I prefer a traditional flaky pie crust with something this heavy. The banana cream (in white chocolate pastry cream) had the banana flavor, but a slightly grainy texture – like that of corn starch. I did not finish my pie and I did not think it was worth $7.
banana cream pie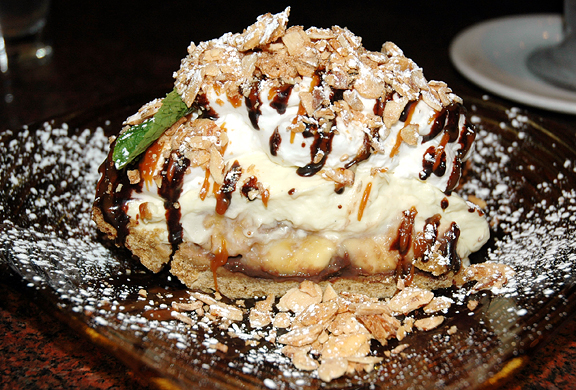 Jeremy originally ordered the molten chocolate cake with vanilla bean ice cream and chipotle blood orange syrup ($7), but upon learning of the 20 minute wait, he opted for the sundae instead ($7 although the website lists it as $6). Please excuse my autofocus, I wasn't paying attention… It's a standard sundae except it had those yummy almond crunchies on top. The vanilla ice cream is from Glacier – a local Boulder business. We had not tried Glacier ice cream before. The ice cream had real vanilla bean and a nice flavor, but the ice cream density is on the low side for premium ice creams. He also had coffee ($1.75) with dessert. He said the coffee was old, burnt, and of very low quality.
old school zolo sundae (not in focus… i was tired, sorry)
I think Zolo tends to overfry. The right balance is a hit or miss. I also couldn't figure out what the obsession with chipotle was. The quality of their ingredients varies wildly. Compared to the other fine establishments we have tried, Zolo's is really just another snazzy joint to meet up with young urban hipster friends.
Zolo Grill
2525 Arapahoe Ave.
Boulder, CO 80302
303.449.0444
February 11, 2006
New Fusion Southwestern
$59 including tax (not including tip) for 2 diners
Rating: 75/100 (C)