conversation earlier in the week
me: i've signed up to bring dinner over on thursday. what sort of food do you guys like?
neighbor: oh, we'll eat anything, thanks a lot.
me: how about the kids?
neighbor: yeah, they'll eat anything. they're not picky. but [chuckling] we've definitely had enough pasta to last us a long time.
me: you don't have a preference for ANYTHING?
neighbor: [to daughter] honey, what do you like for dinner?
brita: [on the swing] i like chinese food!
neighbor: [turning to me] really, we'll eat anything.
brita: oooooh – and i love rice! yum yum yum yummmmmm.
neighbor: please don't go to any trouble.
Chinese food? I'm Chinese! Not only am I Chinese, but I cook Chinese food too. This afternoon I took a few hours to prepare a special meal for Marcus and his family. I realize it's my way of overcompensating for not being able to do more for them. But they've gotta eat and why not eat something that they can't get anywhere else in Boulder? Besides, I think Brita is just about The Coolest seven-year old on the planet. She's seven going on 28… so mature (even more than most 20 somethings I know) and yet such a tomboy. Her mother raised an amazing little girl.
The menu was: steamed rice; stir-fried flank steak (in soy sauce and sesame oil) over sautéed broccoli; stir-fried chicken breast (in chinese sherry) with napa cabbage, straw mushrooms, bamboo shoots, water chestnuts, and snow peas; and slow cooked boneless pork ribs (in sherry, soy sauce, vinegar, green onions, and sugar) served over a bed of sautéed spinach with garlic.

chicken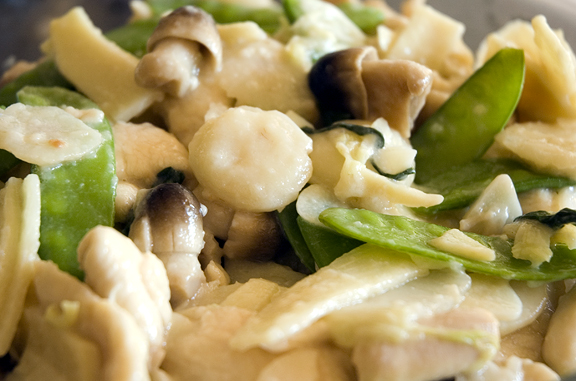 beef and broccoli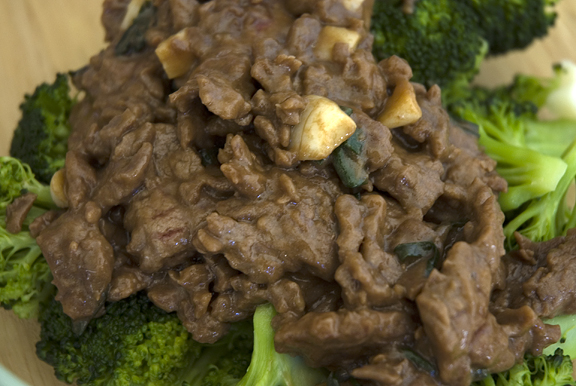 ribs over spinach