Tonight, we reviewed The Med, which is a very popular establishment among the young and lively population of Boulder. The Med has a reputation for terrific tapas, a hoppin' happy hour, and good food. I've dined here before and enjoyed my lunches and happy hours thoroughly.

the med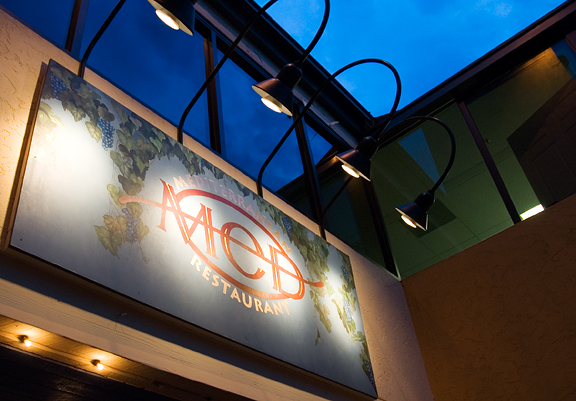 I arrived before Jeremy and elected to sit on the patio. Due to miscommunication, Jeremy didn't show up until 40 minutes later. What really bothered me was that I had left both of our names with the hostess at the front and she assured me she would bring him to my table. When he called The Med to ask if I was there, the person who answered the phone (one of the four hostesses – not the one I spoke with) refused to tell him. I have little patience for incompetence or rudeness. I asked to speak with a manager. I got Frank. Frank was extremely apologetic and that was about all that could be expected. One thing I absolutely despise about Boulder is the overabundance of scantily clad, young twenty-something hostesses who spend more time thinking about their manicures than anything else in life. The Med seems to enjoy placing four or five of them at their front door. Trust me, there are far too many in this town to be of use to anyone.
dining out on the patio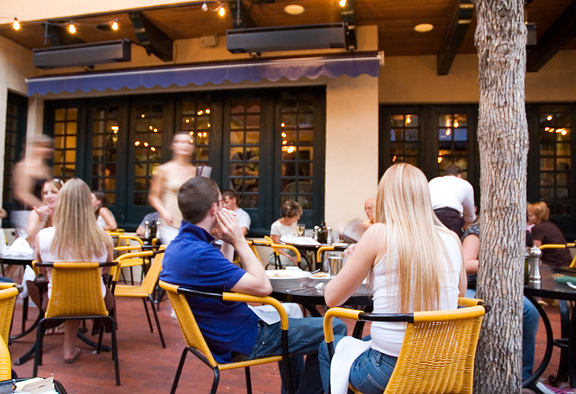 We began by ordering the two tapas specials that day since we had missed happy hour utterly and completely. The marinated golden beets ($4.25) arrived on a small plate. They were tossed with feta, shaved fennel, onion, walnuts, basil and walnut oil. The beets were firm and sweet. I particularly liked the tang and crunch of the fennel. Overall, I found the dish to be pleasing and refreshing. Oh, and Jeremy found glops of lipstick stains on his water glass.
cold tapa special: marinated golden beets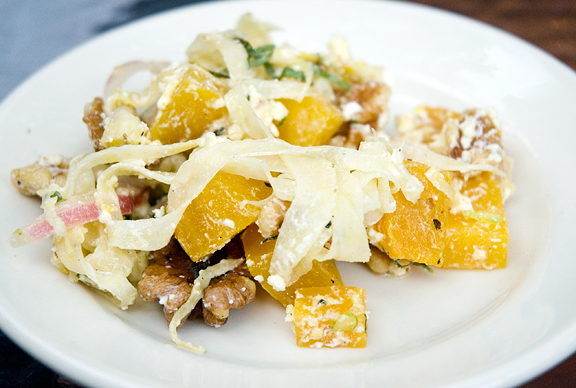 The hot tapa special was the prosciutto-wrapped pacific blue salt prawn served with tomatoes and a nectarine-fig chutney for $4.95. Imagine my surprise when our plate arrived with one prawn. The prosciutto had a nice and crispy texture. It tasted smokey and salty in contrast to the sweetness of the prawn. The tomatoes did little for me in the way of flavor. The chutney was a nice compliment to the prawn.
hot tapa special: prosciutto-wrapped prawn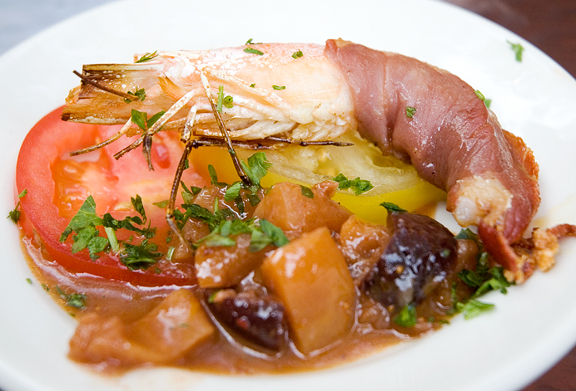 For dinner, I ordered the Point Reyes blue crusted petite filet, herb marinated shrimp skewers, grilled lemon confit and watercress salad, with a balsamic and Cabernet reduction ($25.95). The filet was actually quite good (I ordered it rare) although it was about half the thickness I think most filets ought to be. The true disappointment was in the shrimp which lacked flavor and had the texture of overcooked, rubbery shrimp (because that is what it was). The lemon confit was delicious, the salad was unremarkable otherwise. I've paid less for far better plates of beef and seafood.
surf and turf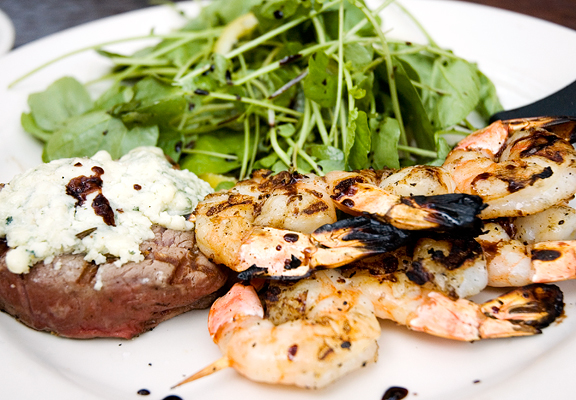 Jeremy's sea scallop risotto with beurre blanc saffron ($16.95) was superb. Each tender, peppery bite of scallop was something to savor. The creamy, rich risotto was just right to the teeth – not soggy, but not overly firm. The dish was sprinkled with peas, tomatoes, and squash. The ring of saffron-stained butter sitting atop the risotto was simultaneously horrifying and tempting and delicious. This was the winning plate of the evening, served piping hot, full of flavor and perfect textures. I made the mistake of ordering a glass of Sauvignon Blanc/Semillon Mission Hills (BC) for $8. I wanted a Chard, but they only had California Chardonnays by the glass – and I hate California Chardonnays. This tasted like incense when paired with the peppery scallops – blegh.
sea scallop risotto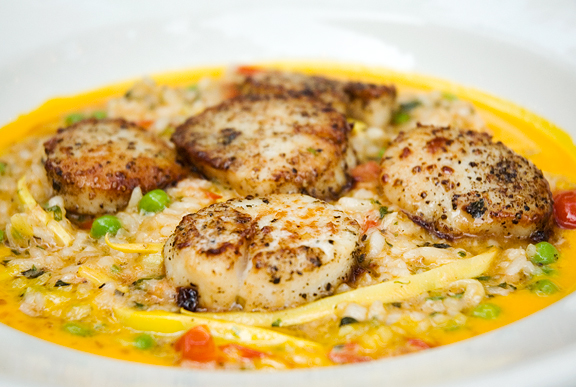 The chocolate almond tower ($6.95) is a warm ganache-filled chocolate and almond genoise served with Glacier caramel ice cream and caramel sauce. Once you break through the crunchy and chewy outside crust, the soft spongecake reveals melted chocolate ganache in the center. The chocolate had a mild flavor – not a strong or bittersweet signature. It was a smooth chocolate. The ice cream was a nice companion to the cake and I love caramel and any sort of caramelized almonds. The strawberry garnish was just that – garnish and not terribly tasty as strawberries go.
chocolate almond tower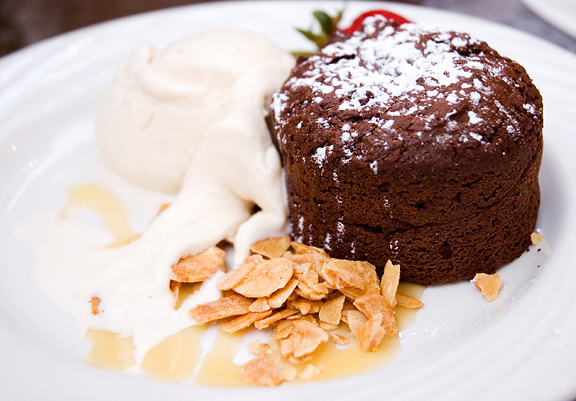 The crème brûlée was Jeremy's dessert order. This one was very light, maybe milk-based more than cream-based, and made with real vanilla bean. Light is not necessarily a bad thing. This was far more delicate in flavor and weight than the ones I have ordered in other establishments or served in my own home (I use full-on cream). Jeremy ordered a cup of coffee ($2.50) too. He said it was a nice italian style dark roast on par with that served at Laudisio.
crème brûlée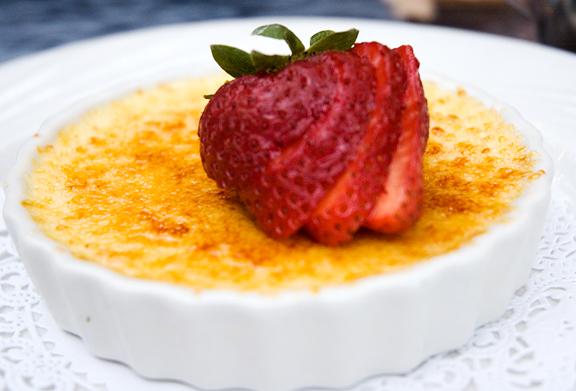 Frank came by to check that everything was okay and asked how the food was. I was honest about the surf and turf and he said next time to try the pork loin. I did pass along kudos to Jesse, our server, who did a fine job and was very knowledgable about the food. On a whole, I don't think The Med lived up to the hype, at least not on this evening. The food was hit or miss in terms of value and quality as was the service: Jesse a hit, the mystery hostess who wouldn't do her job, a definite miss. I think happy hour is the best deal at The Med (their happy hour rocks).
The Med
1002 Walnut St.
Boulder, CO 80302
303.444.5335
July 19, 2006
Mediterranean/Tapas
$84 including tax (not including tip) for 2 diners
Rating: 83/100 (B)