John's restaurant is an unassuming 104-year old house, removed from the bustle of the Pearl Street Mall by several blocks. The chef-owned business is run by a brother-sister pair: Cory Buck (chef) and Ashley Maxwell (pastry chef), both natives of Boulder. It's a charming place. Curiously, during our dinner, one of the fellow patrons came over to ask if I was a public television personality… I wonder if he thought I was Kylie Kwong (because a lot of folks have asked me if I am). Sorry dude, I'm just a geologist, but I would so rock that Australian accent of hers.

john's restaurant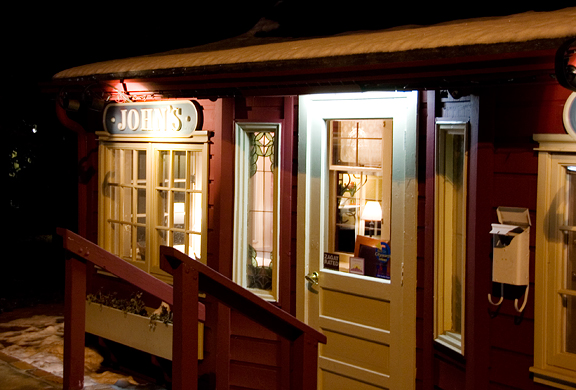 The cozy and small interior lends to an intimate atmosphere. I liked the simple, yet elegant styling of the furniture and the settings. There is a nice attention to detail. It feels like home, but home with a fancy kitchen staff.
intimate and cozy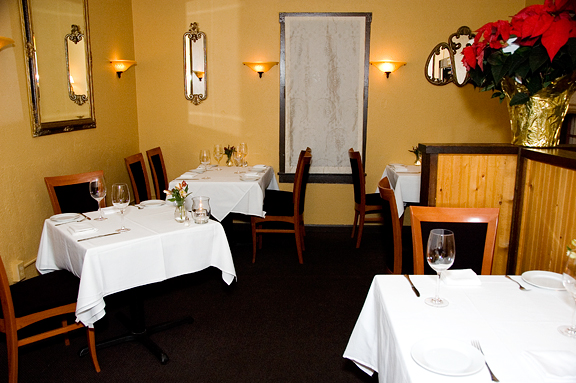 I started the evening with a cocktail off the menu. The French 75 ($8.50) is made with gin, sweet lemon, and champagne on ice. The glass came dotted with champagne (I think) grapes in a flute. Our server said it was probably the least alcoholic of the cocktails on the menu. I liked that this was only slightly tart and not terribly sweet. When I could politely catch one of the grapes without guzzling the entire drink, I was delighted to discovered that they were frozen.
french 75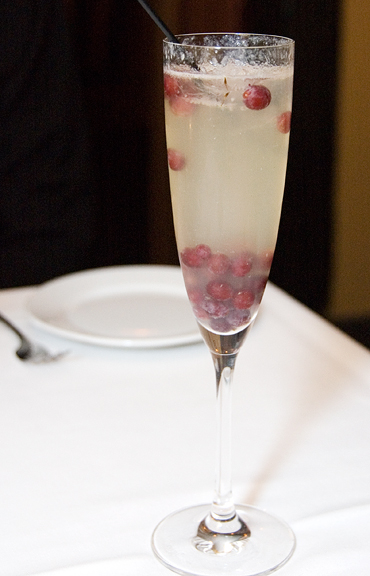 Jeremy has been big on martinis lately, so he ordered the burnt orange martini ($8.50): vodka, Grand Marnier, and a dash of bitters. Served in a traditional martini glass, it was adorned with a curl of orange peel and served quite a punch. Jeremy said it was the strongest martini he's had (mind you, he likes chocolate martinis), but that it was quite good and smooth.
burnt orange martini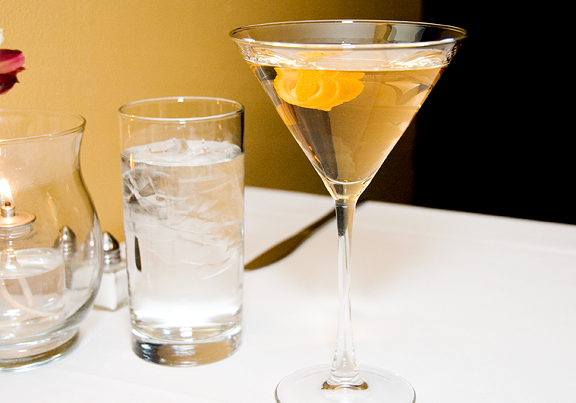 Shortly after our drinks were served, a tray of sourdough bread came by and we were each given 2 slices. The butter was soft and piped onto a small plate. This is a good thing because one of my pet peeves is cold butter – no one with any sense serves cold butter with soft bread. This sourdough had a mild tang and crispy outer crust, but I chose not to fill up on the second piece.
sourdough bread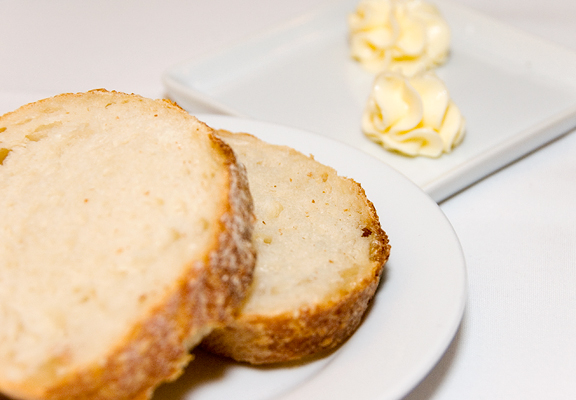 I ordered the grilled quail ($10) from the selection of special appetizers. The quail arrived in two pieces set upon a mound of butternut squash purée (flavored with sage) and topped with naturally sweet fried shredded carrots. Drizzles of anago sauce and chopped walnuts surrounded the centerpiece along with three dots of vanilla foam. This plate is an upscale bite of Thanksgiving – the way Thanksgiving should be. A tender and lightly seasoned quail meat paired nicely with the hint of sweetness in the other components.
grilled quail appetizer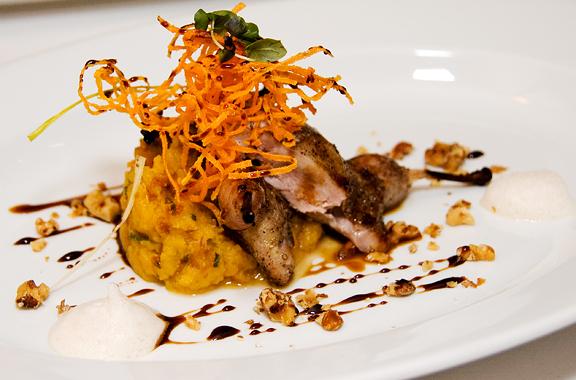 Jeremy opted for the tuna tartar ($14) appetizer. We both agreed that this was the best plate of the evening. Might I add, if it isn't obvious already, that John's does a beautiful job of plating their food. The tuna is mixed with green onions, black sesame seeds, wasabi vinaigrette, and layered with ripe avocado and pineapple. One bite is like a journey of flavors: first the green onions, then the subtle freshness and smooth texture of the tuna, the mild and buttery avocado, then the nutty sesame flavor, and finally a sweet burst of juicy pineapple. There were sesame crackers served alongside the tartar, but we both felt they were unnecessary because the plate itself was perfect.
tuna tartar appetizer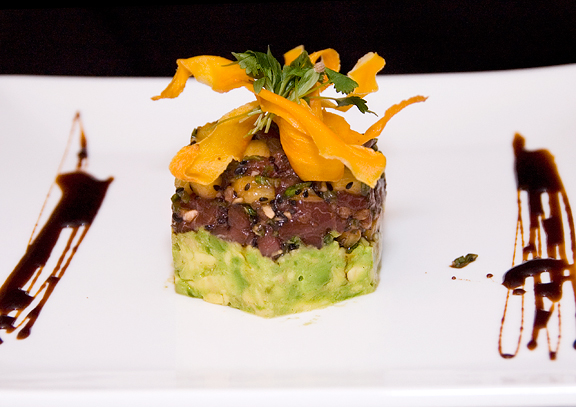 That evening, the chef was serving a complimentary pumpkin sage soup. Our bowls arrived with just a small handful of dried cranberries in balsamic vinegar at the bottom. Our server poured the soup over the cranberries as we watched the steam dance up and the heady smell of the soup reached our nostrils. The soup, 3/4 pumpkin purée and 1/4 cream, was light and smooth with a hint of burnt, nutty butter. I liked the added tartness from the cranberries and vinegar, but Jeremy preferred the soup solo.
pumpkin sage soup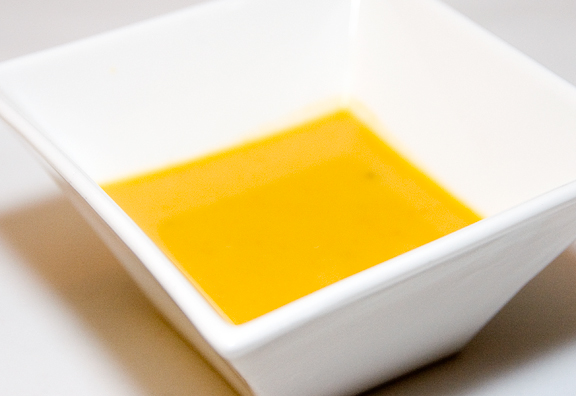 After our emptied bowls were removed, our server brought a small plate with two Chinese soup spoons, each bearing a small scoop of strawberry champagne sorbet to cleanse our palates. The sorbet tasted of fresh fruit and was not overly sweetened. The grain of the ice crunched in my mouth, a nice homemade feel to it rather than the typical smooth processed commercial texture. Refreshing.
strawberry champagne sorbet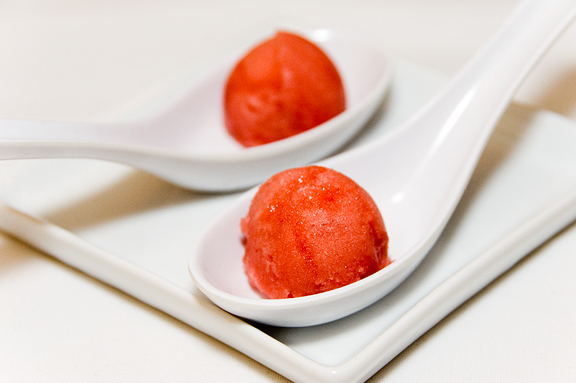 My entrée was a special that evening, the Australian lobster ($32). Two halves of a lobster tail were presented with black fettuccine in a pool of citrus (orange and pineapple) buerre blanc, which I like more than Jax's orange buerre blanc. The sweet lobster meat had the perfect pop when I bit into the tender pieces. The black pasta had no discernible flavoring to it that I could identify, but it was cooked to perfection. The entire ensemble of flavors and textures worked well. I was delighted with my selection. I also ordered a glass of Pouilly Fuissé ($14) to accompany my meal.
australian lobster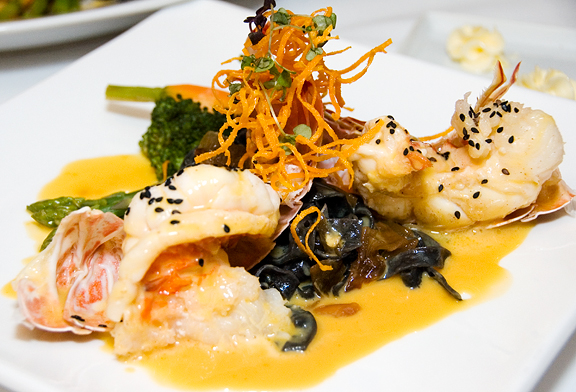 Jeremy ordered the big eye tuna and diver scallops ($29) for dinner. He requested the tuna be served rare. The black sesame crusted tuna accompanied the most amazing tempura fried scallops on a bed of coconut rice, in a mild lime curry sauce. Jeremy felt the tuna had too much sesame crust and that the tuna was good, but not great. The scallops were another matter entirely. The sweet, melt-in-your-mouth scallops were encased in a delicate, crispy tempura batter – fabulous. The coconut rice was on the savory side (here is where I prefer the sweeter coconut rice at Jax). Overall the plate was good, but we both agreed the scallops stood far above the rest.
big eye tuna and diver scallops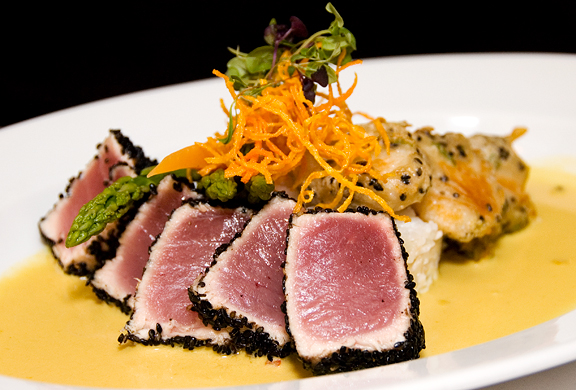 Although we both wound up taking our leftover desserts and part of an entrée home (I cannot waste food – particularly good food), I am so glad we sampled the pastries. I opted for the fresh apple tart ($8.50) with Carmel sauce [now it is a caramel sauce, but it could have been named for the town of Carmel or was perhaps a misspelling of caramel?], and vanilla bean ice cream. The crust of the tart was a sweet and hard cookie-like crust, piled with soft and delicious cooked apple slices. I love caramel and poured a generous helping over the tart. It had a strong buttery presence and played against the rich ice cream and mild tartness of the apples.
fresh apple tart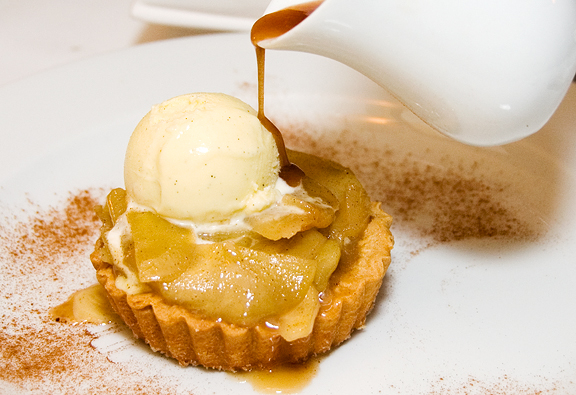 Jeremy requested the chocolate truffle cake ($8.50) for his dessert. This chocolate cake was warm, rich, creamy, soft, and smooth all at once. A chocolate Chambord truffle occupied the center and the whole thing was topped with a black raspberry chip ice cream that could have been a dessert in and of itself. Oh, and the cake sat in a small pool of crème anglaise with raspberry swirls. But back to the ice cream… we didn't know who made it, but it was Exquisite. You could not pack any more black raspberry flavor into that ice cream. Each bite of the cake was delicate in mouthfeel and flavor, so satisfying. If you dine here, be sure to order this dessert – you will not be disappointed.
chocolate truffle cake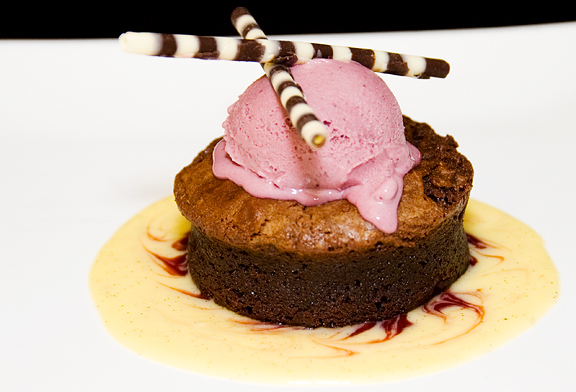 With dessert, Jeremy ordered a cup of regular coffee ($2.50). He ranked this among the top five coffees he has ever had (Kingsmill takes top honors). It was a strong and smooth dark roast – a nice way to end the evening meal.
jeremy's cup of coffee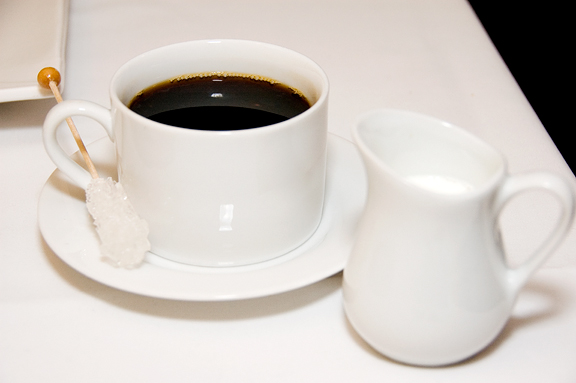 Overall, the experience was very special. The service was impeccable, friendly, and knowledgable. Chef-owner Cory Buck graciously discussed some of the restaurant history as well as his own culinary background with us. We felt that John's gives you a truly personal touch with much individual attention and care. A deservedly solid A+.
John's Restaurant (permanently closed)
2328 Pearl St.
Boulder, CO 80302
303.444.5232
December 7, 2006
French, Italian, Spanish, American, Fusion
$146.75 including tax (not including tip) for 2 diners
Rating: 98/100 (A+)