I inaugurated my Summer of BBQ today with southern pulled pork. Since the winds were insanely high, I had to slow cook in a low oven rather than slow cook in a low grill. First, I mixed the spices together for the rub. Paprika, chili, cayenne, cumin, salt, brown sugar, minced garlic, onion powder, and ground pepper. Grinding 1/4 cup of ground pepper doesn't seem like much, until you actually grind it by hand.

southern pulled pork: therein lies the rub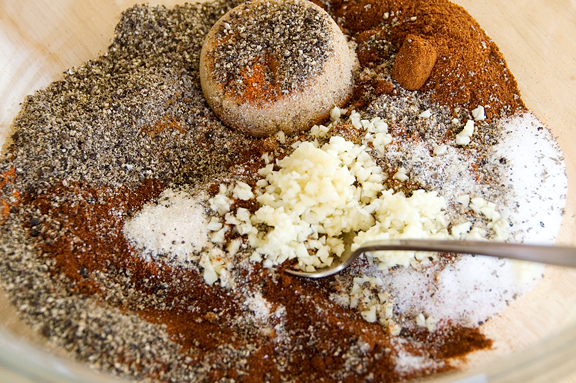 I coated a 5 pound pork butt (shoulder) with about 1/3 of the spice rub. I'll save the rest for some bbq chicken if I don't die trying to finish the pork this week. Next I seared the pork in oil on all sides and chucked it into the oven for four hours.
spice-rubbed pork butt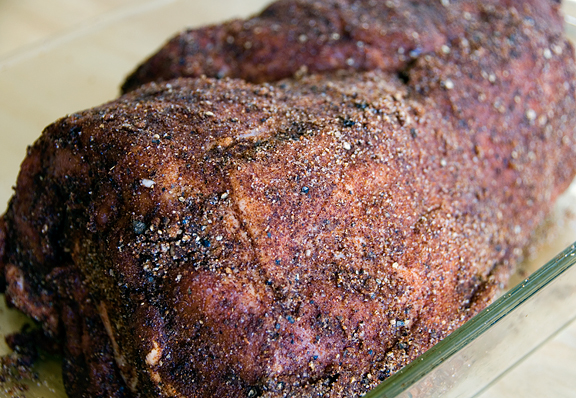 Southern pulled pork demands the making of the Ceremonial Sides. I love me a good coleslaw, preferably without the mayonnaise. I like mine sweet and vinegary: cabbage, carrots, grated onion and garlic with dressing.
simple coleslaw: hold the mayo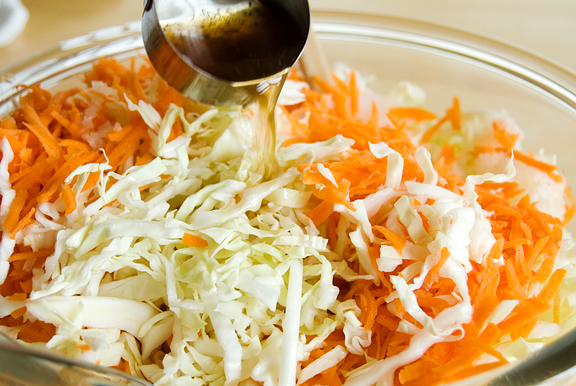 I also prepared a potato salad (replace 2/3 of mayo with plain yogurt), and some baked beans. I doctored the baked beans from a can by adding onions, green pepper, bacon, and lots of condiments. Next time I'll omit the green pepper, halve the amount of bacon, halve the molasses, and add shredded pork. I'm ultimately aiming for the beans at Hogly Wogly's. Mmmm… Hogly Wogly's…
beans beans the magical fruit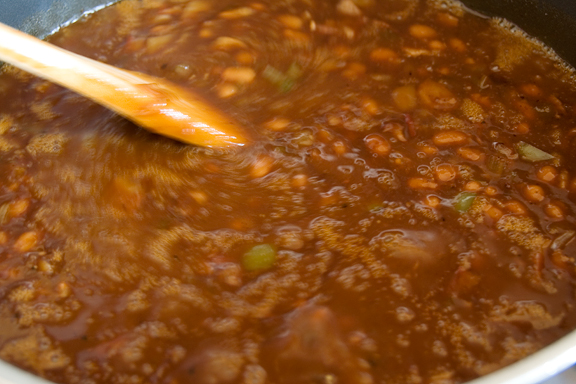 There are many kinds of barbecue sauce that classify under: sweet, vinegary, tomato-based, mustard-based, spicy, thick, thin, smokey… But for pulled pork, Carolina barbecue sauce is the pairing of choice. I looked up over 20 recipes and settled on a hybrid of vinegars, brown sugar, cayenne, pepper, and other stuff. It's best to let it sit overnight, so I'll find out tomorrow if it has improved. When the pork was done, I shredded the meat with two forks and removed any connective tissue/hunks of fat. The outer crispy ends are the chef's pickings – delightful.
a bbq spread – this is but a fraction of the food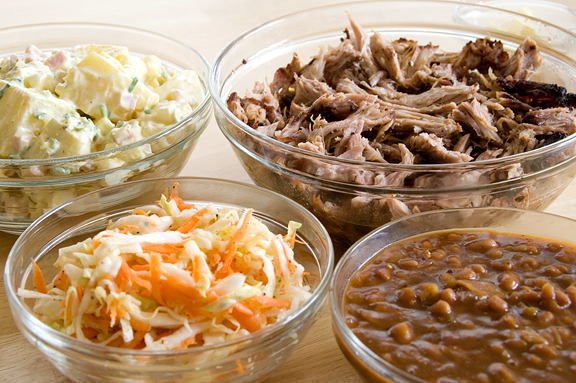 i just need a glass of southern sweet tea to go with dinner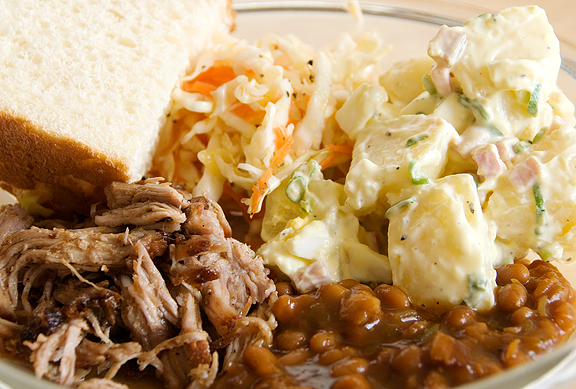 Overall, I rate this pulled pork a 7. I think it should have cooked longer and I also didn't get the proper cut (it's shoulder, but not technically the butt of the blade). Jeremy seemed to enjoy it more than I did, probably because he wasn't smelling the spices for the past 6 hours before eating it. I'm going to try a slightly thicker bbq sauce (a little tomato base, but not thick like Kansas City or Texas style). And I'm going to cook it outside next time.
token picture of tonight's pastry