Recipe: korean glass noodles
I have to admit that I wasn't exposed to much Asian cuisine other than Chinese when I was growing up. It was a big deal when my mom started cooking more western style foods when I was in junior high. When Dad began his foray into gourmet cooking, he went for the big splashes like rack of lamb or roast pork loin – something that makes your guests go "wow!" while you serve it up with a flourish.
I had been eating sashimi since I was four or five years old, but wasabi was my only introduction to Japanese food and it was prepared unceremoniously at our house as opposed to a sushi bar. And on rare occasion in Washington D.C. my parents would take me to a Vietnamese place for pho and then they'd order all sorts of things I refused to eat like tripe… When I went to college, I began to frequent the sushi bars, Thai restaurants, and other joints around the LA basin serving up good authentic Asian fare. Imagine my surprise when I took my parents to our favorite Thai restaurant and their reaction was, "meh."
But that's them and I quickly accepted that what I dig on isn't what they dig on and vice versa. Ts'okay.
There was a great Korean restaurant in Collegetown across the gorge from the geology department at Cornell. Joan and I used to traipse over there for lunch on days we both forgot to bring food from home. It was a treat and their lunches included a dozen or so small sides of pickled vegetables, kimchi (mmmmm!), and little salads or my favorite – the korean glass noodles. I was familiar with glass noodles, we call them bean thread noodles and use them a lot in Chinese cooking. On one trip visiting my grandma, she ordered some broad bean thread noodles stir-fried with vegetables. Delicious. We looked in the Chinese grocery store for them and found some. She rattled off instructions in Chinese on how to cook them and packed them in my bags.
Except I don't cook them Chinese style. I really love those Korean glass noodles. I whipped some up for lunch today. Recipe after the pics.

dried broad bean thread noodles (broad glass noodles)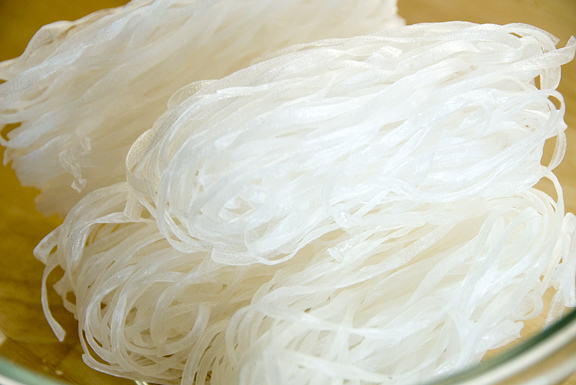 soaked noodles, rehydrated shitakes and wood ears, shredded carrots and green onions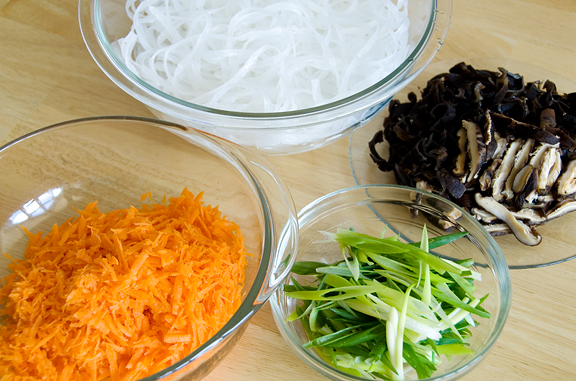 korean glass noodles: awesome dish – vegetarian too
Korean Glass Noodles
[print recipe]
1/4 cup shitake mushrooms (rehydrated and rinsed if dried), sliced
1/4 cup wood ears (rehydrated and rinsed if dried), sliced
1/4 lb broad glass noodles (rehydrated in hot water for 15 minutes and drained)
1 carrot, shredded
2 stalks green onion, julienned
2 tbsps vegetable oil
1/2 cup water
sauce
4 tbsps soy sauce
3 tbsps sesame oil
1 tbsp garlic, minced
1 tbsp sugar
1 tsp ground pepper
1 tbsp sesame seeds
Heat oil in frying pan on high heat and stir fry the green onions until fragrant. Add the carrots, mushrooms, and wood ears and stir fry for 3 more minutes. Combine the sauce ingredients and add to the vegetables. Stir well. Add noodles and water and stir fry until noodles are soft. Serve at room temperature with sesame seeds sprinkled on top.