Recipe: lemon bars
I realized today that I don't bake anymore. I make pastries. I used to bake a lot, and by baking I mean making foods that were easy to distribute and share like cookies, brownies, bars, pan cakes, bundt cakes. These days I make things that are difficult to share unless I've invited you to my house to eat. Stuff that gets plated, or cannot be easily transported or mailed. This struck me with some sadness, so I shook it off and made a quadruple batch of lemon bars (I can hear Heather squealing with delight right now).

make the shortbread dough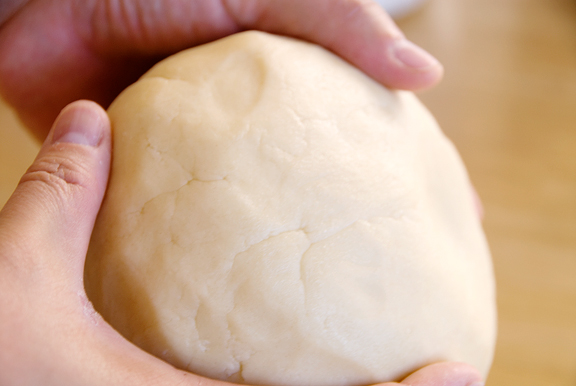 press dough into pan and bake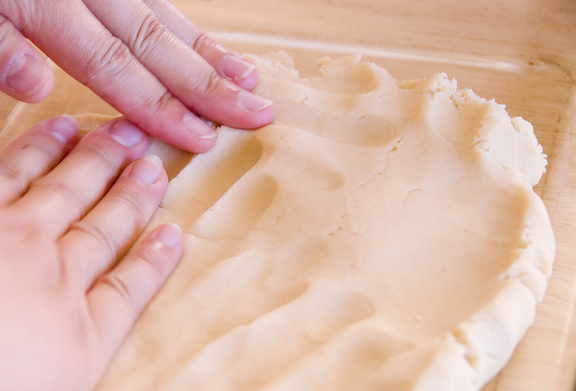 pour the lemon filling onto the cookie crust and bake some more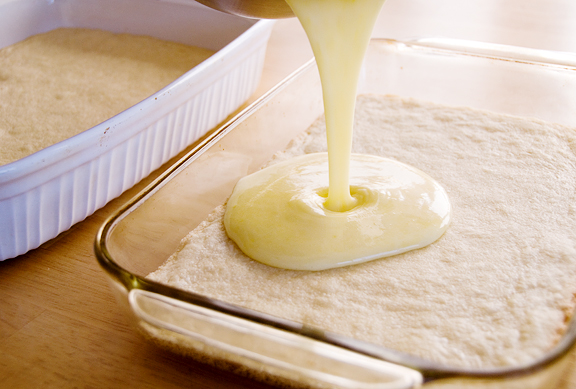 eat chinese noodle soup (soy sauce chicken, egg, spinach, chili bamboo shoots) for lunch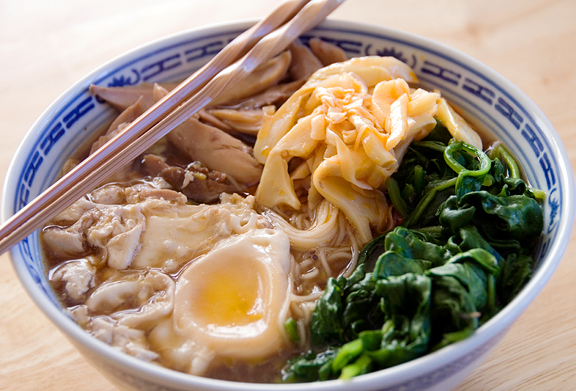 The lemon bars/shapes were pretty good, although I like mine more lemony and tart. I think the lemons I used were not the most flavorful and the yield on the lemon peel was low because I tossed two juiced halves into the compost bucket before I remembered I needed to grate the peel. The lemon filling was a little more oozy in the center of the pan because I guessed at the cooking time (got the lemon bar timer mixed up with the laundry timer) and because I was using large pans for the two batches of double recipes. That's okay though – the oozies stayed home and the more solid ones went to the neighbors.
and for dinner tonight: teriyaki pork chops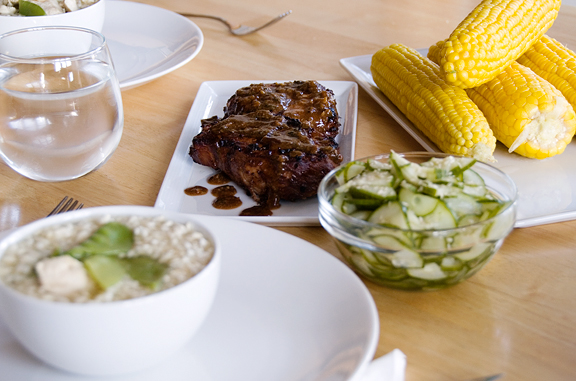 cut cooled lemon bars into non-bar shape and serve with dollop of lemon mousse
Lemon Bars
[print recipe]
a recipe from a bed and breakfast in Vermont
8 oz. (2 sticks) unsalted butter, softened
1/4 tsp salt
1/2 cup confectioner's sugar
2 cups flour
4 eggs, slightly beaten
1 tbsp grated lemon peel
5 tbsps lemon juice
2 cups sugar
1/4 cup flour
additional confectioner's sugar
Mix butter, salt, 1/2 cup confectioner's sugar, and 2 cups flour until soft crumbs form. You can use a pastry cutter or a mixer. The recipe actually says to press this into 9×13-inch baking pan (or halve the recipe into an 8×8-inch pan), but I wadded it into a ball and then pressed the dough into the pan. I think the recipe's instructions are better for a crisper cookie. Bake at 350°F for 15-20 minutes until done. Remove from heat. Beat the eggs in a bowl and then add the sugar, 1/4 cup flour, lemon juice, lemon peel and mix until smooth. Pour batter onto crust and bake for 25 minutes at 325°F until firm. Remove and let cool. Dust with confectioner's sugar and serve. I never dust because I always forget.