Recipe: caesar salad
Last night I made eggplant parmigiana (or Pecorino Romano is more like it). I hadn't ever made this before, but I had eggplants, bread crumbs, mozzarella, some leftover sauce… I sort of wung it and it turned out different from what I had expected, but wasn't bad at all. I have thoughts for improvement the next go around which will be soon because I have another eggplant waiting in the wings. These should improve on texture and the reduce the "vomit-like" appearance of the sauce.

eggplant parmigiana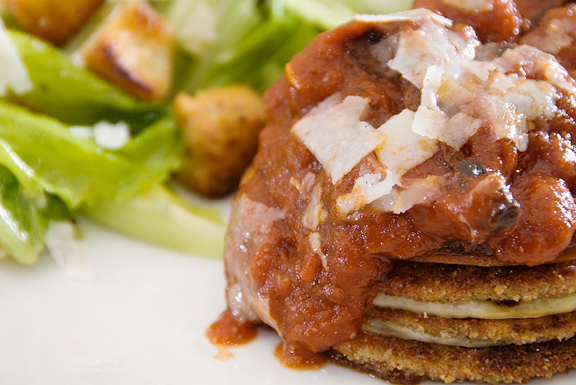 I peeled the eggplant completely, then sliced into thin (thinner than 1/4 inch) discs. I dipped the eggplant slices in two beaten eggs and then dredged in bread crumbs. Then I fried the slices in a few tablespoons of olive oil until browned on each side and set them to drain on paper towels. In a baking dish, I layered eggplant, mozzarella slice, some shaved romano, eggplant, mozzarella… and baked in a 350F oven for 45 minutes. Serve with some warm tomato base sauce.
Here's what I'd do differently:
1) cover the baking dish with foil or lid and remove for the last 10 minutes
2) make my own sauce (garlic and tomato)
Also – I ran out of breadcrumbs and tried frying up a few slices sans crumbs. Don't do that.

i like the layered effect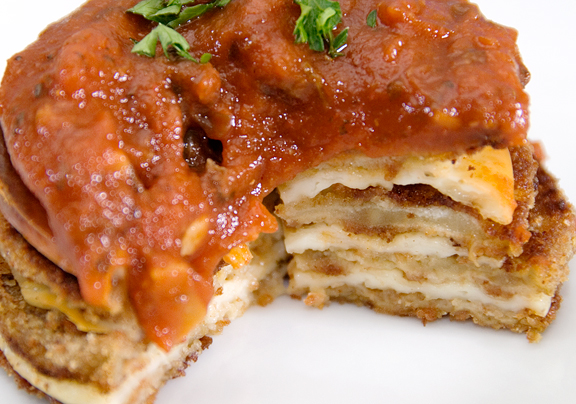 Actually, the best part was the salad. I haven't made Caesar salad in an age. I used to make it in high school because my parents loved it, but… It's quite easy to do although I never have anchovies on hand. Ah well, I'm fine without it really.
perfectly crisp caesar salad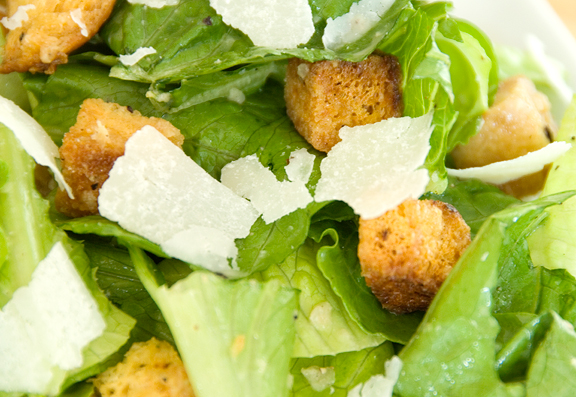 I didn't have croutons on hand, but that is never a problem because I love to make my own. It's really easy. Mince a clove or two of garlic. Cube some bread like french bread. Heat a few tablespoons of olive oil in a frying pan and stir the garlic around until fragrant. Add the bread cubes and a dash of salt and fry it up. If it's not crisp enough, you can chuck them into an oven and bake to harden the croutons. I learned to do this in camp in Chile with their brick bread which I wasn't a huge fan of unless it was fried like this with garlic.
fresh croutons really make it
Caesar Salad
[print recipe]
2 heads of romaine lettuce, washed, dried, torn
1-2 cups croutons
1 egg
1 clove garlic, crushed to paste
salt
pepper
1/3 cup olive oil
1/3 cup lemon juice
1 tsp Worcestershire sauce
1/3 cup Parmesan cheese, grated (or I used flakes of Pecorino Romano to dress on top)
Boil water in a small saucepan and put the whole egg (shell and all) in for 45 seconds and remove. Let cool. Break egg into bowl and mix with garlic, salt, pepper, lemon juice, and Worcestershire. Whisk the olive oil in by thin steady stream to ensure good emulsion. Mix in the cheese if grated (otherwise dress the salad with it last). Toss dressing with greens and croutons. Sprinkle shaved cheese on top. Serves 4.