Recipe: red beans and rice
I'm not sure how authentic this recipe is or not, but I love making a big batch. It heats up wonderfully for lunch or dinner (or brekkie – yeah, I do that sometimes). Despite how much I love to cook, there are times when it's so nice to reach into the fridge and spoon some food from a tupperware onto a plate and nuke it up just like that. Jeremy and I are both fans of leftovers because it's economical and delicious. Jeremy likes his red beans and rice as is (are?) and I like mine with some extra Tabasco… I mean a lot of extra Tabasco.

mise en place your spices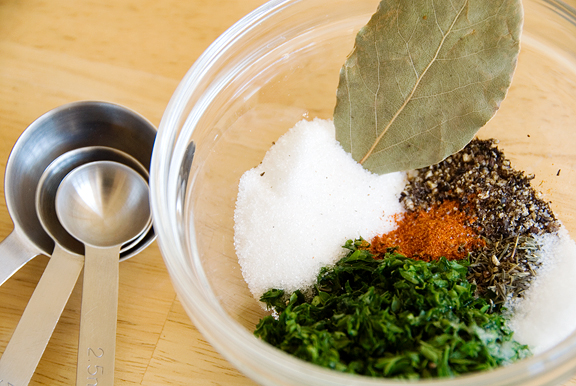 sautée the vegetables and then add spices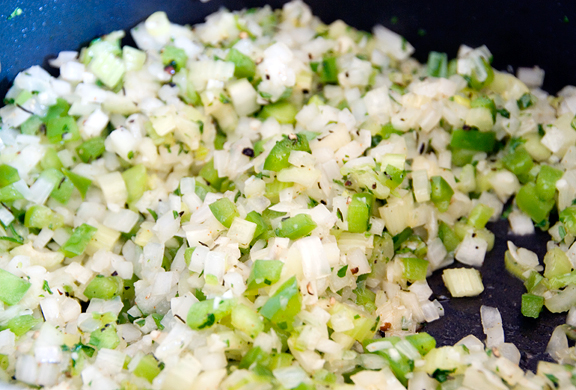 I got this recipe from Sande in graduate school. She clipped it from a newspaper when she was living in Farmington, NM before she entered indentured servitude in paleontology. It's the Tabasco that sold me. Whenever I make it I remember how much fun we had with Claire – the three of us taking turns hosting dinner to bitch and moan about our department while the husbands got to enjoy a big home-cooked production. Now we're scattered to the winds.
add beans and tomatoes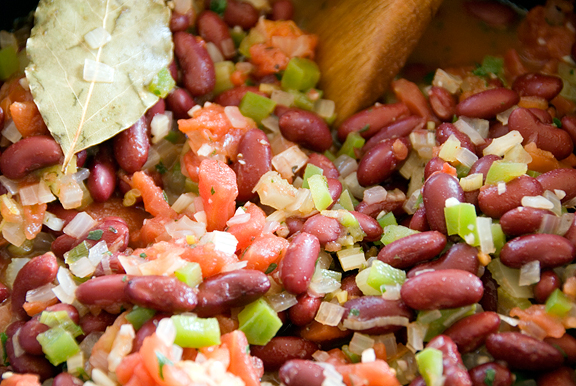 get some andouille and kielbasa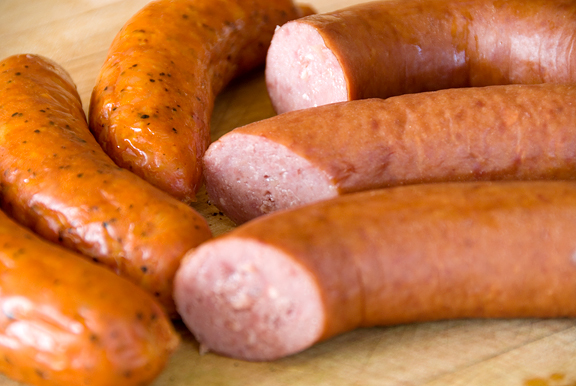 mix with rice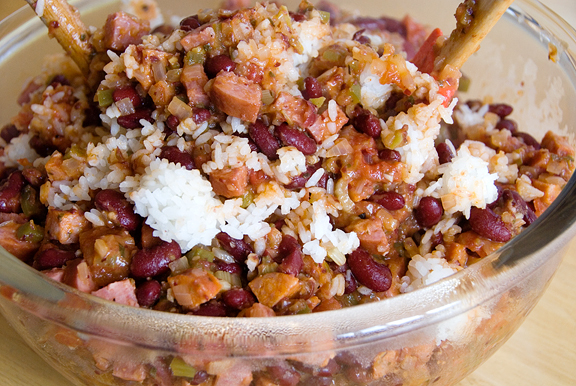 This is one of those recipes that is great as a one bowl deal. It has a ton of vegetables and beans and rice and… meat, if you dig on noshing animals. I used chicken andouille and beef kielbasa because those are what I could find. I love food, but my patience for grocery shopping in Boulder approaches nil exponentially. I still have memories of my markets and grocers in So Cal.
top with green onions and serve – keep trusty bottle of tabasco nearby
Red Beans and Rice
[print recipe]
2 tbsps oil
1 tbsp garlic, minced
2 cups onions, minced
1 cup green pepper, cored and minced
1 cup celery, minced
1/4 cup parsley, minced
1/4 tsp cayenne pepper, ground
1 bay leaf
1/2 tsp dried thyme
1 tsp Tabasco sauce (or more to your liking)
1 tbsp sugar
salt
pepper
28 oz. tomatoes, diced
4 cans kidney beans, drained
1/2 lb. andouille sausage, cooked and diced
1 lb. polish sausage, cooked and diced
4 cups of cooked rice
1 cup scallions, minced
Heat oil and sautée garlic, onion, green pepper, and celery until onions are translucent. Add parsley, cayenne, bay leaf, thyme, tabasco, sugar, salt, pepper, tomatoes, and beans. Let simmer for a few minutes. Remove a cup (I remove 2 cups) of the mixture with liquid and purée in food processor. Add back to pot and add sausages. Simmer covered for 30 minutes. Remove the bay leaf and mix well with rice. Garnish with scallions. Serves 8-10.