Recipe: stir-fried pork and pickled mustard green

Recipe: chinese steamed fish
My parents are like children on Christmas morning whenever they send me something in the mail. They have called for the past three days to check and see if I received their package – a ceramic knife. It's a very nice knife and I'm familiar with how wonderful these things are. So when it arrived today, I had to – per my mother's specific instructions – cut a tomato with it. I felt like a Ginzu advertisement, but I went ahead and took photos as evidence for them. It cuts beautifully – as nice as my Henckels.

feels like a lightweight, but it performs like a heavyweight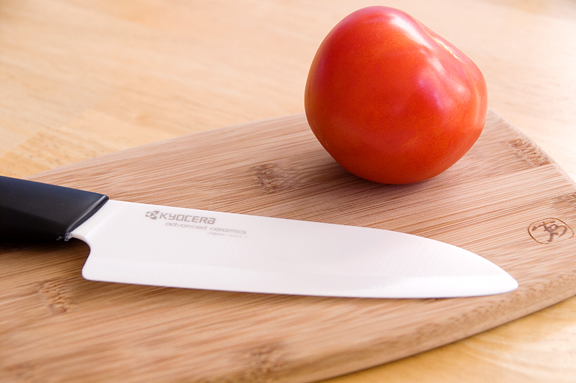 it slices, it dices!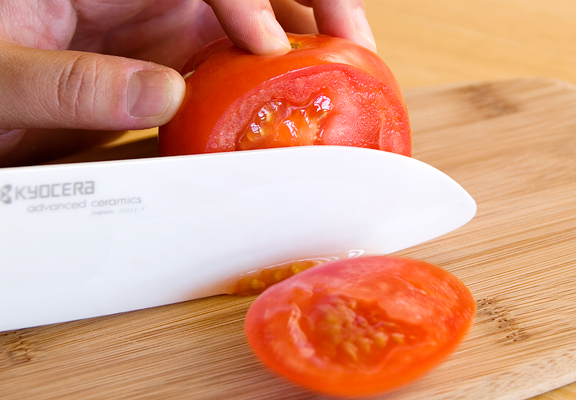 I go for long stints without cooking any Chinese food. Part of that is because I get on these experimental kicks where I see someone post about a great bbq recipe and I think to myself, "I need to learn how to bbq…" or just that I don't feel like making the extra trip to the Asian grocer in town. The owner who is always shouting at me actually noticed that I hadn't been in for a while when I went by on Wednesday. "Wheyhafyoubin?! Lontimenoseeyouokay?" I was so touched.
In an effort to use up random ingredients I had lying about the refrigerator, I found two packets of pickled mustard greens that my mom told me to buy when we were last in San Jose together.

i like being able to see what is in the packaging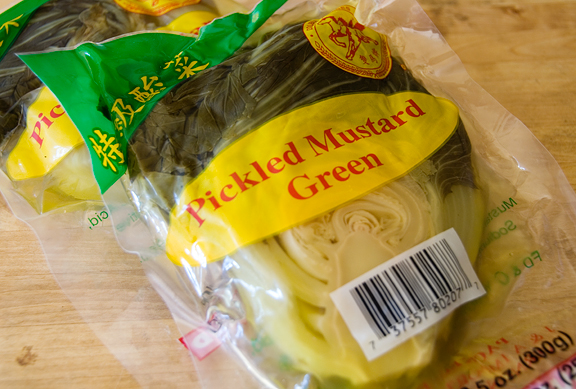 They keep forever because they're pickled and vacuum sealed, but… what to do with it? My mom and grandma do this all the time, "Here – buy these, they're good for cooking with." When I ask what exactly I'm supposed to do with said ingredient I get the answer in quickly rattled Chinese in a tone like, "Don't you know
anything
?!?"
they are larger than i had thought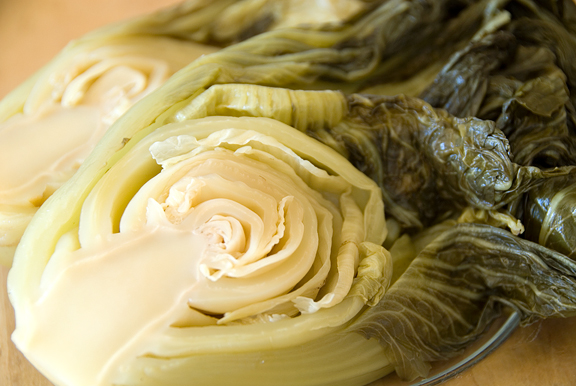 I think there are many ways to use this vegetable, but what sounded good in my head was to stir fry chopped mustard green with strips of bamboo shoots and pork in soy sauce, sesame oil, and a little corn starch. I boiled up some Chinese noodles in chicken broth and served the mustard green on top.
the stuff of a good stir-fry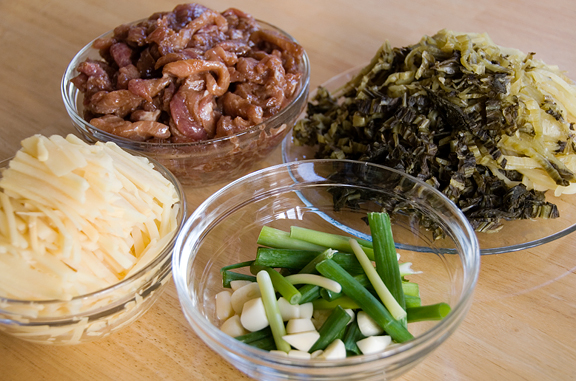 a nice noodle soup for a cool mountain evening
Stir-fried Pork and Pickled Mustard Green
[print recipe]
2 packages of pickled mustard green, squeezed and julienned
1/2 lb pork (dark meat), julienned
1-2 cups bamboo shoots, julienned
2 stalks green onions, cut into 1-inch pieces
2 cloves garlic, rough chopped
2 tbsp sesame oil
3 tbsp soy sauce
1 tbsp corn starch
1-2 tbsp vegetable oil
Mix the pork, sesame oil, soy sauce, and cornstarch in a bowl. Heat oil in a large frying pan on high heat. Add garlic and green onions when oil is hot. Stir around until garlic is fragrant, then add pork and sauté until meat is cooked. Add bamboo shoots and mustard green and sauté for another couple of minutes on high heat. Serve with rice or over noodles.
Tonight, I made some basic Chinese-style steamed fish. But I cheated. In fact, I never steam the fish, but nuke it in the microwave because it's so much easier, faster, and cleaner.

place filets on a microwave safe plate and top with ginger and green onions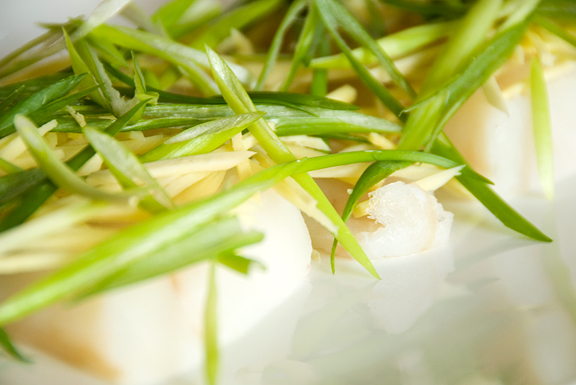 That said, I know if I bought fresh whole fish, I would be compelled to steam it because the flake is rendered far more tender that way. It's a quick meal if you happen to have some defrosted filets available like cod, orange roughy, and other things that I think are probably on the Monterey Aquariuim Don't Eat list. I'm trying to be better about that and carry the card around with me when I shop.
pouring hot oil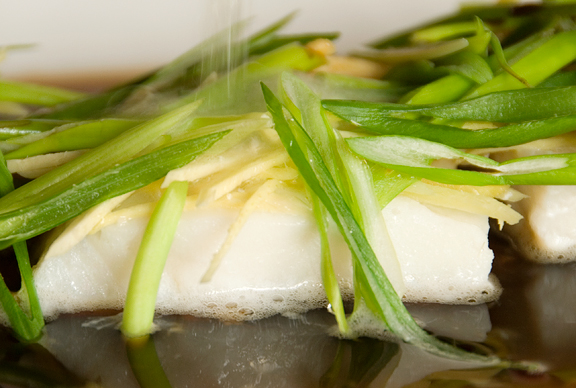 When I was little I used to scrape all of the green onions and ginger off the fish before eating it. Then in college I picked out the ginger and ate the rest. Now, I eat every scrap of ginger and green onion and I probably put too much on top – but I love that stuff.
light and refreshing anytime of year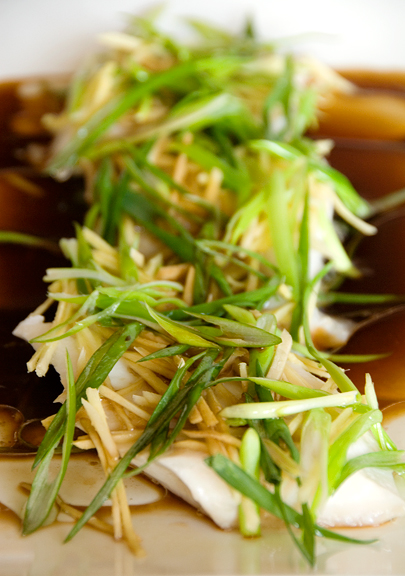 a very pleasant combination of flavors
(Cheater) Chinese Steamed Fish
[print recipe]
1 lb fish filets (white fish like flounder, cod, halibut, orange roughy)
2-3 stalks green onions, julienned
2 tbsp ginger, peeled and julienned
3 tbsp soy sauce
4 tbsp vegetable oil (something without flavor)
Place filets in single layer on a microwave safe dish. Spread ginger and green onions over the fish. Nuke on high for 2-3 minutes until fish is cooked. Sprinkle soy sauce evenly over the fish. Heat the oil in a small saucepan until it is HOT (i.e. if you dropped a piece of onion in, it would sizzle). Pour the oil over the fish (I think the idea is to sizzle all of the onions and ginger). Serve.