Recipe: galbi (bbq korean short ribs)
I am a barbecue whore. I think it originates in part from my southern roots – growing up in southeastern Virginia you end up loving seafood, barbecue, white trash food, and good country ham among other heart-stopping delights. I also love Asian food because I grew up in a household run by Chinese immigrants (my parents and my grandma) who all three are fantabulous cooks. This summer has been my summer of bbq (and pastries, and whatever else I feel like trying to cook). When I declared the Summer of BBQ, I meant I wanted to get my bearings straight on the King of BBQ (pork – according to where I grew up) and its loyal subjects beef, and chicken. But… Sarah Gim piqued my interest in galbi (or galbee), that is, Korean bbq short ribs on one of her posts.
It sounded so good. I had to try it when my List of Recipes to Attempt and Master cleared out a bit. And so it was that earlier this week while grocery shopping in Boulder I met my first obstacle… that no one in Boulder knows what short ribs (according to the Korean style) are. Safeway's "I don't normally work this department" butcher led me to something that looked nothing like what I sought. In Whole Foods, I was pointed to beef back ribs which had a lot of bone and fat and not so much meat. Where the hell were all the beef rib racks? At least the butchers at Whole Foods are willing to do just about anything you ask. So I handed the fellow five pounds of the meatiest back ribs I could find in the case and asked him to please cut them across the bones. I got a funny look, but he obliged me. I should have asked him to cut each piece into 3 strips instead of 2, but I have issues with shouting to someone while they are operating a bone saw.
I read an article somewhere (Fine Cooking? Cooks Illustrated?) that discussed the magic of galbi – either a pear or a kiwi in the marinade to tenderize the meat. I was all over that. I like tender meat.

can do – i got the kiwis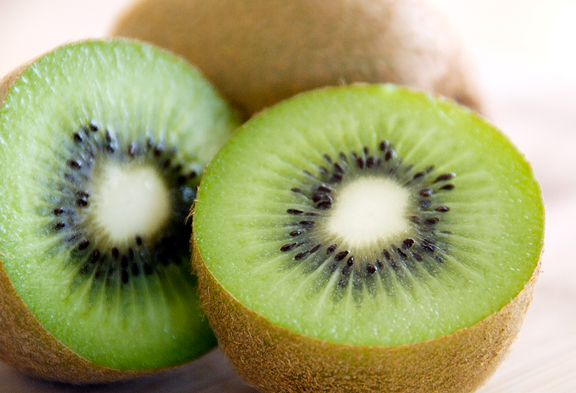 purée these lovelies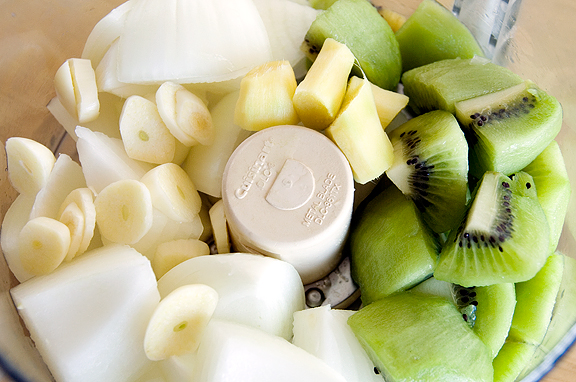 mix in the remaining marinade ingredients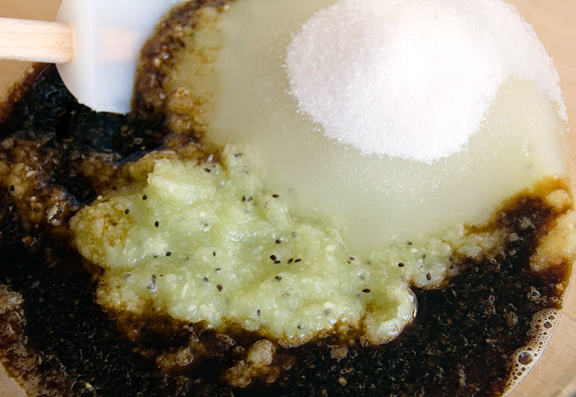 I tend to bastardize recipes I find online. Can't help it. I followed Sarah's instructions and also a couple of other recipe instructions – especially since I don't know what I'm doing. I washed and soaked the ribs for an hour (soaked, not washed for an hour – good lord). Then I marinated the ribs in this fragrant and wonderful mixture of soy sauce, sugar, kiwi, onion, ginger, garlic, rice wine vinegar, sesame oil and…
my somewhat tall short ribs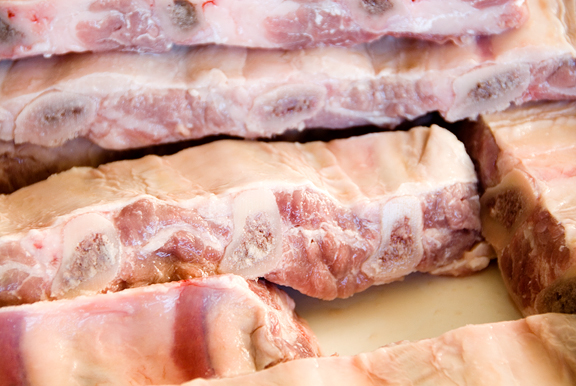 dang, doesn't fit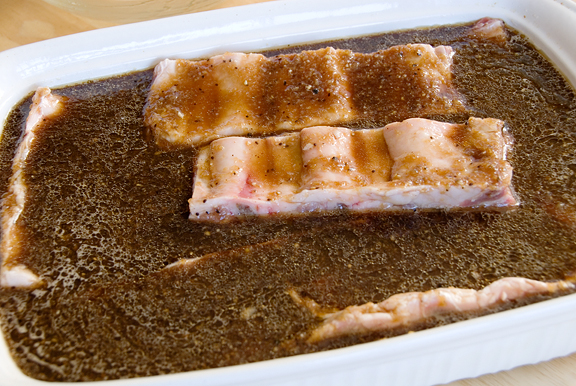 I had originally thought of putting the ribs in a ziploc – my favorite mode of marinating anything, but my incorrect gut instinct to try the baking dish took control first. They did end up fitting in a gallon ziploc with no problem. Eight hours later we were grilling those beauties.
sizzle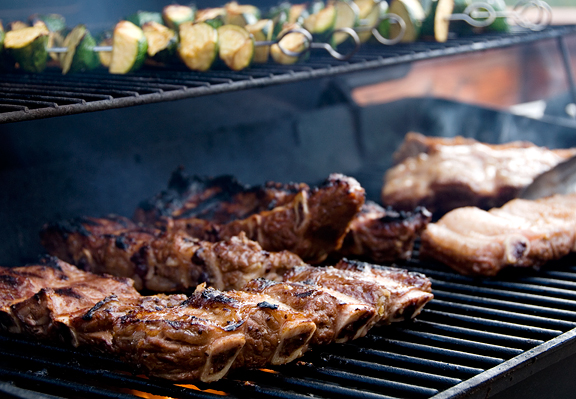 fire and meat – good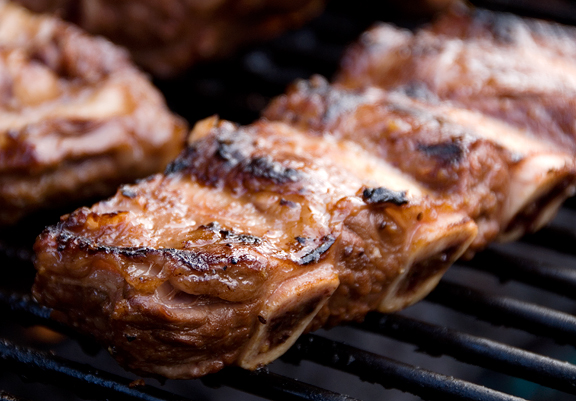 Did I mention I've never *had* galbi before? I know… virgin… These ribs are delicious. I love the seasonings and sweet and smokey and meaty and mmmmmm! I could have done with less of the fatty, but I think that had to do with the kind of ribs I bought. These have a terrific flavor and aroma. Being completely Korean stupid, I paired the ribs off with a Japanese cucumber salad, grilled squash marinated in soy and sesame oil, and some leftover Chinese fried rice. It was like hosting my very own Asia-Pacific summit without the annoying heads of state but with all of the yum.
galbi – verdict: delicious!
Galbi (BBQ Korean Short Ribs)
[print recipe]
5 lbs. of beef short ribs cut Korean style (which, I was unable to procure)
2 kiwis, peeled and cut into 8ths
1 onion, peeled and cut into 8ths
3 cloves garlic, cut in halves
1 tbsp ginger, chopped
1 cup soy sauce
1/2 cup sugar (or less – but I dig the sweet)
1/2 cup water
1/2 cup rice wine vinegar
4 tbsps sesame oil
1 tbsp ground pepper
Wash ribs of any bits of bone. Soak in water for 1 hour. Drain off the water. Process the kiwis, onion, garlic, and ginger to a fine purée. Add remaining ingredients to purée and place in a large ziploc bag with the ribs. Marinate for 8-10 hours. Grill ribs on high for 2-3 minutes a side for medium to rare. Well – grill it to your liking. Serve with a lot of napkins.