Sorry for the hiatus, but I was on travel visiting with my two favorite kids in the world. It's always a shock for me to walk into the kitchen of non-cooks. One of my old supervisors had a kitchen that was spotless and pristine because he never cooked. He ate out for every meal! I don't know if that is the norm or the exception, but the family I visited eats out a lot (or orders take out) and their pantry is full of processed junk and convenience foods. I usually feel pretty ill after eating fast food once a month let alone daily. It's a different perspective on food, that is for sure.
At one point I did manage to visit a Super H Mart which was awesome! I just googled it and found that we have one in Denver. A one hour and twenty minute drive is definitely better than a 3 hour flight. Sweet. They had lovely produce too, like these pretty Indian bitter melons: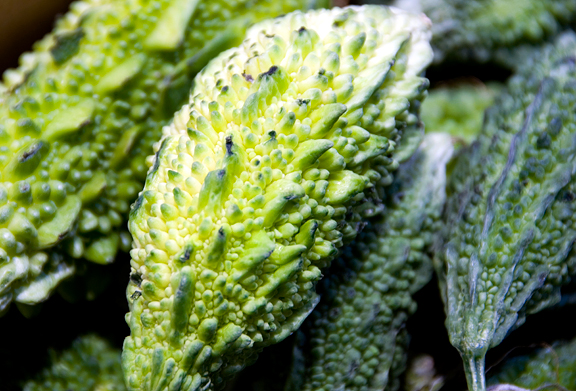 They had baskets of scuppernongs on sale at the entrance. I didn't know what they were and neither did my mom. She popped one in her mouth, bit down, and made a face like she was about to cry. She spat it out into her hand and said it was *sour*. That very evening, Joyce emailed me about scuppernongs and how she loves them. I followed her link to the wikipedia entry and laughed aloud when I read how they are eaten – without the skin. Now I'm really curious to try one. I'll have to tell my mom about it after she gets back home.
Sometimes I need to get my bearings straight after I travel and this trip was no exception. I felt tired, disoriented, and without appetite – until it was time to make a grocery list. Then I began looking up recipes for things I wanted to try this week and suddenly the food enthusiasm turned on again. It probably helps to be in my own kitchen, looking forward to preparing fresh and delicious things that we like.
Fall is coming and I am so ready!