Recipe: thin crust pizza
We like to make pizza at home because it's delicious, fresh, and most of all – I hate disposing of that damned giant cardboard box when we order from our local (only) pizza takeout joint in town. The shameful truth is, Jeremy makes the pizza dough. I'm the cook, but I've never made the pizza dough before. He just tried it one evening and it was great, and ever since then he has been the goto pizza dough boy. Actually, he used the Crusty Pizza Dough recipe from the KitchenAid stand mixer recipe book that comes in the box and I have to (bashfully) admit that he did this because I was afraid to use my KitchenAid mixer. Ridiculous (me), I know!
I had always mixed my double batches of cookie dough by hand. I figured it helped maintain my hitting arm for volleyball. I didn't trust the shiny white KitchenAid that my dear sweet in-laws had given to me for my birthday. It sat on the counter for well over a year before I ventured to test it out.
Typically Jeremy makes the dough and when it is ready, I build the pizza. The dough is inconsistent and I don't know if that is Jeremy, where we live, or how we bake it. But recently, I was perusing my favorite blogs and found this post by Deb over at Smitten Kitchen. That's a great blog and she's delightful. Anyway, I figured it was time to give thin crust a try. We don't have a stone, which I always wondered about – would having one fix our pizza inconsistencies? Jeremy had read that to make true pizza, you need a really hot oven – one far hotter than our gas oven could ever aspire to. But after reading Deb's post, I directed Jeremy to roll out the dough as thin as possible and I'd take care of the rest.
We use my jelly roll pans for baking the pizza because I don't have anything larger. Jeremy sprinkled some cornmeal down and then set the dough – rolled thin, very thin – on the pan. When we are lazy (a lot) we spread some jar sauce sparingly over the dough. I like my pizza garlicky, so I mince a clove or two of garlic and mix it with minced broccoli (pulse some blanched florets in the food processor) and shredded mozzarella. I sprinkle that lovely mixture over the pizza and top with mushrooms and maybe some pepperoni or anything else that tickles my fancy. I think Jeremy is fearful of the "highest" temperature on our oven, so I set it for 475F. We chucked the pizza into the oven when it was ready and let it bake for about 10 minutes.

terrific for dinner or an appetizer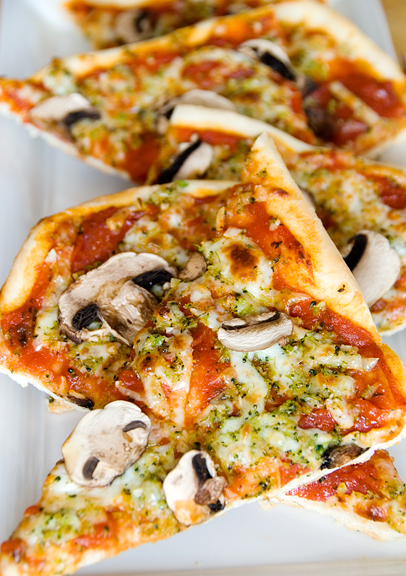 This is nothing close to deep dish or pan pizza or thick crust, but we both found it delightfully crisp and satisfying to eat. The slices are also not nearly as soggy the next day as leftovers. Mmm, that's good stuff.
crispy and thin with no dumpage in the lap
Thin Crust Pizza
[print recipe]
makes two 8×15 inch oblongs
crusty pizza dough
from the KitchenAid recipe book
1 pkg active dry yeast
1 cup warm water (105-115°F)
1/2 tsp salt
2 tsps olive oil
2 1/2 to 3 1/2 cups all-purpose flour
1 tbsp cornmeal
toppings
2 cups of pizza sauce (canned or homemade)
8 oz. shredded mozzarella
florets from 1 head of broccoli, washed, blanched, minced
2 cloves garlic, minced
other toppings of your choosing
Dissolve yeast in warm water in warmed mixer bowl. Add salt, olive oil, and 2 1/2 cups flour. Attach bowl and dough hook. Turn to Speed 2 and mix for 1 minute. Continue on speed 2, add remaining flour, 1/2 cup at a time, and mix about 2 minutes, or until dough clings to hook and cleans sides of bowl. Knead on speed 2 for 2 more minutes. Place dough in greased bowl, turning to grease top. Cover. Let rise in warm place, free from draft, about 1 hour or until doubled in bulk.
Preheat oven to highest temperature (we did 475°F). Punch down dough. Brush pan(s) with oil and sprinkle with cornmeal. Split dough into 2 balls. Roll, stretch, or toss the dough until thin and place on pan(s). Smear the sauce onto the dough evenly and not too thick. Mix the cheese, garlic, and broccoli together in a bowl. Sprinkle the cheese mixture over the pizza(s) and then top as you please with other ingredients. Pop the pizza into the oven and bake for 8-10 minutes. Serve it up.