Recipe: peppermint ice cream
I can't tell you how excited I was to finally try a peppermint ice cream recipe! I've been wanting to make peppermint ice cream ever since I left Ithaca, New York 5 years ago. Ithaca was where on occasion, I would buy Purity brand peppermint ice cream which wasn't that crappy green stuff. It was real peppermint and pinkish and absolutely heavenly. I suppose peppermint ice cream to me is what Coffee Heath Bar Crunch is to Jeremy. But I was never much of a dairy expert and ice cream wasn't high on my priority list of skills to accomplish. I don't know why now, but I'm glad!
This recipe comes from David Lebovitz' The Perfect Scoop. I actually found it on Elise's terrific site here. I've had issues crushing peppermint candies in the past. My favorite peppermint candy is King Leo brand peppermint sticks, but they are so airy they would just dissolve in ice cream. I used those generic red and whites from the store. When I made peppermint bark in the past, there was a lot of swearing and harming of worktable surfaces. I wised up this time and remembered my seldom-used mortar and pestle.

good idea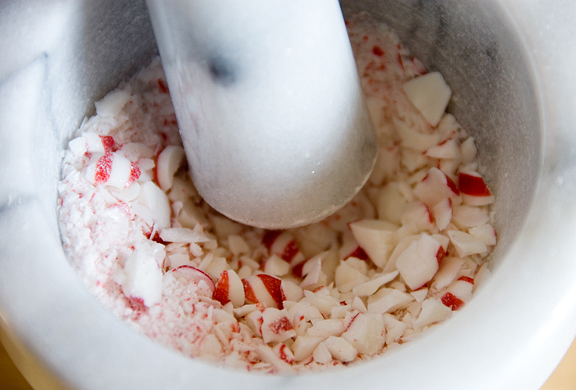 I had to cover the whole thing with my other hand to avoid wedging (more) peppermint shards in the kitchen and my laptop keyboard. The basis of the recipe is a custard. I am a big fan of custard. It makes the whole thing so smooth and silky and rich and delicious. LOVE the custard.
start with eight egg yolks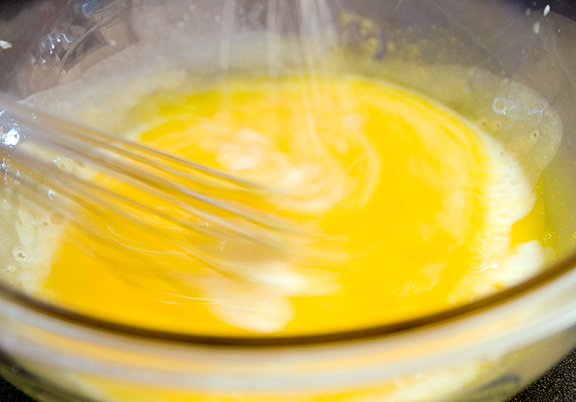 cooking the custard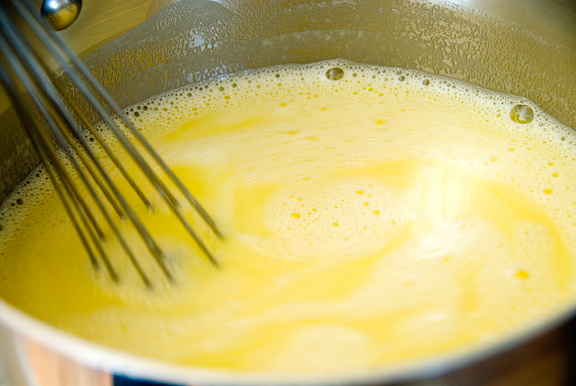 stirring into the cream
The recipe said to add the candy to the ice cream after it had run in the ice cream machine. I guess I mashed the candy a little too fine because I only got the occasional crunch of peppermint and the ice cream base turned a lovely shade of light pink. I added some more. It's gooooood.
peppermint ice cream with chocolate short dough cookies
what is not to love?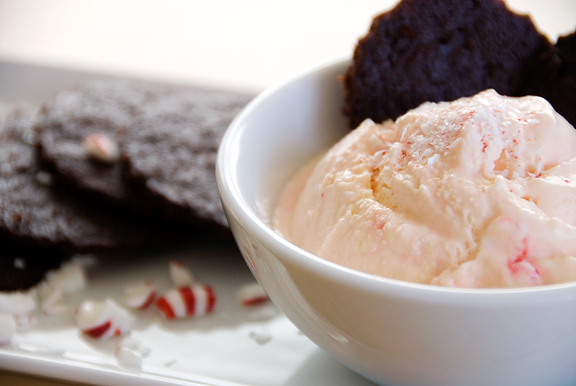 Peppermint Ice Cream
[print recipe]
The Perfect Scoop by David Lebovitz
2 1/2 cups heavy whipping cream
1 1/2 cups milk (whole)
8 egg yolks
3/4 cup sugar
1/4 tsp salt
2 tsps peppermint extract
1/2 cup peppermint candy, crushed
Heat the milk, sugar, and salt in a saucepan until sugar and salt are dissolved (don't let boil). Set the cream in a bowl nested in a larger bowl of ice. Place a sieve on top of the bowl with the cream. In another bowl, whisk the egg yolks. Slowly pour in the warm milk mixture while whisking constantly (take care not to cook the eggs – this is why you temper them with the warm milk slowly). Pour the contents back into your saucepan. Heat the mixture over medium flame and stir constantly with a spoon or spatula. It's good to scrape the bottom and corners of the pan so you don't get uneven cooking. Do this for about 5-7 minutes until you get nappe consistency (coats the back of the spoon). Pour the custard through the sieve into the cream. Stir to cool over ice and then chill thoroughly in the refrigerator. Once mixture is chilled, add peppermint extract to your desired taste. Freeze in your ice cream machine according to the manufacturer's instructions. After the ice cream is done in the machine, stir in your candy and then store in an airtight vessel and freeze.