Recipe: pear ice cream and wine poached pears
It's the right time for pears. I enjoy pears, but the fruit carries some baggage for me. In Chinese, the word for pear is a homophone of the word to split or to leave. My grandmother and mom never allowed splitting a pear between two people (for fear that you would be separated). However, splitting among three or more is okay. I never quite understood all of it, but they scared me so much with their superstitions that I follow it (and many others) to this day. I even consulted with my grandmother to find out if it was okay for us to share a pear with the dog. She gave it some consideration and concluded that yes, it was okay, since the dog is part of our family and that makes three.
About nine years ago, I was in Argentina for field work and the whole team was in camp together for one night. We usually paired off and only met up in town for supplies, downloading data, and meeting with local geologists. Ben and I dropped by a grocery store en route to camp and I picked up some ingredients for dessert to follow the asado. I made poached pears in red wine sauce and served it with vanilla ice cream (which I kept cool by tying the carton in a plastic bag and chucking it into a freezing cold stream on a leash). It was suprisingly good, but I think everything tastes better in the backcountry. Seeing pears on sale at the store stirred up those old memories.
First I made some ice cream – pear ice cream. Now with my copy of The Perfect Scoop in hand, I dabbled with DL's pear and pecorino ice cream. Fruits like pear and lychee have such subtle and almost flowery flavors that they beg to be made as ice cream.

probably too much pear, now that i think of it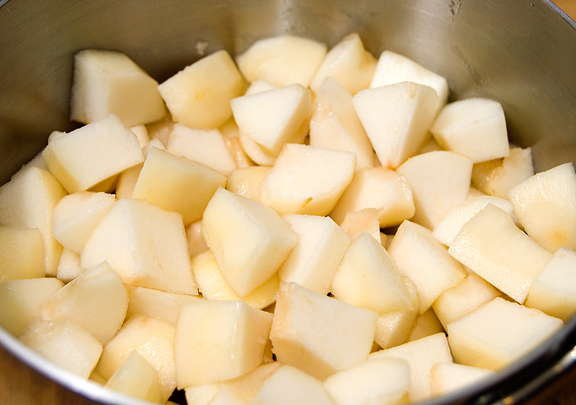 we definitely want a custard base (because i love it)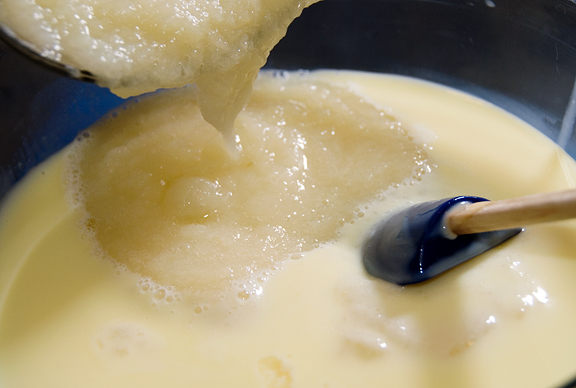 I omitted the pecorino because I didn't have any. I upped the amount of pear and custard, but I think less pear might have lent to a creamier texture. It turned out more like a hybrid ice cream and sorbet – which is good, but not what I was shooting for. So that was made with bartlett pears. Today, I picked up some bosc pears for poaching.
a more elegant shape for poaching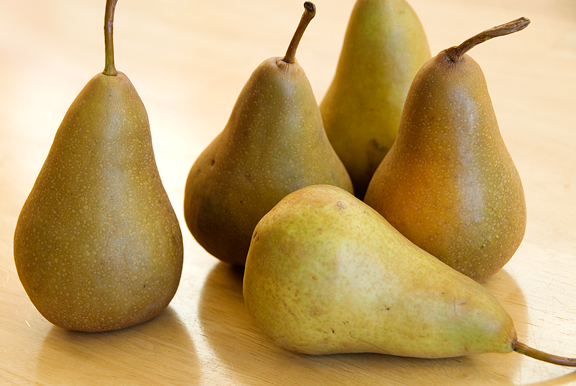 naked!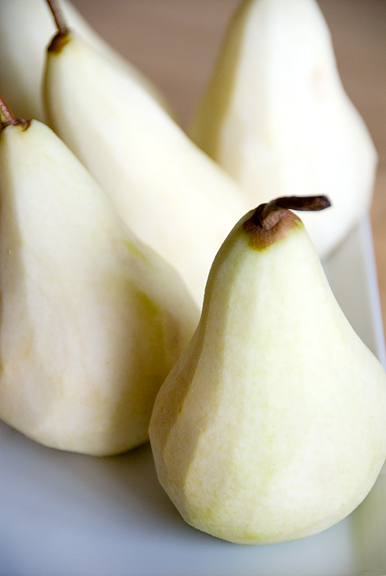 I couldn't decide on a recipe, so I wung it and tossed in what sounded good for the wine sauce. This is where two buck chuck comes in handy. I know Julia says to never cook with a wine you wouldn't drink, but my tastes aren't
that
discerning and I'm not made of money (what a concept).
sugar, cinnamon, cloves, orange peel, and vino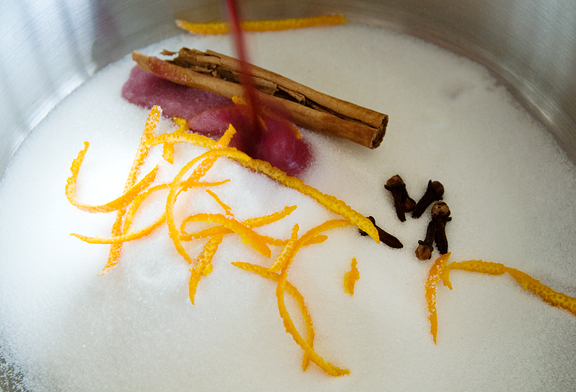 simmer for 45 minutes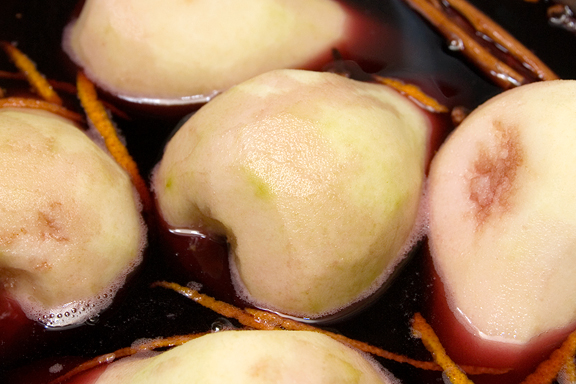 The pear ice cream with the poached pears tasted nice and fruity – light. I think a rich vanilla is still my preference to eat with the poached pear. I have to wonder how the pear and pecorino would have been with a wine sauce. It just sounds like a perfect combination despite the fact that I don't dig on cheese too much. Always fun to experiment.
a pear pair
Pear Ice Cream
[print recipe]
adapted from The Perfect Scoop by David Lebovitz
4 ripe bartlett pears, peeled and cored
1/2 cup water
1 1/2 cups half-and-half
3/4 cup sugar
4 large egg yolks
1/4 tsp lemon juice
Cut pears into 1/2-inch pieces. Cook with water in a medium saucepan, covered, over medium heat stirring occasionally until cooked, about ten minutes. Remove pears from liquid. Purée in food processor until smooth. Warm half-and-half and sugar in a medium saucepan. In a separate bowl, whisk the egg yolks. Slowly pour warm half-and-half mixture into egg yolks while whisking constantly, then pour the mixture back into the saucepan. Stir over medium heat scraping the bottom until mixture thickens and reaches nappe consistency. Strain the custard into a bowl over an ice bath and mix in the lemon juice and the pear. Stir until cooled. Chill thoroughly in refrigerator and then freeze according to your ice cream maker instructions.
Wine-Poached Pears
5 bosc pears, peeled with stem on
2 cups red wine
1 cup sugar
1 cinnamon stick
5 cloves
1 tsp orange peel
Combine all ingredients except the pears in a medium to large saucepan. Dissolve sugar over medium heat. Add pears on their sides to the pan and bring to a boil. Reduce heat to simmer and cover. Simmer for 45 minutes, flipping pears at 22 minutes. Remove pears from sauce. Boil the sauce until it bubbles up and remove from heat. Let sauce cool. Drizzle sauce over pears and serve with something creamy (whipped cream, ice cream…)