Recipe: savory bread pudding
I had attempted a savory bread pudding earlier in the year, only to discover that marjoram tastes like soap and ruined the whole dish for me. I swore to myself that my next version would include bacon and omit marjoram. And indeed, I did just that and then some. I am a huge fan of sweet bread puddings. I prefer to work with chocolate when making desserts, but I love to eat non-chocolate desserts, if that makes any sense? So I thought that a savory bread pudding with some of my favorite ingredients would work out.

the cheeses and green onions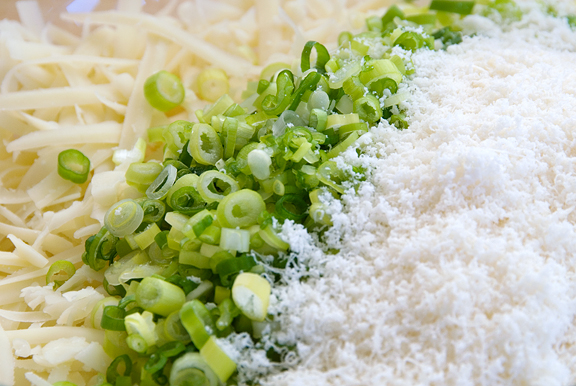 I replaced 2 cups of swiss with 2 cups of gruyère because I love the intensity of a good cooked gruyère. And I used broccoli instead of asparagus (because broccoli was on sale), and added mushrooms and of course – the beloved bacon. All hail the piggy! Such a magical animal…
an undeniably delicious combination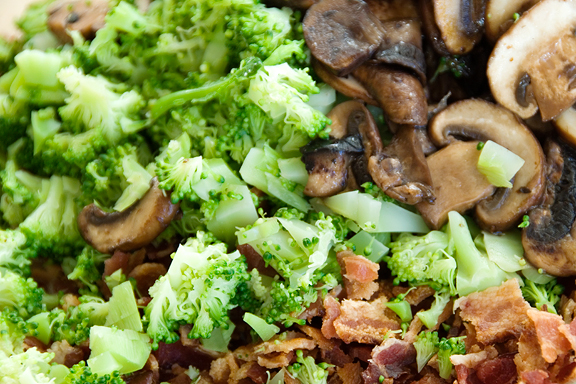 You are supposed to use stale french bread, but I had a fresh loaf of challah and that's what I used. The beauty of bread pudding is that it's totally free form.
layer bread, then veggies and bacon, then cheese…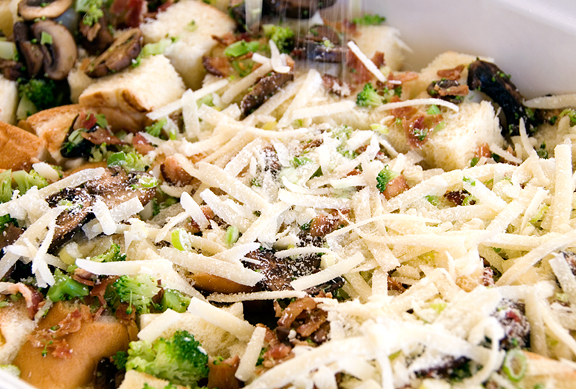 pour the egg and milk mixture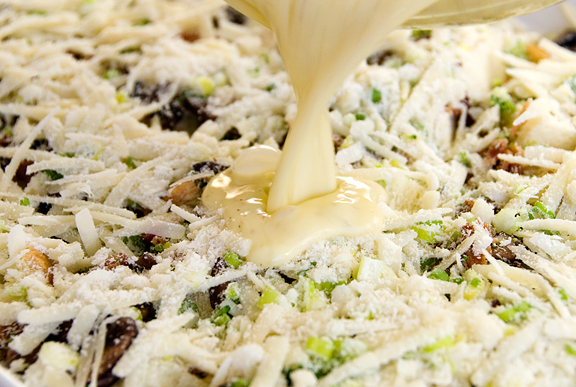 On the first bite, I was expecting the repulsive taste of soap. That's how traumatized I was after that previous version (something I nabbed from Epicurious). Thankfully, it was terrific and no sign of nasty marjoram either!
it's like a bread pudding version of my favorite quiche
Savory Bread Pudding
[print recipe]
6 eggs
2 cups milk
2 tsps salt
1 tsp ground pepper
4 cups gruyère, shredded
1 cup parmesan, grated
1/3 cup green onions, minced
1 lb. bacon
8 oz. mushrooms, sliced
2 heads broccoli, chopped and blanched
1 lb. whole loaf of stale/old bread
Oven: 375°F. Whisk the eggs, milk, salt, and pepper in a bowl. Set aside. Mix the cheeses and green onions in another bowl. Set aside. Cook the bacon and drain on paper towels. Chop or break the bacon into little pieces. Sauté the mushrooms in some oil (or a little bit of the bacon grease). Mix the bacon, mushrooms, and broccoli together in a bowl. Set aside. Rip or cut the bread into 1-inch cubes. In a large baking dish (9×13 ish) layer half of the bread. Then sprinkle half of the bacon mixture. Then spread half of the cheese mixture. Pour half of the egg mixture evenly over top. Repeat. Sprinkle any leftover cheese on top and press the pudding down. Bake for 45 minutes or until top is golden brown.