Recipe: hot and sour soup
I have a tiny, old recipe book that my mom's house mother (in grad school) printed in 1974. Several years later, Mrs. Li sent a couple of copies to my mom who in turn passed them along to me and Kris. I love this book. The binding is half-missing and the pages are stained, but it contains 100 authentic Chinese recipes. I tend to be a visual person and I am a total whore for cookbooks plastered with glossy pictures, but this modest book is a simple black and white with a few line drawings to illustrate the more complex steps. Next to my parents and my grandma, this book has taught me how to cook some traditional Chinese favorites. Imagine my delight the first time I tried the hot and sour soup recipe. The kind you get in Chinese restaurants is typically heavy on the cornstarch and very light on the goodies – not so with this version.

you can find tiger lily buds in asian markets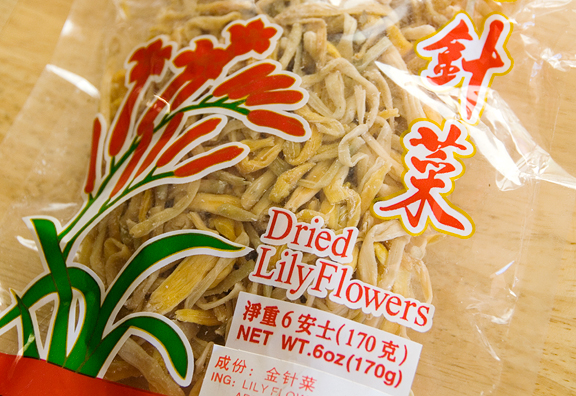 i used dried shitakes, a staple in my pantry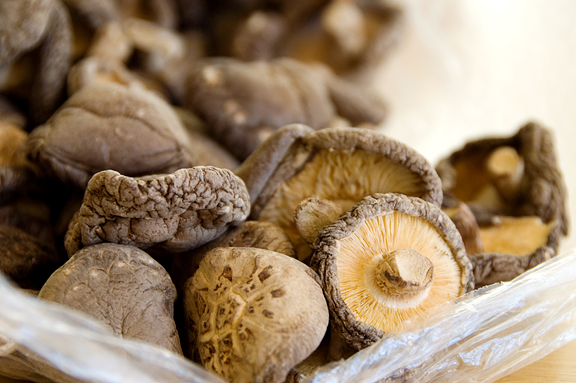 The version I make is flexitarian because I use chicken broth (which can easily be replaced with vegetable broth for a vegetarian version). I don't use pork or chicken meat in the soup. I find it to be pretty satisfying texture-wise with all of the vegetables and tofu and egg.
rehydrating lily buds in hot water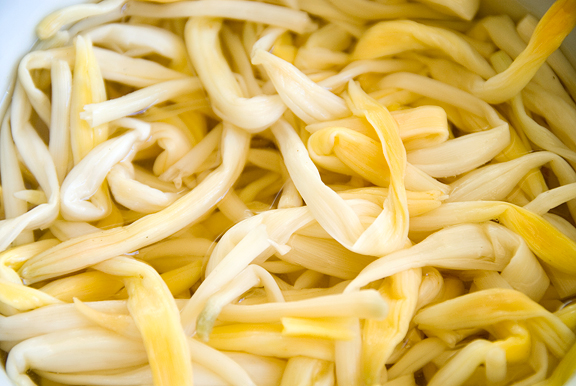 squeezed out and lined up – cut the woody tips off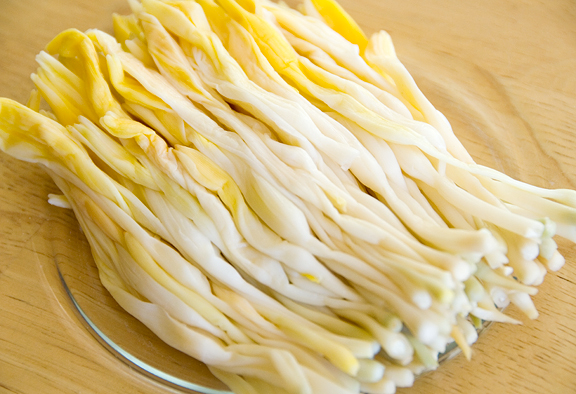 Some ingredients may not be readily available at any old grocery store and you might need to make a trip to a local Asian market. However, I find that stores like Whole Foods and even my local Safeway stock canned bamboo shoots, water chestnuts, and sometimes fresh shitake and fresh enoki mushrooms.
fresh enoki mushrooms – cut the base off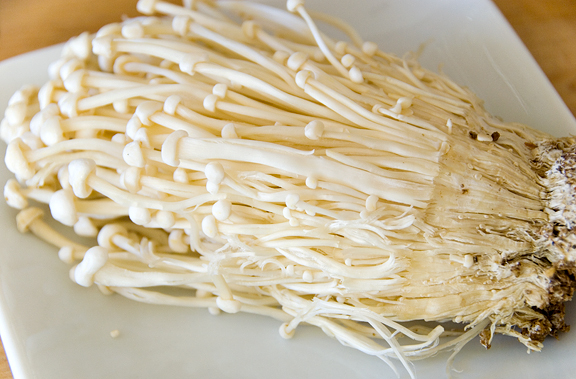 chop chop: bamboo shoots, water chestnuts, tofu, shitake, lily buds, enoki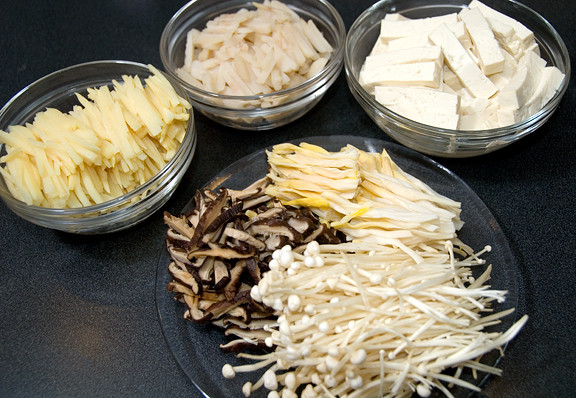 The beauty of hot and sour soup is that you can mix and match the ingredients as you please. For me, the essentials are the lily buds, shitakes, bamboo shoots, and egg. Everything else is like icing on the cake. A little white pepper and vinegar (the hot and sour, respectively) before serving and you're done, superstar!
into the pot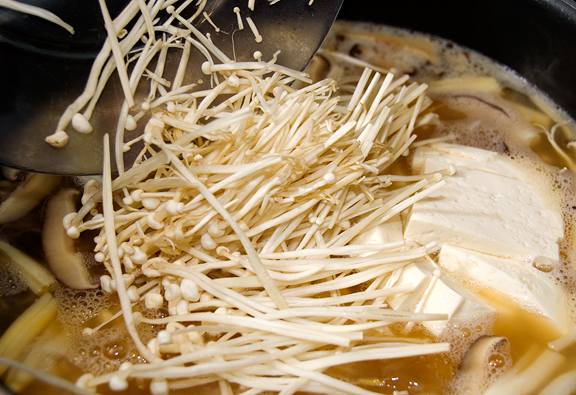 stirring in the egg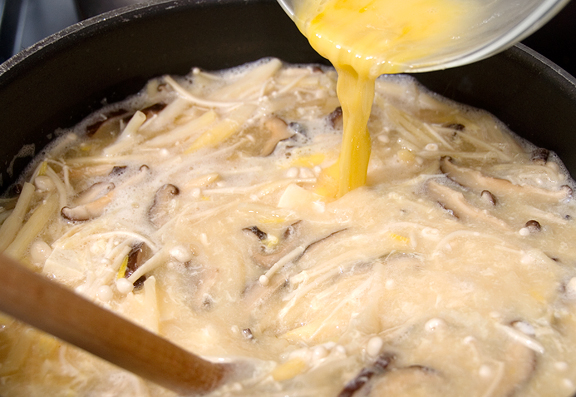 full of goodness
Hot and Sour Soup
[print recipe]
adapted from Chinese Cooking in American Kitchens by Ming Li
1/2 cup cloud ears (aka wood ears or tree fungus) *I was too lazy to add these this time
1/2 cup tiger lily buds
1/2 cup shitake mushrooms
1/2 cup pork or chicken strips (optional)
1 cup tofu, cut into 1-inch strips
1/2 cup water chestnuts, cut into strips
1/2 cup bamboo shoots, in strips
1 cup enoki mushrooms with base removed
3 eggs, beaten
2 tbsps cornstarch (add more if you want a thicker broth)
3/4 tsp ground white pepper
1 tsp sesame oil
2 tbsps vinegar (I prefer red wine vinegar)
6 cups chicken broth
1 tbsp soy sauce
If the cloud ears, lily buds, and shitake mushrooms are dried, rehydrate them separately in hot water for 30 minutes. When the lily buds are soft, remove the hard tips. When the cloud ears and mushrooms are soft, wash them free of any sandy particles. Cut the lily buds into 1-inch lengths. Cut the cloud ears coarsely. Squeeze the mushrooms out and cut off the stems. Cut the mushrooms into thin strips to match the size of the lily buds. Mix the cornstarch with 1/4 cup of water and set aside.
Heat the broth in a soup pot and add any meat if you are using it. Bring the broth to a boil. Add the cloud ears, lily buds, and shitake mushrooms and simmer for 10 minutes. Add sliced tofu, water chestnuts, bamboo shoots, enoki mushrooms, and soy sauce and let return to boil. Reduce heat, stir cornstarch mixture into soup, stirring constantly. Let it return to a boil. Stir in beaten egg slowly while it cooks into long threads. Add pepper, sesame oil, and vinegar. Serve hot.