Recipe: chinese tea-smoked chicken
Sometimes I think I need to get out more.
Is there a recipe that you grew up with and loved, believing that it was some special family recipe, only to learn later that everyone knows how to make this dish and what? did you grow up under a rock? That seems to have happened to me on several occasions. The first one that I recall was when I was maybe 3 years old. My paternal grandparents were visiting from Taiwan. I didn't endear myself to my Nai Nai (Chinese for paternal grandmother) at first because I kept hearing my parents talk about Yieh Yieh Nai Nai coming to visit. Yieh Yieh is what Kris and I were to address Grandpa as. But no one actually spelled this out for me. So the first I thing I said when they arrived was, "That's Yieh Yieh Nai Nai," looking at my Grandpa, "but who is she?" pointing to Grandma.
I fixed that blunder pretty quickly though. Nai Nai made some toast one morning and gave me a slice. I thought it was the best thing I had ever tasted and kept raving about it. Toasted Wonder Bread. I thought she was the only one who knew how to make this amazing snack. Toasted Wonder Bread. I'll bet she got a kick out of that since she wasn't really into cooking.
But my maternal grandma, Po Po knows how to cook. She made this smoked chicken on occasion throughout my childhood and knew it was a favorite of mine. Po Po lived with us for the first 9 years or so of my childhood (they tell me she arrived when I was 2, but as far as I'm concerned, she was there from the start) and she's so much more than a grandma to me. When she moved to Michigan to live with one of my aunts, she used to make a batch of smoked chicken whenever Kris and I visited. She would laugh while Kris and I fought over how many pieces each of us was to get. My mom learned how to make it and then Kris and I would fight over the chicken when we went home to visit. It's that good!

use sichuan peppercorns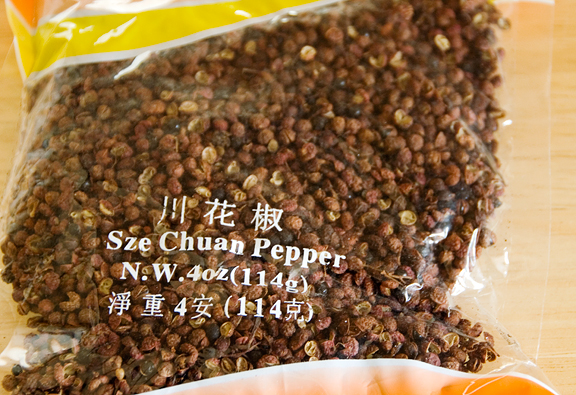 mix with salt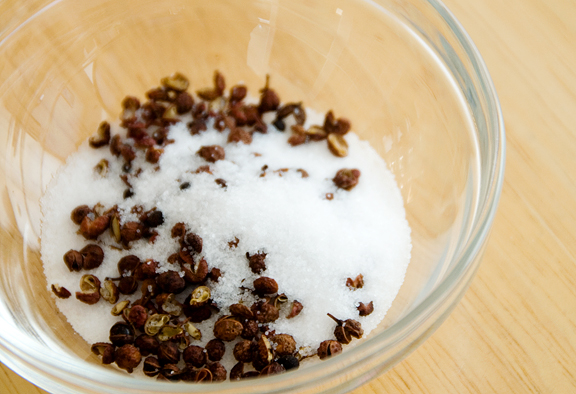 So I finally got around to watching my mom make the chicken this spring, and I took copious notes and promptly misplaced them. Meanwhile, I began to read random mentions of tea-smoked chicken on the food blogosphere and a (very) dim light went off in the back of my head, "hey… our family recipe uses tea leaves…" I called Mom this week to rehash the instructions and somehow wound up recycling the piece of paper I jotted the notes on. When I searched on some tea-smoked chicken recipes, I realized they were similar to what I was making. I called her yet again when I made the chicken last night, just to make sure I wasn't screwing it up (too much). "This is tea-smoked chicken, right?" In some way I wanted her to say, "No – this is Po's recipe." But instead she said, "Yes,
shing ji
."
Oh. This was not in the manual on How to be a good Chinese daughter. Not that I read any such manual! ha ha ha *snort*

rub the chicken legs in the salt and pepper and let sit overnight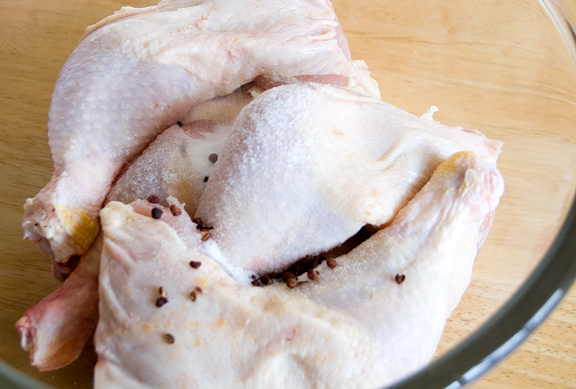 cover in cold water and bring to boil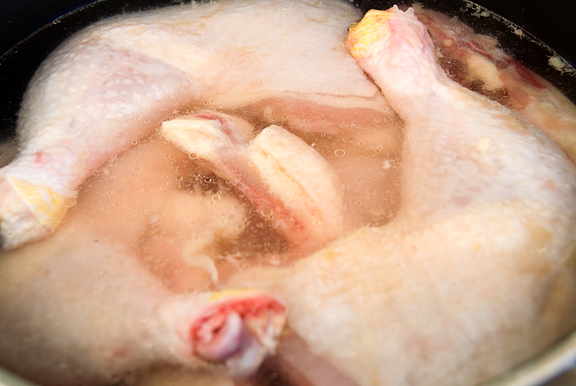 I suppose you could use chicken drumsticks in a pinch, but I really prefer the whole leg. And honestly, I hate using conventional chicken. The fat is so… fatty and yellow and abundant. Organic chicken is much leaner with far better flavor. If you can 1) find them and 2) spring for them, by all means I encourage you to do so. If you get the whole leg, there is usually a large bony piece at the opposite end of the foot. Mom told me to cut that off with a cleaver. Please be careful when doing this. I still haven't mastered how to use a Chinese cleaver without sending samples flying all over the kitchen. I reserve those pieces and cook them with the rest of the chicken in the pot of water.
remove the chicken and allow to cool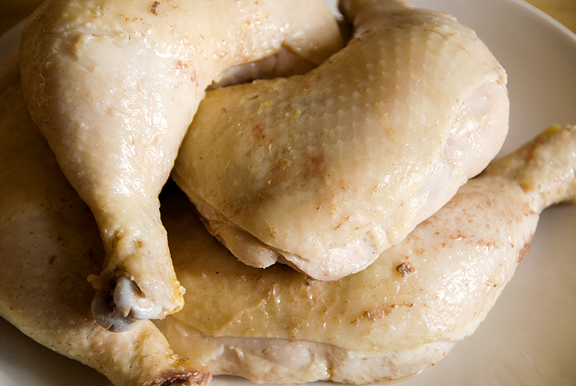 the tea, sugar, flour set up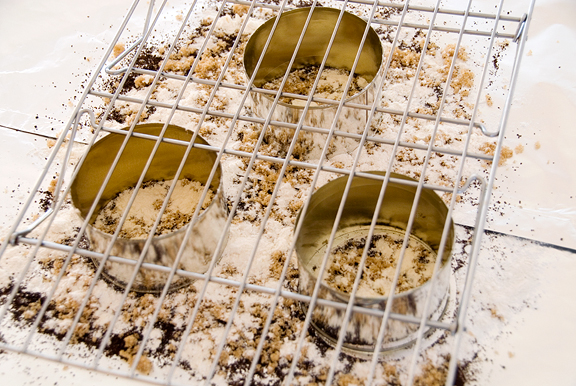 Let the water come to a boil and then (here is where message and memory get garbled) turn off the heat and cover the pot for 10 minutes. Mom instructs that the chicken is ready when you poke it and the juices run clear. If the juices are pink, then let it cook longer. Once the chicken juices run clear, remove them from the water and let them cool on a plate. That water, by the way, is good broth. I let it simmer for an hour longer with those bone pieces and made egg-drop soup tonight with the homemade broth.
While the chicken is cooling, get your smoker set up. There are probably more elegant ways to do this, but this is the method Grandma uses and it works for me. You will need four clean short cans with the tops, bottoms, and labels removed. I think tuna fish cans might be a tad short and their rounded bottoms don't lend well to can openers. I used water chestnut cans – and I only had three (four is more stable) but then again, I only had 5 chicken legs instead of the standard 8. Lay down a large sheet of foil (or two – as mine was too narrow to wrap around the entire deal) and sprinkle the flour, brown sugar, and tea over the foil. Set the cans down in the most stable configuration and place a metal rack over the cans.

try to arrange the chicken in a single layer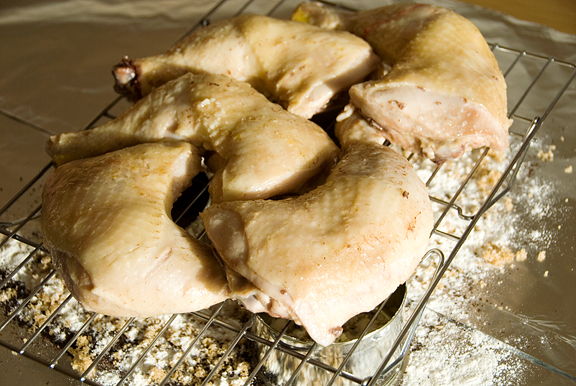 wrap the foil up and seal it shut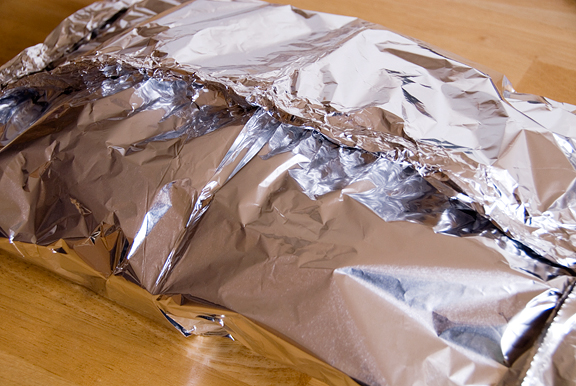 So I hope you'll avoid the mistakes I made by reading about the mistakes I made. We have a small second tier rack on our grill. I should have removed that, because it ended up squashing the top of the foil envelope onto the chicken. The points of contact prevented nice smoking. Take extra care in moving the foil-wrapped ensemble to the grill. I tore a hole in the bottom. Now that I think of it, maybe another rack on the bottom (inside the foil envelope) would have been good for structural support. Also, I put the foil ensemble on the grill
first
and then I turned the grill on (gas grill, obviously). It's just too fragile a thing to mess around with over an open flame although you are welcome to try with a charcoal grill. The amount of tea and flour and sugar you use, as well as the amount of time on the grill will determine the degree of smokiness. I put too much flour and tea and sugar by at least double (I found this out while talking on the phone with Mom after it was too late). Oh, and the rack you use will become pretty stained, so don't use your best one.
not bad considering all of my deviations (i.e. screw ups)
Chinese Tea-Smoked Chicken
[print recipe]
8 whole chicken legs (preferably organic)
1 tbsp Sichuan peppercorns (which are NOT black peppercorns)
4 tbsps salt
2 Lipton tea bags, tea removed from the bags
1 tsp flour
1 tbsp brown sugar
equipment
4 clean short cans, with bottoms, tops, and labels removed
1 grill or cooling rack
aluminum foil
If you want to remove the bony end (opposite the foot end) of the whole leg, use a Chinese cleaver to lop it off (carefully). Reserve the bony end. Mix the peppercorns and the salt in a small bowl and then rub the mixture over the chicken legs. Place the chicken legs in a covered dish in the refrigerator overnight. Remove the chicken from the refrigerator and wash the salt off. Place chicken in a large pot and cover with cold water (you can add those bony parts here to make a nice broth). Bring to boil over high heat. Cover the pot and turn off the heat. At ten minutes, poke the chicken with a chopstick or fork. If the juices are red or pink, cover the pot and let it stand another 5 minutes or turn the heat on again to bring to boil and shut off the heat. Basically, we want to get the juices running clear. Remove chicken from pot and let cool completely on a plate.
Set up a sheet of foil (two pieces if necessary) large enough to wrap around a stack of the cans, rack, and chicken (see photograph above). Sprinkle the tea, flour, and brown sugar evenly over the foil in an area roughly the size of the rack. Set the can rings down in a stable configuration and place the rack on top of the cans. Place the cooled chicken legs, skin-side up in a single layer on the rack. Wrap the whole thing up like a tent and seal the top and sides by folding over twice. Carefully move this contraption to your grill. Once it is settled on the grill, turn it on high for 15 minutes. Check the state of the chicken by opening the foil and looking to see how brown it is. If it is quite brown by 15 minutes, reduce the heat to low-medium for another 15 minutes. If it isn't terribly brown looking, check again in 5 minutes on high until it reaches a nice deep reddish brown color and then reduce heat to low-medium for 15 minutes. Turn off the grill and open the foil (I'd open it outside because it's an awfully smoky ordeal and will smoke up your house if you do it indoors). Move the chicken to a platter or chop it up before serving.