Recipe: sautéed kong xing tsai
I've always loved greens ever since I was a kid. That's mostly because my mom made a point of preparing plenty of vegetables for dinner. Growing up in southern Virginia, the norm for vegetables was mushy, puke-green slop. Not at my house! Mom sautéed most vegetables and preserved their bright, beautiful greens, textures, and nutrients. No wonder my sister and I loved spinach, broccoli, and a whole host of Asian vegetables. One leafy green in particular was my favorite. The Chinese name is kong xing tsai. We had it on occasion at "authentic" Chinese restaurants or whenever a Chinese friend would bring a bag of it over from their garden.
Sometimes I'm slow on the uptake. It dawned upon me a few months ago that kong xing tsai literally translates into "hollow heart vegetable". When I was rejoicing at my discovery of the Super H Mart in Denver on Sunday, I came across bags and bags of kong xing tsai in the produce section. An impulse buy, it most certainly was. I didn't know how to prepare it, but I could call my mom and ask. I just hadn't eaten the vegetable nor seen it in years.

a $3 bag of kong xing tsai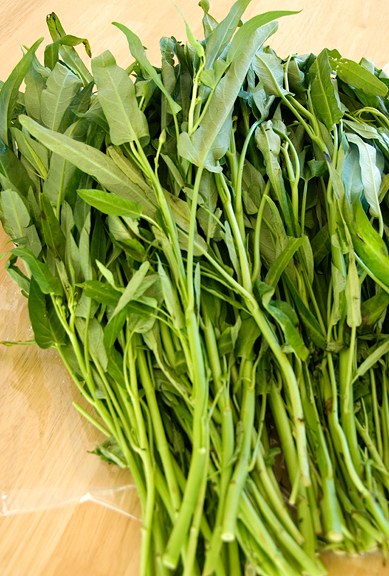 When I split the bag open, sand scattered on the table. Makes sense. This plant is also known as water spinach. It grows along watery or marshy areas, hence the name… hence the sand. Mom warned me that you have to wash it thoroughly. She also instructed me to pick out the tender shoots and leaves – discarding the rest. She said Grandma used to chop up the stalks and stir fry them with other vegetables. My grandma was incredibly resourceful (she still is!) because she raised four daughters on her own in 1950s Taiwan. My grandma kicks ass.
small yield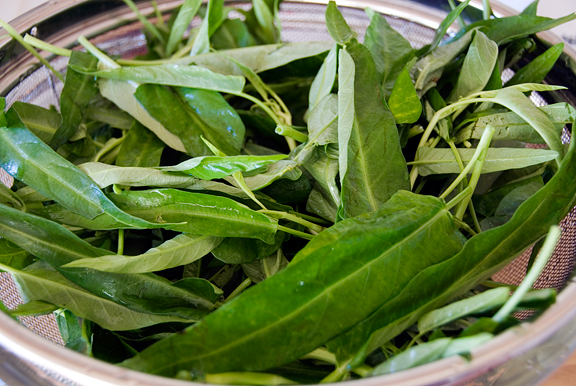 Oh, and the stems are hollow. I suppose that is where the "hollow heart" comes from. Mom told me to cook it up just like spinach – heat some oil, add garlic, sauté the vegetable and season with some salt. Done and done. Just like spinach, it shrinks down to a mere fraction of the raw volume. Good thing it was just for the two of us tonight.
sauté and watch it shrink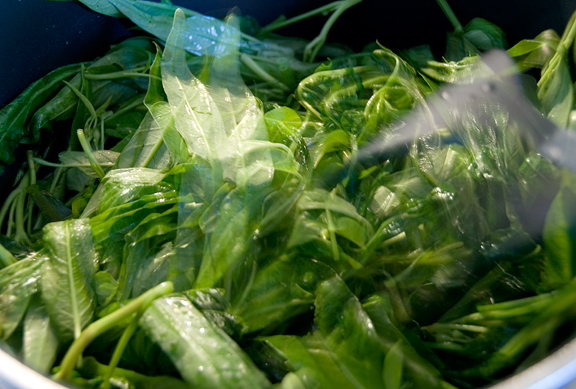 The label on the bag read
ong choy
, which is the Cantonese name. I've seen it at the Sydney farmer's market at the Asian vegetable stands. That's some good stuff. A nice mild flavor without that gritty coating you get on your teeth when you eat spinach. It's supposed to be good for you too!
i salivate when i see a lovely bowl of greens – mom raised me right
Sautéed Kong Xing Tsai
[print recipe]
2 lbs. kong xing tsai
2 tbsps vegetable oil
3 cloves garlic, chopped
pinch of salt
Pick off the tender leaves and shoots from each stem. Wash the leaves and shoots thoroughly (double or triple wash) and drain. In a large frying pan or wok, heat oil over high heat. Add garlic and sauté until fragrant, but not brown. Add the greens and sauté. Season with salt and continue to stir-fry until the leaves have wilted. Serve hot. Makes 2 cups.