Recipe: carolina-style pulled pork
I wrote about pulled pork earlier this year during my Summer of Barbecue, but I never gave a recipe for it. Barbecue is regional in the US. Heck, my MIL just told me last weekend that barbecue in Memphis differs from barbecue in the rest of Tennessee! The varieties could make your head spin and your colon tremble: sweet, spicy, vinegar-base, tomato-base, thick, thin, beef, pork, ribs, pulled, sliced, smoked, and don't forget the hot-links. I like them all, really. But in southern Virginia, we get a heavy influence from North Carolina and so tonight I paid homage to Carolina pulled pork for dinner.
One of my favorite acts in cooking is the Magic Act, where you take a cheap cut of meat and cook it forever, whether by dry or moist heat, and render it a tender heap of Culinary Nirvana. Since we're talking Carolina barbecue, you automatically know it is 1) pork and 2) vinegar-based sauce. And if you didn't know, it's about time you learned. An excellent part of the beloved piggy (besides the belly and the leg) is the shoulder, aka butt, Boston butt, Boston roast, shoulder blade roast. It is a favorite for barbecue (and also of Chinese cooking!) for its wonderful flavor, marbling, tenderness, moistness, and low cost. The trick is low and slow heat.
I tend to believe that authentic barbecue is smoked over coals for hours on end. I could do that where I live, but then I might burn down the entire National Forest, so I slow cook in the oven. It's a more practical approach.

the components of the dry rub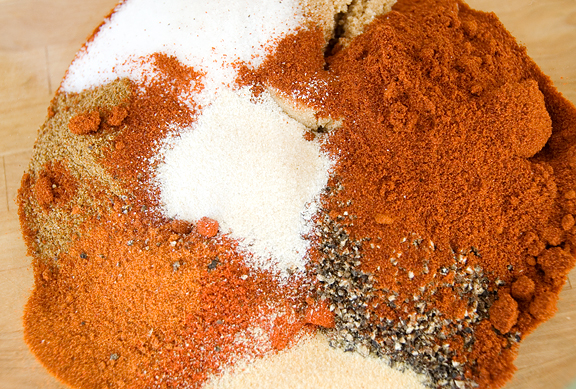 seeing red isn't always bad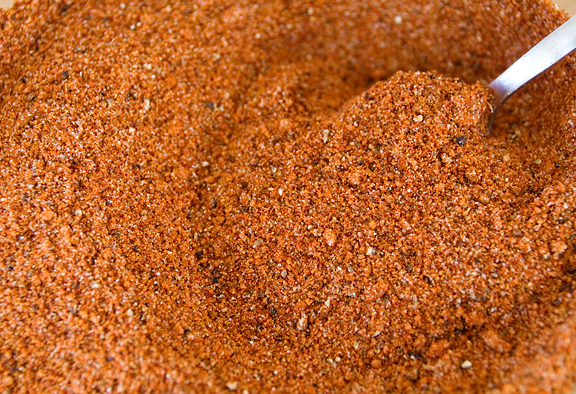 After mixing up the dry rub, rub it over the pork butt. Be sure to get it in those cracks and crevices too. Coat that baby well. Your hands should be a veritable mess when you are done.
rubbed and ready to go – don't wipe your hands on that white shirt…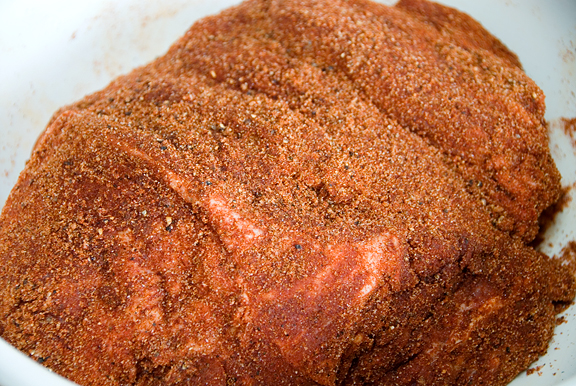 Did I mention you'll want to start this at least a day ahead of time? Well, you will. This is all about flaaaaaavor. Pop the pork into the refrigerator for at least 8 hours, overnight is preferable. Meanwhile, the sauce should also be prepared on the first day since the flavors benefits tremendously from sitting for a day. There really isn't much to the recipe, just some patience and planning.
seared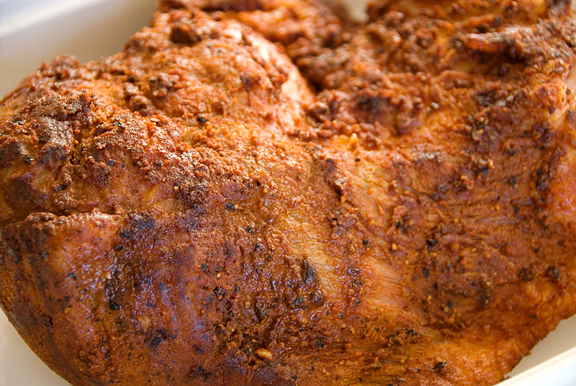 The following day, pull the pork out of the refrigerator to sit for an hour. Sear it up on all sides and then into the oven for four hours on low heat. I covered my baking pan with aluminum foil. After I took it out of the oven, I realized it might have been a good idea to line the pan with aluminum too. Well, Jeremy was a love and scrubbed that baking dish clean, but I don't loan him out, so definitely line with foil unless you like scrubbing dishes (in which case, maybe you should come visit?)
tender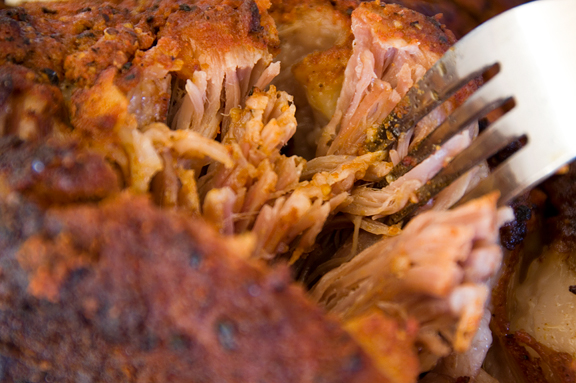 pulling the pork should be easy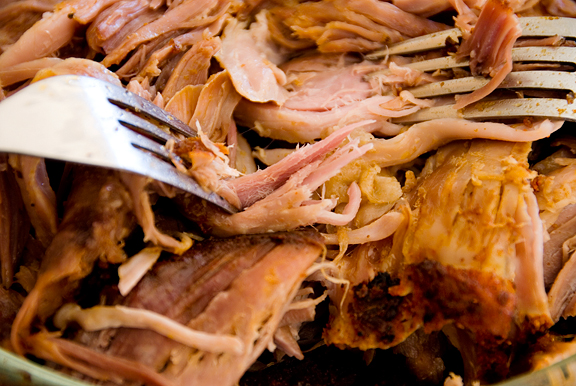 The pork should be falling-apart tender after four hours. I like to remove the fat and connective tissue while it is still hot and then shred the meat with two forks.
pour the barbecue sauce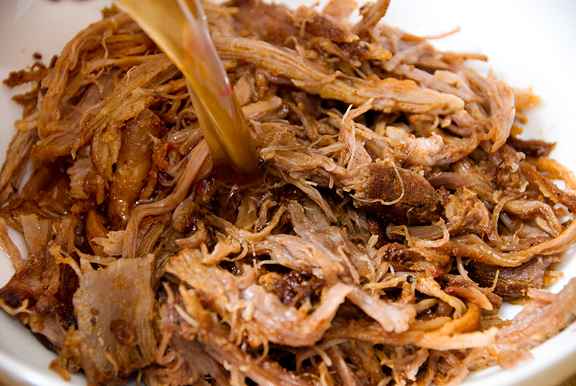 Add as much sauce as you like and serve. I love to eat this with a nice soft and slightly sweet bread, which is also perfect for sopping up the extra sauce. And despite my love of non-mayo coleslaw, I do find a (not too) creamy coleslaw is awesome with this pulled pork. Obviously this barbecue is vinegar-intensive, so people who are looking for a sweet tomato-base sauce will have to wait for my next installment on barbecue. I like all kinds, really.
get in touch with your inner southerner
Carolina Pulled Pork
[print recipe]
3-5 lbs. pork butt
2 tbsps vegetable oil
2 cups dry rub
Carolina vinegar barbecue sauce
dry rub
1/4 cup cumin
1/4 cup brown sugar
1/2 cup paprika
1/4 cup chili powder
1 tbsp cayenne powder
1/4 cup salt
1/4 cup black pepper, ground
1 tsp onion powder
1 tsp garlic powder
Mix together.
carolina vinegar barbecue sauce
1 cup white vinegar
1 cup apple cider vinegar
1/2 cup brown sugar, packed
1 tsp cayenne pepper
1 tbsp red pepper flakes
1 tsp salt
1 tsp pepper, ground
Mix together and heat until sugar dissolves (don't breathe the fumes). Let cool and store for 24 hours.
To make the pulled pork: Day 1. Rub pork with dry rub. Place in a baking dish and cover with plastic. Refrigerate overnight or at least 8 hours. Make the Carolina vinegar barbecue sauce. Day 2. Remove the pork from the refrigerator and allow to rest at room temperature for an hour. Preheat oven to 325°F. Heat oil in a large frying pan and sear the pork on high heat on all sides (a few minutes each side). Place pork in a baking dish lined with foil. Cover with foil and bake for four hours. Remove from oven and remove fat and connective tissue and any bone. Shred the meat with forks. Pour desired amount of sauce over the pork and serve hot.