We are fast approaching the winter solstice here. That means less daylight hours. In our house, it also means the blinding light of late afternoon… and when I say late afternoon, I really mean 3 pm onward. In summer, the sun is high in the sky. But if you think about the Earth's obliquity at 23.5 degrees and my latitude around 40 degrees, we are talking about a sun incidence angle at max of 63.5 degrees from vertical or 26.5 degrees above the horizon. Our windows face south and in the afternoon that means our windows get the sun full bore. See here.

3:30 pm from the kitchen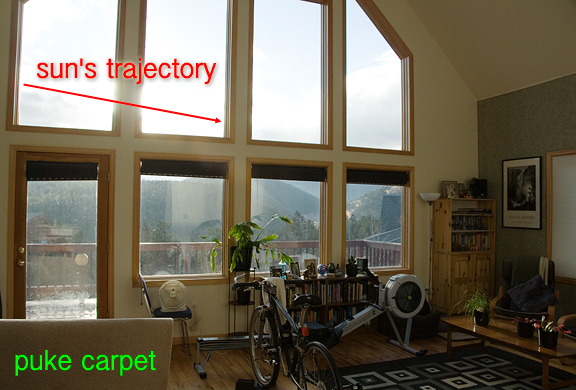 [Puke carpet: Kaweah decided to share just how much bark she ate yesterday afternoon by yakking it up on the edge of an area rug this morning. Right after I hosed it off outside, it began to snow, so I had to drag it inside and then it stopped snowing.] Not only does the sun hit me square in the face, but our passive solar set up makes the house HOT. Don't get me wrong, hot is good because we want to trap that heat so we don't blow a fortune on heating the house at night when it gets cold. But hot is rather miserable if you're trying to cook or shoot or think. I'm not a fan of hot… that's why I live near snow.
unpleasant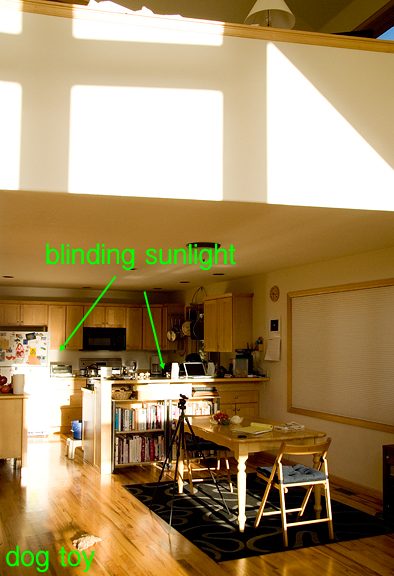 My solution cost $40. $9 for an 8-foot dowel, $1 for the polyester string, and $30 for a queen set of white cotton sheets (how come no one sells a single queen flat?!?). The curtain rings were scavenged from old drapes. I hung it from the third floor perch. Owning a house is great because you can drill holes and secure screws all over the place!
dual purpose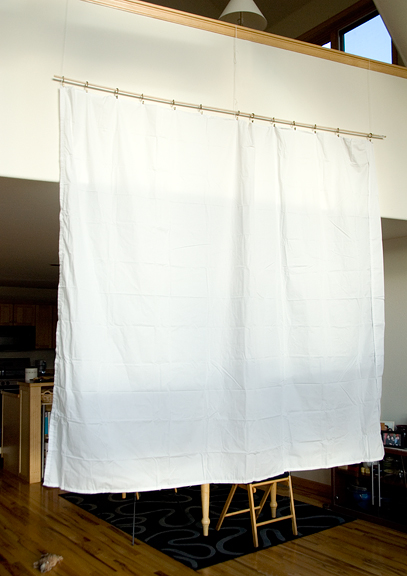 Even though the sun is behind some clouds in the photo, the drop curtain provides respite from the sun in the afternoon. It also doubles as a massive diffuser should I need to photograph anything. I made sure to design it so the curtain could easily furl up and hide behind the perch wall. It comes down in the afternoon and goes up at sunset. And in summer, I won't need it, so we can use that nice set of sheets in the guest bedroom!
annoying glare instantly transformed into diffuse lighting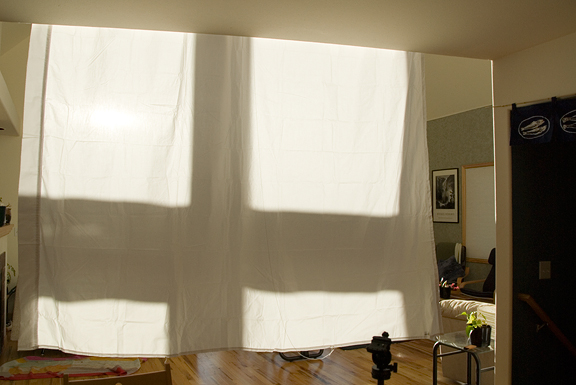 I promise I'll post a recipe tomorrow. I just dorked out for today. In the meantime, here's a happy pic of miniature ice cream cones I attempted this weekend. One day I will conquer those little dudes without burning my finger tips off.
homemade ice cream and cones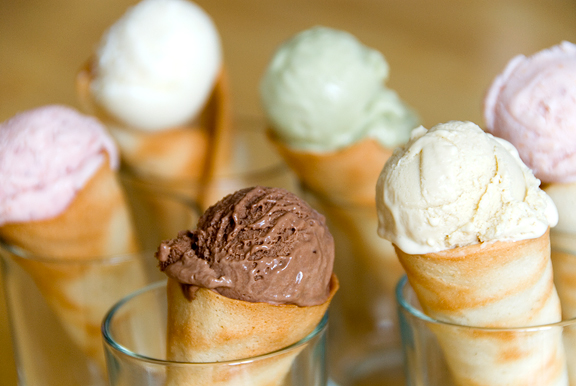 little