Recipe: roast chicken
This past weekend we had roast chicken for dinner in which I finally got off my bum and took pictures. I had a fear of roasting until two or three years ago. That is in large part because I didn't know what roasting was. One of my favorite cooking magazines is Fine Cooking by Taunton Press. It's not just the pretty pictures (you can probably tell that I'm a visual person), but I like that they don't advertise diamonds, luxury cars, cruises, and other things I can't cook with. They had a lovely spread on how to roast a chicken or two and just like that, I was ready to roast.
Roast chicken is a basic in any cook's repertoire, and it tastes fantabulous for very little effort. My official taste tester jumps up and down when he sees roast chicken appear on our weekly menu. I just wish I had learned about it earlier, but there is no time for regrets in life! I generally start the day before with a straightforward salt rub of salt, pepper, garlic, and lemon zest.

mix and match as you see fit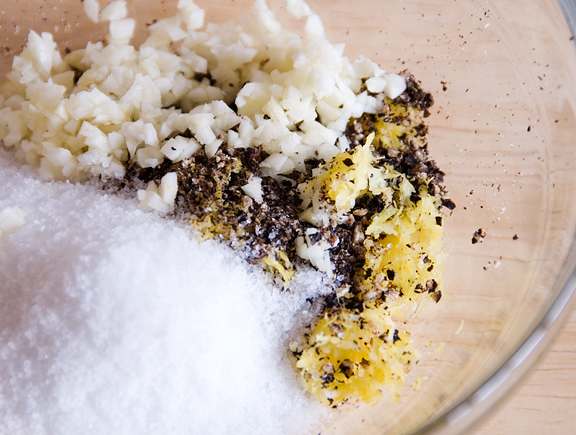 This gets rubbed all over the chicken – don't be shy. And just like the soy sauce chicken, I prefer an organic chicken because it is less fatty and the flavor is superior to conventional. Be sure to gently get under the skin on the breast and rub the salt mix around in there. Next, I take half of the lemon that I zested, and place it in the cavity of the chicken.
rub a dub dub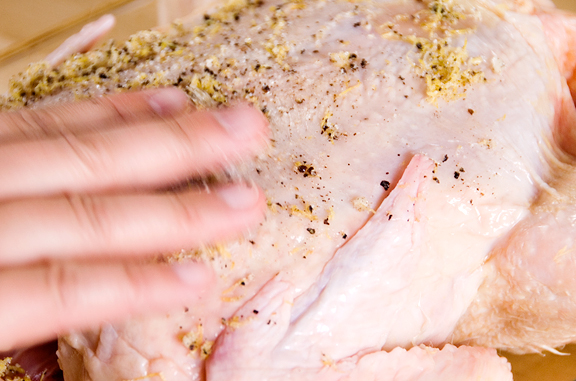 half a lemon in the cavity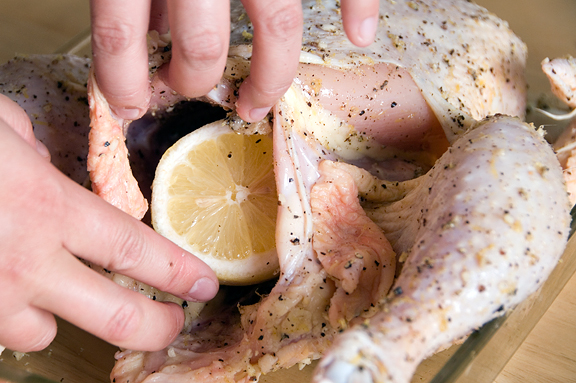 At this point, the chicken should be placed on a rack over a large dish and refrigerated, uncovered for several hours – anywhere from 4 to 24, but I shoot for 24 for maximum flavor. I truss my chicken because my refrigerator is too crowded. Just that the legs wind up kicking the other foods rather unceremoniously if they aren't tied up.
showing some leg!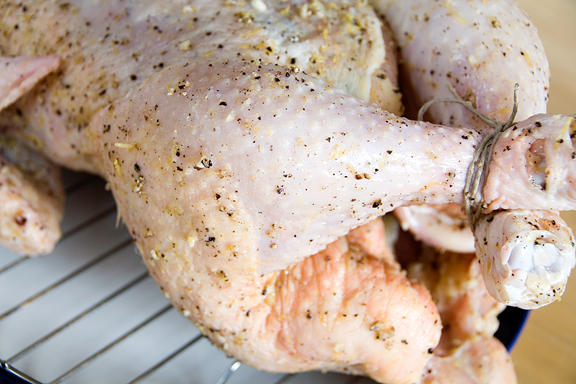 After the chicken comes out of the refrigerator, it should rest at room temperature for about 30 minutes. Brushing melted butter over the chicken helps create a wonderful, crispy skin during roasting. I usually untruss the chicken, brush it over with butter, and retruss it. One chicken is too small for my roaster, so I take the rack from the roaster (the only rack I have), and place it in a baking dish – except one bar always sticks out because it is too big for the dish.
just like the title says: use real butter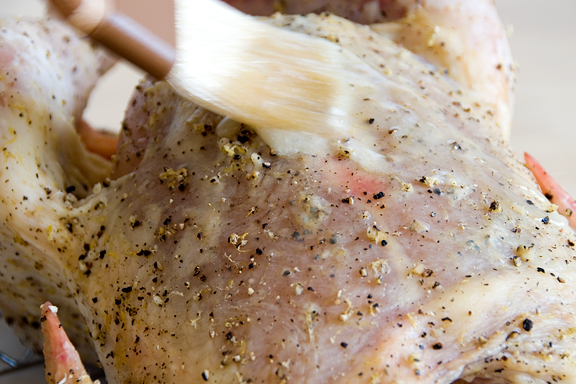 this chick is ready for the oven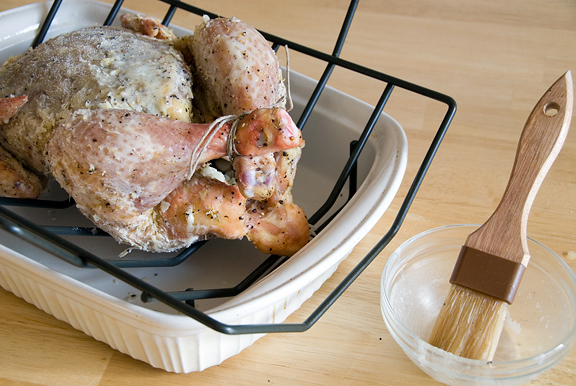 Roast the chicken for about 40 minutes, breast side up, then flip it and roast another 20 minutes or so. The magazine suggests flipping the bird (ha ha ha, I just realized the funny I made there) with two tongs on either end, one arm of each tong on the
inside
of the bird. When I first began roasting chicken at our altitude, I always undercooked it. Now, I seem to hit a tad high. That's okay though, because it's still juicy and delicious – the way chicken ought to be. I aim between 165-170F in the thigh.
the chicken, she is done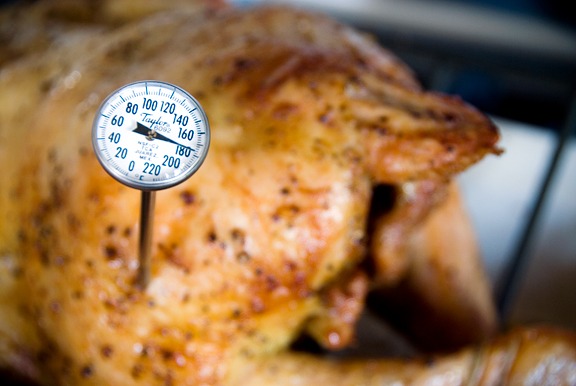 Let the bird rest for five or so minutes before you begin carving it up. And as a side note, I sometimes like to chop up some Yukon gold potatoes, toss them with a touch of olive oil, salt, and pepper and layer the bottom of the baking dish with them. These roast beautifully with the chicken and take on the flavor of those remarkable drippings during the roasting process. Unfortunately, on this round I didn't feel like roasting potatoes and wound up with a smoking oven because the grease splattered all over the inside. What a pain to clean up… That never happened when I roasted potatoes with the chicken. I love the leftovers even more in sandwiches and salads.
roast chicken for dinner
i know what she's thinking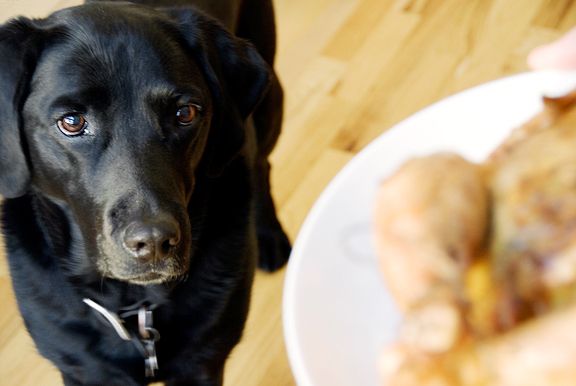 Roast Chicken
[print recipe]
Fine Cooking #26
1 whole chicken (about 4 lbs.)
1 lemon
1 tsp freshly ground pepper
1 tbsp + 1/2 tsp salt
1/4 cup unsalted butter
other herbs (optional)
Pat the chicken dry and remove the neck and giblets (reserve for later). Grate zest of lemon into a bowl. Combine with 1 tbsp salt and black pepper (and optional herbs). Rub the mixture over the chicken and inside the cavity. Be sure to get under the skin of the breast and rub some of the seasoning there. Cut the lemon in half and stuff half of it in the cavity. Set chicken on a wire rack on a plate or sheet and refrigerate uncovered for at least 4 hours and up to 24 hours. A half hour before you are ready to roast, remove the chicken from the refrigerator, set the oven rack to middle, and preheat to 425°F (higher if at elevation). Brush melted butter over the skin and sprinkle with 1/2 tsp of salt. Truss the bird and set it breast side up on a rack in a roasting pan. (If you have vegetables to roast, you can toss them with some salt, pepper, a little olive oil, and chuck them in the bottom of the pan). Roast until breast is nicely browned, about 40 minutes. Then remove from oven and flip the bird over and continue to roast until thickest part of thigh registers 165-170°F (about 20 minutes more). Let rest for 5 minutes before carving.
*Note: If you save the carcass and other bones, you can dump them in a pot of water with the reserved neck and giblets to make chicken broth.