Recipe: chocolate stout chili
It can get pretty cool where we live… sometimes down to -20F. I don't mind the cold. I actually enjoy stepping out into the winter air and feeling the inside of my nose crackle when I breath in. The only real hardship of winter that we encounter is the wind (because snow isn't hardship, it is recreation). And we encounter it up to 100 mph at times. So while I might not feel cold in 10F, I will feel chilled to the bone at 32F with a wind whipping away every unit of heat my body produces (and I produce a lot of heat – some may call it hot air). It's blowing today and I can hear the loose sections of roofing flapping in the gusts. I sincerely hope the roofers call before the pieces go flying off into… Kansas.
Soups and stews are so utterly perfect for cold weather days. When I was a graduate student in central New York, I would rally a chili cookoff among the graduate students during this time of year. We always had an impressive array of chilis that included: curry, chocolate, beer, vegetarian, chicken, or the hottest hot you could imagine. It was always a geochemist who went for entering the hottest chili. That's when my friend Ben thought he made chili from the butt of a pig. He kept chuckling, "Mine is made from Pork Butt." We finally told him he was an idiot and that the pork butt is part of the shoulder. I should also note that the majority of our cookoff participants were men!
My most recent incarnation of chili involves two of those inspired variations from the cookoffs: chocolate and stout. Chocolate stout, to be precise. I have one of those prize-winning recipes that requires throwing in chorizo, a cow, and a pig, and a million other ingredients, but I like this simple recipe because it's something you can whip up fairly quickly and because the guys at the local liquor barn get a kick out of my food-related booze purchases.

fresh produce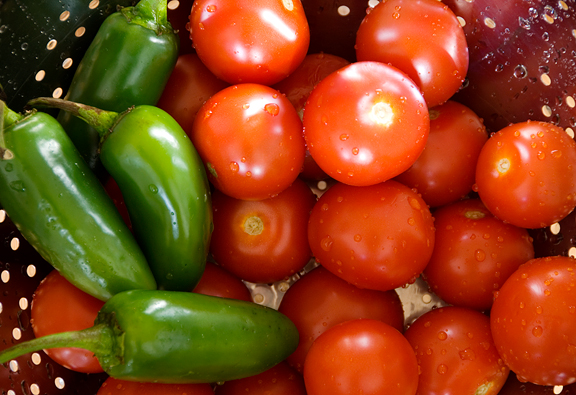 Don't be fooled here. When I am a bum, I will use canned organic tomatoes (although I never never ever use canned jalapeños, that is scary). I am a big fan of mise en place, which means getting your junk in order before you start cooking. Makes the cooking experience go smoother and faster. There is some chopping to be done with this recipe: chopped onions, garlic, tomatoes (if fresh), and the jalapeños. The deal with the jalapeños is not to handle them with bare hands and then touch your eyes or nose with those hands. It's just an unpleasant experience for all involved. I used to have a collection of those plastic food service gloves that my mom mailed me. She likes to mail me things like kleenex, sponges, dishwashing detergent, and disposable plastic gloves – it's a mom thing… I ran out a while back, so I just use a plastic sandwich bag over the handling hand. I slice the tops off, then cut down the middle and core the pepper. We discovered that leaving the seeds in makes for a chili that only one of us (me) can digest. Then I dice up the flesh.
chopped and ready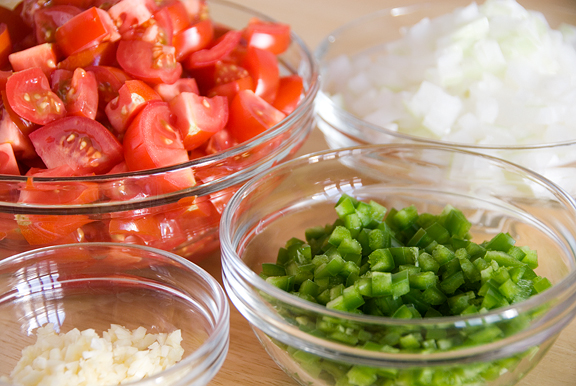 not a spice girl, just a cook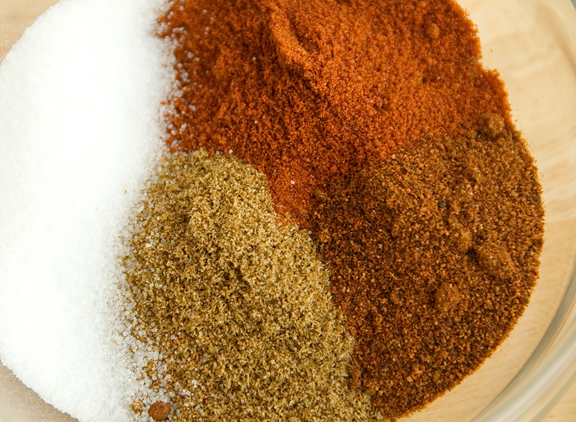 Obviously you can play with the spices and ingredients of the chili to your preference. I'm thinking of incorporating some unsweetened chocolate next time. Brown some ground beef, breaking up the clumps. I prefer organic. Remove to a bowl. Sauté the onions, peppers, and garlic in a little vegetable oil. I read a recipe that starts with three tablespoons of bacon fat and swooned at the thought, but each time I have bacon fat available, I chicken out and chuck it in the trash. One day… one day… Once the onions are translucent, add the browned ground beef, beef bouillon, and the tomatoes and simmer the tomatoes down.
the start of something wonderful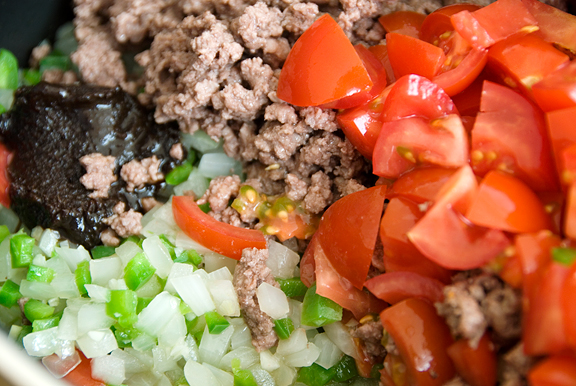 The first time I tried a chocolate stout recipe, I used a local Ft. Collins chocolate stout. That left me with 5 bottles. More recently I have been able to procure Young's Double Chocolate Stout and the only reason I buy it is because I can get it in a single bottle. Me – I know zippo about beer/ale/stout.
the cashier at the liquor barn must think me odd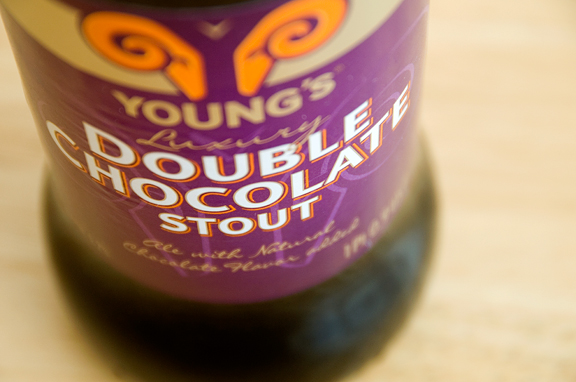 Add the stout and let the whole thing simmer for an hour. Mix in the spices and simmer for another 30 minutes. If you're impatient like me, you can add the spices and beans at the same time and simmer for 30 (if you're patient, add the beans 30 min after the spices and simmer another 30). Does it make much difference? I honestly couldn't say. Crock potting the entire thing is also an option (4-6 hours on high?), but brown the beef on the stove top.
showering the beans in spices
Some folks don't let the chili simmer for long because it's ground beef, but the longer simmer lends to a more tender bite. That's just my preference. Serve it hot with fixings of your choice.
some avocado and cheddar to round out a good bowl of chili
Chocolate Stout Chili
[print recipe]
1 lb. ground beef
1 large onion, diced
3-4 jalapeno peppers, deseeded and diced
4 cloves garlic, minced
2 tbsps vegetable oil
28 oz. tomatoes, half diced and half puréed (or fresh, diced)
2 cubes beef bouillon or paste
1 bottle or can of chocolate stout
3 tbsps cumin, ground
1 tbsp chili pepper
1 tbsp cayenne, ground
salt to taste
2 cans kidney beans, drained
Brown the beef over high heat, breaking up the clumps. Set aside. Heat vegetable oil in the pan intended for the chili, and sauté the garlic, onion, and peppers until onions are translucent. Add the beef, beef bouillon, and tomatoes. Stir and let simmer until tomatoes begin to break down. Pour in the chocolate stout and simmer the chili covered for an hour. At this stage you can add the spices and simmer for 30 minutes and then add the beans and simmer for another 30, or add the spices and beans at once and simmer for 30. Serve hot!