Recipe: slow-oven ribs
Some of you may wonder if I cook as often as I post (well, lately I haven't posted as frequently and there is a good reason for that). Um… yes and no. My cooking and baking tend to cluster in that I will make 3-5 recipes in one sitting and shoot them all to blog about eventually. It's an OCD dream come true really – keeping all of that straight in your head. I suppose it's very good practice for those times I entertain guests for dinner. In any case, I have days where I whip something up and the little voice (me) in the back of my head says, "Oh, you oughta shoot this" and the other voice (me) in the front of my head says, "Yeah – you can go shoot it…" and those are the days I don't record what I make.
I have recipes in queue for times when I feel unmotivated or times like tomorrow, when I'll be out of commission for a day or more and unable to cook or bake anything. I just find it funny that I decided to post about barbecue pork ribs on a day when we finally, we finally got a decent dump of snow here. I've been waiting for it all season and of course, leave it to the storm track to arrive right before I can't take advantage. Ah well…

spice things up with a nice rub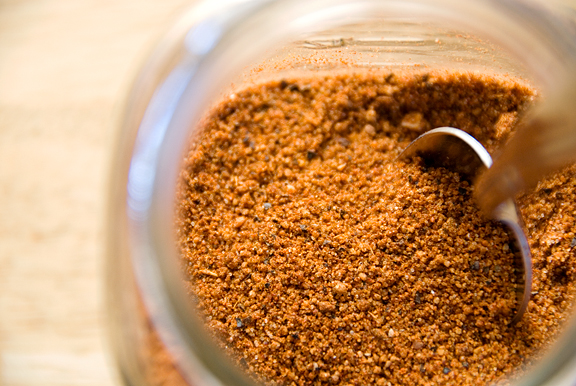 You can use whatever rack of ribs you like. I prefer pork and I like the cut that my local butcher refers to as Saint Louis cut. It has the spare ribs and the flank of extra cartilage and meat below that. I personally don't dig on baby back ribs. Not as much bang for the buck in my opinion.
it's called a rub because you rub it in and all over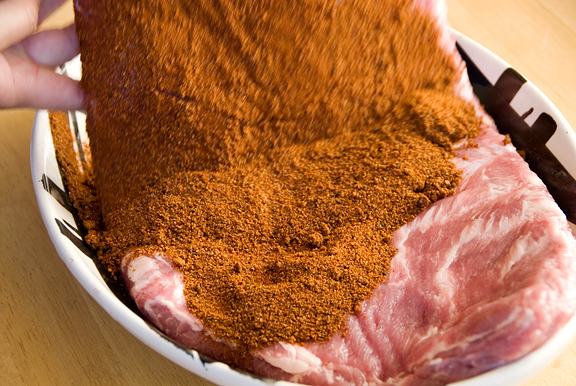 When you make these ribs, you need to plan ahead. I know – for OCDs and people who are generally on top of things, this is a no brainer. Right. But for those whose idea of a plan is not to plan, give yourself a day and half for this recipe. After getting rubbed, the ribs sit in the refrigerator for 24 hours. I know the recipe says 4-24 hours, but 24 will do ya right.
see ya tomorrow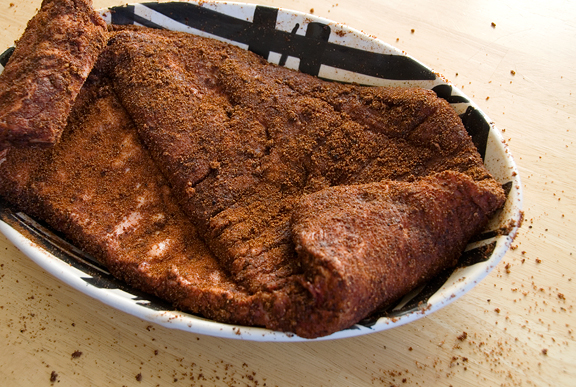 Don't get too excited when it's time to take the ribs out of the fridge, because they go into a slow oven for 8 more hours. Patience, young padawan.
into the oven she goes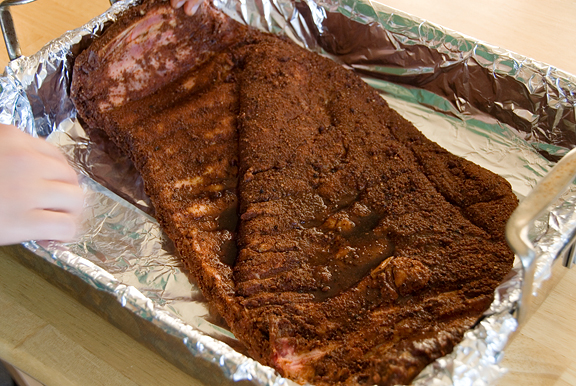 That low and slow oven renders the ribs to the falling-off-the-bone stage. I swear I love me my barbecue pork, but this is most certainly my favorite of them all. Something really appealing about how cleanly it comes off the bone. That is also the tricky part.
careful not to eat them out of the oven – there's one more step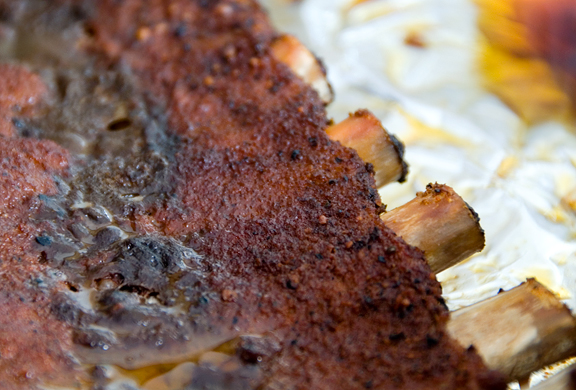 Because the rack is now falling-off-the-bone tender, you need to exercise some care when transferring it to the grill. Yes, there is one more step, but it's definitely worth it. I usually have two large spatulas, two sets of tongs, and my ever-faithful companion, Jeremy, to help me move the rack onto the grill without having it fall apart. I am sure that one day we'll be grilling for guests and the whole thing will fall on the deck and then the dog will come running…
brush on some good barbecue sauce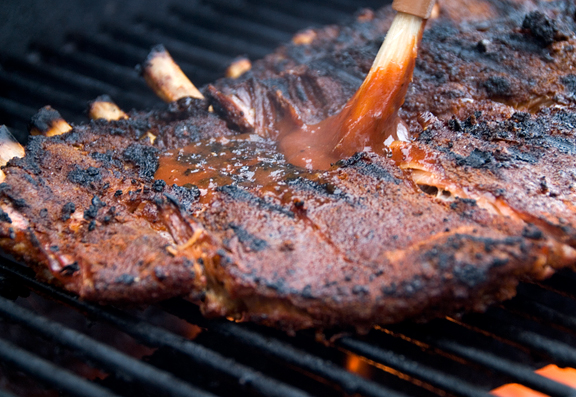 Flipping the rack is just as nerve-racking (get it?). Try to keep the entire slab in one rotating plane – that is, no torquing or other application of differential stress on the slab unless you want the above nightmare scenario to play out (and my dog will most certainly come running to your house to eat the fallen ribs – her nose is *that* good). It's not so bad once you get the hang of obeying those basic principles of mechanics. And when it's all said and done, you will definitely feel it was worth it. I always do.
you'll be left with nothing but a plate of clean bones
Slow Barbecue Ribs
[print recipe]
4-5 lbs. rack of ribs (I suggest St. Louis style, pork ribs)
1 cup dry rub
2/3 cup Mutha sauce
2/3 cup random store-brand BBQ sauce like Masterpiece or Bullseye (something with molasses in it – a sweeter type)
dry rub
1/4 cup cumin
1/4 cup brown sugar
1/2 cup paprika
1/4 cup chili powder
1 tbsp cayenne powder
1/4 cup salt
1/4 cup black pepper, ground
1 tsp onion powder
1 tsp garlic
Mix together.
Mutha Sauce
from Dinosaur Bar-B-Cue: An American Roadhouse
1/4 cup vegetable oil
1 onion, puréed
2 tbsps garlic, minced
salt to taste
pepper to taste
28 oz. tomato sauce
2 cups ketchup
1 cup water
3/4 cup Worcestershire sauce
1/2 cup cider vinegar
1/4 cup lemon juice
1/4 cup molasses
1/4 cup cayenne pepper sauce (yiha!)
1/4 cup spicy brown mustard
3/4 cup brown sugar
1 tbsp chili powder
2 tsps ground pepper
1/2 tsp allspice, ground
Mutha Sauce: Sauté onions and garlic in oil. Season with salt and pepper. Add remaining ingredients and bring to boil. Reduce to simmer for ten minutes and let the sauce cool. This makes a ridiculous amount of sauce – something like 10-12 cups.
Dry off the rack of ribs. Rub spices over all of the rack. Cover in plastic wrap and refrigerate for up to 24 hours, but at least 4 hours. Preheat oven to 225°F. Place the rack in a large roasting pan (I line mine with foil for ease of clean up) and cover with foil. Bake the ribs for 8 hours. Remove from oven and set the ribs on a rack to let the excess fat drip off (to reduce the grease fire on the grill). Mix the Mutha sauce and random store sauce together. Heat the grill on high for ten minutes, then reduce heat to medium. Place the ribs on the grill for 5 minutes, covered. Flip the ribs and grill for another 5 minutes. Flip again and brush the top side of the ribs with barbecue sauce and allow grilling for 5 minutes. Flip one last time and brush the top side with more sauce. Serve.