Recipe: roasted goat cheese-stuffed squash
I haven't been cooking lately, unless you count reheating food in the nuker, on the stove top, or in the toaster oven (hey – that toaster oven is my redneck heritage). Why? Because I made too much food in the past week and now we are in the frenzied mode of trying to finish off those leftovers before they expire. Just hate to waste food… I can tell I have fallen into a rut of sorts. We were walking through our local mountain grocery store in search of hoisin sauce because we ran out. [Tangent: Let me tell you, I won't make that mistake again… I shall henceforth maintain a proper store of genuine hoisin sauce from a reputable Asian grocer because the stuff they carry in my little town is really really narsty. Not nasty, but narsty. All of my ancestors were crying out in horror the moment that stuff touched my lips.] I wandered down the baking aisle in search of ?? Jeremy, in his effort to move us along, asked what I was looking for or rather what I wanted to make. I stopped and realized that I had filed into the recesses of my brain a todo list of sweets: raspberry almond tea cake, baklava, zebra torte, chocolate mousse…
I'm so lame. I have all of the ingredients ready to go, I think I'm just tired after skiing or maybe I'm still tired after my surgery? We went skiing today and I managed one of the most fabulous face plants. Because my left arm is not completely healed, when I fell, I kept my arms back to avoid injury. Except I biffed with my face. Funny how I was so impatient to recover from surgery so I could launch my body down the mountain. Gravity sports are great!
Anyway, I do have a lovely recipe to share with you today. I made this shortly after Christmas. It is another one of those foods I had years ago and loved and am finally getting my lazy bum around to replicating it. The evening before we left Ithaca – five years ago, our dear friends Mike and Carrie took us out for a special farewell dinner. One of the appetizers we ordered was a goat cheese stuffed squash. At this point, I can't honestly recall anything about the dish other than it had squash, goat cheese, and tasted amazing. So that's what I started with.

herbed goat cheese, squash, roasted garlic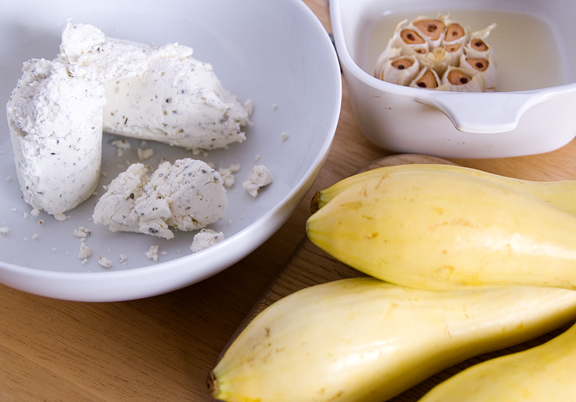 Although I like goat cheese, I figured plain old goat cheese and squash would taste pretty dull. Even the herbed goat cheese could use a little nudge, nay, a sublime kick courtesy of the roasted garlic.
squeeze out the cloves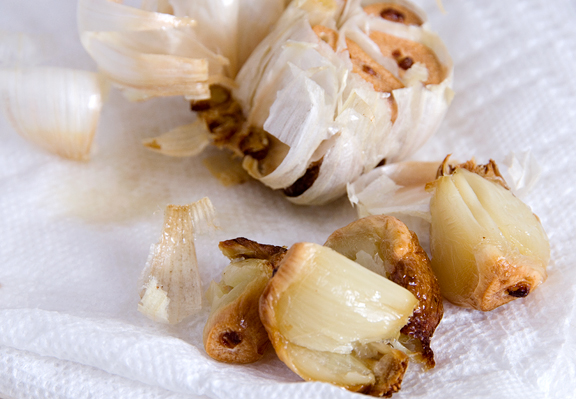 I crumbled the goat cheese and added mashed roasted garlic, fresh chopped parsley, and some salt. I debated ground pepper, because I love that stuff, but decided to hold off this time.
mix the filling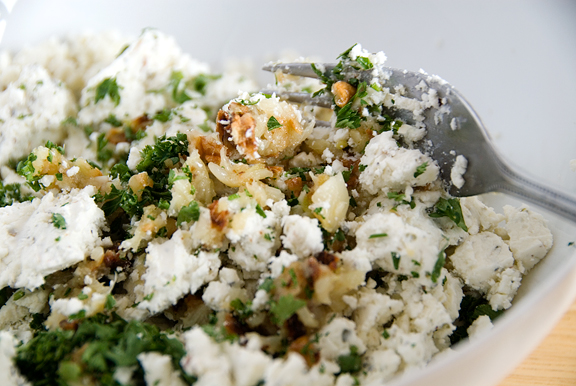 Each squash was sliced in half lengthwise and then the seeds were scooped out to form a nice little bowl for the filling.
i use my grapefruit spoon for everything but grapefruit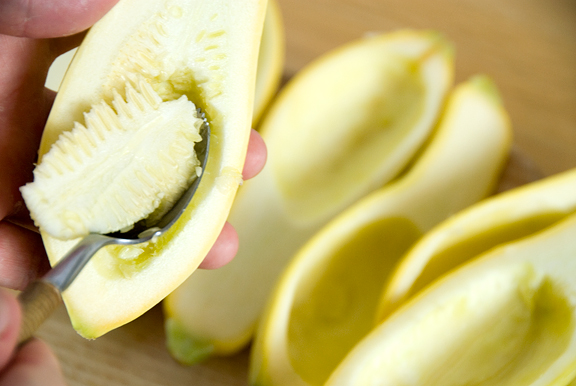 There was enough filling to form a mound in each squash half. Once the goat cheese mixture was packed down so it wouldn't tumble out, I set the squash into a baking dish and sprinkled bread crumbs over the entire deal. Last but not least, a small sliver of butter over the filling and another on the neck of the squash half before roasting.
a drizzle of olive oil could work as well as the butter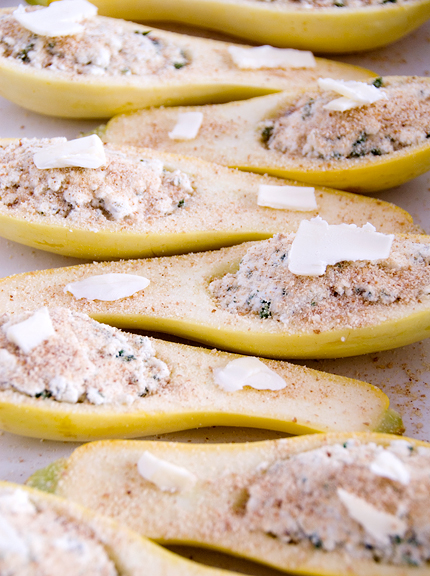 It turned out better than I had expected. Maybe that isn't helpful since I wasn't expecting much. Jeremy and I both liked it! I think it's a great vegetable side that I could serve to dinner guests. There are plenty of people with goat cheese issues. Heck, Jeremy just quipped that he is neither a fan of goat cheese nor squash, but that he liked this dish. So there ya have it. Give it a try if you're remotely tempted. There is certainly room for playing around with the recipe.
verdict: delicious!
Roasted Goat Cheese-Stuffed Squash
[print recipe]
4 medium yellow squash, halved and seeded
7 oz. herbed goat cheese
1 bulb garlic
1 tbsp olive oil
salt to taste
3 tbsps fresh parsley, chopped
1/4 cup bread crumbs
butter
Lop off the top of the garlic bulb with a sharp knife to just expose the cloves. Place in a small baking dish and drizzle olive oil over the top of the bulb. Bake at 400°F for 30 minutes. Remove the garlic cloves from the skins and mash or chop the cloves into a paste. Crumble the goat cheese into a medium bowl. Mix in the garlic, parsley, and add salt to taste. Stuff the mixture into the squash halves and set the squash, stuffing side up, in a baking dish. Sprinkle the tops with bread crumbs and top each mound of filling with a tiny sliver of butter. You can put another sliver on the neck of the squash. Bake at 425°F for 40 minutes. Serve hot.