Recipe: mu shu pork
It's actually mu as in mu shu pork. When I was a kid, I ordered this at Chinese restaurants and my parents would exclaim, "Why do you order this? We make it at home much better!" They were right, but I loved the pancakes. I was also the one who ordered chicken strips at the seafood restaurant. My, how times have changed. I now refuse to order any Chinese dish that I can make at home. I usually go for those plates that make a fantastic mess to prepare… better their kitchen than mine.
Mom's homemade mu shu pork (and yes, she always used pork – no chicken, no beef, no tofu, no shrimp versions) included homemade pancakes – the mu shu shells. We called them bing and I have no idea if that is the proper Mandarin word or just some nickname my parents made up. I learned that one of the terms of affection they had for me translates into "stinky egg" and not "dearest daughter" as I had assumed, so you will forgive me if I am cautious about littering the page with what I *think* is accurate Mandarin terminology.

lazy chinese girl solution: buy mu shu shells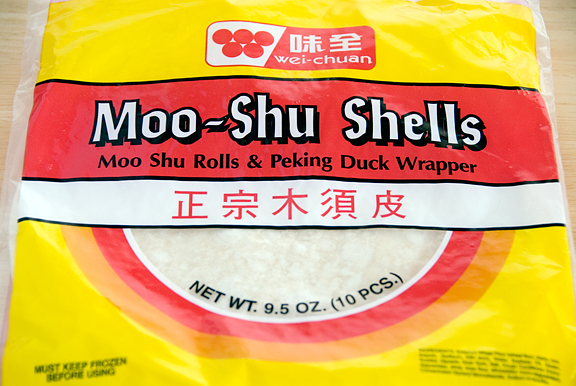 Make sure you get the mu shu shells and not egg roll wrappers. I've tried making the mu shu shells myself and wound up forgetting some crucial step and never got around to asking mom why my memory failed me and what the real process is. I'm sure that memory was overwritten with endless recollections of "JenJen, these SAT scores will not get you into MIT." [Well they did, and I turned them down!] And imagine my horror and indignation when some 20 years ago, I caught the Frugal Gourmet telling folks they could substitute tortillas for the mu shu shells. Please don't do that, and if you do, don't tell me about it.
pork, cabbage, bean sprouts, bamboo shoots, green onions, garlic, chinese mushrooms, eggs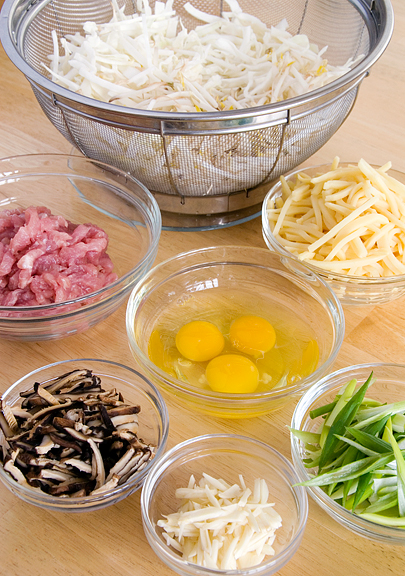 Certainly, you can make it chicken, beef, shrimp. If you decide on vegetarian and use tofu, my preference is to use the dried tofu cakes, julienned. Better texture, in my opinion. You can also use napa cabbage instead of regular cabbage. It's all very flexible.
mix the pork with some soy sauce, sesame oil, cornstarch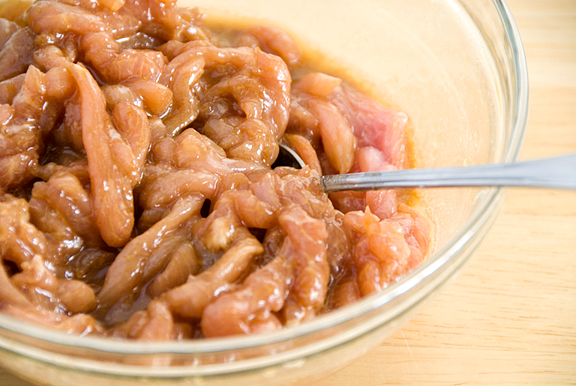 To cook the eggs, I beat them and make an egg sheet in the frying pan. It's like a giant omelette that never gets filled or folded. Cook until done enough to flip and cook a little more. I cut the egg sheet into strips. Some folks will just cook scrambled eggs and chop it up into tiny bits in the frying pan. It's really up to you.
cutting the egg sheet into strips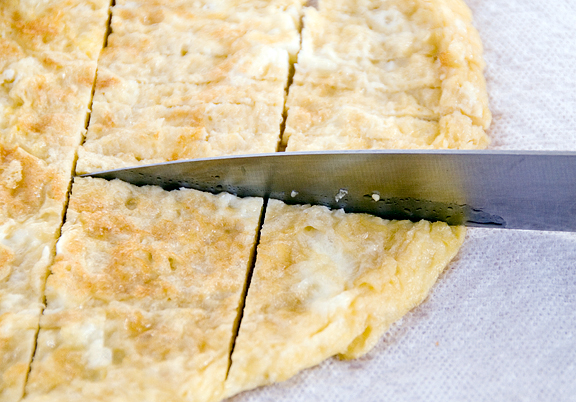 Next, I like to stir fry the cabbage and sprouts in a little oil with half of the green onions until they are wilted, but still a little crunchy.
cabbage and bean sprouts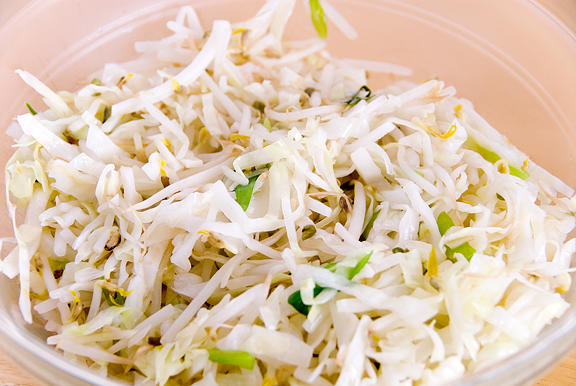 Then I'm ready to stir fry the pork. I heat a little oil in the pan and toss in the rest of the green onions and garlic. When it smells fragrant, then pork goes in and is cooked to just underdone.
stir fry the meat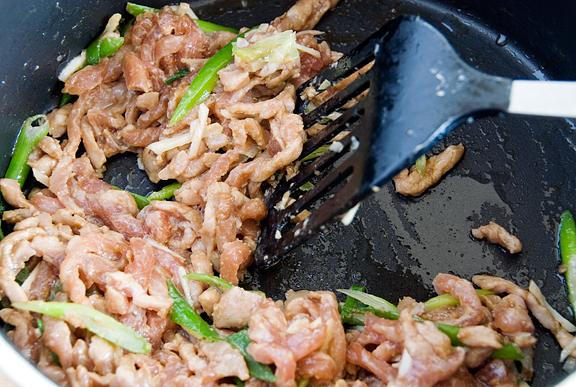 At this point, the bamboo shoots, mushrooms, cooked cabbage and sprouts, and egg sheet go in and everything is cooked into a glorious pile of stir-fried goodness.
mu shu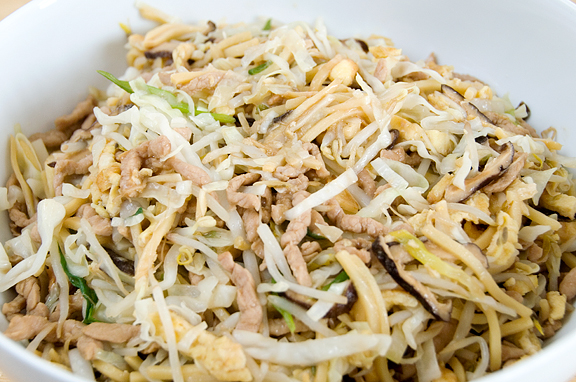 The shells usually have some instructions on the back of the package. Thing to remember is that they have almost zero thermal capacity, so you need to heat them and keep them warm somehow. I used to steam them, but if you nuke them in the microwave covered, they work just fine. Ah, okay – steaming is better. Just take care that they don't get wet and soggy and nasty.
fill the shell
A happy smear of a good hoisin sauce is a requirement. I typically avoid hoisin brands with more English than Chinese on the label. That's just me. I can't even read Chinese, but I recognize the labels. Go figure.
it is not a chinese burrito, damn it
Mu Shu Pork
[print recipe]
1/4 – 1/2 lb. pork loin, cut into strips
2-4 tbsps soy sauce
1-2 tbsps sesame oil
1 tsp cornstarch
1/2 medium head cabbage, cored and shredded
2 cups bean sprouts
3-4 eggs, beaten
3-4 stalks, green onion, julienned on the diagonal
3 cloves garlic, chopped or julienned
1 cup chinese mushrooms, stemmed and cut into strips
1 cup bamboo shoots, cut into strips
5 tbsps vegetable oil
package mu shu shells
hoisin sauce
Heat a tablespoon of vegetable oil in a large flat frying pan (a wok is gonna make you upset if you make an egg sheet) over medium high heat. When oil is hot, pour in the beaten eggs. Let the eggs set up until firm enough to flip as one sheet. Cook for a few more seconds and remove from heat to a chopping board. Slice the egg sheet into strips and set aside. Heat 2 tablespoons of oil in the same pan over high heat and add half of the green onions. Stir until the onions are sizzling for a minute. Add the cabbage and bean sprouts. Sauté until cabbage is wilted but still a little crunchy. Remove from heat and set aside in an extra bowl. Heat the remaining oil in the same pan over high heat and add the garlic and the rest of the green onions. Sauté until fragrant and add the pork. Stir fry until the pork is just cooked. Add the Chinese mushrooms, bamboo shoots, cabbage, sprouts, and egg sheet. Stir fry for another few minutes. Heat the mu shu shells according to the instructions on the package. Serve each mu shu shell with a smear of hoisin sauce down the middle. Place several spoonfuls of mu shu on the shell and fold the sides in.