Recipe: turkey meatloaf
My first introduction to meatloaf was at the cafeteria in elementary school. It was brown, or rather gray and smothered in an equally nasty looking gravy. Honestly, it didn't taste bad. It didn't taste good either. We didn't dig on meatloaf at my house. Not that we didn't like it, we just didn't know what the hell it was or how to make it. Ah, the joys of growing up Chinese in the American South. Meatloaf always maintained cafeteria status for me because that's the only place I ever saw it. Eventually I learned what was in meatloaf when I got to college. Probably one of the best things I came away with from one ex-beau was the use of chili sauce and red currant jelly instead of ketchup for the sauce. Now, I like to use ground turkey instead of beef as a healthier take on meatloaf. I prefer turkey thigh meat if it's available because it's not as dry as breast meat.

pouring worcestershire sauce into the mix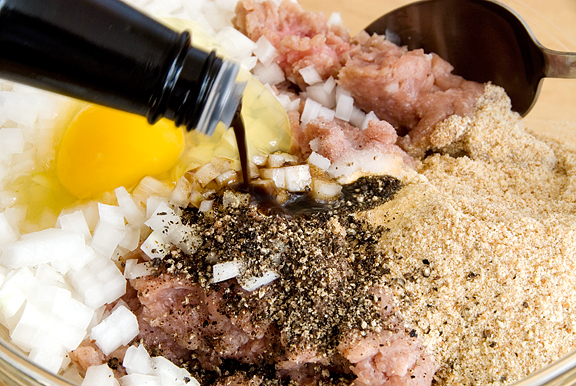 I do get excited about having meatloaf for dinner because it's a great wintertime meal and Jeremy loves it too. It's even something he makes from time to time. You must understand that I'd only let him prepare a meal if he's mastered it to my approval – otherwise… get outta my kitchen and lemme cook. I melt the red currant jelly in a sauce pan and then stir in the chili sauce. Yeah, I know – it smacks of white trash recipes, right? You find a combo like that for meatballs and all sorts of random Heinz product recipes. Well, I admit that my ex was from Kansas and his family ate strictly Midwestern – if that's even a style of food…*snort*
mix a little sauce into the filling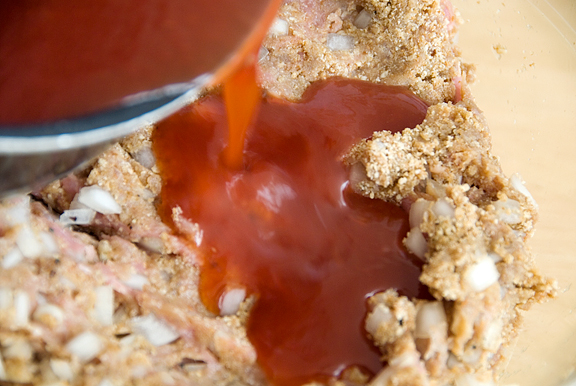 I'm not sure why it's even called chili sauce because it has nothing to do with chili or chiles as far as I can tell, but it's handy and tomato-based. Oh stop looking so taken aback, I grew up in southern Virginia. I know my way around white trash food.
stuff it in a loaf pan and pour some sauce on top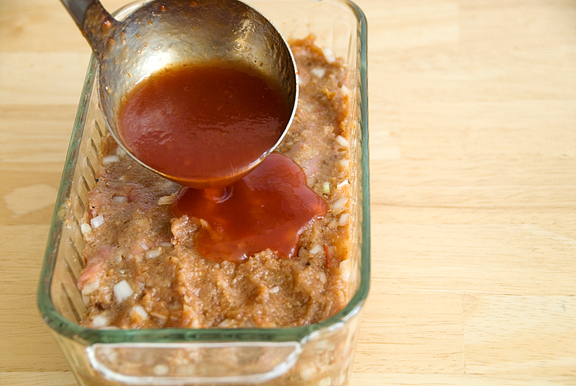 There are so many variations on meatloaf. Admittedly, it's not something I've explored much because this quick and dirty recipe has served me well thus far.
i especially love meatloaf with mashies
Turkey Meatloaf
[print recipe]
1 lb. ground turkey (I used thigh meat)
1/2 – 1 cup bread crumbs
1 egg
1/2 onion, minced
2 tbsps Worcestershire sauce
1 tbsp garlic powder
salt and pepper to taste
4 oz. red currant jelly
1 jar Heinz chili sauce (or any chili sauce that has nothing to do with real chiles)
Preheat oven to 350°F. Heat red currant jelly in a small saucepan over medium heat until melted. Add the chili sauce and stir until combined. Mix ground turkey, bread crumbs, egg, onion, Worcestershire sauce, garlic powder, salt, and pepper in a large bowl. Pour about 4 ounces of the sauce into the turkey and mix well. Pack the mixture into a loaf pan and pour a cup of the sauce over the top. Bake for an hour. Serve with remaining sauce.