Recipe: crusted roast beef
I have been quite busy of late, cramming in all sorts of things before my next treatment tomorrow. That's right. I have a Valentine's date with my oncologist. Not exactly my first choice :) Jeremy will be with me since I'd go careening into a ditch afterward if I drove myself home. So if I haven't been on my usual round of food blogs, forgive me. I'll have some down time coming up soon enough. Meanwhile, I had two most excellent tele days in a row. Tuesday, Jeremy and I went to Breckenridge.

looks nice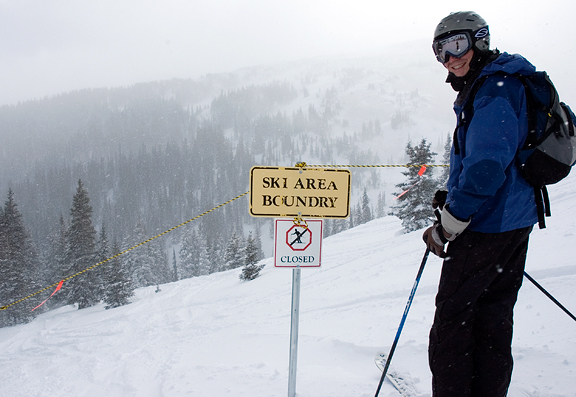 we found the powder
That's when I realized I wouldn't be able to make a Valentine's dinner on Thursday because I would be Out.Of.It. Not only would I be unable to make the dinner, but I'd probably be unable to eat it. I don't particularly care for Valentine's Day and the unbelievably ridiculous expectations that are placed on men by society (i.e. the hetero female half and for instance, the diamond industry) to scramble around to woo women with… stuff. How about wooing women by not being a cad? Call me unsentimental. I'm not, but I am practical. My guy – he works his ass off, and yet he still cares for my sorry ass when I'm sick as hell, he takes me skiing or on walks to cheer me up because I love the outdoors, he respects me, treats me as his equal and better, he cleans the house, takes care of our pup, never complains, only has the sweetest words for me, shares his dreams and ideas, holds the flash and/or reflector when I need that extra hand for a food shot. This isn't lost on me, so you can see why Valentine's Day is a guilt trip I won't impose on such a Good Man. Valentine's Day is merely an excuse to cook a good meal for both of us. I moved it to tonight.
So on our way home we dropped by the grocery store in Breckenridge. Talk about well-stocked. Talk about a bougie ski town. I found everything I needed, more or less. The reason I couldn't run to Boulder today was because…

i was here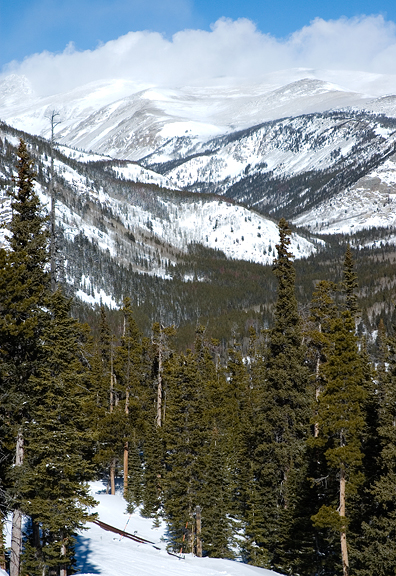 my awesome group sans leyla who busted her knee at jackson hole :(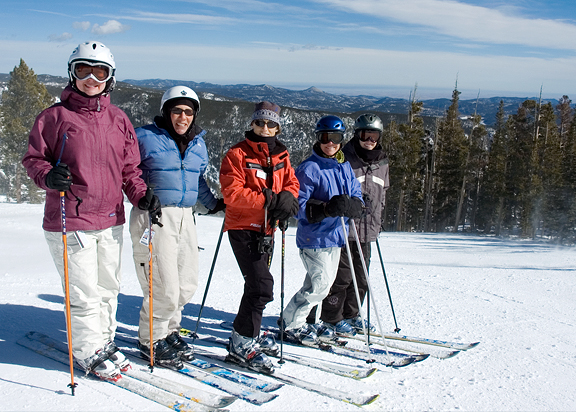 our instructor rips it up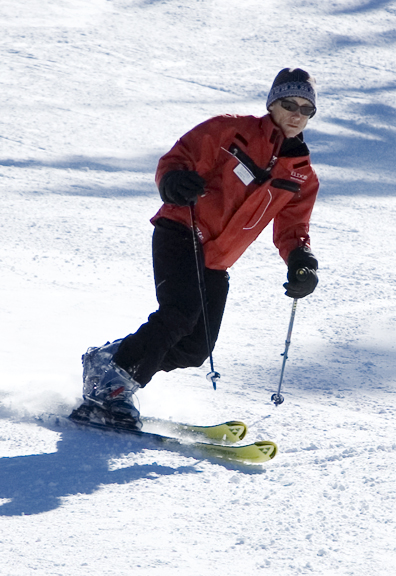 We had such a phenomenal class. Bluebird day, some powder, and we learned to tele carve and practiced moguls. Wooohooo! It got downright hot (40F!!) and the snow began to stick in the afternoon. I had yet another fabuloso face plant that knocked the wind clear out of my chest. ha ha! When I biff, it is spectacular. And my camera didn't die or kill me! Sweet. My legs were so unbelievably tired, but it was soooooo goooooood. Love the burn.
I rushed home in time to get started on dessert (my next post – whenever that will be). Then I began prep for dinner. I see that folks gush about Cook's Illustrated all the time and I think it's a great magazine. I used to subscribe to Way Too Many magazines before I decided to cull it down to bare essentials. One of the only rags I voluntarily subscribe to now is Fine Cooking, because I love the pictures don't you know ;) I also love the recipes, their thorough treatment of topics, and that their ads don't piss me off. I decided to make one of their crusted roast recipes, which we both love. It's a total crowd pleaser for dinner guests too. Here's the menu I whipped up in 2 hours:

organic yukon gold mashed potatoes
roasted brussels sprouts with shallots and lemon
sautéed spinach with garlic
crusted new york beef top loin roast
classic crème brûlée

The crust part of the roast calls for shallots, thyme, marjoram, garlic, and fresh, coarse bread crumbs. Marjoram and I are not friends. So she got the boot. I also increased the bread crumbs to 2 cups from the original 1 cup of the recipe since I find the seasonings a tad strong and we are always wanting for more crust (it falls off the roast into the pan, but it's still good!).
for the crust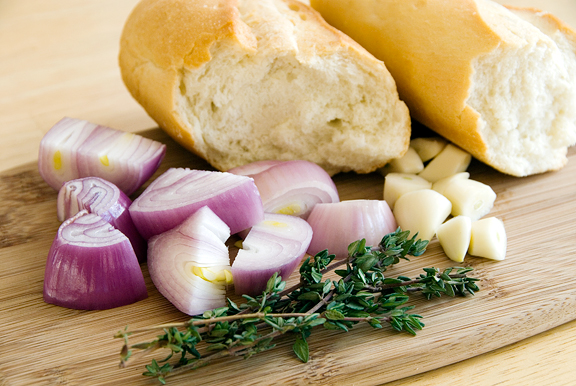 into the cuisinart for some quick pulses
mix it up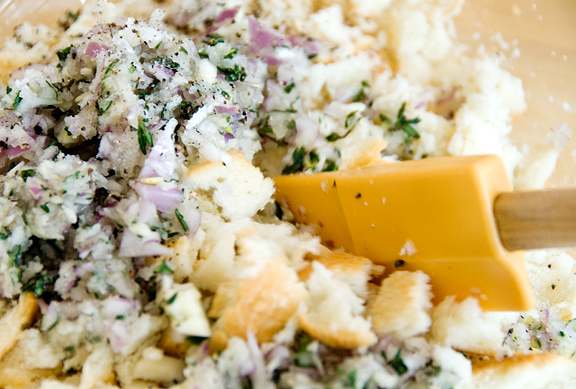 pour the butter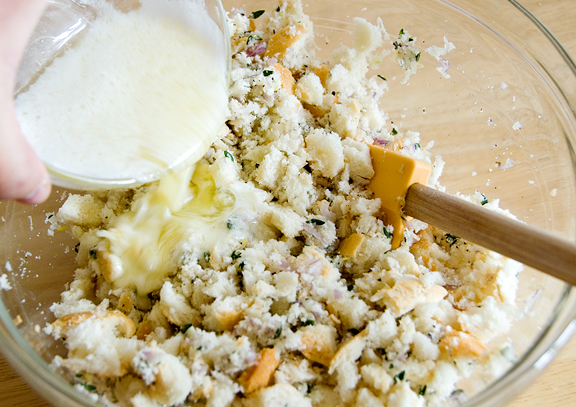 I've made this roast before with a rib eye roast and it was *amazing*. Unfortunately, all I could get in Breckenridge was this New York top loin roast, which cost me a pretty penny. Still, it is the porterhouse cut and the flavor is Very Good, just not as tender as say, tenderloin. He gave me a 3.2 pound cut with a nice cap of fat on top. Fat is good, it gives great flavor. Too much fat usually winds up with a smoking oven for me. I trimmed off 70% and left enough to still baste the roast in nice flavorful juices. Good and good.
salt and pepper rub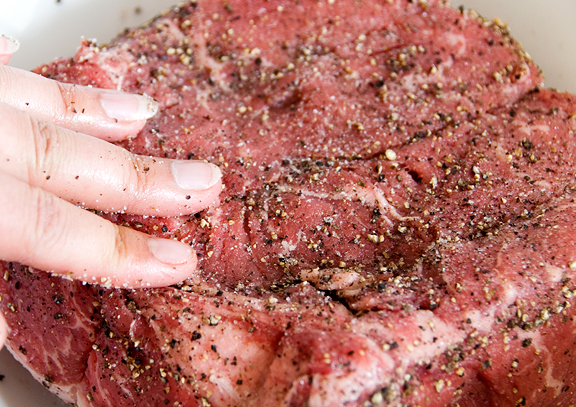 pan searing on all sides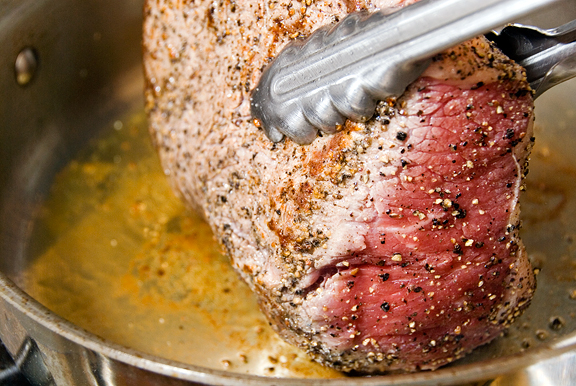 Once the meat was seared, I spead mustard all over it. I happen to do the bottom because more surface area means more crust and more yum. The recipe called for Dijon and when I searched my fridge, the closest I had was Dijon-horseradish. I like horseradish… Slather it on lovingly and generously because you need enough of a layer to get the bread crumbs to stick. It's a messy ordeal, but it's so totally worth it.
slather with mustard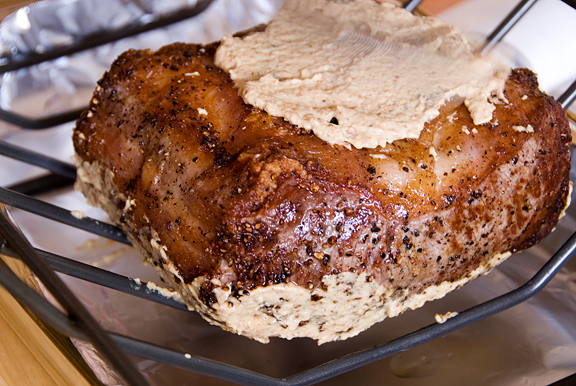 press the bread crumb mix onto the roast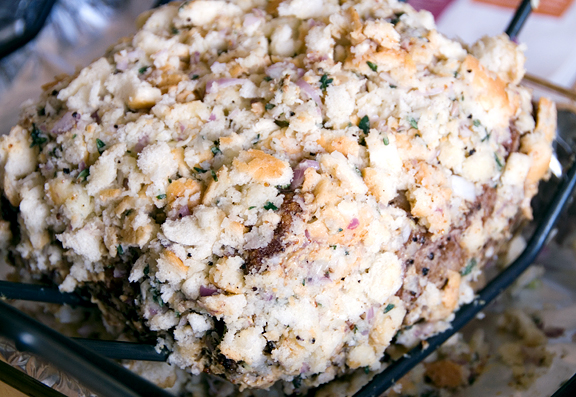 Once I placed the roast in the oven, I turned to the pan in which I had seared the roast. What a mess, huh? No. It's not a mess, but a lovely fond. You know,
fond
, the browned bits of goodness left in the pan after you have seared some delicious thing? Don't you dare throw it out. That is the stuff of yum.
i am very fond of fond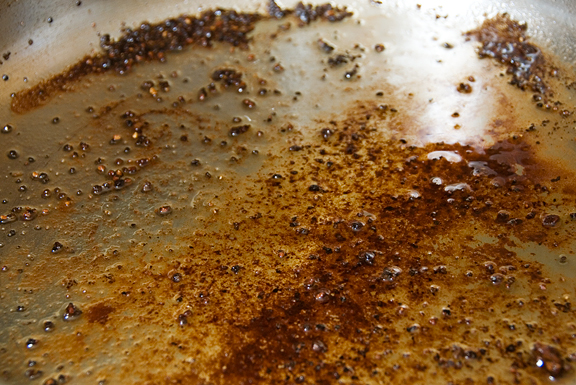 What I do is use my fond to make a reduction sauce to serve with the roast. Remember, I loathe waste. Today I decided on a port reduction sauce, something sweet since Jeremy seems to like sugar in just about anything. I turned the flame on high and…
poured in the port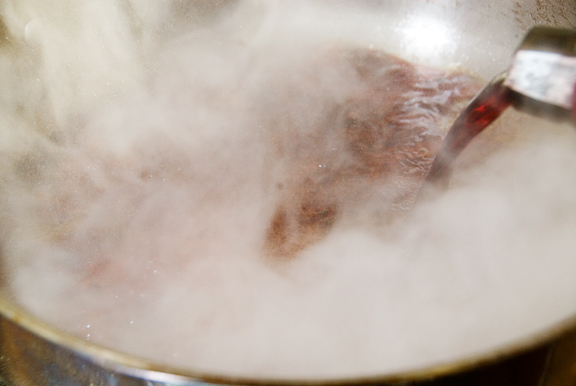 when it reduced by half, i added butter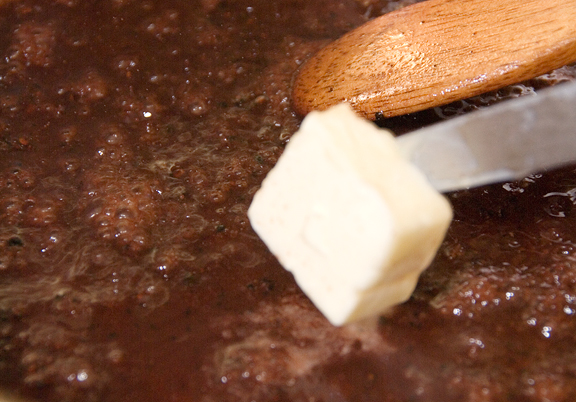 and when it reduced to a thickened sauce, it was done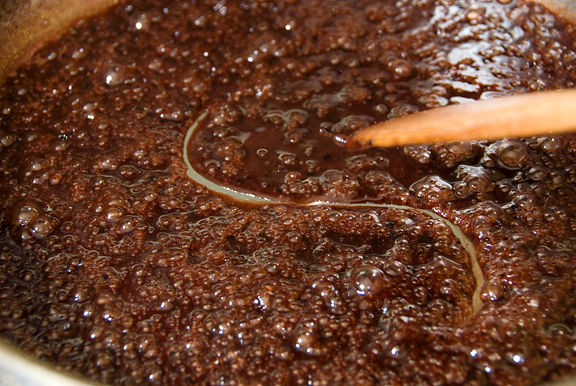 I set it aside, to be warmed up later. Meanwhile, all of the sides were made – chucked the Brussels sprouts into the oven on the rack below the roast. The roast is said to be done to medium rare when the thermometer reads 120F in the center. If we have guests and they don't like rare (we love for our beef to moo) then I'll follow that guideline. If it's just the two of us, I go to 110F (about 50 minutes) because the ends will be somewhat rare or medium rare, which we'll eat, and the rest will be very rare. The rest is going to be reheated, so who wants shoe leather for leftovers? I want some pink if not a lot on the leftovers. I removed the roast to the chopping board to rest for 10 minutes. In this time, the internal temperature will continue to rise and your roast will continue to cook.
what a beaut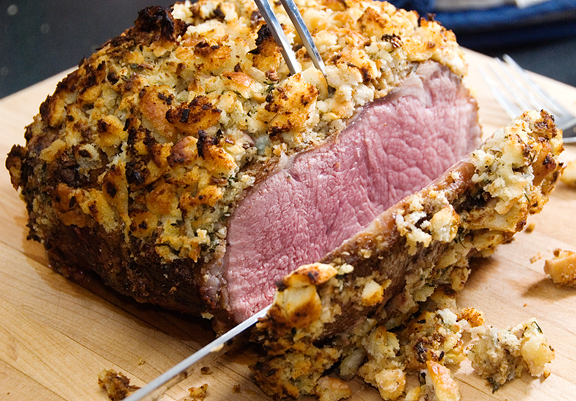 Get a good knife and carefully carve slices off the end. Don't worry if the crust falls off. It's terrific served on the side.
dinner is…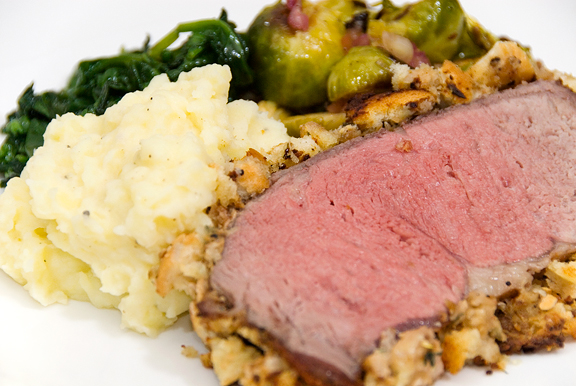 no wait! don't forget the port reduction
Next time: classic crème brûlée.
Roast Beef with a Classic Breadcrumb, Garlic & Herb Crust
[print recipe]
from Fine Cooking issue #76
1 5-pound boneless strip loin roast or 5- to 6-poundtop sirloin roast with cap removed, trimmed if necessary, patted dry
kosher salt
fresh ground pepper
2 tbsps vegetable oil
1 cup coarse fresh breadcrumbs, preferrably from a baguette (I used 2 cups)
4 cloves garlic, minced
2 medium shallots, minced
1 tbsp fresh thyme, chopped
1 tbsp fresh marjoram, chopped (I omitted)
3 tbsps melted unsalted butter (I used 4 tbsps)
1/3 cup Dijon mustard
Let the roast sit at room temperature for 30 minutes. Position a rack in the middle of oven and heat to 400°F. Put roasting rack in a roasting pan or heavy-dury rimmed baking sheet (line pan with foil for easier cleanup). Season the roast liberally with salt and pepper on all sides. Turn on exhaust fan. Heat oil in large sauté pan over medium-high heat. When oil is hot, brown meat on all sides, including ends, about 4 minutes per side (I am impatient, I seared for 2 minutes on all sides). Transfer meat to roasting pan. Set aside while preparing crust. In medium bowl, combine bread crumbs, garlic, shallots, thyme, marjoram, 1/2 teaspoon salt, and 1/4 teaspoon pepper. Pour melted butter over mixture and toss to combine. Smear the mustard all over the roast (I cover the bottom too). With hands, press breadcrumb mixture all over the roast into the mustard. Roast the beef until instant-read thermometer inserted in the thickest part reads 125°F for medium rare, about 60 minutes for strip loin roast or 60-80 minutes for top sirloin roast, depending on thickness. Check the crust often. When it is golden brown, tent the roast with foil to prevent burning. Remove roast from oven and let meat rest for 10-20 minutes before carving across the grain, into 1/2 inch thick slices.
Port Reduction Sauce
fond from searing the beef
1-2 cups port
1-2 tbsp unsalted butter
Heat the pan with the fond over medium high to high flame. Pour in the port and watch it steam off. Use a wooden spoon to rub at the fond while the port is boiling. You should "clean" the entire pan so the fond is suspended in the port. When the volume has reduced by half, add a pat of butter. Stir the butter in and continue to reduce until the sauce is thick enough to your liking. Remove from heat and serve with roast.