Recipe: crème brûlée
Whew, that was a long hiatus. While the weekend was a miserable slog, I knew things were on an upswing yesterday when I began to contemplate what recipes to try next. That and the fact that I was checking the snow forecasts for the big mountains, anxiously counting down the days to when I could clean the house (14 days after the lunar new year!), and following the news again. I am hoping this is the start of a solid good 2 weeks for me. Thanks to all for your very sweet wishes.
But there is some unfinished business from dinner last week. I never got around to posting what we had for our Valentine's Day dessert. Crème brûlée is, in my mind, one of the most elegant, simple, and delightful ways to finish a meal. And it's really not that hard to make! As long as you are competent enough to implement a water bath and not burn your house down with a propane torch (or you could use a broiler, but where is the fun in that?) you're good as gold.

egg yolks and sugar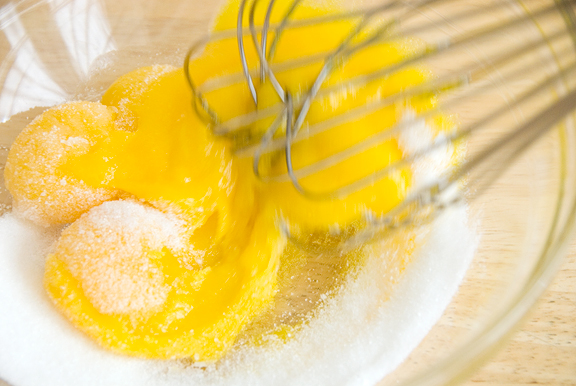 The ingredients list is ridiculously short and easy: egg yolks, sugar, cream, and vanilla. For some reason I whisked this by hand instead of using my stand mixer. That was annoying, but doable. Use the mixer, you will be happier for it. I would have been.
add cream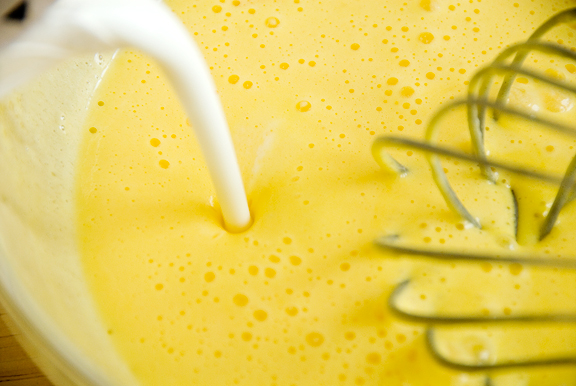 Once I mixed in the cream and vanilla, I strained the entire liquid because I find little bits of cooked egg in my crème brûlée to be disconcerting.
ladle the strained liquid into ramekins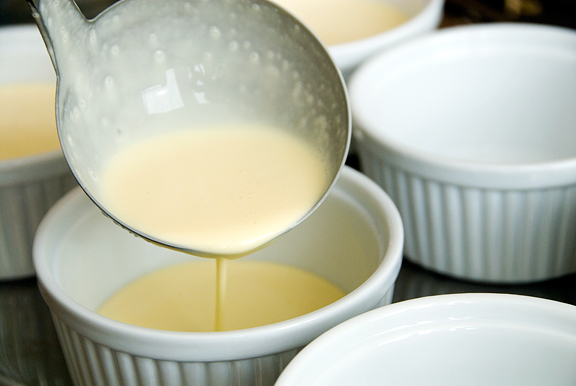 You don't have to use ramekins. You can use cute little tea cups or bowls or glasses – whatever you like or have on hand that is ovenproof. I like to use my ramekins because I don't want to screw around looking for dainty tea cups that I don't own and because I have a not so secret fear of heating some nice dishware unevenly with my torch resulting in a huge crack down the side. Anyway, set the ramekins in a large baking pan so they aren't touching. The important part here is to bake the crème brûlées in a water bath – gentle heat. I have found the best method is to boil water in a kettle and when the oven is ready, set the pan with the ramekins into the oven and then
carefully
pour the hot water into the pan (making sure not to get water into the ramekins).
when done cooking, let cool to room temperature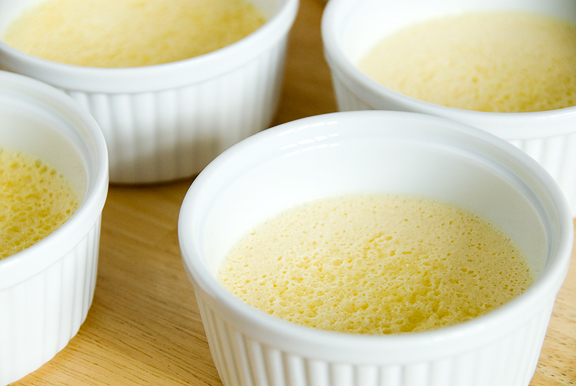 Do yourself a favor and don't rush the cooling. I bake my crème brûlée to just barely done. It is still jiggling when I take it out of the oven. When it cools to room temp, it should be just set – this yields a most silky and creamy texture. Pop them in the refrigerator covered with plastic wrap.
before serving, sprinkle sugar on top and torch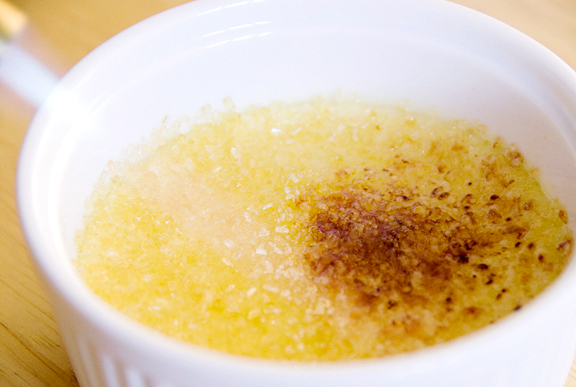 I've tried sprinkling regular sugar, fine granulated sugar, and turbinado sugar on my crème brûlées. The turbinado lends the best caramelized crust for me, sort of holding its place. The finer grained sugars just run into a puddle in the center, which vexes me. If you must broil, go ahead, but the fun really is in the torching… not to mention it is always good to learn about phase changes and properties of sugar. Take care that the dish will be hot either way. Garnish with fruit or just dig in.
the satisfying snap of breaking through the sugar
Classic Crème Brûlée
[print recipe]
from Elegantly Easy Crème Brûlée and Other Custard Desserts by Debbie Puente
8 egg yolks
1/3 cup granulated sugar
2 cups heavy cream
1 tsp vanilla extract
1/4 cup sugar (for the tops – I prefer turbinado)
Preheat oven to 300°F. Whisk egg yolks and sugar together in large bowl until sugar is dissolved and mixture is thick and pale yellow. Add cream and vanilla. Strain into a large bowl. Divide mixture into 6 ramekins or custard cups. Place in a water bath and bake until set around the edges, but still loose in the center, about 40 to 50 minutes (I needed 60 minutes). Remove from oven and leave in water bath until cooled. Remove cups from water bath and chill for at least 2 hours or up to 2 days. When ready to serve, sprinkle 2 teaspoons of sugar over each custard. Torch or broil the sugar until caramelized and serve.