Recipe: stacked enchiladas
looking from the other side
I lived in Southern California for a total of ten years. My friends in States With Real Winter used to send me hate email in January for posting pictures on my blog of things like barbecue parties on our patio with fat, juicy oranges dangling off of the verdant trees in the background. I love California winter. Winter in California is what I think summer should be. Of course, the moment March rolled around I wilted until November. But now I live where I get many good months of winter and the summers are tolerable (it can still get hot at 8500 feet). We mountain folk are smug little bastards. When I talk to Boulderites I refer to their town as "the flats" and I like to remind them that they don't even know cold, snow, and especially wind. When I regard them from my home, I literally look down at them. Okay, but where the hell is this going?
Cindy posted about some beautiful baking she did this weekend, and it is indeed beautiful. Then I notice these flowers that adorn the cake and cupcakes and I'm thinking those are awfully pretty – I wonder where she got… And she writes that she traipsed outside to her yard and plucked these flowers and I'm imagining Bambi and friends gathered about and waving hi and little bluebirds singing while they do her hair. WTF? People think I'm joking when I say our growing season is on the order of a few weeks. California has two lettuce seasons. TWO. Let's see here, if I go outside in my yard I find these:

d.e.d.: dead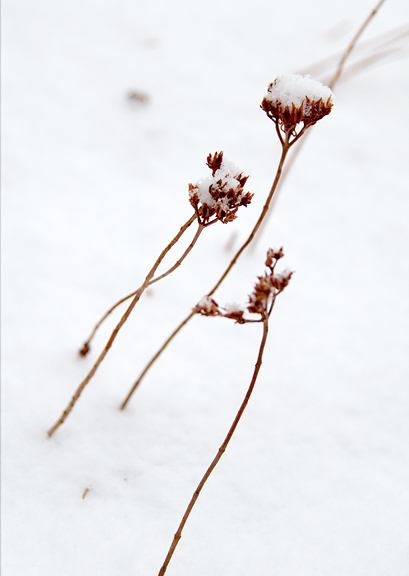 I'm not putting that on a cake.
I do love winter, but the monotone colors of snow and dirt can get old around now and we still have 3 more months until mud season. Living ten minutes from a ski hill ain't bad, except when you get a nice dump of powder and the winds are blowing it straight into bleeping Kansas. Days like that – days like today, I stay indoors and get my cardio burn going. I rowed and rode for 2 hours. Kaweah sleeps the entire time, until I do my ab work. Lying on the floor is an open invitation to play.

she attacks my abs with the giant plush ball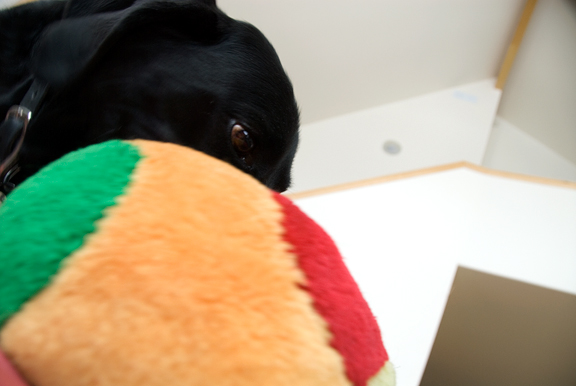 it's never clear what she's thinking after I chuck the ball across the room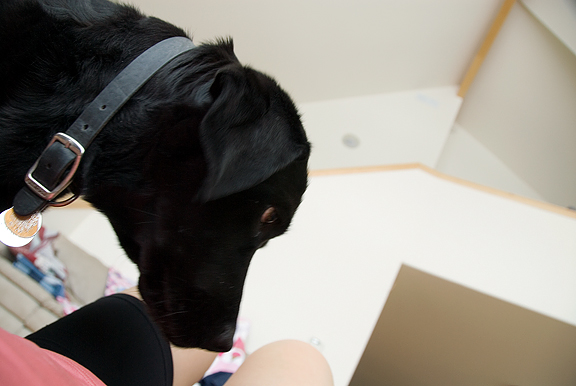 a little spice in your life
There's nothing quite like Mexican food with a kick for a wintry day. Seeing as we are in Colorado, you can't find serious Mexican food anywhere. You have to go south to New Mexico to get it – or you can make it yourself. In my home state of Virginia, Mexican food was relegated to the likes of Chi Chi's or Taco
Hell
Bell. [I still have a soft spot for Taco Bell… cheaper than dog food.] Living in So Cal exposed me to some excellent Mexican food, including a favorite dive in East LA where we ran the risk of being gun fodder in random drive-by shootings every time we ate there. It was so worth it. But the real education was living with Jeremy, a native son of New Mexico. Despite the fact that he's a white boy, he has discerning tastes when it comes to New Mexican fare. He taught me to make enchiladas, stacked enchiladas.
just corn tortillas, meat, cheddar, enchilada sauce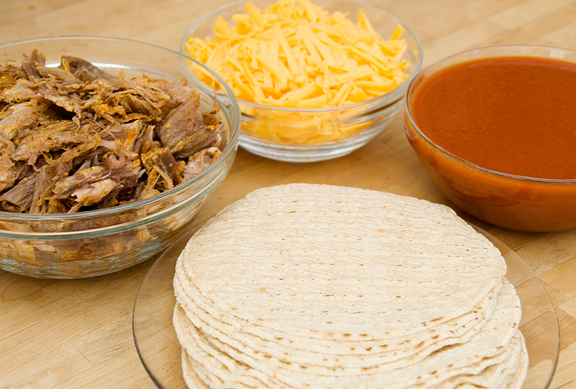 I know, we have friggin' orange cheese in the photo. When we grocery shop, it's a search and destroy mission. I take the items that require assessment of freshness or banter with the butcher. Jeremy is assigned the items that couldn't possibly get screwed up. In and out and nobody gets hurt, see? Except this time I just said, "cheddar". I forgot to add, "organic and not friggin' orange". My bad. We sometimes make stacked chicken enchiladas with shredded chicken, but this time I wanted something with spank. I used shredded
carne adovada
. Pork rules.
top the the small puddle of sauce with a layer of corn tortillas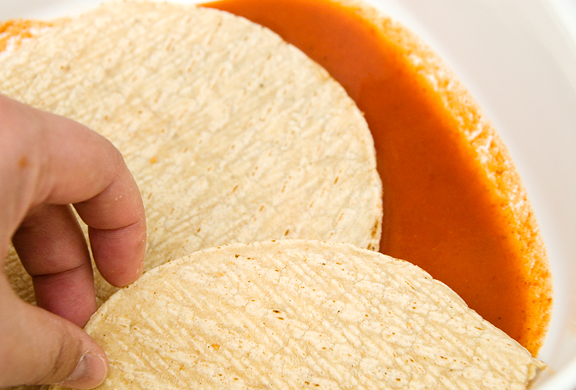 After the initial spoonful of sauce at the bottom of the baking dish, start stacking tortillas, meat, cheese, and drizzle sauce. Repeat about three or four more times. I like lots of layers, just like my cakes.
layer the shredded meat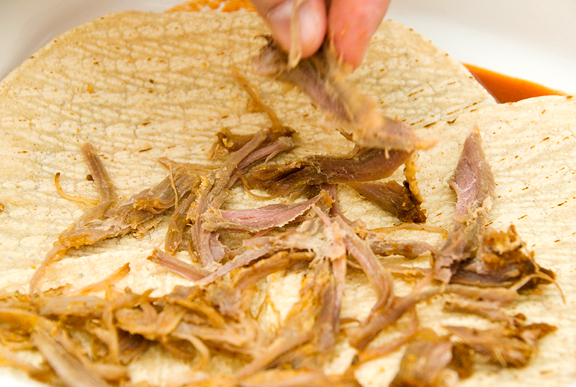 drizzle sauce over the cheese layer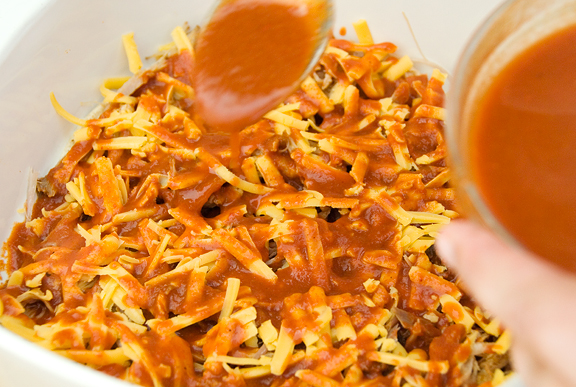 You should end with a layer of tortillas, some cheese, and enough sauce to cover them. The top layer tends to dry out during baking, so I typically bake it uncovered for half of the cook time and pop a lid or foil over it for the remaining half. If you try to serve this straight out of the oven, it tends to ooze into a pile that looks suspiciously like vomit. I like to let it set up for an hour or overnight and reheat the servings.
a hearty slice of stacked enchiladas
Enchiladas, Stacked – Not Rolled
[print recipe]
12 corn tortillas
12 oz. chicken or carne adovada, shredded
12 oz. cheddar cheese, shredded
20 oz. enchilada sauce
In an 8×8-inch baking dish, put two or three spoonfuls of enchilada sauce in the bottom and spread evenly. Layer with three overlapping tortillas. Sprinkle 1/3 of the chicken meat evenly on the corn tortillas. Sprinkle 1/4 of the shredded cheese. Spoon 1/4 of enchilada sauce. Repeat for two more layers. When you top with the last three tortillas, sprinkle remaining cheese and pour remaining sauce. Bake at 400°F for 40 minutes. You may want to cover the dish for the last 20 minutes if the top starts to dry out.