Recipe: martha's mac and cheese
the ski whore report
Can I say w00t?! I went ski whoring this morning. I just love being a local. There were some decent freshies with a few inches of the sweet stuff, but the groomers were nice too. I hit the blacks in the back and caught up with some of my tele betties. Oh! Babes who tele are hot! Okay, but seriously – men who tele well make me swoon. Our local hill has a huge number of ski patrol on teles and I get my jollies when I see the tall ones ski, strut, or just stand around. Oh my. *fanning a blushing face* And today while I was contemplating more moguls on a favorite run, a gentlemanly hottie in his late 20s paused next to me and said, "after you" except I was still catching my breath so I told him he could go ahead. We exchanged polite greetings and he was off in the most graceful yet athletic tele turns – like silk. I had to catch my breath again.

south arapaho peak in the distance – a great climb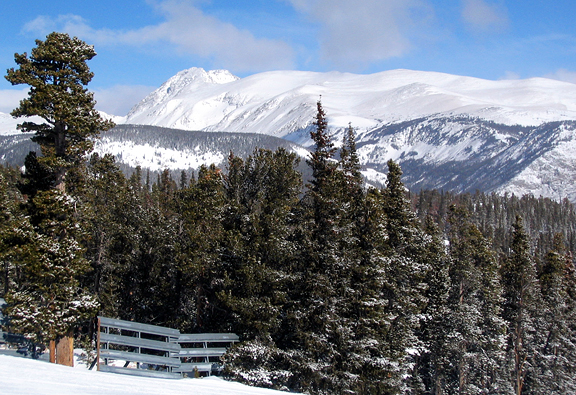 in the post
My MIL is a quilting genius. She cranks out quilts in her sleep and they are all gorgeous. She belongs to several quilting groups and two of her groups back in New Mexico conspired to make a quilt for me. I have been getting so many wonderful packages in the mail since my diagnosis. My friends and family have been remarkable and supportive sending hilarious DVDs, food stuffs, handmade gifts, food mags, snuggy socks and jammies, hats, kitchen cutlery, books, yarn. We have a large room downstairs that is filled with piles of cardboard boxes! So imagine my surprise when I opened this box and unpacked this delightful quilt from 20 women I have never met (except for MIL). They pieced the blocks and MIL did all the rest.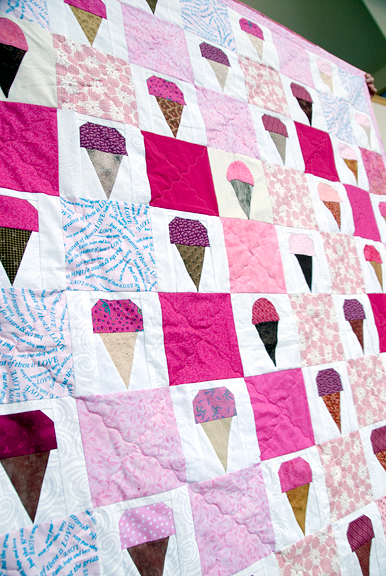 the signature block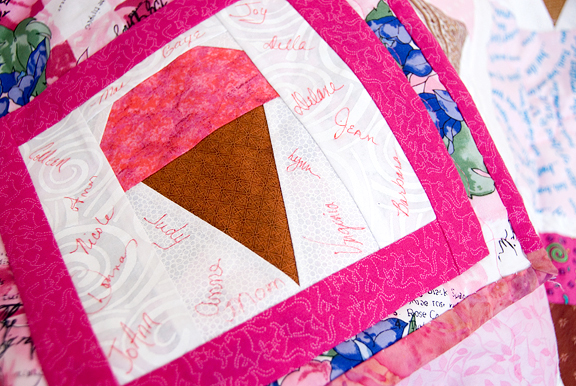 I am not a pink girl, but I love the quilt and especially the ice cream cone motif! How Effingham cool is that?!
cooking and more cooking
I spent my afternoon cooking and shooting a lot of dishes (and making a fabulous mess in the kitchen). I have about a dozen recipes in queue for the blog since tomorrow is my next chemo and I'll be down for the count soon. I want to avoid long silences since I dislike discontinuities. Something I made over the weekend was a recipe I had been eying for years. I heard about it in grad school from my good friend and workout buddy, Sande – a kick ass paleontologist. It's Martha. I mean, it's Martha's mac and cheese recipe. Yes, a recipe that strikes fear and an alarming desire into your heart.

macaroni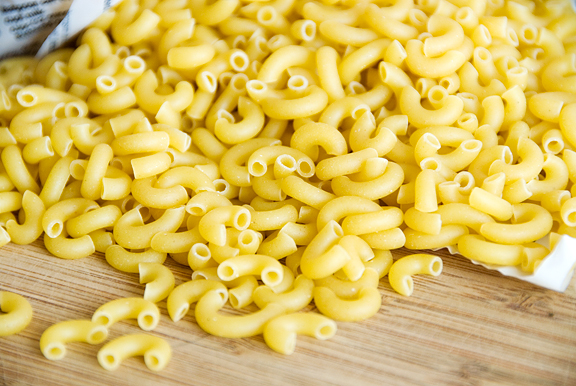 The first time I read the ingredients I thought the woman was trying to kill me. Then I realized that she was actually trying to kill us all.
start with a roux – that's butter and flour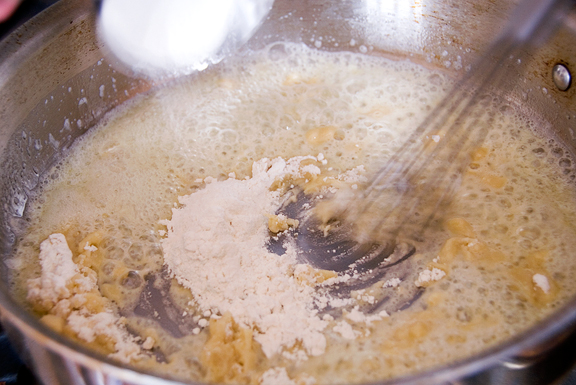 mix in hot milk and add some spices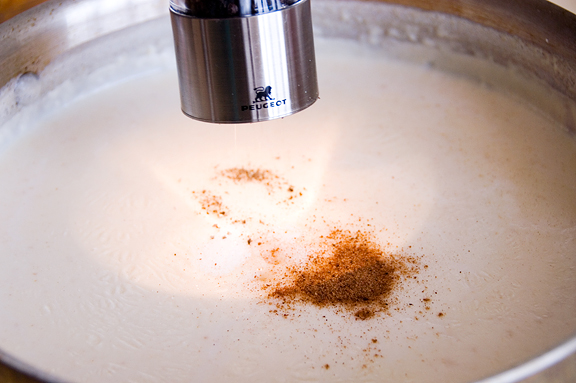 I digress: Like my Peugeot automatic pepper grinder? I push a button and it grinds the pepper for me. It was a gift from my MIL for my birthday last year and it costs about as much as its automotive counterpart. I'm kidding… sort of. I got hooked on automatic pepper grinders in grad school because the stress of a friggin' PhD caused the skin on my hands to peel and bleed so badly that I couldn't grind pepper manually without getting blood everywhere. Gross, I know. Now chemo seems to result in the same problem, so it's a good thing I have this handy dandy contraption. And just for the record, grad school is worse than chemo.
adding gruyère and friggin' orange cheddar
and then the cooked macaroni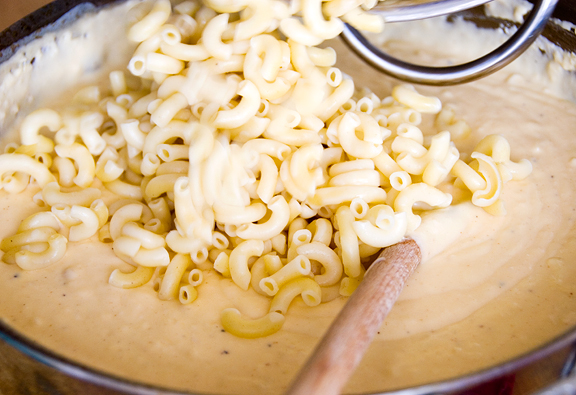 Some rant: Yup, same grocery run and so we have… friggin' orange cheddar. Now I caught some flak for calling orange cheddar, friggin' orange cheddar in my last post. See here, if it's not adding any flavor to the cheese, then why the frak would we need to add it at all? But really, it boils down to choice. I am a huge fan of choice. HUGE. If I can purchase cheddar that is not orange, but rather the natural color of the cheese, then I will and that is my choice.
my own added debauchery: sliced pancetta – ooooh!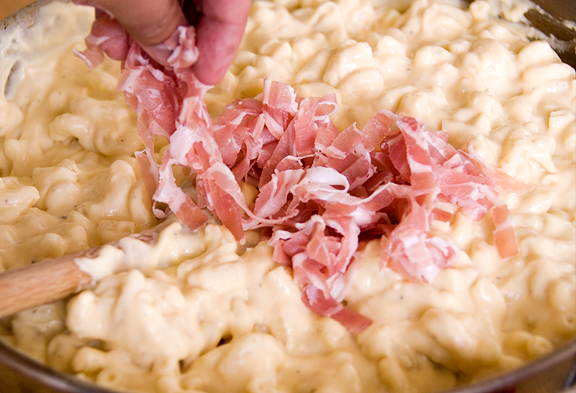 pour into a giant baking dish and top with more fat cheese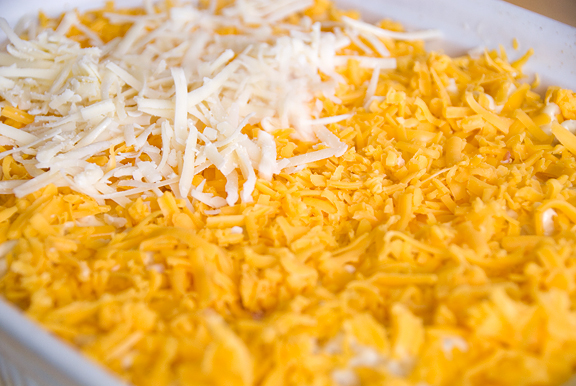 The recipe I followed says this serves 6 people. My question is this: 6 people for how many days? That's a lot of mac and cheese, not to mention a ton of calories (straight to your ass). It's pretty good as mac and cheese goes, but… it didn't rock my world as I so hoped it would have. I think it's too creamy for me and I would prefer it to be more gooey or cheesy. A local restaurant on the flats serves up my favorite mac and cheese – I wonder if they'd ever part with the recipe? Anyway, I was genuinely frightened to have this enormous dish of "increase your pant size by 2" in my kitchen, so I sent Jeremy to the neighbors' house with half of it (and half of that matcha Earl Grey chocolate cake). Phew! They are my licensed official taste testers, and I got the thumbs up on both.
this will tide you over for a week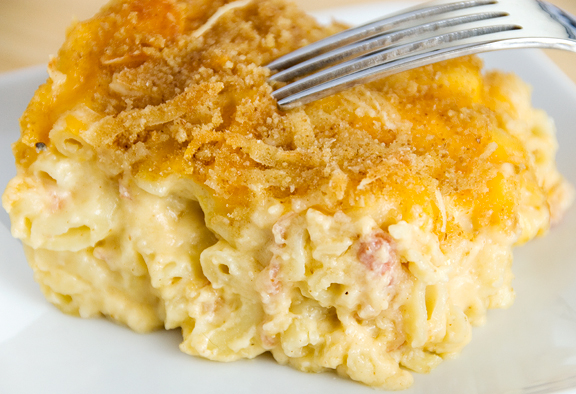 here's to you, martha
Martha Stewart's Macaroni and Cheese
[print recipe]
with some slight modifications
8 tbsps unsalted butter
1 cup bread crumbs
5 1/2 cups milk
1/2 cup all-purpose flour
2 tsps salt
1/4 tsp freshly grated nutmeg
1/4 tsp freshly ground black pepper
1/4 tsp cayenne pepper, or to taste
18 oz. sharp cheddar cheese, grated
8 oz. Gruyère cheese, grated or 5 oz Pecorino Romano, grated
1 lb. elbow macaroni
3 oz. pancetta, sliced into strips
Heat the oven to 375°F. Butter a 3-quart casserole dish; set aside. In a medium saucepan set milk over medium heat. Melt 6 tablespoons butter in a high-sided skillet over medium heat. When butter bubbles, add flour and whisk to make a roux. While whisking, slowly pour in hot milk. Continue cooking, whisking constantly, until the mixture bubbles and becomes thick. Remove pan from heat. Stir in salt, nutmeg, black pepper, cayenne pepper, 3 cups cheddar cheese, and 1 1/2 cups Gruyère or 1 cup Pecorino Romano; set cheese sauce aside.
Fill a large saucepan with water; bring to a boil. Add macaroni; cook 2 to 3 minutes less than manufacturer's directions, until the outside of pasta is cooked and the inside is underdone. Transfer macaroni to a colander, rinse under cold running water, and drain well. Stir macaroni into the reserved cheese sauce. Stir in the pancetta. Pour mixture into prepared dish. Sprinkle remaining 1 1/2 cups cheddar cheese, 1/2 cup Gruyere or 1/4 cup Pecorino Romano, and bread crumbs over top. Bake until browned on top, about 30 minutes. Transfer dish to a wire rack to cool 5 minutes; serve hot.