Recipe: crock pot roast beef
Whoa. It's spring. Even here in the Land of Ephemeral Summer, it's bleeping spring. Talk about a mind fuck what with Daylight saving, another round of chemo, and the warm spell this weekend – I have awoken to a world that is now a lot… hotter. Not that I mind spring. Despite my love for winter, I actually embrace the arrival of all seasons because it's a refreshing change. To be honest, spring here is really a warmer version of winter with nice big snow dumps paired with longer sunny days. Makes for great mountaineering conditions and who doesn't love to ski some of that corn snow in the backcountry? Tap tap tap – waiting for the snowpack to get just right. Oh, my tele days are not over yet – not by a long shot.
And let's not forget the bounty of spring produce. I get all excited in anticipation, although I'll have to figure out which foods I can and cannot partake of because of my treatment. Still, a creative cook can make her way around some of those obstacles. Even though we're still days off from the official start of spring (and in my neck of the woods it doesn't feel like spring until May) I got started on my spring cleaning of sorts: closets, cupboards, paperwork, projects… While I was at it, I remembered that I had several recipes squirreled away for posting and some of them are "wintry" dishes. Best to get on those soon, eh?
Oh but first, more goodies in the post – a surprise from dearest, sweetest Anita of Dessert First! I have to say that food bloggers are some of the nicest people in the world. Add to that the fact that they also have teh best taste in food stuffs and you will never be more pampered and showered with love by a better person or persons.

i nearly peed my pants when i saw where the yummies were from!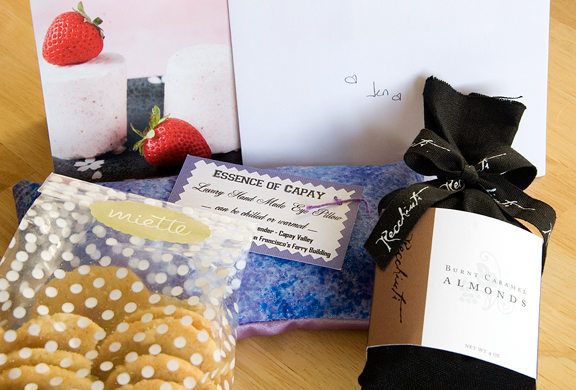 Isn't she a dear? What a complete delight to have these to look forward to after my treatment. Anita, you are the best! xxoo
Right. On to the recipe for crock pot roast beef, which I got while attending a funeral. People bring comfort food when someone dies, when someone is ill – a basic and kind gesture from the heart. I've made this recipe several times to take to others. I like that it was brought to me in a time of need and that I can pass it along to others in their time of need. That said, you don't have to be dead or dying to enjoy it – it's perfectly suited for squeezing in on the last chilly evenings of winter too.

a hunk o' beef chuck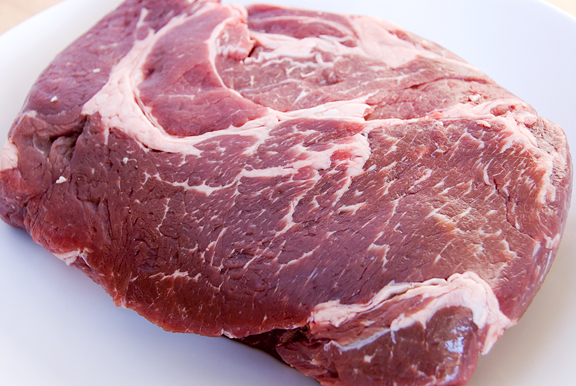 This recipe is so easy that if you can't make it, you really shouldn't be allowed out in public unsupervised. It calls for a slab of chuck roast, celery, onion, water, red wine, and soy sauce. The crock pot makes it ludicrously easier still.
celery and onion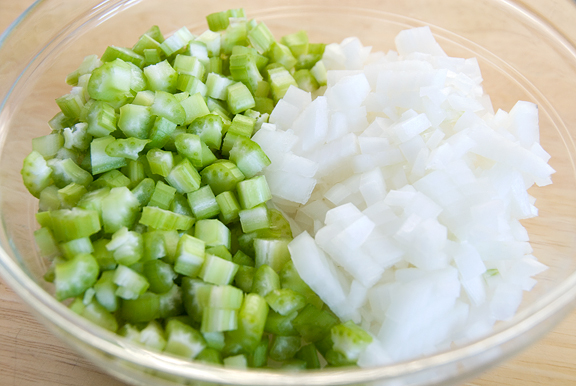 As I've stated before, I am a huge fan of taking tough cuts of meat and slow cooking them into tender oblivion. It's like that lead into gold thing, except this is much tastier and you will have more friends.
dump it all in the crock pot and set the timer to: delicious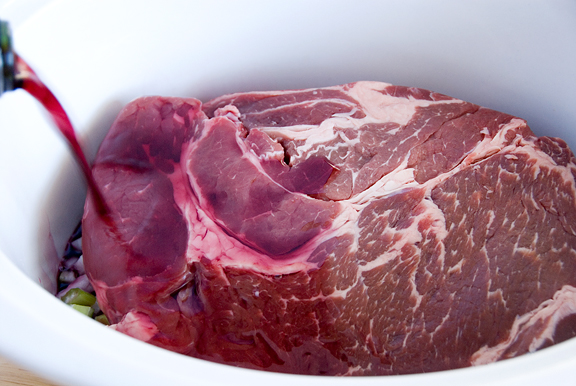 Most people can't help digging into the roast as soon as it is done, but I take it a few steps further. I strain the broth and refrigerate it for defatting (yes, this requires planning ahead). While the meat is still hot, I remove any fat and gristle. Shred or leave in chunks – fantastic either way.
tender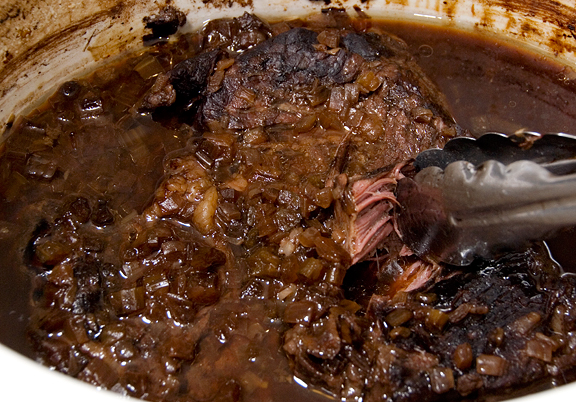 The broth can be left as broth or turned into a fabulous gravy. For gravy: mix up a quick roux of butter and flour and then temper it a little at a time with the broth until you have the consistency desired. This gravy is amazing on mashed yukon gold potatoes. But, we ate the potatoes up before I got around to shooting the beef this time.
pleasantly heady pot roast
I should mention that the leftovers make some kick ass sandwiches if you are so inclined. Personally, I like to pair it with some melted Swiss. Jeremy loves dipping the sandwich into some of the broth on the side. It's all good.
love the sandwich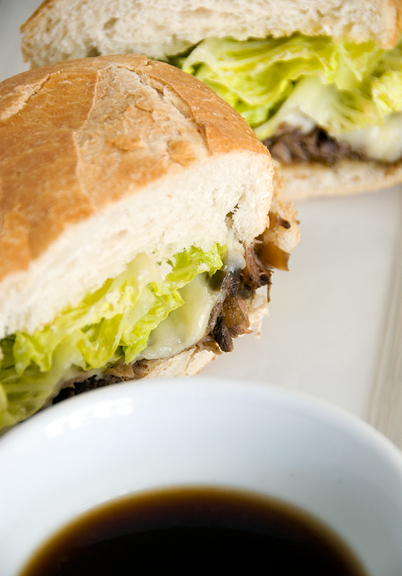 Crock Pot Roast Beef
[print recipe]
3-5 lbs. chuck roast
1 cup water
1 cup red wine
1 cup soy sauce
1 cup celery, diced
1 cup onion, diced
Dump it all in the crock pot. Set to high for 8 hours. Dig in.