Recipe: espresso panna cotta
I wanted to post on the first day of spring, but my workout kicked my ass and I nodded off on the couch last night instead – drool and all. I didn't snore. That's the dog's job. She performed to expectation, snoring her little brains out with her furry self stretched on the futon next to me… much like she's doing this morning.

it's a full time job
Jeremy was out of town for a meeting in Puerto Rico this week. While most folks who live where there is more winter than summer might be ecstatic to take a trip to a tropical locale, he isn't one of them. [You honestly think I'd shack up with someone who loves the tropics more than the mountains? Come on!] Some people get bent out of shape when their partner goes out of town, but it doesn't faze me much unless something shitty happens like a car accident or someone dying. However, I did have an itch to make a dessert, but decided to wait until Jeremy got home because it is one of his favorites.
can you guess? gelatin and milk…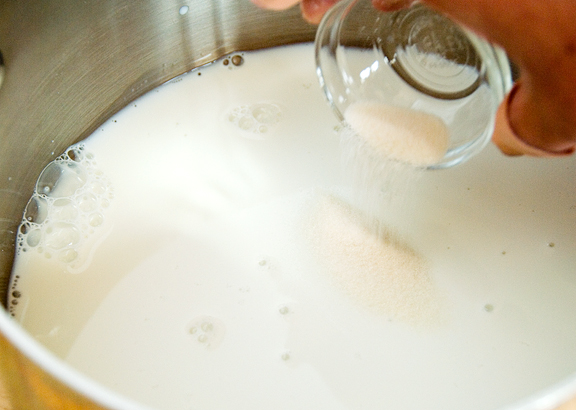 The first time I ever had panna cotta was at
The Kitchen
in Boulder about two years ago. It was Community Night and we were *stuffed* when this trough of creamy goodness was set on the table in front of us. Yogurt panna cotta with drunken prunes. Never had it before. Never heard of it for that matter. I said I'd take a taste. I had two servings. It is now one of my favorite desserts.
add sugar and cream to the warmed gelatin and milk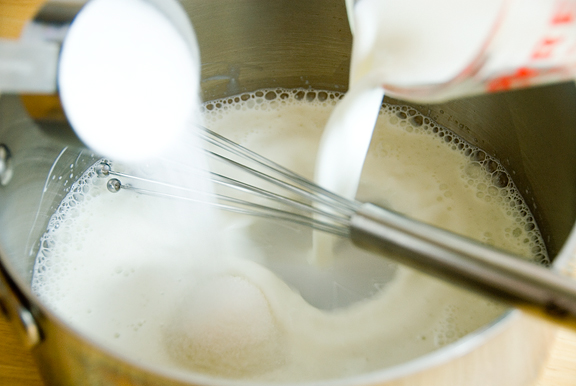 Panna cotta means cooked cream in Italian (oh, I love those Italians). It is a versatile and simple dessert. Easy to prepare and elegant to serve up. I've had versions ranging from tangy yogurt panna cotta to sinfully creamy cinnamon panna cotta with full cream. This one is half whole milk and half cream – still pretty rich and delightful.
flavored with vanilla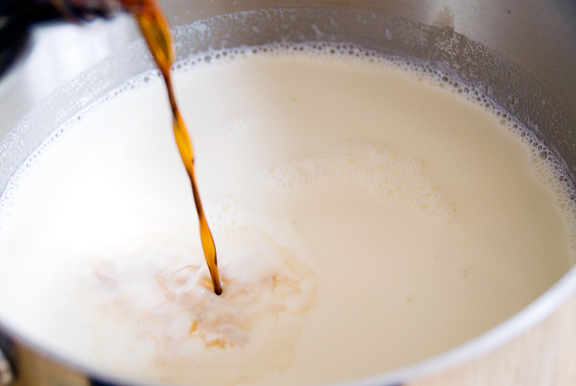 My favorite way to serve panna cotta is in little servings. I've made them in molds before and it made me swear a lot. That's probably just me, but these tiny servings are perfect little pick-me-ups or pre-desserts or even chaser desserts! Jeremy had one for brekkie this morning.
just a shot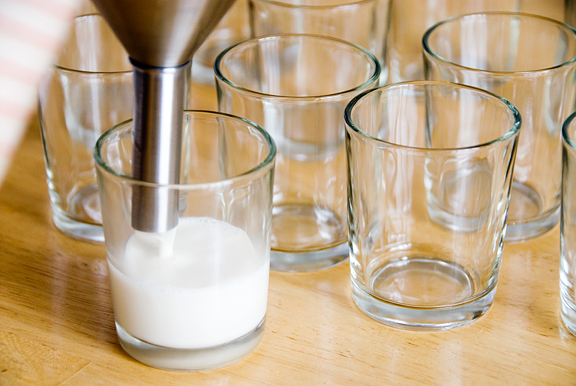 Okay, but Jeremy wouldn't be sold on panna cotta alone. The reason he loves this panna cotta is because I add a little something extra to it. Something that
caffiends
like him cannae resist.
more gelatin and some water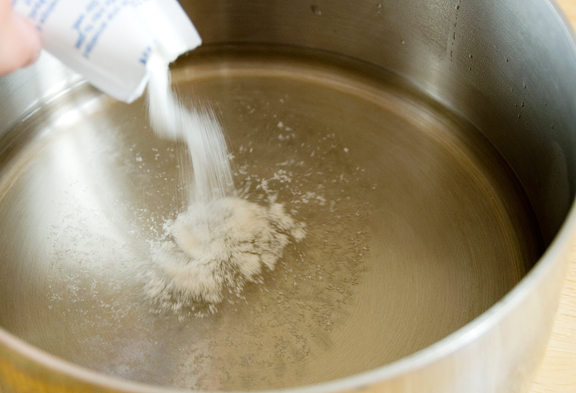 …and enough espresso powder to fuel your rocket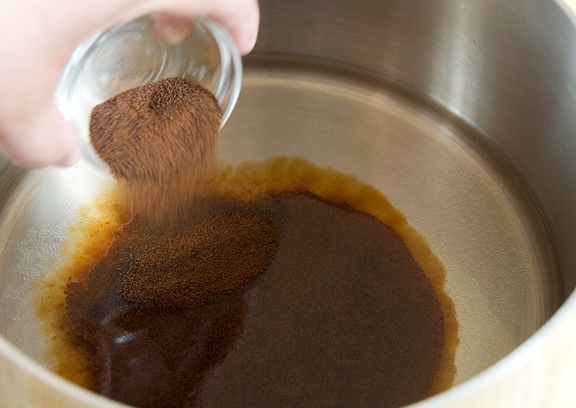 When the panna cotta sets, I pour a cooled layer of espresso-flavored gelatin on top. Espresso to Jeremy is like chum to sharks. It's good stuff, I just try not to eat too much of it (Ass Reduction Plan is in full swing).
a tasty way to get hopped up
Espresso Panna Cotta
[print recipe]
panna cotta
1 cup heavy cream
1 cup whole milk
1/4 cup sugar
1/2 envelope powdered gelatin (1/8 oz.)
1 tsp vanilla extract
espresso jello
4 tsps instant espresso powder
1/2 envelope powdered gelatin (1/8 oz.)
10 oz. water
2 oz. brown sugar
Panna cotta: sprinkle gelatin over 1/2 cup milk in a pan for 3 minutes or until dissolved. Add sugar and remaining milk. Heat over medium flame until sugar and gelatin are dissolved, but take care not to boil. Remove from heat and stir in the cream and the vanilla. Pour into vessels and refrigerate until set (a few hours depending on volume).
Espresso jello: Heat water to a boil. Remove from heat and sprinkle gelatin over the water. Stir until dissolved. Add espresso powder and brown sugar. Stir until dissolved and let cool. Pour over set panna cotta and refrigerate until jello layer is set.