Recipe: chinese stir-fried flank steak
I don't have a beef with winter. Nor do I have a beef with spring when it turns the trees in my front yard into this:

these are my kind of april showers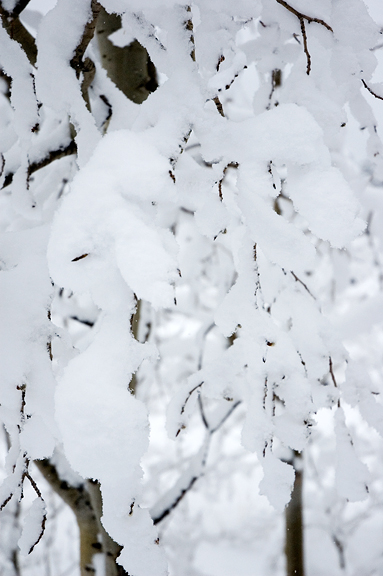 I got my turns in today. There were ten fresh inches of powder at the local hill. Spring has been good to me.
jeremy discusses which run to ski next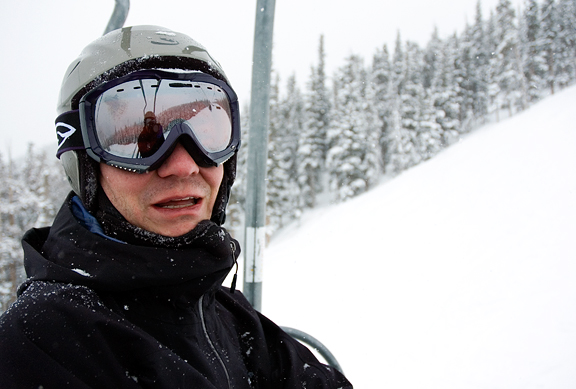 chicks kick ass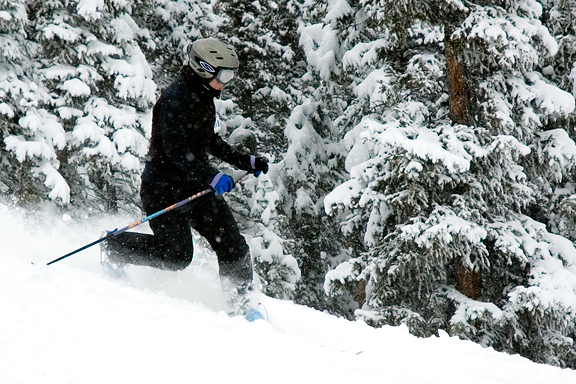 Meme time again.
Isa
tagged me for a meme which is cute, but apparently doesn't have a name. I'm going to dub it the "six words to describe me" meme. Here are the rules:
– Write your own six-word memoir;
– Post it on your blog and include a visual illustration if you'd like;
– Link to the person who tagged you in your post;
– Tag five more blogs with links;
– Remember to leave a comment on the tagged blogs with an invitation to play.
six words
practical
realistic
friendly
active
curious
motivated
visual
I found some pictures of me with long hair… or any hair for that matter.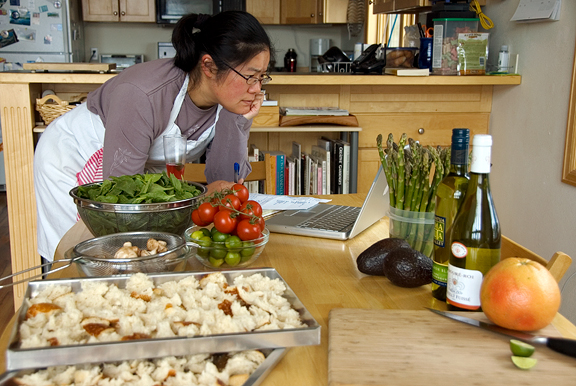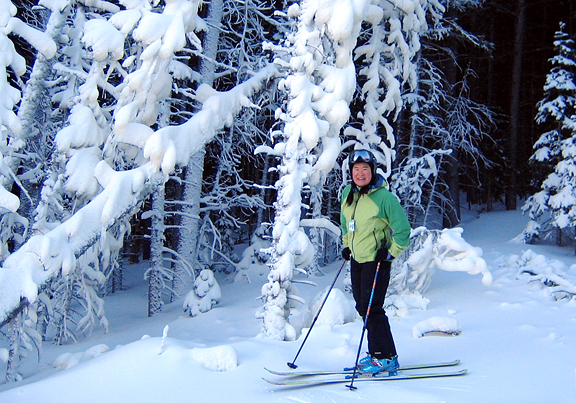 Instead of tagging five more blogs, I'm just going to tag anyone who wants to do this meme because I'm too lazy to look up the links and comment on their blogs. So much for motivated! *snort*
Yes, there is actually a recipe in here. One of the first things I learned to cook was Chinese stir-fried flank steak. I was a teenager and one evening, my mother looked at me and realized I was going to leave home for college some day. She ordered me to come watch her make this dish. While she deftly whipped it together, she told me she didn't want me to starve when I left home. Obviously she had never heard of the freshman 15.

slice the flank steak against the grain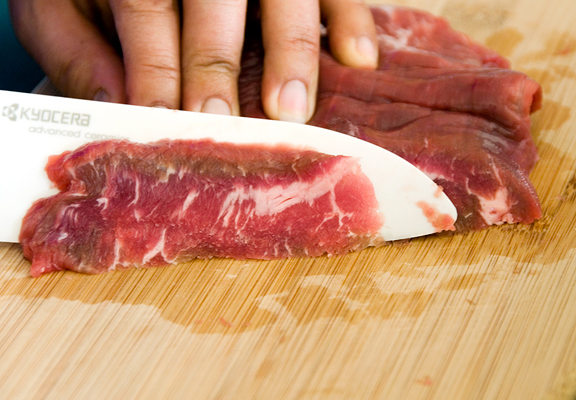 add cornstarch, soy sauce, and sesame oil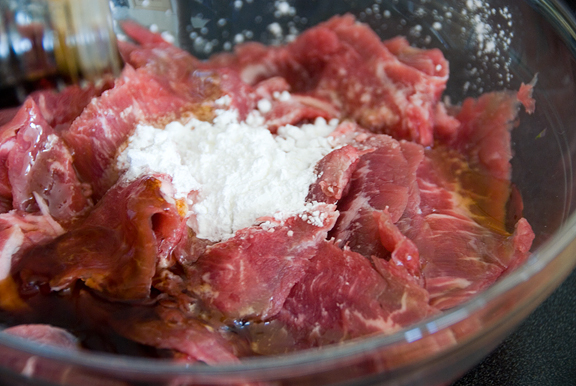 Despite being the first and one of the easiest Chinese dishes I learned to cook, this one reliably pleases the crowds. I always use flank steak. The cut of meat they use to sell pre-cut stir-fry beef in grocery stores is awful. It's too tough and you should avoid it like the plague unless you intend to slow cook it (which isn't stir-fry). On occasion, my parents will use filet mignon for their stir-fry. That is because they are made of money and I am not.
garlic, green onions, and the flank steak mixed with sauce ingredients
The trick is to have a hot sauté pan. I don't own a wok. I never have. I make plenty of great Chinese dishes and you'd never know I used some crappy non-stick pan to cook it all. I'll get a wok one day, but it's not a huge priority right now.
toss the green onions and garlic into the hot oil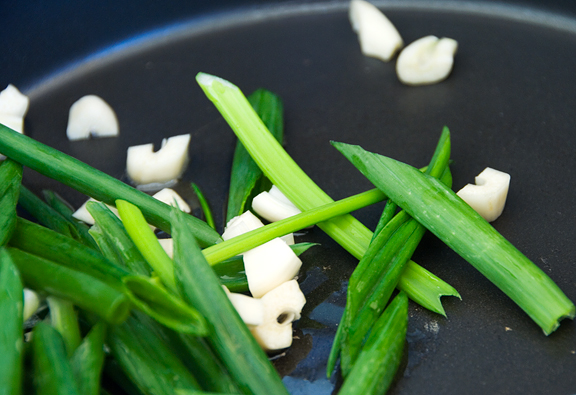 sauté the beef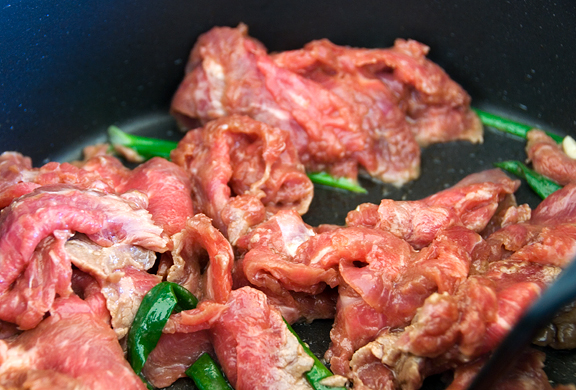 I like to remove the beef from the pan when it is still pink in the center. Because it's so thin and still hot, it will continue to cook after you've taken it off the burner. This helps keep it pretty tender. Then again, I like my beef mooing. The point is that you don't need to cook it to death, but be sure to serve it immediately because it doesn't retain heat for long.
serve on a bed of greens like sautéed spinach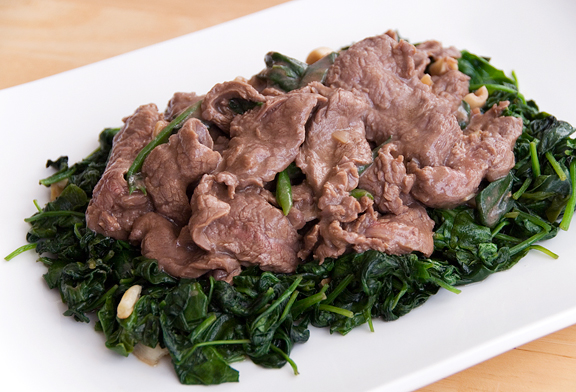 best eaten hot
Chinese Stir-Fried Flank Steak
[print recipe]
1 lb. flank steak (can be frozen for an hour for easier slicing)
3 cloves garlic, roughly chopped
3 stalks green onion, cut into 1-inch pieces
3 tbsps soy sauce
1 tbsp sesame oil
2 tsps cornstarch
2 tbsps vegetable oil
Slice flank steak on the diagonal against the grain into thin pieces. In a bowl, mix the flank steak, soy sauce, sesame oil, and cornstarch together until beef is well coated. Heat the vegetable oil in a sauté pan on high heat. Toss in the garlic and green onion and stir-fry until fragrant. Add the beef and stir-fry constantly to ensure even cooking of the beef. When the beef is cooked with hints of pink, remove from heat. Serve on a bed of cooked greens (bok choy, broccoli, spinach, kale, etc.).