Recipe: turkey burgers
I had every intention of blogging yesterday, but it was one hell of a busy day with photo processing, errands, and then cooking and baking all afternoon and evening until I passed out without even the excuse of getting plastered. And just when we thought we were rightfully stepping into warmer weather, we were once again graced with snow. Wait a sec, I meant to say we were pummeled with snow. 80 mph gusts – that's something I don't mind leaving behind! Of course, today is melted out and sunny. [*psycho weather*] Good thing too, as we are having some buds over this evening.
While prepping all sorts of dishes yesterday (for today), I also had that pesky issue of what to make for dinner yesterday. The guy has got to eat or else he wastes away to nothing. I mean come on, how is this fair? I go on chemo for several months and have digestive issues and lose 10 pounds and he forgets to eat while at a telescope for 3 days and loses 10 pounds. WTF? But back to dinner, I wanted something quick and healthy and tasty. Turkey burgers. Bingo!

start with a medium red onion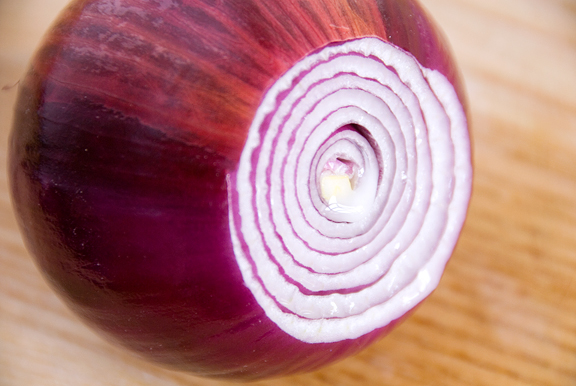 It's a simple thing to whip up as long as you have fire, and by fire I mean a grill. You could pan fry the burgers indoors, but what the hell season are we in now and why would you want to clean up that pan? Okay, southern hemispherers can claim it's autumn… but I really believe that grilling should be a year-round activity.
adding minced onion to ground turkey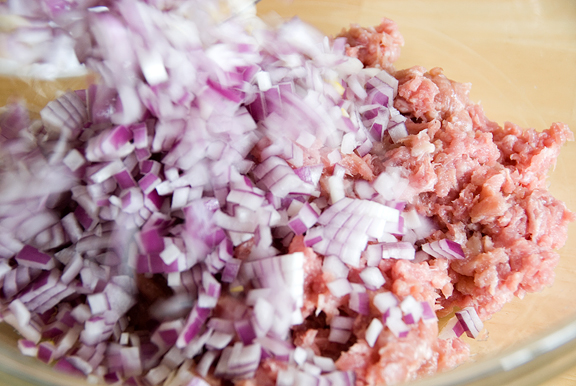 Ground turkey is more widely available today than it was 15 years ago when I started making turkey burgers. Better yet, ground turkey thigh meat can be found at my local Whole
Paycheck
Foods store. w00t!, yeah? I am a thigh girl. Love chicken thighs, love turkey thighs. My quads are tree trunks. All the better to kick ass with. You too can kick ass with moist turkey burgers made of ground turkey thigh meat, Grasshopper.
jeremy mixes it up because i jacked up my thumb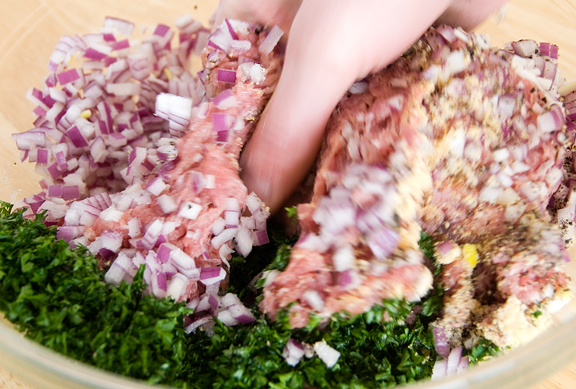 So really, you chop up an onion, mince some herbs (parsley, in this case), toss it in with ground turkey (thigh meat), garlic powder, salt, pepper, and mix it up.
form into patties, ready to grill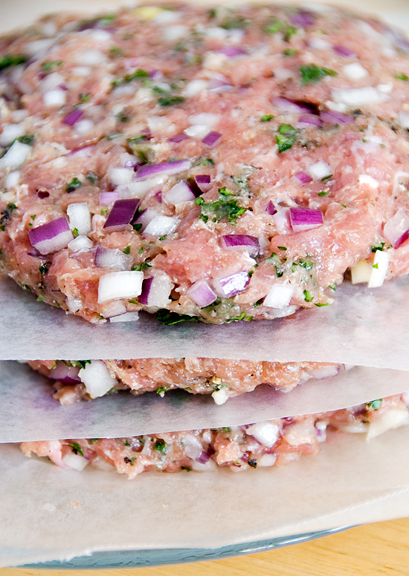 I like to make my patties flat and wide because the buggers will shrink to the size of the bun that way. I really don't like biting into a lot of bun and no burger. This is a big issue for me. We grill over medium heat for 7 minutes a side. If it is your wont to add cheese as it is ours, then slap a slice onto the burger 2 minutes before you take it off the grill.
we like the swiss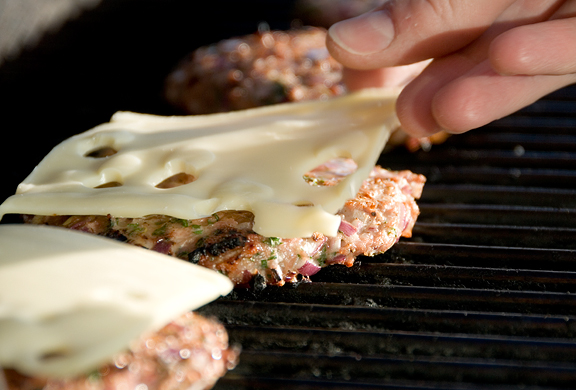 My own favorite combination is to serve this on a potato roll bun with lettuce, tomato, pickles, ketchup, and a swipe of mayonnaise. Dress it up anyway you like it. Good times.
this is my burger because the guy fears tomatoes
Turkey Burgers
[print recipe]
1 lb. ground turkey meat (prefer thigh meat)
1 medium red onion, finely chopped
1/2 cup fresh parsley, minced (or whatever fresh herbs you like)
1 tbsp garlic powder
1 tsp salt
1 tsp pepper
cheese (optional)
Mix ingredients together and form 4-6 patties. Grill on medium heat for 7 minutes a side. 2 minutes before burgers are done, place a slice of cheese (optional) on each patty. Serve hot.