Recipe: greek beef/chicken salad with tahini-yogurt dressing
My favorite weather to hike in is overcast and cool (50s F). That was the forecast for Boulder this morning, my last "good" morning before my body is overrun with side effects from: my primary drugs, my secondary drugs (to treat side-effects), and my tertiary drugs (to treat side-effects from the secondary drug side-effects). Even so, round #5 wasn't quite done with me and I've gained 10 pounds of fluid in the form of swelling over the last 2 days. Uncomfortable, painful… annoying as hell.
But I wasn't to be deterred because I knew if I didn't go wildflower peeping, they might up and bloom and wither away before I am well enough to see them after chemo #6. Jeremy knows how important this is to me – to get out right before I go down for the count. He offered to spend the morning with me and chaperone the pup (deprived of her rightful hiking all winter and spring) while I got my fix.

signature boulder: the flatirons in clouds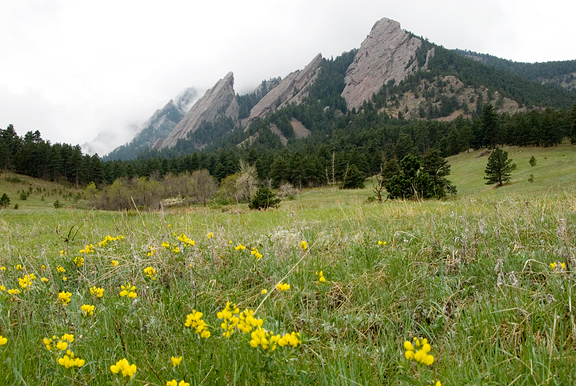 We were early, as in the wildflowers are just beginning to ramp up. Three years ago we wandered to this same spot after closing on our beautiful house in the mountains – our first home –
ours
. Although the Flatirons are a gorgeous location, it gets too hot for us winter-lovers past early May and we typically stick to our beloved high country, just out of our backyard. Today, the weather was perfect and I was able to spy out the early-blooming local inhabitants among the damp grasses.
golden banner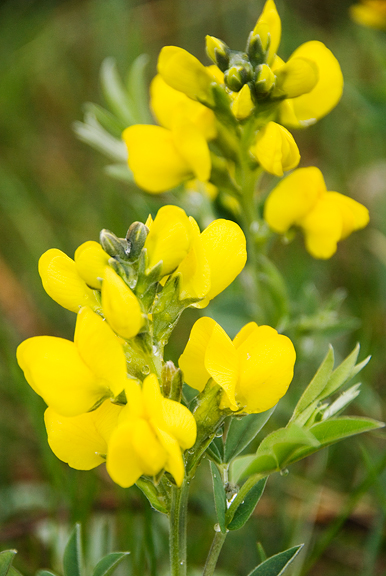 wild plum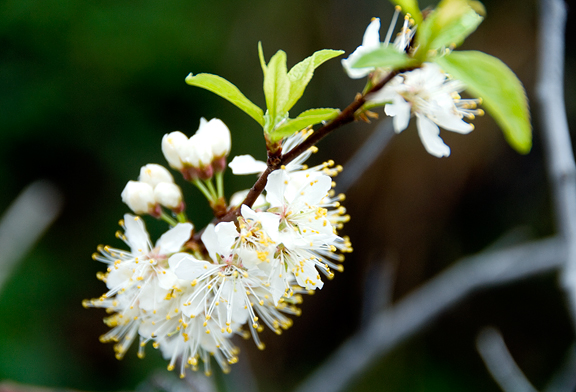 cherries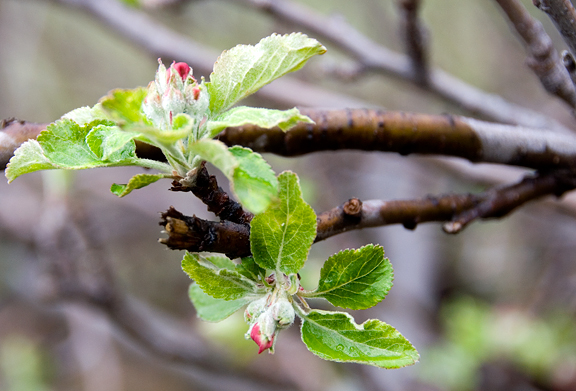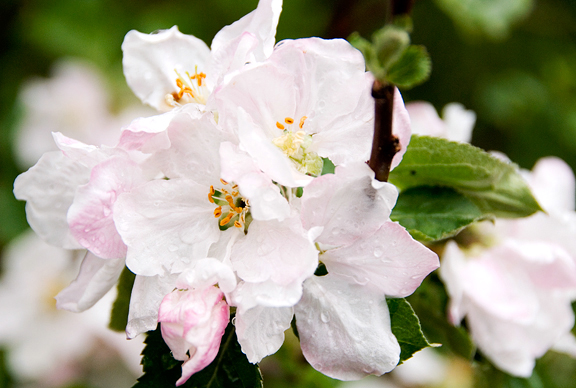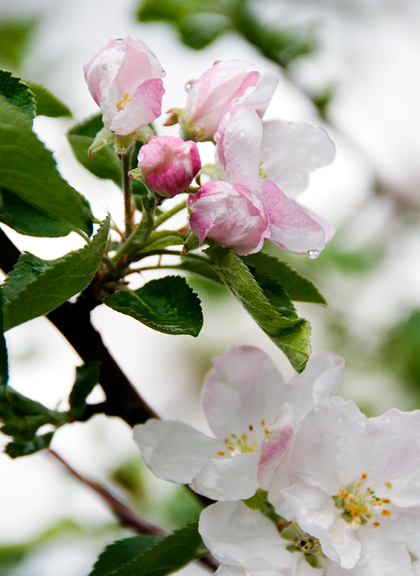 bluebells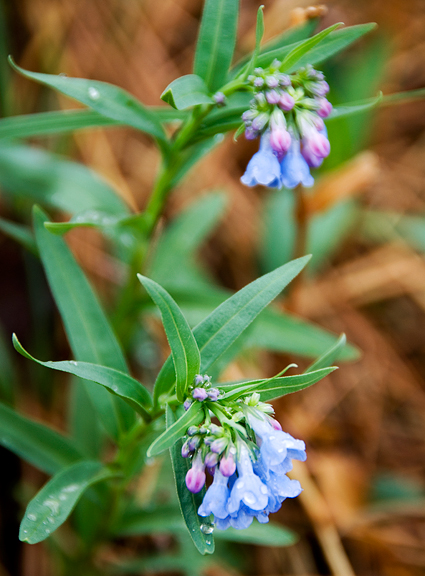 I relished the smell of the blossoms hanging in the air which was heavy with moisture – uncommon for Boulder. The mud underfoot accumulated on our trail runners, building up platform shoes which we gleefully kicked off in cakes every hundred yards. Jeremy, ever-concerned about my health, inquired as to how I was feeling. I felt happy. This is my medicine, to be outside and breathe this air and see Beautiful Nature around me in her unsurpassed glory. This is my place of worship. If I couldn't step outside into the mountains and the woods ever again, I would know it was time to check it in. My body ached with the swelling, but it didn't matter because my heart was soaring.
being a good girl (for once)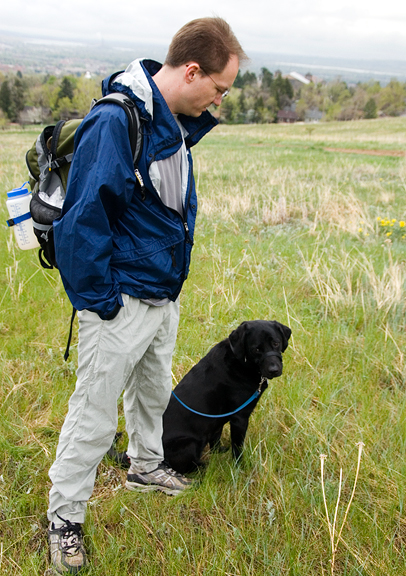 There was a lovely Kiwi we met
in New Zealand a few years back
. He was a guide for a paddle and hike we did on Milford Sound one afternoon. Have you ever been to Milford Sound? It's magical. The sight of it made my friend, Laura, cry tears of joy. It was pissing rain when Jeremy and I were there. I mean it was pissing rain by New Zealand standards (over 23 feet or 7 meters of precipitation annually). And it was breathtaking. As we walked through the sopping wet, lush forest, Sam paused by some ferns and explained what they represented to New Zealanders. The pride and reverence he felt for the native Maori was obvious. Did I mention he was a hottie? Hottie aside, what struck me most was when he told us why he remained in New Zealand. With all of the sincerity in the world and perhaps a tear emerging in his eye (or was that the pissing rain?), he said the Maori have a saying, "Stand where your heart is strongest." Jeremy and I took that to heart and shortly after returning to the States, we decided to make Colorado our home. Home is where your heart is. I feel this is where my heart is strongest.
toms and cukes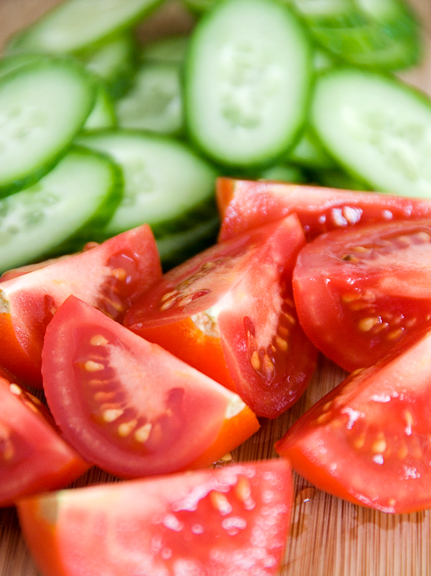 Now on to that salad we served at the
chocolate tasting
. Nicole had requested the tahini-yogurt (yogurt-tahini, whatever) dressing recipe and she is not a woman to deny a request. Are you nuts?! :) The beef from the other night was flank steak, but here I'm using skirt steak. I love them both and I dare say so will you.
slice into decent-sized chunks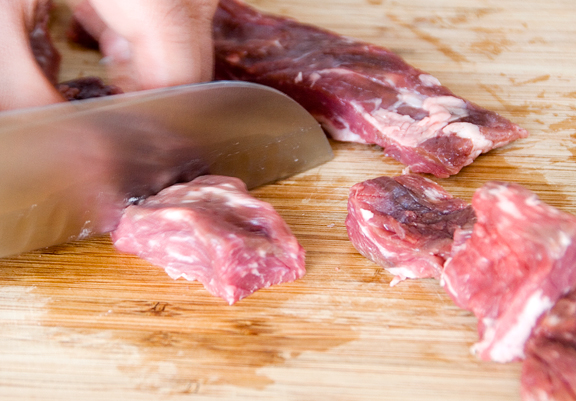 skewered for the grill after a 24-hour soak in marinade-goodness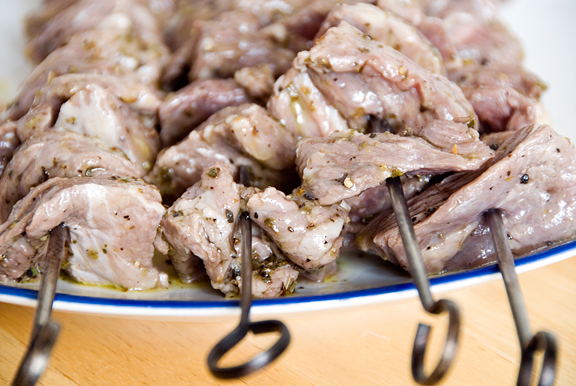 While I am a huge fan of delicious chunks of feta, I push this feta through a sieve to achieve a snowy, light texture. Do what you want, but the fluffy feta is really amazing.
maybe i like it because it reminds me of snow… salty, creamy, snow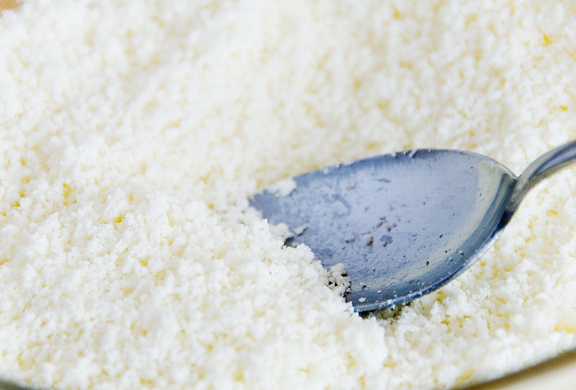 The tahini-yogurt dressing doesn't come from Aladdin's in Ithaca, NY. I had to fudge this recipe myself because they never gave it to me (well, I never asked). I searched a few online recipes and futzed around until I got something Jeremy approved of. Tahini, full-fat plain yogurt, lemon juice, olive oil, salt, coriander, crushed garlic, honey. It's thick. I added olive oil to thin it up, but eventually water did the job much more efficiently and without adding a million more calories. The salad also tastes great with a balsamic vinaigrette.
mixing the tahini and yogurt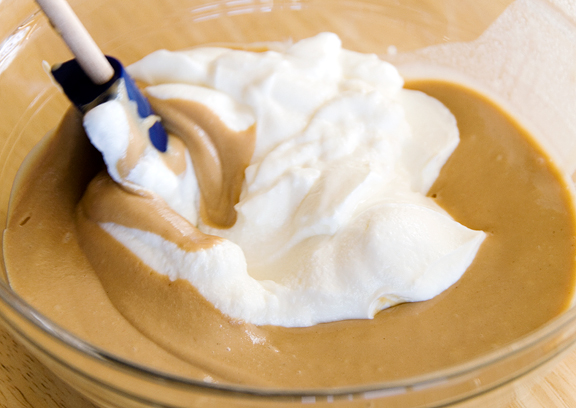 My salad is the real thing. Jeremy's salad is an imposter because he doesn't dig on tomatoes or olives. What is up with that? Now you have an idea of what an amazing stud he must be for me to still get all a-twitter over him in spite of these insults to my culinary sensibilities. See you guys on the other side.
teh salad
Greek Beef/Chicken Salad with Tahini-Yogurt Dressing
[print recipe]
inspired by Aladdin's Souvlaki/Chicklaki plate
salad greens
ripe tomatoes
young cucumbers
kalamata olives
feta cheese
chicken kebabs or beef kebabs
tahini-yogurt dressing
beef kebabs
1 pound skirt or flank steak
1 lemon, juice of
3 tbsps olive oil
salt
pepper
oregano
tahini-yogurt dressing
1/2 cup tahini
1/2 cup plain yogurt
1/4 cup lemon juice (to taste)
1/4 cup honey
pinch of ground coriander
1 clove garlic
salt
1 tbsp olive oil (optional)
water to thin
Beef kebabs: Slice the beef into large cubes. Place in a ziploc bag with the rest of the ingredients and mix well (squeeze out the air, seal the bag, and massage the ingredients around). Marinate in the refrigerator for up to 24 hours. Skewer the beef without packing the pieces too tightly. Grill over high heat to desired doneness.
Tahini-yogurt dressing: Smash the garlic clove under the flat side of a sturdy knife. Mince the garlic and sprinkle some salt over it. With the flat of the blade, mash the salt into the garlic until it resembles a paste. Scoop that up and place it in a bowl with the rest of the ingredients (except for the water). Stir it all together and taste it. Adjust ingredients to taste. Add water to achieve the pouring consistency desired.
Set a bed of greens down on a plate or bowl. Add cucumber, tomato, and olives. Sprinkle with some feta. Top the salad with a skewer or two (depending on quantity) of the beef or chicken kebab. Serve with dressing.