Recipe: potato salad
I have a small 8-hour window where two of my three anti-nausea meds from yesterday's chemo are still doing their good things (along with those awesome steroids which end today) and I don't take the bad delirium-inducing, drugged out of my mind, anti-nausea med until this afternoon… So I am managing to squeeze in another post before all systems go down.
We sent our Mother's Day packages earlier this week because Jeremy is bad at those things and I tend to plan ahead. I actually dislike just about any holiday that Hallmark shoves down our throats, because my preference is to send random tokens of love on any day, not on some designated Day of Guilt. And tokens they are because both of our mothers can pretty much afford whatever they want (and we generally cannot afford what they want). It would be just as silly for me to endeavor to shop for high-end jewelry for my mother as it would be for her to shop for an avalanche beacon or ice axe for me. I'm not a "I spent this much money on your present" type of person anyway. Gift-giving ought to be personal, from the heart.
This was really brought home to me after Kris passed away, leaving a 4.5 year-old son and a 10-day old baby girl. You can just imagine the presents that poured into that house on every possible occasion from family, friends, and even mere acquaintances. It made us both cringe: all of the extravagant, over-the-top, minimal-attention-span, Wall-Mart toys piling up as if a dump truck had just paid a visit. Ben literally ran from one toy to the next in such a frenzy that he developed little to no personal attachment or value to any of it. I started out making presents for the kids, but my talents are limited and how many hats, blankets, quilts, space-ship and flower pillows can you make before they get old? Eventually in the interest of time and sanity, we started to shop around for gifts – especially after my diagnosis. We wanted to select fun and educational toys to promote creative engineering juices, curiosity about nature, ties to their mother's Chinese culture, problem solving skills. And of course, each of them has their very own plush black lab toy… a Kaweah. I must admit that we are tempted every time we pass the Mars Rover Lego set – not for the kids, but for us! Obviously, the best gift I could give those kids is the gift of time and attention, but that's not really possible for a myriad of reasons.
My mom actually yelled at me and Kris anytime we sent gifts. She's funny that way. She loved what we sent (flowers, whatever), but she hated the thought of us spending money on her. Her instructions were explicit, "Just send me a card and I will be happy." When I sent her large matted photographs of backcountry wildflowers I had taken, she scolded me for the cost of materials and shipping! But then she delighted in selecting a frame and deciding on where to hang it in their house.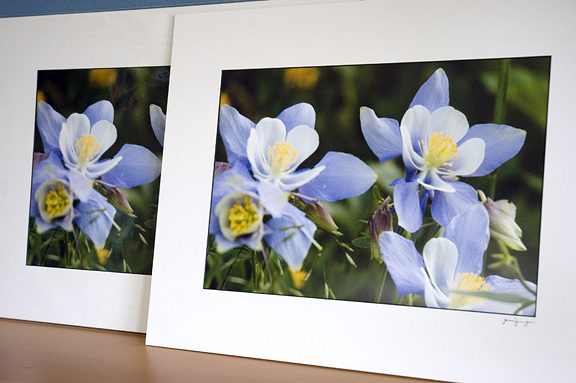 I have to admit that MIL is much easier to select gifts for because she has more hobbies that I can relate to like crafts and baking rather than… one of my mom's favorites: finances. Oh, but my folks do a ton of entertaining – they are after all, excellent cooks. Ever since their retirement a few years ago it has been non-stop Wine-and-Dine groups, cocktail parties, travel, luncheons, yacht club functions… And they even complain to me about how busy they are! As long as they're happy – they busted their asses in their prime years for this. So this year I hit upon something that had about a 70% chance of being 1) small enough to pass under the "cost" radar and 2) something she'd never get for herself and 3) delightful enough for her to use.
cute decorative chopsticks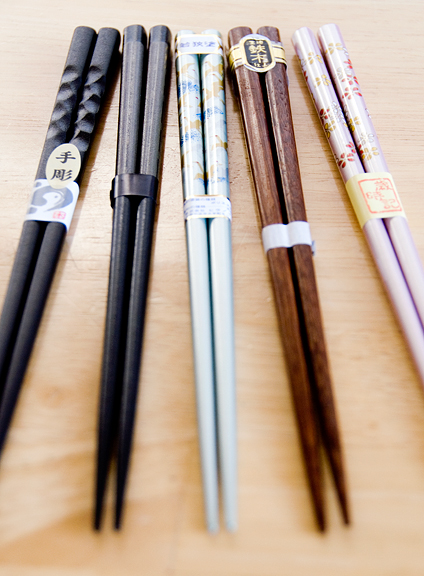 The ones I got for my mom were less flowery and cute, and more elegant like the wood, darker colored, textured chopsticks. I got an email from her this morning (while I was wired from my steroids at 4 am) thanking me for the "adorable" chopsticks with no reprimand. She can't wait to entertain with them. Score!
And before I let this recipe languish in my archives… This potato salad made a guest appearance alongside the grilled turkey burgers I posted earlier.

i start with yukon gold potatoes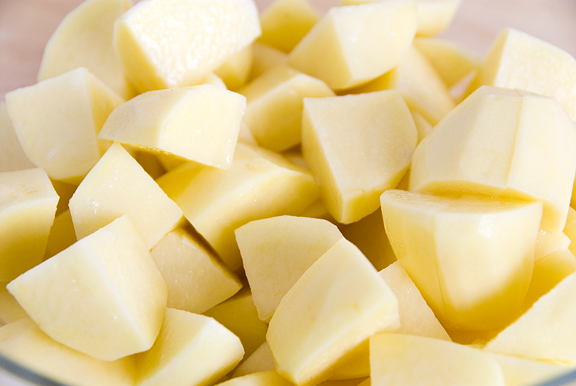 Most potato salads are either mayonnaise-y or vinegar/oily. Jeremy is a fan of neither. Well, there is some (gross) back story to this. My guy has an aversion to mayonnaise and it's because of his childhood. When he was a youngin', he would microwave a slice of bologna until it curled into a bowl, fill it with mayonnaise, and it eat. Ewwwwww. I can understand the mayonnaise aversion, can't you? Adult supervision has its place.
green onions and diced ham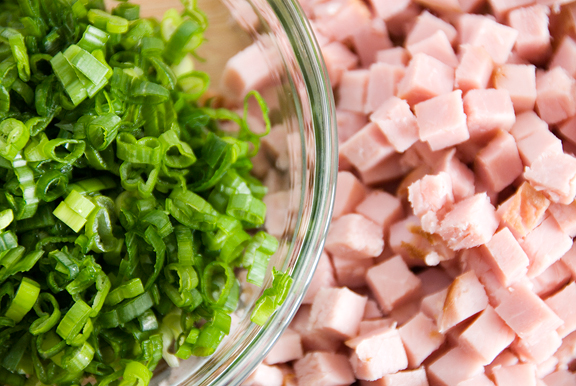 I like to buy a slice or two of 1/2-inch thick smoked ham to dice up for my salad. There are many flavors available and I'm fine with all of them (honey, black forest, smoked, Virginia smoked). I think my favorite is probably country ham – you know, the kind from Virginia that is so salty you get your entire year's sodium allowance in one serving? Yeah, that one! I've never had a chance to try it with the potato salad though…
chop some boiled eggs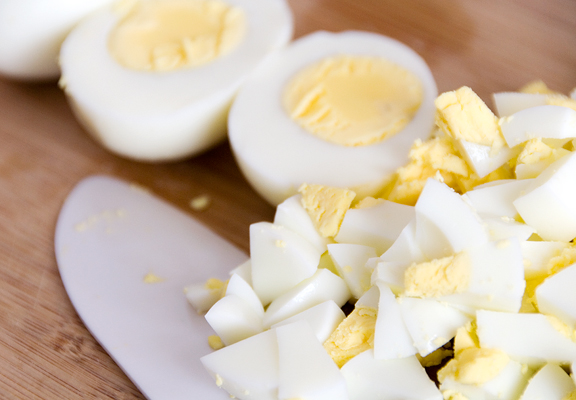 dump everything in a big bowl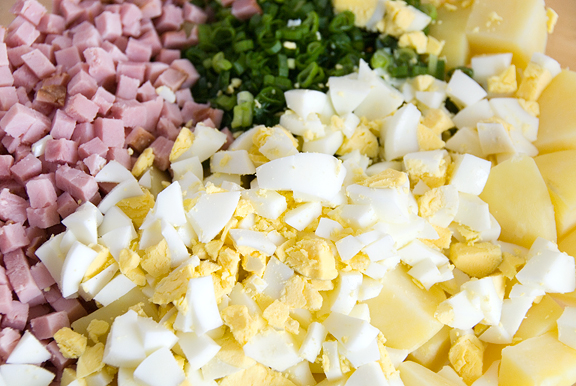 Back to Jeremy's mayonnaise-aversion, I found a happy compromise between the two types of salads which also answered my desire to reduce the amount of fat. I use a teensy bit of mayonnaise and sub out the rest with non-fat plain yogurt. The yogurt is tangier, which we both prefer and I like to up that tangy with a dash of vinegar and then salt and pepper to taste.
mix it together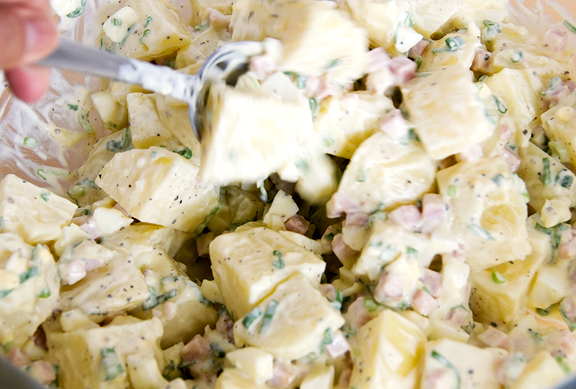 It's such a simple recipe, but Jeremy loves it and I don't have to worry as much about the fat-to-my-ass danger when I eat it. Perfect summer-time accompaniment for grilling, burgers, or sandwiches (mmmm, love the sandwiches).
synonymous with summer
Potato Salad
[print recipe]
2 lbs. yukon gold potatoes
4 eggs, hard-boiled, peeled and chopped
1/2 – 1 cup green onions, minced
1 cup boiled ham, diced
1-2 tbsps mayonnaise (to taste)
1-2 cups non-fat plain yogurt (to taste)
1-2 tsps vinegar, white (to taste)
salt to taste
pepper to taste
*I know, all of the quantities are so hand wavy, but it's really a matter of your own preference, so start on the low end and add as you see fit.
Set a large pot of water over high heat to boil. Peel the potatoes unless you prefer the skins on (then wash them thoroughly). Cut the potatoes into large bite-size chunks and place them in the boiling pot of water. Cook until potatoes are soft, but not mushy. Drain. Place the potatoes, egg, green onions, and ham in a large mixing bowl. Add remaining ingredients and mix well. Taste and adjust seasonings to your liking. Refrigerate if not serving immediately.