Recipe: chinese cold noodles
At the start of my hapless journey into Cancerland, I received an enormous influx of packages from mostly friends and some family. There were so many that we filled half of a room with cardboard boxes and all of the associated packing material that would make me apeshit on an ordinary day. The packages were awesome – stuffed with food, books, hats, DVDs, cards, handmade crafts, knitting… One of the best things I got was a pair of flannel pajama bottoms from Sam. As soon as they were washed, I put them on and felt the warm fuzzies of being loved, being thought of. Then I felt like complete crap because it was the start of chemo #1. I wore those pj bottoms throughout each miserable start of my chemo rounds because they took away that little bit of suckage for me. I lived in them for about 5 days at a time until I could resume being upright, stand up long enough to shower, and put some pants on. That's when I knew I was coming out of the Feeling Like Utter Shit Phase.
Well… I got pants on! I can't say I'm quite over the hump because my condition vs. time resembles a fourth degree polynomial, but the most debilitating symptoms have passed and I only have an infection or two to get through now. It feels good to not feel bad. Which brings me to Barbara's LiveSTRONG with a Taste of Yellow Event, today – May 13, LiveSTRONG day. I even got off my lazy bum and submitted lemon petits fours last month, so you can certainly hop over to Winos and Foodies for a looksee. There were nearly 200 entries that Barbara rounded up from food bloggers around the world in support of LiveSTRONG day. It's quite remarkable, as is Barbara. Please do check it out: Part 1, Part 2.
I am actually wearing pants, not shorts, because this is what the Atmosphere delivered to our doorstep this morning:

nothing surprises me anymore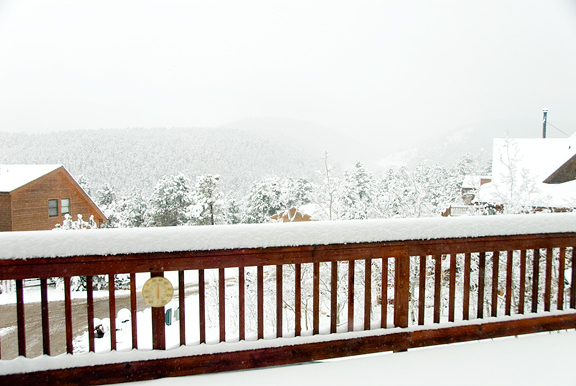 Not quite the weather that puts you in the mood for a cold noodle dish, but that's what you're getting because we know Spring will eventually make its way over there, or rather here…
iron-man noodles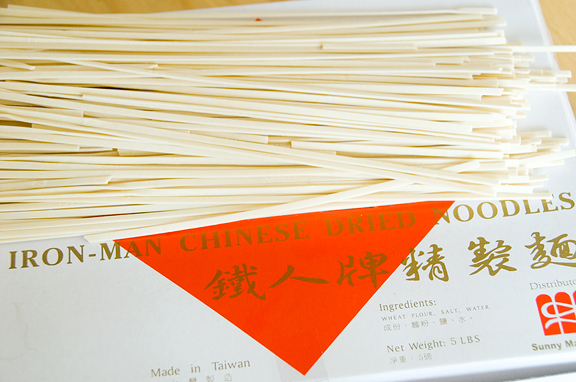 These are the noodles I use, because these are the noodles my mom always uses for this recipe. I don't know why they are called iron-man, but I doubt they have anything to do with the triathlon. I think I've also seen them eloquently referred to as flour stick noodles. Ever been to
Engrish.com
? Hi-larious. Sometimes I love being Chinese.
cukes, eggs, preserved mustard green, carrots, sprouts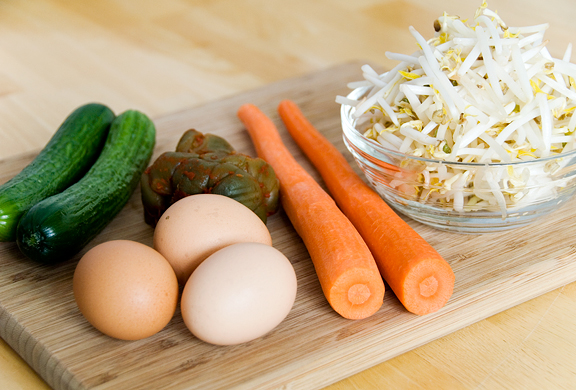 I checked a cookbook I have on Chinese noodles to see if this recipe had a name. As I suspected, it resembles all of the cold noodle recipes, yet isn't any of them. Apparently the Chinese have had a lot of time on their hands to mix and match a bazillion ingredients with cold noodles. It's not a bad idea, really. It just requires a lot of chopping. My family typically serves the noodles with carrots, cucumber, preserved mustard green, bean sprouts, chicken, and egg.
turn the eggs into egg sheet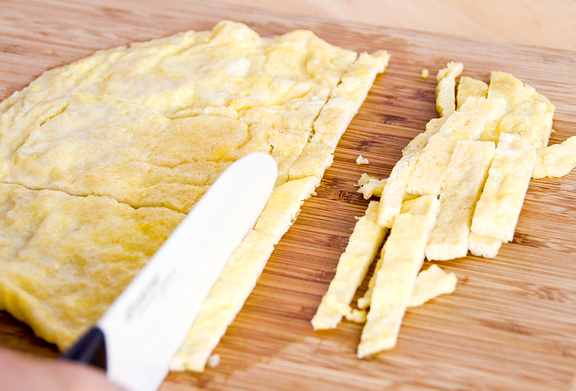 The egg sheet made an appearance before in my version of
mu shu pork
. Beat the eggs in a bowl, pour into a hot, oiled pan. Let cook as one giant egg pancake. Flip once. Remove from heat. Cut into strips.
making the peanut sauce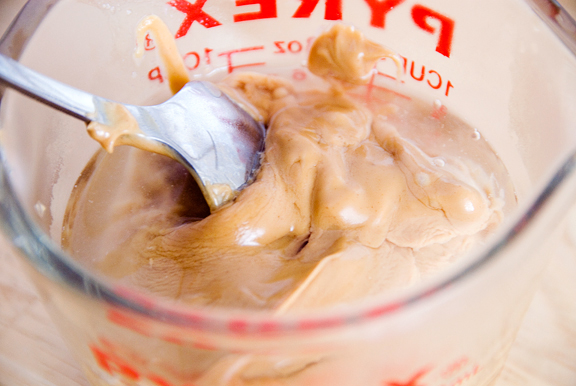 I use creamy peanut butter for the peanut sauce. One time I only had chunky peanut butter available and I wasn't a fan of that texture. The trick to the peanut sauce is to add a little bit of boiling water at a time to the peanut butter and patiently stir it in. It separates at first and looks like hell, but it comes together if you stick with it.
adding sesame oil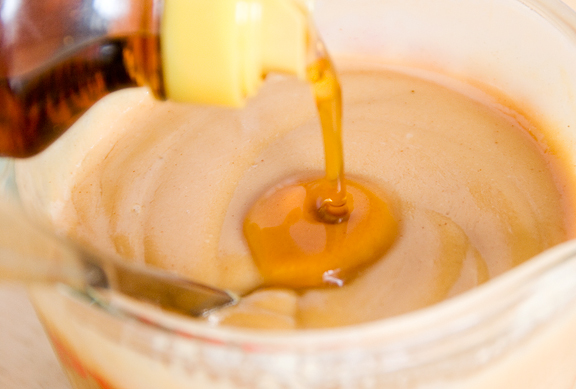 When the peanut sauce reaches the consistency of your liking (usually something pourable), then you can add the seasonings like sesame oil, soy sauce, and vinegar. I usually set any spicy sauces (like chili-garlic or chili-black bean) on the side for people to add individually.
serve up the chopped ingredients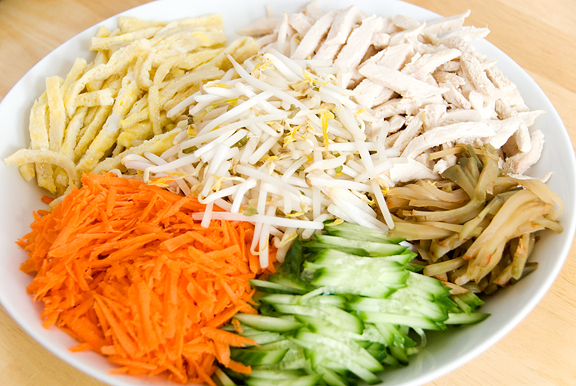 For a vegetarian version of this dish, replace the chicken breast with dried tofu. It is just as delicious and you get to skip a step (boiling the chicken breasts).
set some noodles in a bowl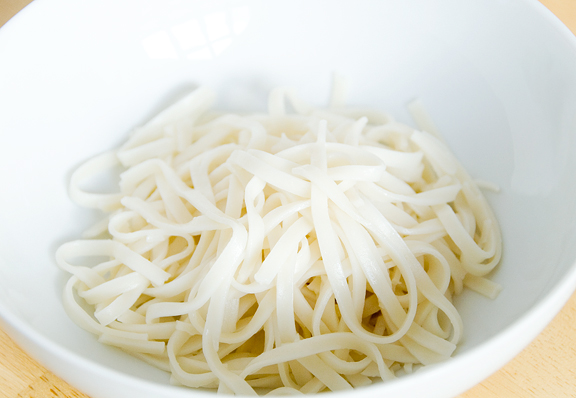 When all of the ingredients are ready, each person grabs a handful of noodles to place in their bowl or on their plate. Then they top their noodles with their desired combination of goodies from the Big Bowl/Plate of Goodies. Pour a little (or a lot of) peanut sauce over everything, then mix it up and eat!
a party in my bowl
Chinese Cold Noodles
[print recipe]
1 lb. iron man noodles, cooked, drained and cooled
1/2 lb chicken breast, boiled and juilienned
3 eggs, cooked into egg sheet and julienned
2 cups cucumber, julienned
2 cups carrots, shredded
2 cups bean sprouts, washed
1-2 cups preserved mustard green, shredded or julienned
1 cup creamy peanut butter
~1 cup boiling water
sesame oil
soy sauce
red wine vinegar
To make the peanut sauce: Place peanut butter in a medium bowl. Pour 1/4 cup boiling water into the bowl and carefully stir the water into the peanut butter. Continue stirring until incorporated. Add another 1/4 cup of water and repeat until creamy (pourable) consistency is reached. Add 1-2 tbsp sesame oil, 1-2 tbsp soy sauce and 1-2 tbsp of vinegar to taste. Mix well.
Place a mound of noodles in a bowl or on a plate. Top with carrots, cucumber, mustard green, egg, sprouts, and chicken. Pour peanut sauce over the noodles and eat.