I haven't been cooking much lately because we've spent the weekend polishing off leftovers, planning our summer, enjoying my return to normalcy, and taking it easy (not really in my vocabulary, but sometimes it is worse to fight it). This morning we packed up the dog and camera and set off down the canyon for a stab at the blooms in Boulder.
a lesson in geography, weather
I realize there may be some climate confusion for folks who see pictures of snowy mountain ridges posted alongside beautiful wildflowers in my entries. For clarification: we live in the Rocky Mountains at an elevation of 8500 feet. Don't try looking anywhere on the US East Coast for a point that is 8500 feet, because there isn't one. Our bathroom is higher than their highest peak Mount Mitchell (6684 ft.) in North Carolina. [That's right, the highest peak on the East Coast is not Mt. Washington in New Hampshire, even though many New Englanders would like you to think as much.] The town of Boulder, Colorado lies to the East of us by 18 miles and is nestled against the Front Range at 5430 feet.

satellite imagery by Google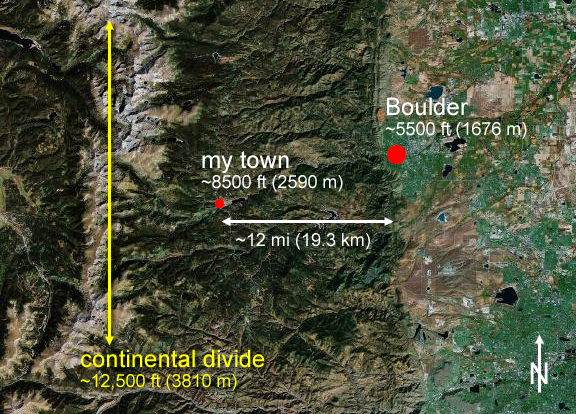 The terrain abruptly transitions from mountainous to flat when you arrive in Boulder from the West. From here on out, you're on the Great Plains. The 3000 foot elevation difference between our house and Boulder usually translates into approximately 16°F difference in temperature for dry air. Boulder is typically warmer unless there is an inversion. Large scale weather moves from West to East here and as the air masses descend over the North American
Continental Divide
, they release their moisture on the western slopes of the mighty Rocky Mountains (orographic precipitation). That is why there is so much great skiing in this state.
a sample temperature profile based on USGS professional paper 1019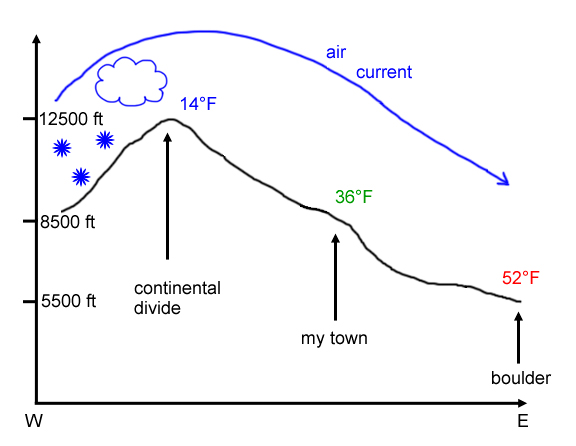 While we sit in the rain shadow of the Rockies, we still tend to receive some leftover moisture. It can snow a foot at our house and Boulder can remain bone dry. On occasion we have upslope events when the air masses arrive from the East instead of the West. That is when Denver and Boulder get whacked with snow and we usually enjoy a nice Big Dump Snow Day at home too. But usually, Boulder is enjoying weather that is 1/2 season warmer than ours. Their winters are milder, their summers are hotter and drier, and their flowers bloom earlier.
We were greeted with a veritable rainbow of wildflowers this morning! Already, some of the varieties are past prime while others are just getting started. Here's a tour:

sand lily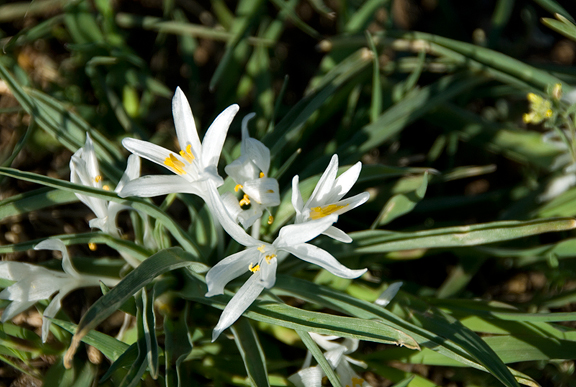 common mouse ear chickweed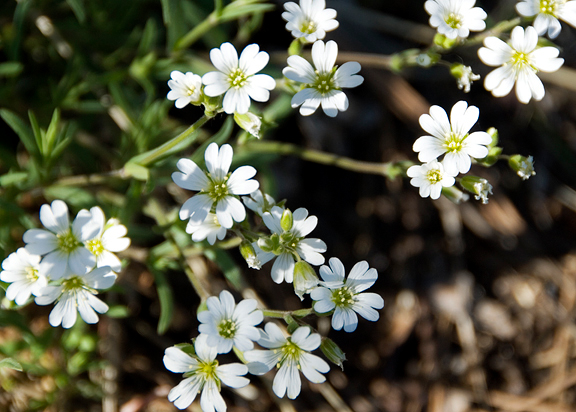 buzzy bee on golden banner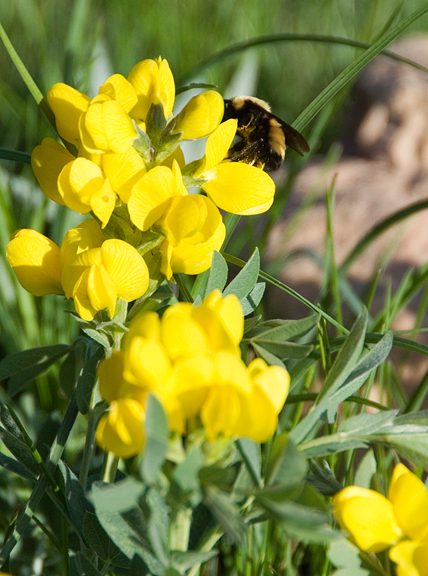 western wallflower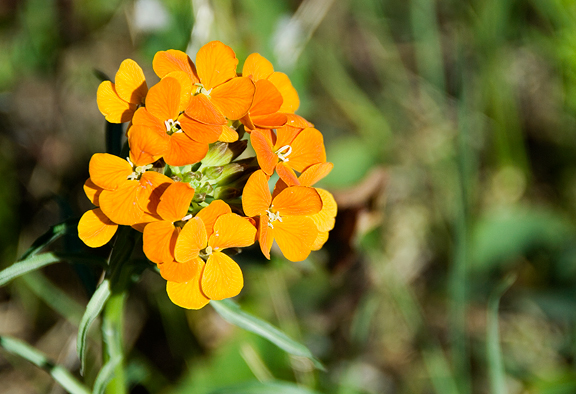 spring beauty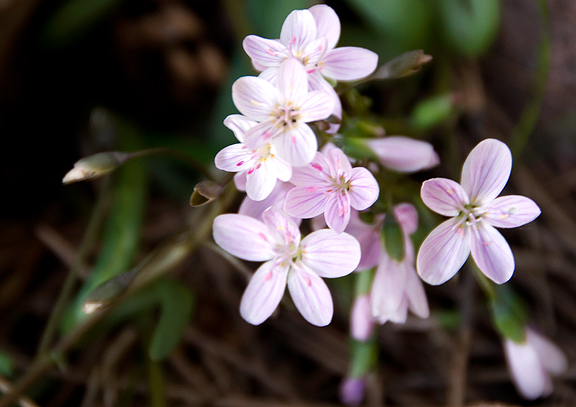 wild iris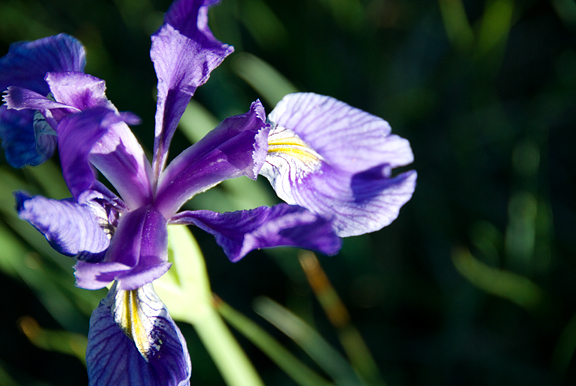 blue flax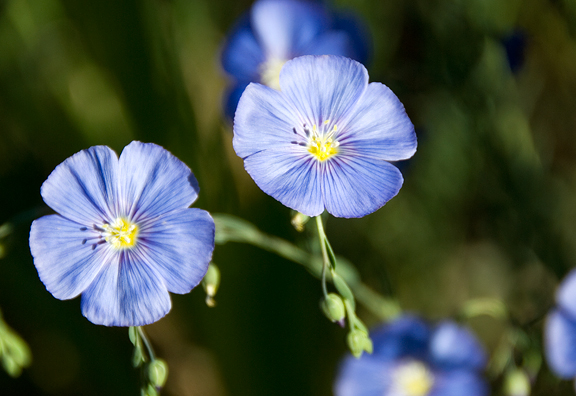 Boulder hit the 80s today, but we were there early because we hate the heat and we loathe crowds. Early morning starts are a necessity for mountaineering because you want to ascend while the snowpack is still firm and frozen as well as get off the mountain before afternoon thunderstorms roll in, but we also like to apply it to our hikes. Most people just don't get out early, and I like it that way.
a blooming cherry in front of flatiron #3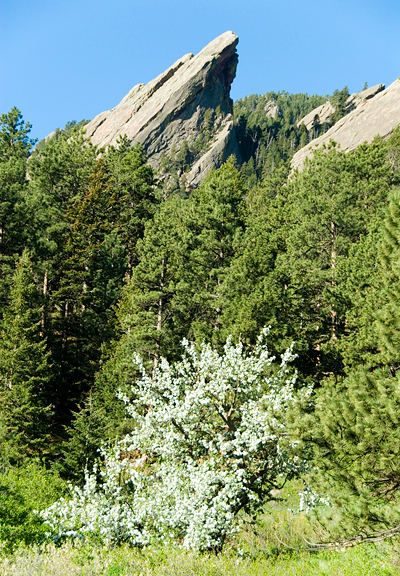 Something that I quite love about Boulder is how green it is – in more ways than one! For a city of about 100,000, full of buildings and homes, you'd never know it from the views. I didn't quite realize this until Jeremy pointed it out from a nice vantage point today.
you see a lot of trees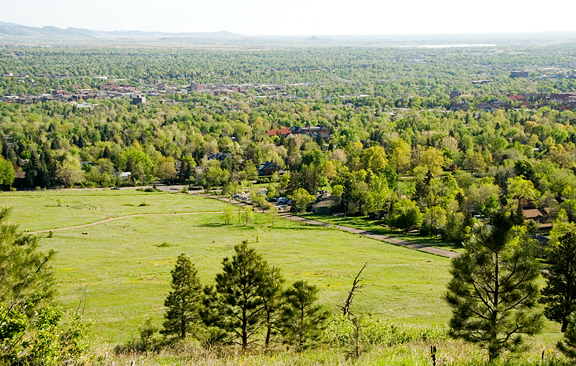 Looking to the West of that shot is where Boulder abuts the foothills – the gateway back home for us.
the view north along the front range