Recipe: fish-flavored eggplant
I am approaching the end of chemo season, about to start radiation season. That's part of the reason I haven't been able to cook much lately. Too many appointments for X-rays, blood draws, port removal, consultations, etc. It'll settle down eventually. Meanwhile, I've been trying to ready the patio furniture for the season of unrelenting sun and thunderstorms:

oil rejuvenates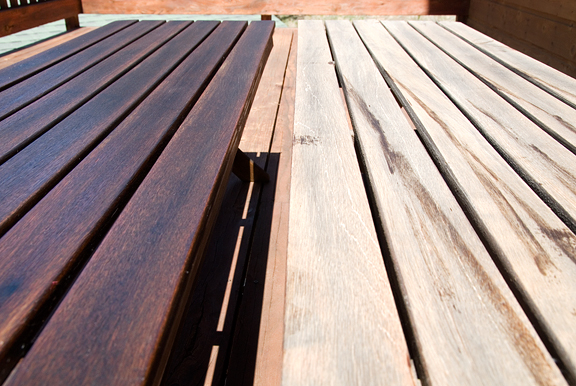 Another unfortunate occurrence this time of year is the inevitable crashing of little hummingbirds into our vast expanse of windows. We're in the midst of searching for decals to deter the crashes, but not soon enough to prevent one this morning. Luckily, the little dude was merely shocked and had not broken his neck like two others this past weekend.
a little male broad-tailed hummingbird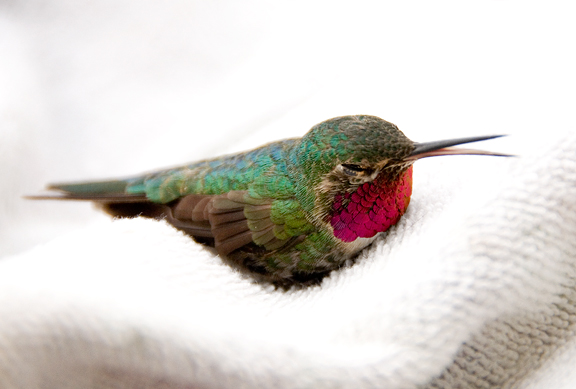 He took about an hour to regain his balance and strength, but it was delightful to watch him get feistier and twitchier until he buzzed away in a green blur.
chinese eggplant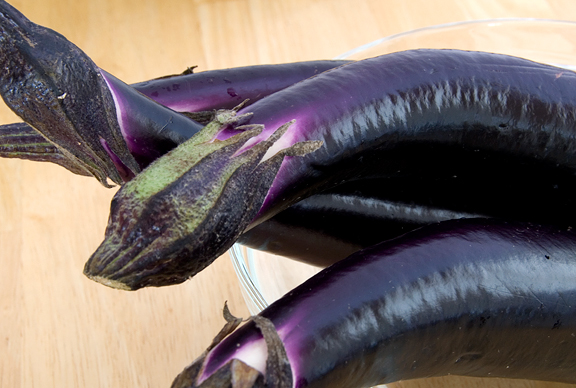 I grew up eating what I called skinny eggplant. I wasn't really familiar with those chubby eggplants until I left home because my mom used the Chinese or Japanese varieties to make fish-flavored eggplant – a fragrant and spicy stir-fry of ground pork and that lovely purple vegetable. It's called fish-flavored (yu shian) eggplant even though there isn't any trace of fish in the dish. It has to do with the combination of flavors to give it a fish flavor (but it doesn't taste fishy to me…)
mise en place the main ingredients: eggplant, garlic, ginger, pork, green onions
If you've ever fried eggplant before, you know the stuff can absorb about ten times its weight in oil, leaving a saturated mess. My mom wilts the eggplant over a hot, dry pan first so it loses that spongy capacity for oil.
wilting the eggplant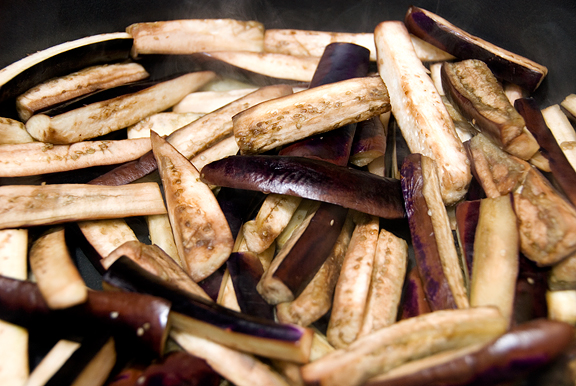 Once the eggplant is sufficiently softened, I remove it from the pan. With the heat turned up to high, I brown the ground pork and then add the garlic, ginger, green onions, and hot bean paste. You can find a jar of spicy bean paste in any Asian market.
stir-fry the pork with other goodies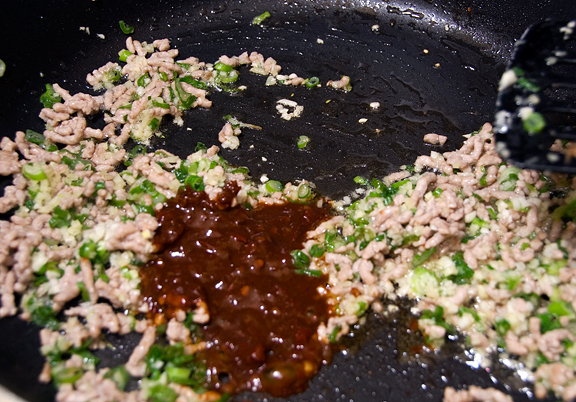 When the mix becomes fragrant, return the eggplant to the pan and sauté for a minute.
dump the eggplant back into the pan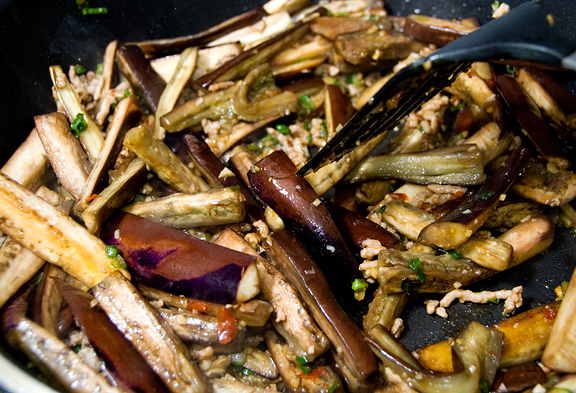 Add the soy sauce, broth, sugar, vinegar, and sherry. Let this simmer a bit and then add the cornstarch and water to thicken the sauce.
a little cornstarch and water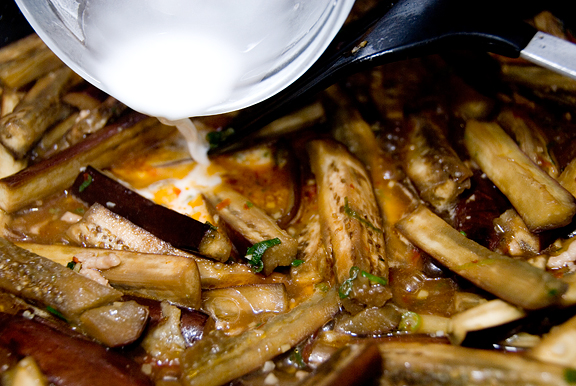 This dish is great over steamed rice. You can make it as spicy or as not spicy as you like. Instead of hot bean paste, you can always use regular bean paste. Or you can make it spicier with the addition of chili garlic paste. If you like this, you might like
fish-flavored pork
, which is one of Jeremy's favorites.
hot, spicy, and delish
Fish-Flavored Eggplant
[print recipe]
1 lb. Chinese eggplant, cut into thick matchsticks
3 oz. ground pork
1 tbsp hot bean paste (found in Asian grocery stores)
1 stalk green onion, minced
2 cloves garlic, minced
1 tbsp ginger, minced
2 tbsps soy sauce
3/4 cup chicken broth
1/2 tbsp sugar
1/2 tbsp vinegar
1/2 tbsp cooking sherry
1/2 tbsp cornstarch
1 tbsp water
Heat frying pan over medium high heat. Add eggplant and toss until the pieces begin to wilt and soften. Remove from heat and set aside. Add oil to the pan and set on high heat. Stir fry the ground pork, then add garlic, ginger, green onions and bean paste. Stir in eggplant and add remaining ingredients except for the cornstarch and water. Stir-fry for a minute while mixing cornstarch and water together. Add the cornstarch mixture to the eggplant and let sauce thicken. Serve hot.