Remember when I said I was going to eat sushi when my Gi tract healed up and my immune system returned to normal? Yesterday began our sushi tour. We decided to start with the familiar because I didn't want to deal with any unpleasant surprises. Sushi Tora in Boulder is our local favorite.

a perfect day for sushi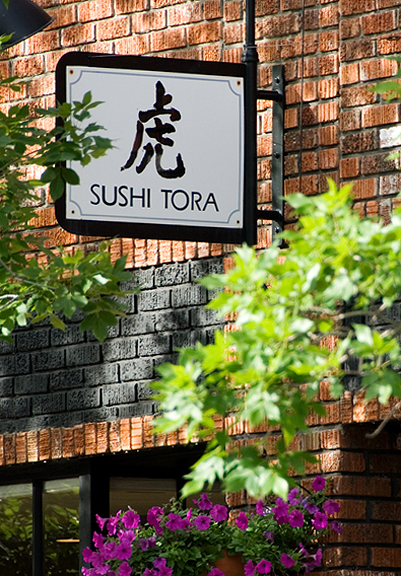 Oh, but before I dive into the meal, I have been tagged by
Sarah of Sweet Endeavors
for a meme. Thanks Sarah! I haven't been good about memes lately because of chemo crap and such. So here goes:
1) What were you doing ten years ago?
I was in graduate school at Cornell. I was working my ass off toward a PhD and I had just begun to realize that this gig was starting to suck big time.
2) What are five non-work things on my to-do list for today?
1) pick up my compression sleeve for my lymphedema
2) candy an ass ton of orange peels
3) apply dry rub to some pork shoulder
4) work out
5) give the pup a bath
3) What snacks do you enjoy?
1) jalapeño potato chips
2) jicama
3) mango
4) dill pickles
5) fruity popsicles
4) What would you do if you were a billionaire?
1) endow jeremy's faculty position
2) open a free kitchen in my community to serve delicious food
3) promote math and science education the right way
4) teach kickass babes (and ONLY kickass babes) to tele
5) blog
5) Where have you lived?
1) Virginia
2) Ann Arbor, Michigan
3) Pasadena, California
4) Ithaca, New York
5) Colorado
6) What jobs have you had?
1) crash test engineer
2) flight crash analyst and programmer
3) NASA software engineer
4) web content manager, designer, and programmer
5) GIS and remote sensing chick
And I am tagging…
Amy at eggs on sunday
Graeme at Blood Sugar
Katie at The Wasatch Report
Kevin at Closet Cooking
Mark at No Special Effects
Sushi Tora elicits images of fresh ingredients because they have an amazing assortment of herbs and vegetables plated alongside their fabulous seafood (most of it flown in daily). My greatest beef with the place is their clueless wait staff – the typical (white) young urban hipster in Boulder who is lacking in knowledge of both sushi and waiting tables. They really detract from the overall experience.

probably one of the few things i dislike here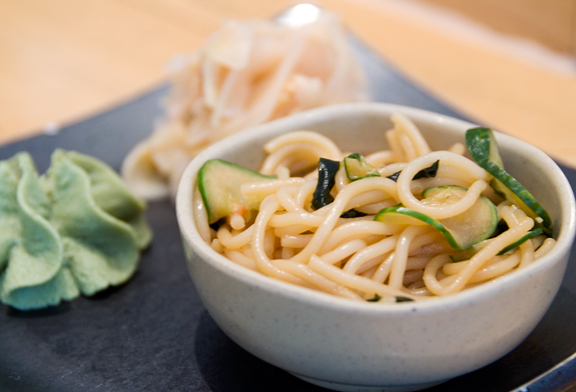 We started with a tiny bowl of noodles. They always hand this to you with your gari (ginger) and wasabi. I'm not a fan. This is probably the only thing that I'm not fond of and it's not on the menu, you just get it by default. On to the business at hand, we ordered a seaweed salad from the kitchen because it is a fresh and light way to start the meal. Theirs is always perfectly seasoned with the right amount of sweet and sour and salt and mmmm.
seaweed salad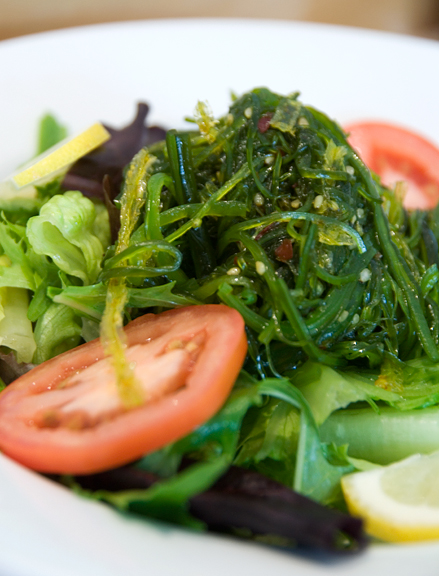 Typically when we sit at the bar, a delicious little something comes compliments of the chef. This time it was salmon collar. Wonderfully tender and fatty. It's my second favorite part of the fish. My favorite – the belly.
grilled salmon collar, on the house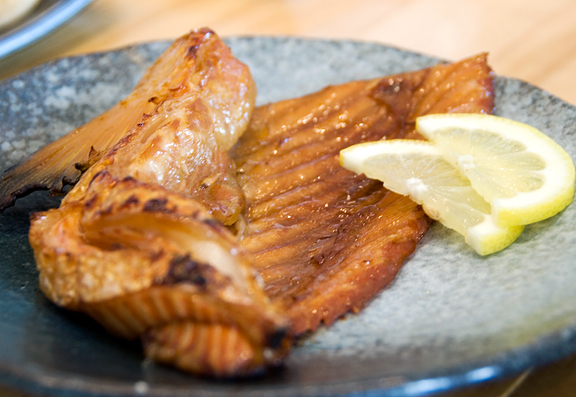 No fooling around. The only sushi I had on the brain during my chemo was toro – fatty tuna. It is like butter, but it's fish, but it melts like butter, but it's fish… The stuff is not cheap, nor should it be, because it is amazing. We splurged on some toro sashimi (from the specials menu) and some hamachi sashimi. I normally love hamachi, but I realized the folly of my ways when I sank my teeth into the toro. We should have sprung for two orders of toro and nixed the hamachi (even though it was good, it wasn't toro).
toro (fatty tuna) and hamachi (yellowtail) sashimi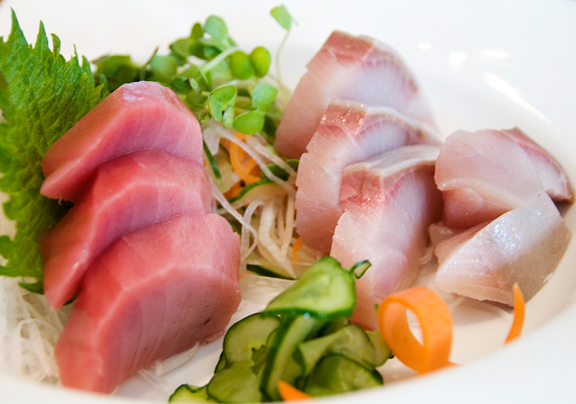 Jeremy had a mind to sample some baracuda nigiri off the specials menu and I wanted my fix of crunchy tobiko (flying fish roe) with that smooth and rich quail egg on top. It's like dessert, really. No really. He gave the baracuda a thumbs up.
baracuda nigiri and tobiko with quail egg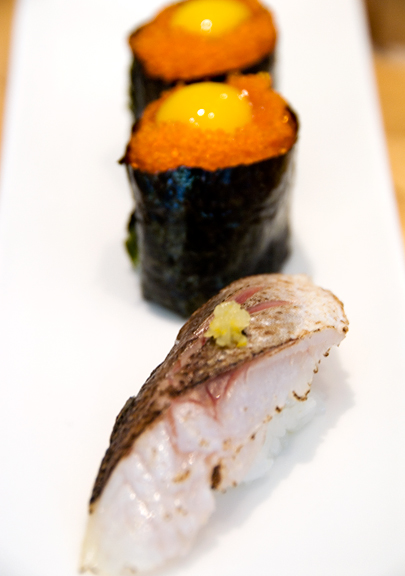 Like I said, I didn't want to fill up on rice, but I love maki of all sorts and there was still room in the tummy. Spider rolls are a no brainer. I could eat soft shell crabs all day long. They make a decent spider roll here. We also ordered a half roll of the Tora No Maki which is salmon, avocado, tobiko, and unagi (fresh water eel) – the combination of which is silk and sweet in your mouth. Next time, we're ordering a whole roll.
spider roll and tora no maki
As an afterthought, we made one last order of ama ebi. Raw sweet shrimp is terrific, but it's the fried shrimp heads that I'm crazy about. The shrimp heads were enormous. I almost couldn't believe those heads came from those bodies. I felt the heads were over-battered, which gave them that heavy fried feeling instead of the typically light and delicate feeling you get with most fried Japanese food.
ama ebi (sweet shrimp)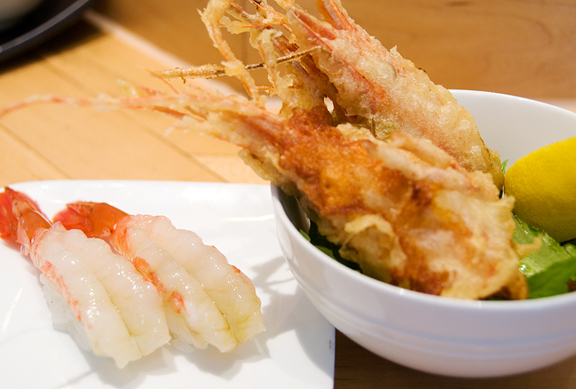 While we were still eating, our waiter approached and asked if we wanted any dessert. We found it peculiar that he should ask while we were obviously in the middle of our meal. We said no thanks and without asking, he snatched up our order sheet and totaled our bill. What is up with that? For all he knew, we could have been ready to order more (we weren't, but still…) I didn't like that guy.
Overall, Sushi Tora still remains champ of Boulder sushi. We'll see if they can keep the title over the next few weeks… meanwhile, I am thrilled to be noshing on sushi, my #1 favorite food of all time.
Sushi Tora
2014 10th St
Boulder, CO 80302
303.444.2280
June 5, 2008
Sushi
$64.82 (including tax, not tip) for two diners
Rating: 97/100 (A+)