Recipe: chinese stir-fried pork and soy beans
Admittedly, I haven't been cooking much lately. I've been having a few issues with my left arm as well as a few other annoying and lingering side effects, thanks to chemo – the gift that keeps on giving… or not. I'm doing my best to ride it out and be patient (ha!) because getting my panties in a wad over it isn't going to make anything better. On Saturday, our pal drove up to our place and we all went for a nice hike with the crazy (Kaweah) in tow – or rather towing Jeremy along at the end of the leash. The spring runoff is the highest we've seen it in our three years here. We're having a late thaw and we also had some nice late season dumps in the high country.

runoff was high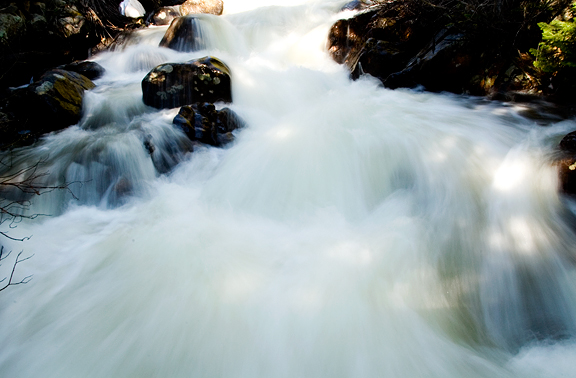 but that didn't stop miss crazy from gettin' her swim in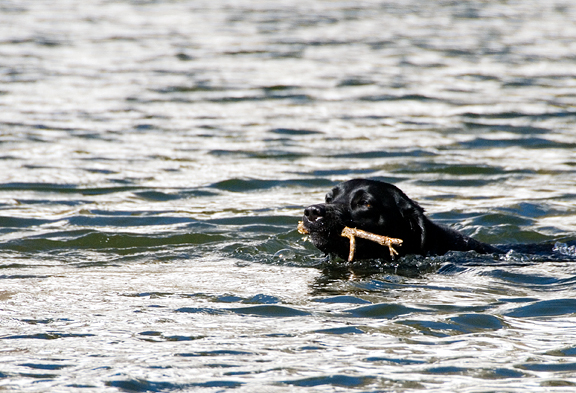 my chica is a polar engineer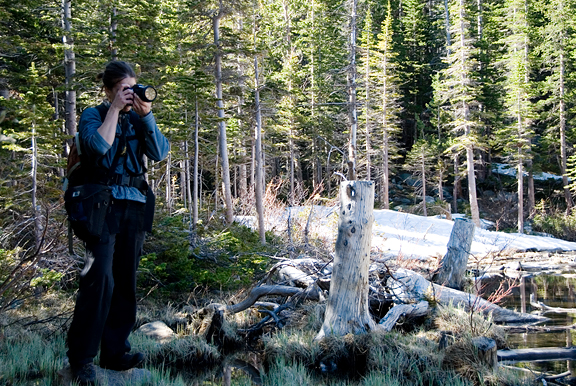 the continental divide from the lake shore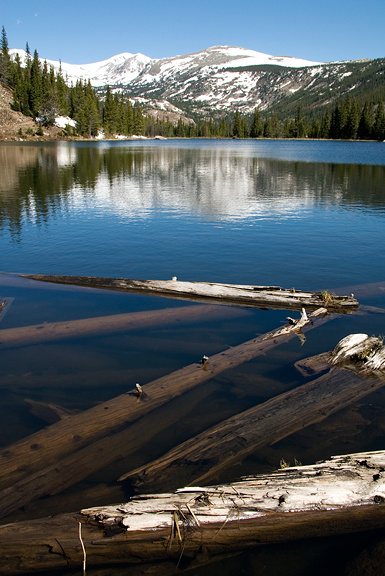 globe flowers love the boggy streamsides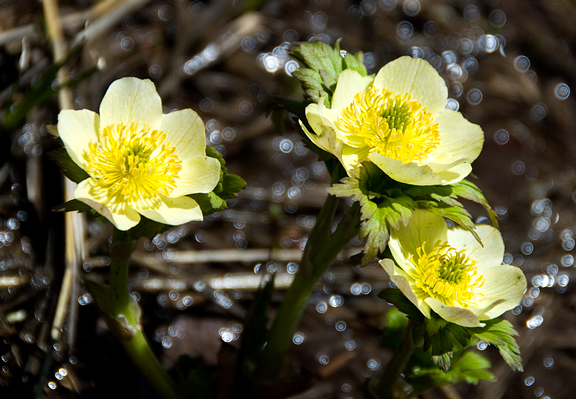 kaweah had the most fun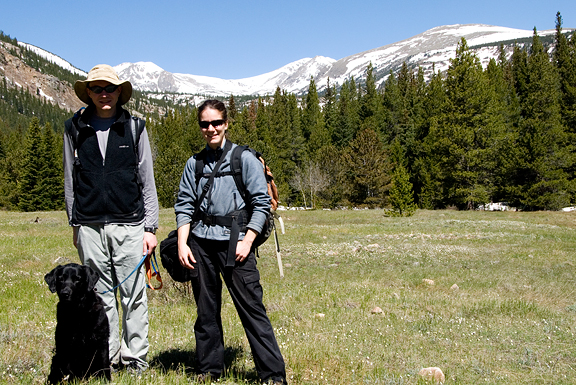 I am definitely improving in my strength, but it's merely a fraction of what it used to be. That's okay though, I at least know how strong I was and I've made it my goal to work back up to it and beyond this summer no matter how painful, how long, or how difficult. Besides, getting back in shape is pretty nice when you've got so much eye candy around you.
Today I managed some cooking, although it's all stuff you've seen before (and if not, it's in the archives). I do have some recipes squirreled away for just those times when I'm feeling culinarily uninspired or more accurately: physically hosed. I was first introduced to edamame in a sushi bar. Soybeans in their fuzzy pods are such a treat at the start of a sushi gorging. Only years later did I run across shelled soybeans in bags in the frozen section of various Asian grocery stores. Huh, what's the fun of that? You don't get to squeeze the beans out of the pods with all of the lovely salt crystals exploding on your lips. I ignored the bags of shelled soybeans.

bags like this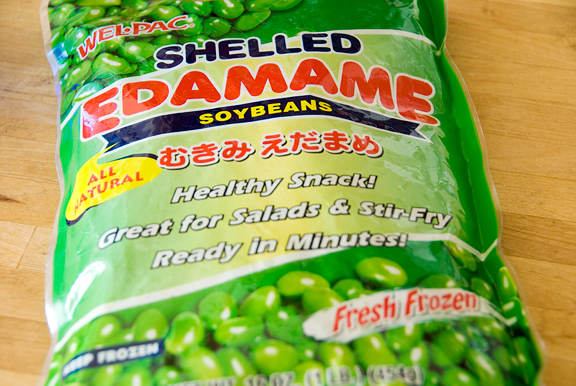 One day I took my good pal to the Asian grocery store in Ithaca, New York. She's white and she's a foodie. Claire was dying to check out the grocery store, but she didn't want to go by herself (this is a phenomenon that happened with my white friends in So Cal who wanted to go to dim sum – they didn't want to go without me – I got a little sick of dim sum after a while). She loaded her cart full of groceries after interrogating me about each one. By the end, she didn't even ask me to identify anything and just chucked in anything that looked remotely interesting. During checkout, the proprietor of the store held up a bag of the frozen shelled soybeans and shouted (all of the Asian women store owners seem to have one volume of speech: shouting), "Dis is guuuuud! You know how to cook!? Stir fry with pork, chicken, beef, or shrimp – it's all guuuud!"
pork, green onions, garlic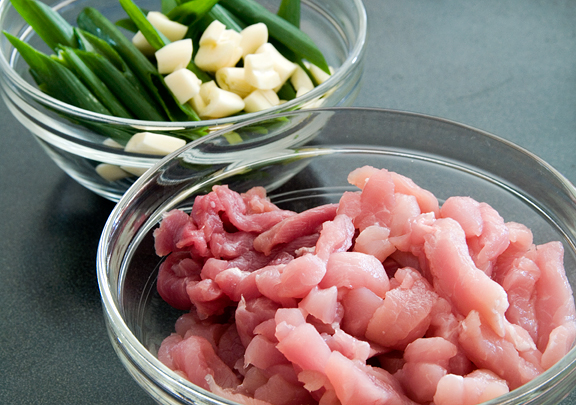 add cornstarch, sesame oil, and soy sauce to the pork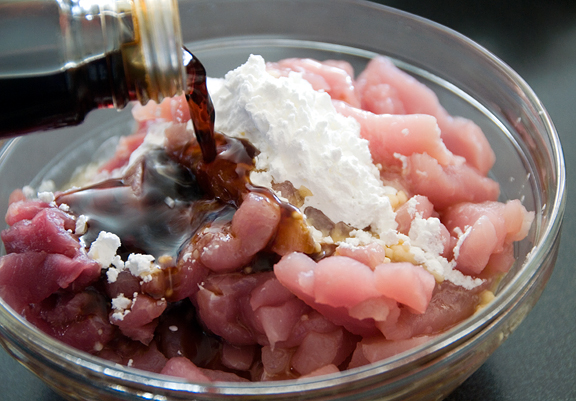 The funny thing about shouting lady was that she always shouted, but happily, at customers. She also shouted at her husband – a quiet and tired looking little Chinese man. I understood what she was saying, and it didn't even remotely qualify as happy shouting. So, I don't know if Claire ever went home and tried that combination, I mean – she practically purchased the contents of the entire store that day… But on my weekly shopping trip, I did grab a bag and I did try the shouting lady's suggestion. Fantastic and so simple to make.
first sauté the pork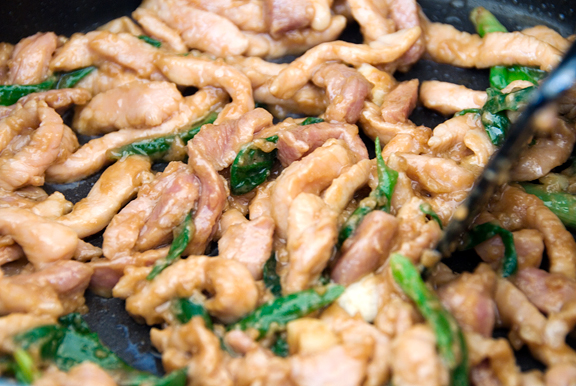 then add the soybeans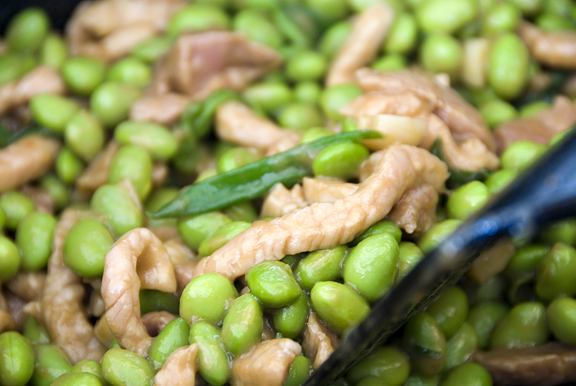 You can play with this recipe ad nauseum. Add shredded bamboo shoots or pickled mustard greens for more texture and punch to the flavor. I like to serve it with steamed rice, but it is also terrific in a hot bowl of noodles and broth. This is more pedestrian than the
stir-fried flank steak
, but it is incredibly satisfying.
stir-fried pork and soybeans
Stir-Fried Pork and Soybeans
[print recipe]
1/2 lb. pork meat, cut into strips (I prefer dark meat)
1 lb. shelled soybeans (edamame), thawed
3 stalks green onions, cut into 1-inch strips
3 cloves garlic, roughly chopped
3 tbsps soy sauce
2 tbsps sesame oil
1 tbsp cornstarch
2 tbsps vegetable oil
Mix the pork meat with the cornstarch, soy sauce, and sesame oil until the pork is evenly coated. Heat vegetable oil over high heat in a large sauté pan (frying pan, wok, whatever). When oil is hot, add garlic and green onions and sauté until fragrant. Add the pork to the pan and stir-fry until pork is nearly cooked. Add the soybeans and sauté for another 2-3 minutes. Serve hot.