Recipe: darling pasta
I've been busy this weekend with visitors. My aunt (one of my dearest friends) and her family are staying with us. They're in the Denver area for some business and I am delighted to have our first guests in many many months. It is the first time I have seen her since my diagnosis and we had a tearful, heartfelt reunion on the sidewalk outside of Sushi Tora in Boulder. Yes, we had sushi. She is as much a sushi whore as I am (we are related, mind you).
So I wasn't able to get online until late last night when to my delight, I learned that beloved Chuck of Sunday Nite Dinner has revved up Food Gawker, a budding replacement for Tastespotting. Good on ya, Chuck, and thank you thank you thank you for stepping up to the plate. A lesser cook could not have done this so quickly, so elegantly. You are superfly, babe.
Now, I have to be quick with this recipe because I need to make brekkie shortly and I am still managing random and annoying side effects (yes, they linger long after chemo – stupid chemo…).
I chose my partner well, this is obvious. Jeremy is never a cause for strife or stress in my life – he always makes everything better. But you can't be guaranteed the same for your partner's family. Luckily, my in-laws are incredibly sweet and loving people who treat me as if I were their own daughter. And they love to cook! Every time I see them, MIL and I always wind up exchanging recipes and sharing new dishes. We've been doing this for over 15 years and some of my favorite recipes come from the early days.

pasta, chicken, sun-dried toms, pesto, parm, roasted peppers, garlic, pine nuts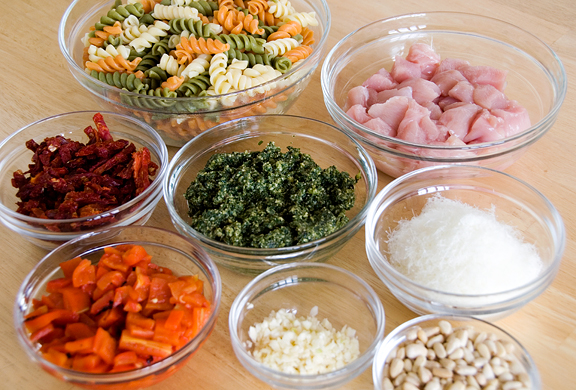 A lovely pasta dish that my ILs served us years ago had such fresh and delightful flavors that I had to have the recipe. It is incredibly simple to throw together, incredibly satisfying to eat. They didn't have a name for it, really – so I dubbed it Darling Pasta. Did I mention everything about Jeremy's family is just Darling? It's true – and it's their surname!
sauté chicken with garlic and oil
While this isn't a cold pasta to cool off with (sorry, my East Coast friends who are sitting in the heat), it is perfect for any season and I make it year-round. I've used rotini of various flavors/colors and cheese tortellini for this dish, but it is flexible – very flexible. Often, we will make the pasta without the chicken for lighter, vegetarian option.
add sun-dried tomatoes and roasted peppers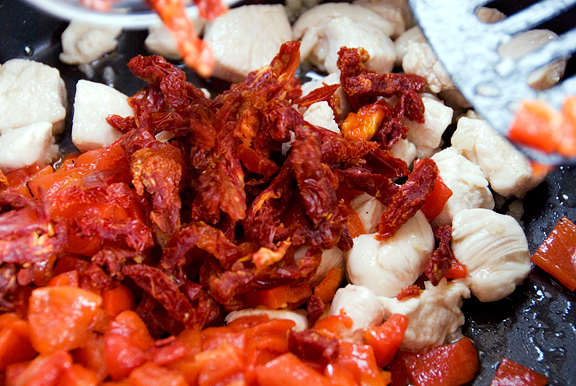 Many of the ingredients are easy to come by at the supermarket today (this wasn't always so a decade ago in Ithaca, New York). Of course, the purists can roast their own peppers, dry their own tomatoes, make their own pasta, and make their own pesto. It's whatever you want to make of it. Considering this is on my list of quick meals, you can hazard a guess as to how I prepare it.
smell the love – add the pesto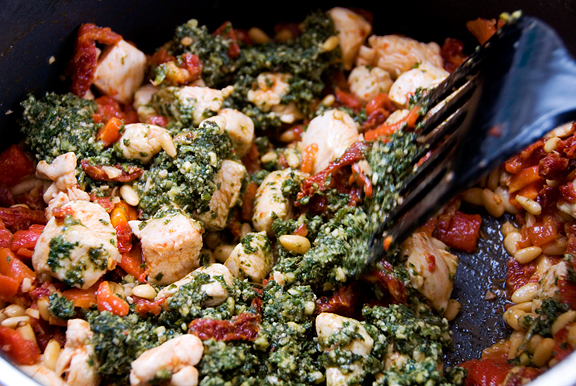 Darling Pasta is terrific with a salad and bread, or served as a side pasta at a potluck, or as a one-bowl meal as we hunker down to watch a streaming episode of BSG (Battlestar Galactica, for those unfortunate souls not in the know).
colorful, flavorful, beautiful
Darling Pasta
[print recipe]
1/2 lb. chicken breast, diced
1 lb. rotini or cheese tortellini, cooked
4 cloves garlic, minced
1 cup sundried tomatoes, rehydrated and cut into strips
1 cup roasted red peppers, diced
1 cup pesto
1/2 cup pine nuts
2 tbsps vegetable oil
parmesan, grated
Heat oil over high heat in a large sauté pan. Add garlic when oil is hot and stir until fragrant. Add the chicken and sauté until just cooked. Stir in the tomatoes and peppers. Mix in the pesto and pine nuts. Toss the drained pasta into the pan and stir together. Remove from heat and serve with grated parmesan.