Recipe: blackberry ice cream
I'm not cooking or baking as much as I'd like and that's mostly because I'm dealing with unpleasant physical issues related to my least favorite of my chemo drugs. [I know that the last infusion was almost 6 weeks ago, but please tell that to the drugs…] I met with my oncologist this morning and he hasn't seen it before in his many years of poisoning cancer patients. Great! I'm exceptional in every frakking way… Meanwhile, it would seem that all of my medical appointments have piled together lately such that I fell asleep on the table last night during my heart scan. Well, I'd rather sleep through Journey wailing over the speakers than listen to it while isotopes go racing through my heart.
[While waiting for my radiation appointment this afternoon, I'm killing time by blogging from a bakery in Boulder. Dude half my age just walked past and winked at me. WTF?]
Yesterday evening as Jeremy drove me to my heart scan down on the flats, I spied some mammata forming in the distance. Mammata clouds are typical precursors to tornadoes. In very simple terms, they indicate instability in the atmosphere. We see a lot of them in the summer around these parts.

mammata: look like giant grapes or… boobies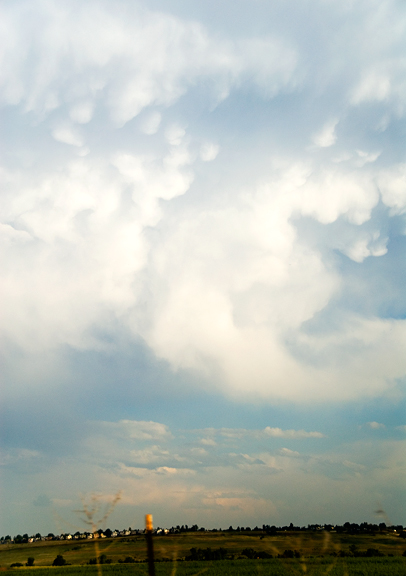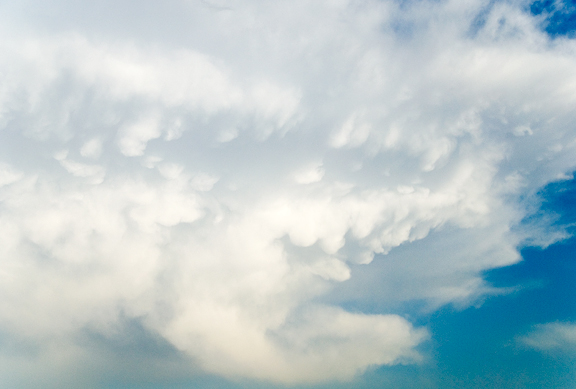 The breast-like shape of the clouds is where the name comes from, but a few years ago I was hiking with 5 female atmospheric scientists in the Rockies when we spied mammata forming in the sky. They insisted on referring to them as testicular clouds. So there you have it. I just think they're very cool (both the clouds and the female atmospheric scientists).
We had a wonderful, albeit short visit with my aunt and her family over the weekend. Everyone enjoyed the time spent together, particularly Kaweah because she received 150% more attention and love than usual. She also found a nice big stick to drag around the lake.

our guests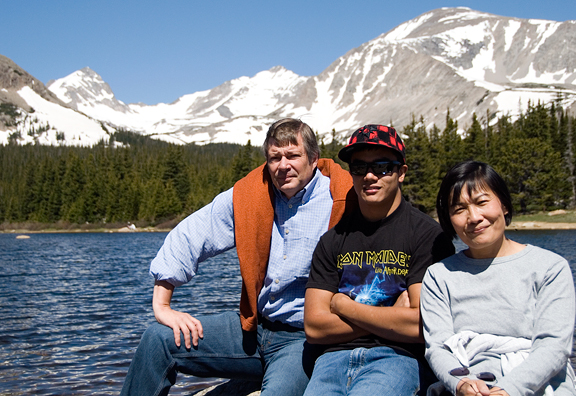 the happiest pup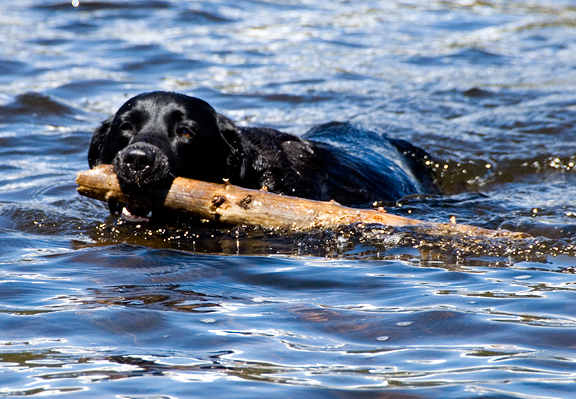 going home so soon?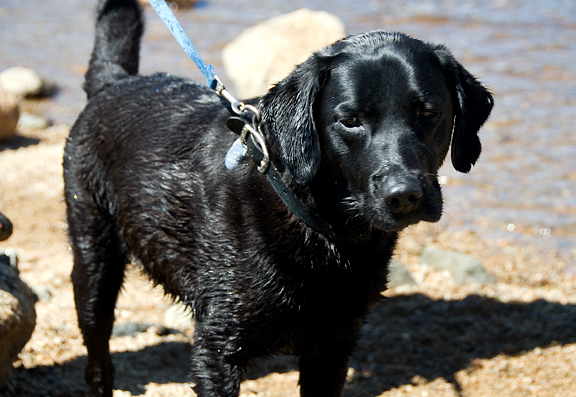 The weather has been getting warm as summer fast approaches our corner of the globe. Although it is usually cool enough where we live that baking in the oven doesn't make me homicidal, there is nothing quite like serving up homemade ice cream to cool off in the afternoon heat. While Jeremy's requests usually center on one of three caffeinated flavors (chocolate, coffee, or matcha green tea), I had summer on the brain.
blackberries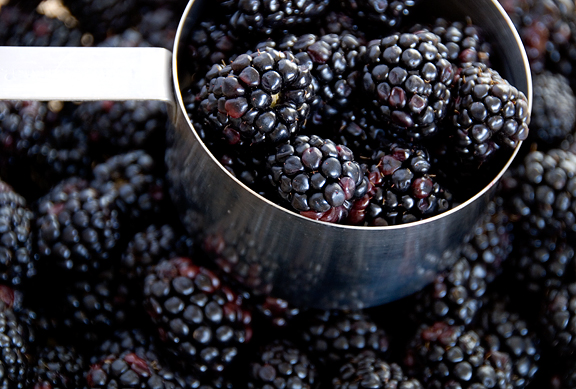 I am so enamored with David Lebovitz's custard-based ice cream recipes from
The Perfect Scoop
that I had no choice (no choice!!) but to try his recipe for raspberry ice cream – except I subbed blackberries for the raspberries so I could make the stains on my t-shirt even
more
permanent.
make a purée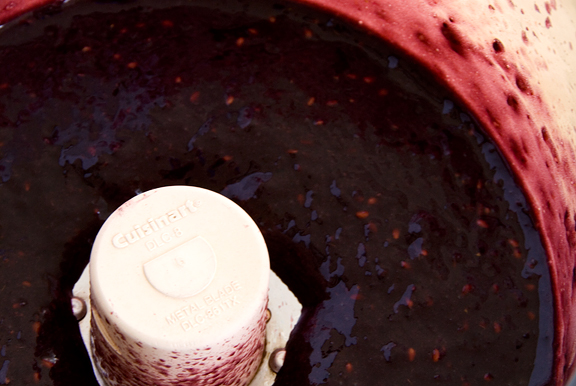 David suggests 6 cups of fresh raspberries to yield 1 1/2 cups of raspberry purée. I used 6 cups of blackberries and I can assure you that you only need 4 cups, tops. I also realized that what has been missing in my life is a food mill.
strain out the seeds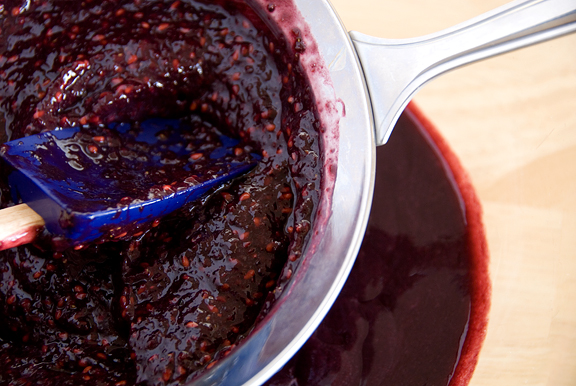 Pressing the purée through the sieve is just an exercise in incessant swearing and several extra stains on your clothes (well, several on my clothes anyway). I complained about this on my personal blog and my buddy Rob is now sending me a food mill! What a sweetheart. Or maybe he just wants me to shut up about it already? *snort*
sugar and half-and-half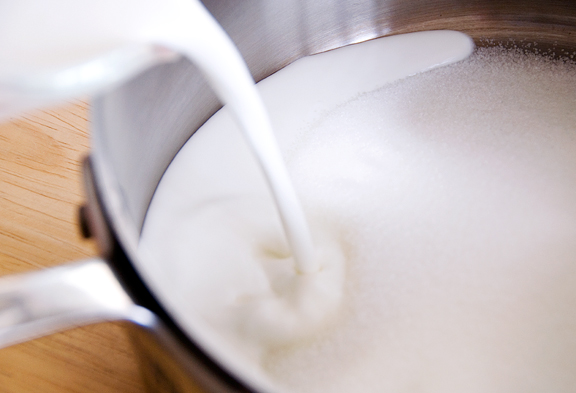 straining the custard into the cream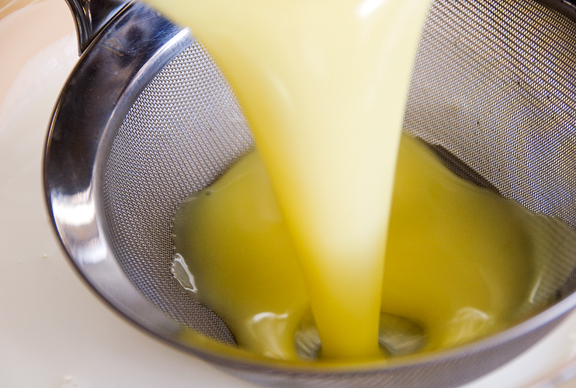 This batch of blackberries is, me thinks, early for the season. The flavor is nice, but it isn't out-of-this-world bursting with sun-ripened goodness. Oh well. And ever since my girl, Peabody,
wrote about how the first time she saw a man picking blackberries on the roadside, she thought he was taking a leak
… That image is now permanently lodged in my brain. Thanks lady ;)
stirring in the purée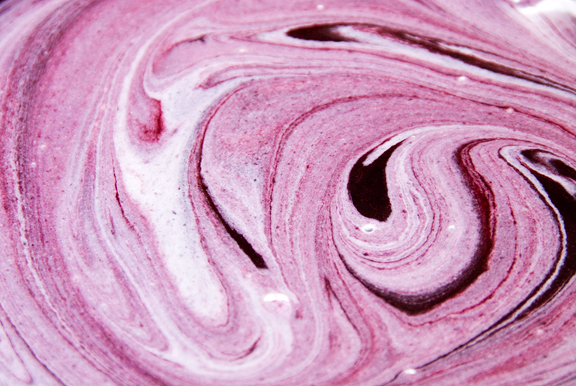 I served the ice cream to our guests over the weekend and heard a lot of mmm mmm mmming. It's a smooth and rich treat to be sure. The quality is entirely dependent on your ingredients, specifically the berries. So be sure to procure some damn tasty berries to make it worth the effort. It's a gorgeous color, no?
purple love
Blackberry Ice Cream
[print recipe]
adapted from Raspberry Ice Cream in The Perfect Scoop by David Lebovitz
1 1/2 cups half-and-half
1 cup sugar
1 1/2 cups heavy cream
4 large egg yolks
1 1/2 cups strained blackberry purée (from 4 cups whole blackberries)
1 tbsp fresh lemon juice
Warm half-and-half and sugar in medium saucepan. Pour cream into large bowl and set mesh strainer over top. In separate medium bowl, whisk together egg yolks. Slowly pour warm milk into the egg yolks, whisking constantly, then scrape the warmed egg yolks back into saucepan. Stir mixture constantly over med heat with heatproof spatula, scraping bottom as you stir until mixture thickens and coats spatula. Pour custard through the strainer and stir into cream. Mix in purée and lemon juice then stir until cool over ice bath. Chill thoroughly in fridge and churn ice cream according to ice cream maker's instructions within 4 hours after making mixture (to preserve the fresh berry taste). Makes 1 liter.