Recipe: mini pavlovas
I need to get to bed asap, so this is going to be big on pics and short on words…
A jam-packed, fun-filled day today! We hiked to the Continental Divide (Arapaho Pass and almost Caribou Pass) out of the Fourth of July trailhead – appropriately enough. We couldn't cross the last snowfield to Caribou because it was too steep for Kaweah to cross safely, while Jeremy and I were perfectly fine with our ice axes. I got a lot of wildflower shots as this hike has just about the greatest variety locally, but haven't had a chance to process any. I do want to toss up a handful of nice pics from the hike including my two favorite housemates:

the cascading streams are lovely right now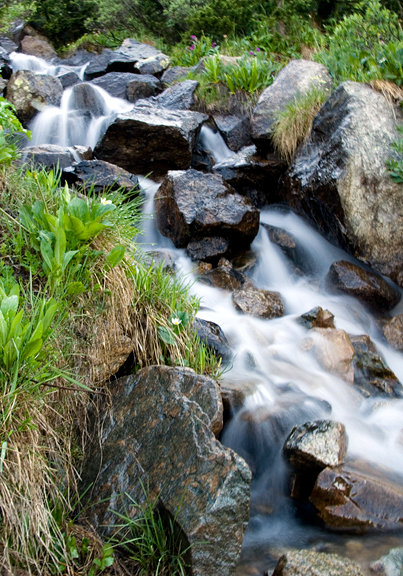 jeremy looks across the divide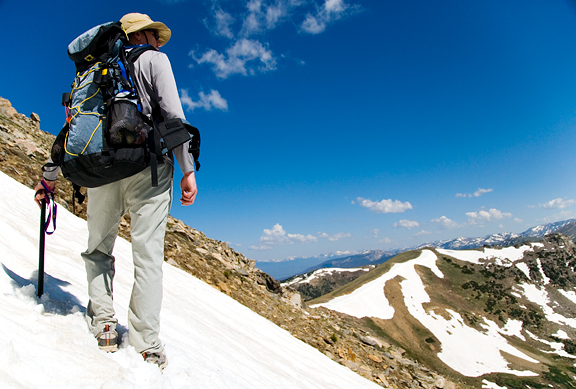 coming down the trail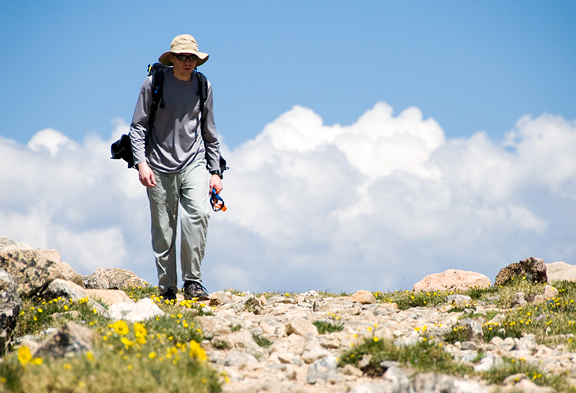 having a blast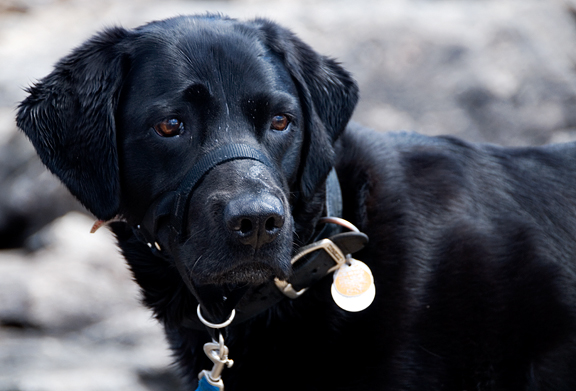 Once we were home, I began prepping dinner since Marianne was coming up for dinner, fireworks, and staying the night to go on an early morning hike with us tomorrow. I served up some barbecue chicken (recipe will come), grilled asparagus, coleslaw, roasted potato salad, bread… and for dessert, we had red, white, and blue mini pavlovas.
After dinner, we headed out to the reservoir to catch the local town fireworks. It's supposed to be a pretty decent show and plenty of folks from the flats drive up to watch. This is the first year we've actually been in town to see them, so we were excited! I have never shot fireworks before, and had to give it a try. Here are some of what I captured: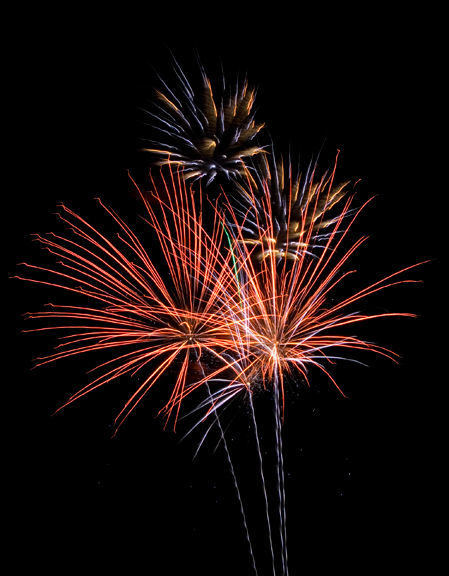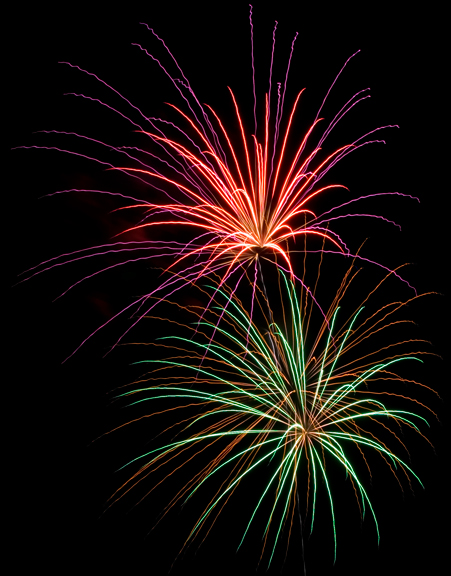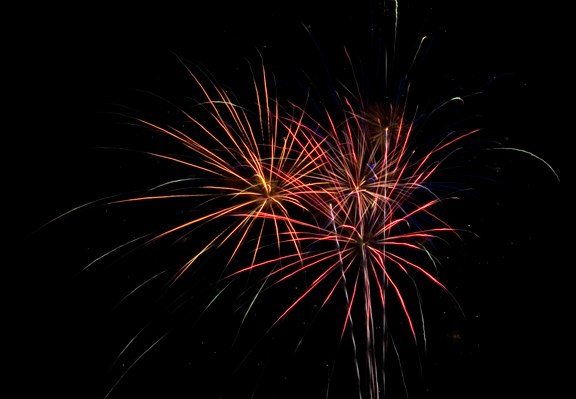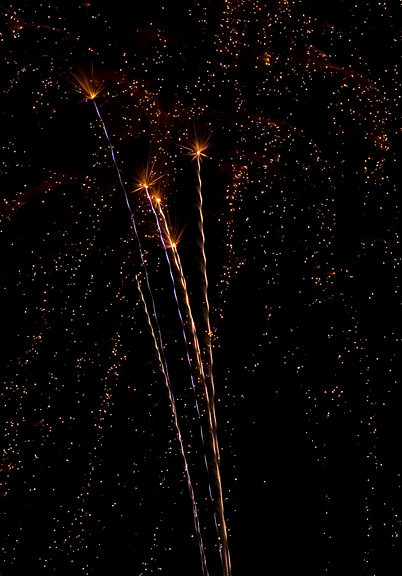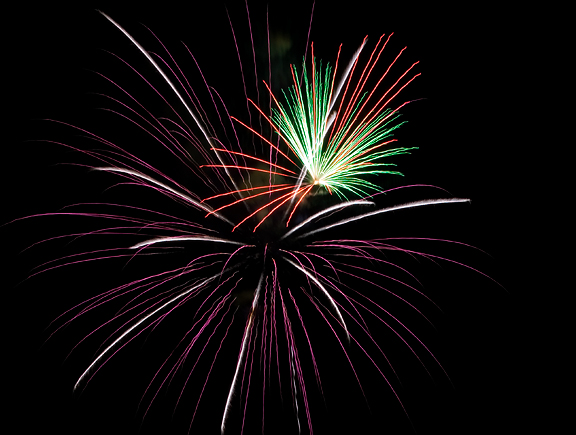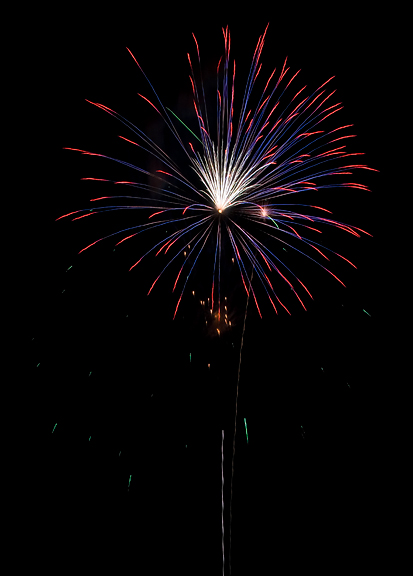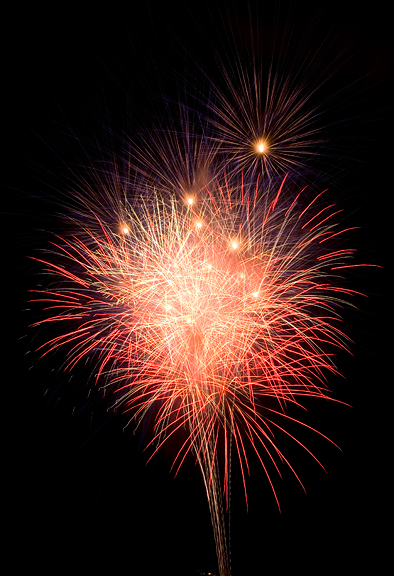 Fun stuff, eh? I love how different fireworks look in photos compared to what we see with our own eyes. In any case, on to the recipe – which is for the red, white, and blue mini pavlovas.
whipping egg whites for the meringue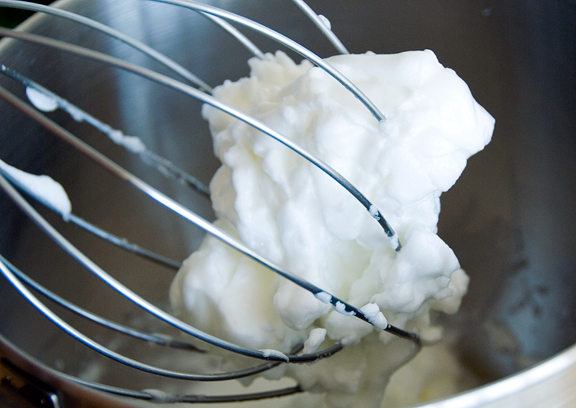 I like mini pavlovas because they take a little less time to bake. Since it was so frakking hot today (84 in my town, which is quite toasty for us mountain folk), I was hoping to minimize the oven time.
shaped nests ready for the oven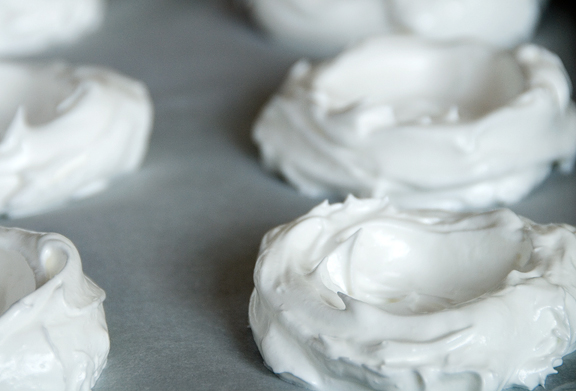 I used Donna Hay's recipe for the meringue shells, altered a bit for our altitude. For some reason, her meringues look perfectly white in her photos and mine always come out beige. Whatever… as long as they taste good – that is what matters.
the red and blue: strawberries and blueberries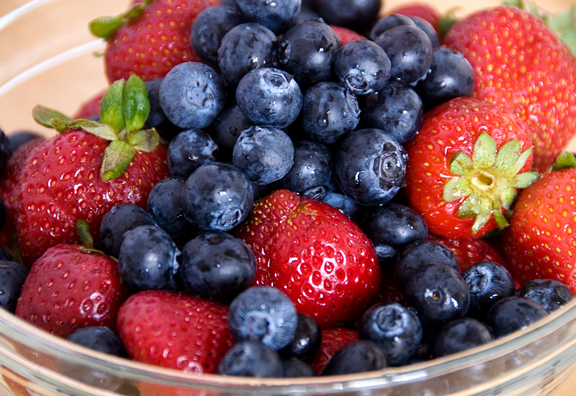 I toss the sliced strawberries and blueberries in a little bit of sugar because I don't add much to my whipped cream. It's just a nice and refreshing dessert to serve on a hot day. Pretty simple to whip up and a delicious end to a meal.
call it patriotic if you like – i call it delish
Red, White, and Blue Mini Pavlovas
[print recipe]
based on Pavlova from Donna Hay's Modern Classics 2
mini pavlovas (12-14)
whipped cream
2 cups strawberries, sliced
2 cups bluberries
pavlova
4 egg whites
1 cup superfine sugar
3 tsps cornstarch
1 tsp white vinegar
Preheat oven to 300°F. Place egg whites in bowl of electric mixer and beat until soft peaks. Gradually add sugar, beating well until mixture is glossy. Sift the cornstarch over the egg white mixture and fold through with the vinegar. Pile large dollops of meringue evenly spaced onto a baking tray lined with parchment paper (makes about 12-14). Round the shapes and form wells in the centers to create small meringue bowls. Place in oven and cook for 1 hour (45 minutes at elevation). Remove from oven and remove to a cooling rack.
whipping cream
2 cups heavy cream
2 tbsps sugar
1 tsp vanilla extract
1/2 tsp almond extract
Whip cream and sugar to medium peaks. Add vanilla and almond extracts and whip until incorporated.
To Serve: Top each pavlova with whipped cream and fresh fruit. Serve immediately.