Recipe: barbecue chicken
I have been posting daily since the calendar flipped to July because there is just so much going on that if I don't write them up – posts will get buried! Not to mention, I'm on my steroid regimen again and I am running with the overflow of energy. I'll probably crash and burn in 24 hours, but I'm okay with that. After feeling like complete crap for several months, it's hard to take for granted the improvements I now feel. I can finally get out to see the mountains I love, find energy to cook wonderful food (and even taste and digest them!), and have the patience to capture the beauty of our summer season with my camera. These are happy times. I'm also wired and exhausted, but I relish it – I really do.
This morning we took another hike up to a lovely lake nestled in an alpine basin at roughly 11,300 feet. Invigorating! There was still plenty of snow, which is a good thing because it has been so hot here lately. Several more varieties of wildflowers were beginning to bloom, but the lake is still under a lot of ice and snow. I'm crazy for the mountains.

marmots out and basking in the sun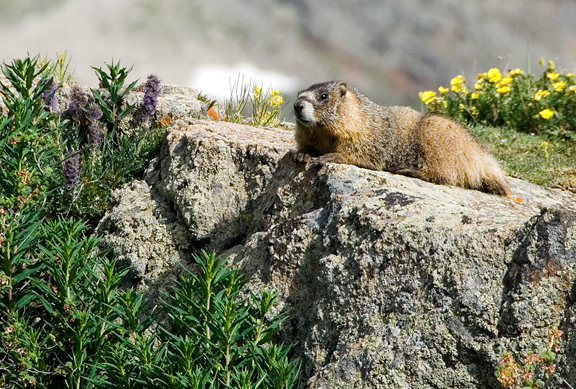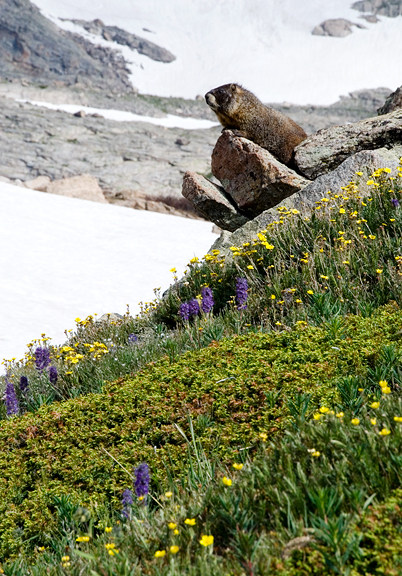 marianne captures some delicate wildflowers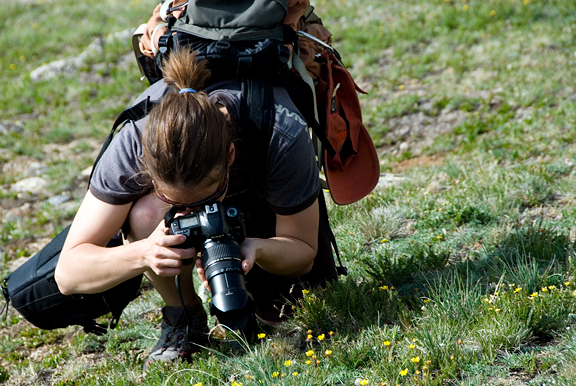 above the lake from our snack stop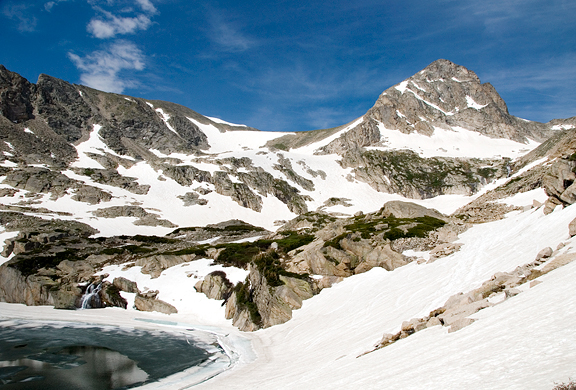 kaweah cools off on the snow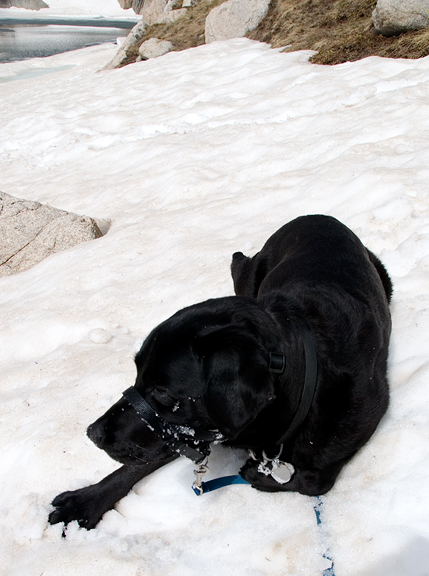 It has been a hot holiday weekend, but this afternoon we finally got a nice thunderstorm to deliver much needed rain. The temperature plummeted from 85 to 55 degrees in an hour. Lovely! Good thing I barbecued yesterday :)
all-purpose red rub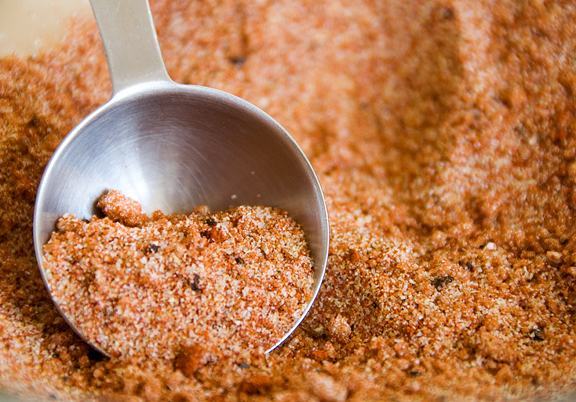 Even though I love barbecue, I am no barbecue expert. I'm a faker to some degree because we use a gas grill and oven instead of charcoal grill (fear of burning down state of Colorado). Most of what I've cobbled together in the past few years has been from reading/researching all sorts of recipes from various regions and sources. I lived in central New York for more years than I care to recall, but I still never got around to dining at Dinosaur Bar-B-Que in Syracuse – a place many of my friends swear by (one even had them cater her wedding!) I did manage to pick up a copy of the book before we moved back West.
mix the rub with olive oil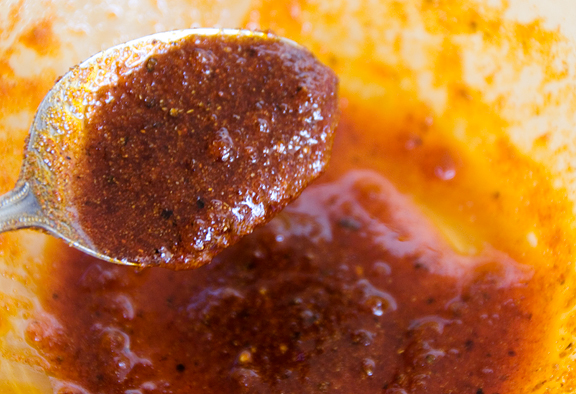 The one thing I cannot stand about barbecue chicken is when someone takes a boneless, skinless chicken breast and wipes barbecue sauce on the thing while it turns to rubber on the grill. That is disgusting. People who cook chicken like that should be smacked about the head with that piece of rubber. I know people who do this. I have to squint my eyes and keep my hands by my side when I witness this atrocity being perpetrated on chicken in this manner. The best barbecue chicken has the bone and skin still on it. You don't have to eat the skin, but you need to cook with it on the meat. The recipe I quite enjoy for barbecue chicken comes straight from my Dinosaur Bar-B-Que cookbook. Good stuff.
rub the rub on the chickie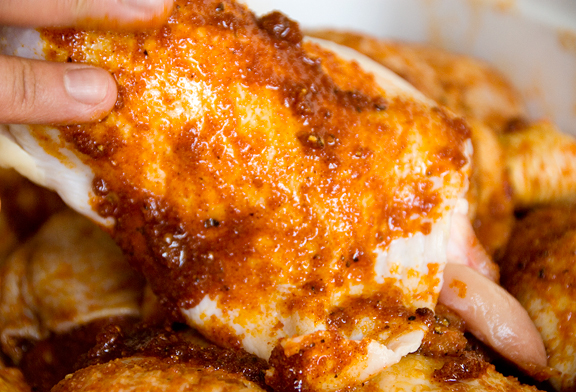 I am partial to chicken leg quarters. It's a nice honking piece of chicken and it doubles as a weapon to boot. Little pieces get dried out too quickly. I find the leg quarters remain juicy and full of flavor during grilling – far better than their breast counterparts. Dark meat is where it's at. When applying the oil and rub mixture to the chicken, I like to get a little of that under the skin for some extra seasoning and flavor. Just be careful that you don't tear through the skin. I let my chicken sit for at least 8 hours, covered in the refrigerator, after the rub is put on.
brushing mutha sauce on the chicken at the end
The chicken is grilled and then in the last ten minutes, a nice brushing of barbecue sauce ensures a decent glaze. I personally like to serve extra sauce on the side with the finished chicken. We had this for our fourth of July dinner. This is a great recipe to make that doesn't require much preparation – just a little planning ahead of time and lots of napkins when you eat it!
hot off the grill and ready for the party
Barbecue Chicken
[print recipe]
modified from Dinosaur Bar-B-Que by John Stage and Nancy Radke
8 chicken quarters
2/3 cup olive oil
7 tbsps all-purpose red rub
2 cups mutha sauce
all-purpose red rub
1/2 cup paprika
1/2 cup salt
1/2 cup light brown sugar
1/2 cup granulated garlic
6 tbsps granulated onion
1/4 cup chili powder
1 tbsp black pepper
1 tsp ground cumin
1/2 tsp cayenne pepper
All-purpose red rub: Mix all ingredients into a bowl and rub them together with your hands. Store in plastic or glass container until ready for use. Makes 2 3/4 cups.
mutha sauce
1/4 cup vegetable oil
1 onion, puréed
2 tbsps garlic, minced
salt to taste
pepper to taste
28 oz. tomato sauce
2 cups ketchup
1 cup water
3/4 cup Worcestershire sauce
1/2 cup cider vinegar
1/4 cup lemon juice
1/4 cup molasses
1/4 cup cayenne pepper sauce
1/4 cup spicy brown mustard
3/4 cup brown sugar
1 tbsp chili powder
2 tsps ground pepper
1/2 tsp allspice, ground
Mutha sauce: Sauté onions and garlic in oil. Season with salt and pepper. Add remaining ingredients and bring to boil. Reduce to simmer for ten minutes and let the sauce cool. This makes a ridiculous amount of sauce – something like 10-12 cups.
Chicken: Mix the oil and the rub together in a bowl and massage it into the chicken pieces. Cover and refrigerate the chicken until you are ready to grill it (I gave it 8 hours). Over a 325° to 350°F temperature grill (when lid is down), position the rack as high above the coals as possible. Arrange chicken, skin-side up, directly over the coals. Close and cook for 25 to 30 minutes then flip the chicken over and cook covered, for another 20 minutes or until internal temperature reaches 160°-165°F. Flip all pieces skin-side up and slather on the Mutha Sauce. Close the lid of the grill and cook for 10 more minutes to glaze the chicken. Serve with extra sauce. Feeds 4-6.