One of our favorite meals in Boulder is Community Night at The Kitchen. It's a brilliant concept and so much fun. Every Monday night at 7 pm, diners who have signed up for Comm Night arrive and sit at a long table in the center of the dining room. There are usually 2 dozen people and reservations need to be made a few weeks in advance. No one knows what the menu is. You don't order the food. The chef decides that day. When everyone is seated and has ordered drinks, the courses begin to parade out. Usually there will be three or four plates of one course passed around the table. You dine family style. It's a social setting and you usually wind up chatting with your neighbors and getting to know other folks. You know… "community". But more than just the community – people are there to sample some pretty amazing fare. All told, there will be anywhere from 9 to 13 different dishes that pass under your nose by the end of the evening. The best advice I can offer anyone going to Community Night: wear an elastic waistband.

a neighboring cocktail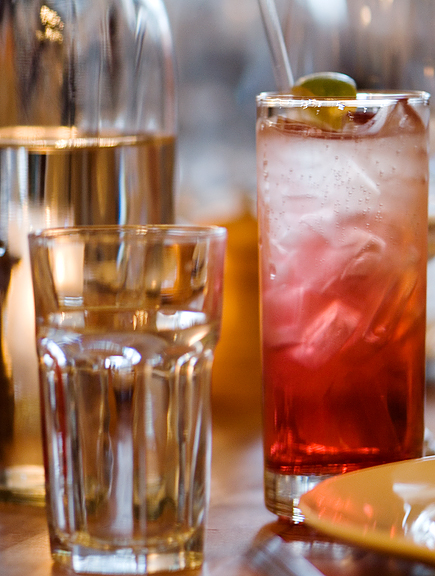 mixed olives to start: picholine and niçoise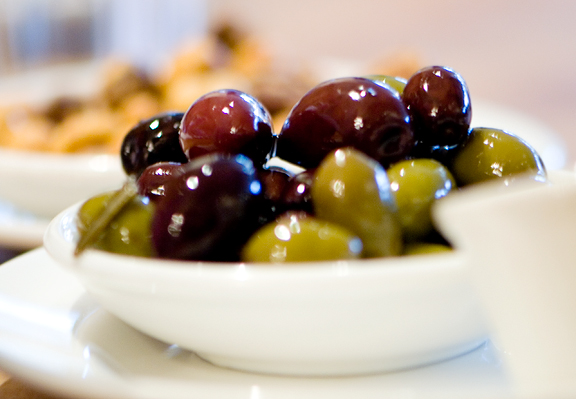 I made a reservation for Comm Night so my ILs could experience it this past Monday. It was our (mine and Jeremy's) fourth time – we absolutely love it. And while Comm Night is just about my favorite meal to have in Boulder, it is also my least favorite to shoot. Even in summer, Comm Night doesn't begin until 7 pm and the lighting inside the dining room of The Kitchen suuuuucks. I understand that some food bloggers have rules about not using flash, yadda yadda and yadda. Whatev. Shooting at The Kitchen is a pickle, but Comm Night is so bloody amazing that I always want to capture it.
chicken and pork pâté with cornichons and mustard
prosciutto with cheeses, apple slices, and candied almonds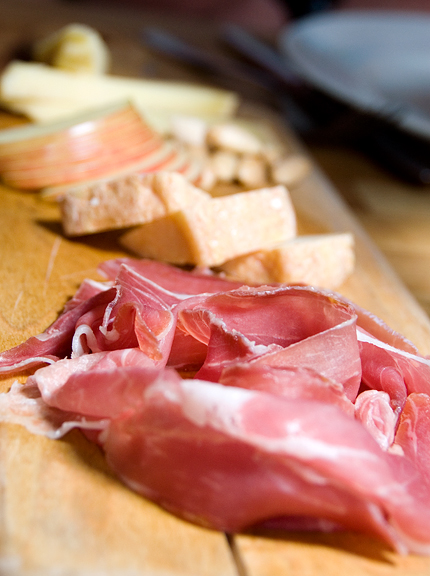 Restaurant shooting is probably the most stressful part of food photography that I encounter. Not only is it generally more technically difficult, but the social circumstances can make it awkward if not impossible. But I love to photograph what we eat in restaurants because it's different, it's (sometimes) plated, and it usually looks good. Most of my dear friends Don't Touch their plates when they are set down at the table. They even turn the best side of the plate to face my camera. I suppose that is a sad statement about me… and it also means my friends are pretty frakking awesome.
flatbread with duck confit, corn, onion, and chèvre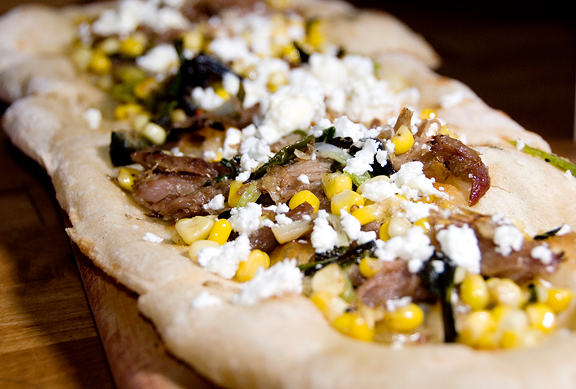 tazmanian salmon belly wtih corn salad and sautéed greens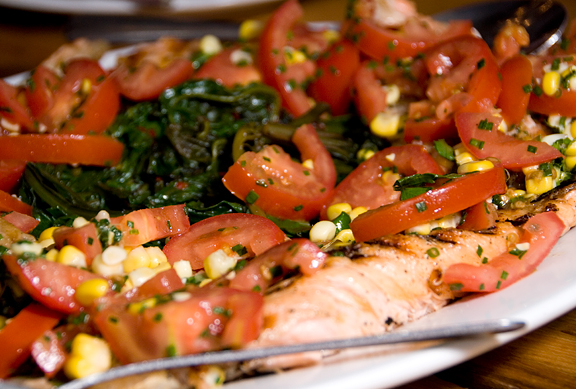 Most people don't photograph what they are eating in restaurants, so when I want to shoot my food, I am already doing something out of the norm. There are three groups I consider: 1) my party 2) the restaurant and 3) other diners – not necessarily in that order! I generally don't shoot if the people I'm with are going to be annoyed or offended. I typically okay it with the restaurant if I'm using flash (more on that below) and I also politely check with fellow diners around me if using flash. Amazingly, some of the fellow Comm Night guests have gotten into it and offered to hold a plate for me or search around for the prettiest presentation. I have never had anyone tell me "no" except a cupcakery in Pasadena who refused to let me photograph their cupcakes (which was odd because I bought 10 of the damn things and took them outside to photograph and by the way – they were pretty mediocre for the price I paid). If anyone tells me no – I refrain, period. Oddly enough, on some occasions when I've asked other diners if my flash will disrupt their meal, they reply no, then smile, then ask me if I'm
Kylie Kwong
. What a hoot.
grilled calamari in red pepper peppronata and diced tomato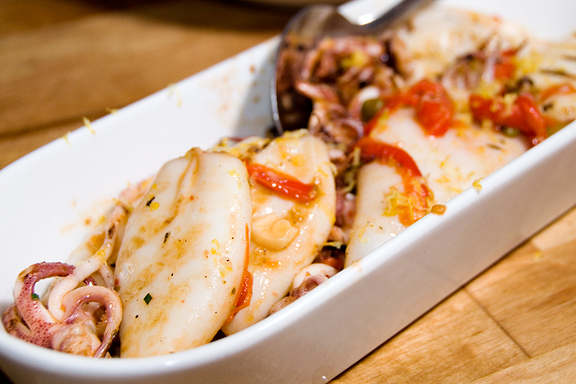 farm greens with apples and gorgonzola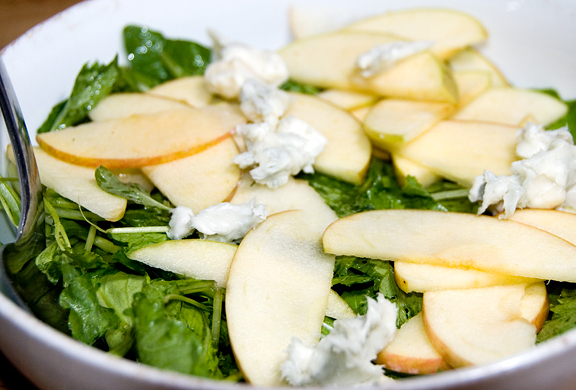 Ideally, when I shoot in a restaurant, I will be seated by a window where good natural light is available and there is no need for anything but my camera and a steady hand. Ideally. Life, as we know it, is rarely ideal. I shoot with the Nikon D200 because all of the smaller cameras are either on the fritz, out to pasture, or full of pictures of national and international telescope facilities (don't ask). Shooting with the D200 is a pain in the ass. Why? It is big and heavy. Plop one of two huge lenses on it and you get Bigger and Heavier. As light diminishes (which it always does in the restaurants), shutter speed slows down and well – you need a table-top tripod. I can hand hold my shots down to about 1/8 of a second with decent results and then we enter the realm of pain where it's too much trouble to bring out the tripod, but the potential for camera-shake increases and risks tanking the shot (see the cocktail shot – 1/6 sec). I don't tweak my ISO. It stays on the lowest setting *always*. I've tested a handful of smaller tripods and the only one that doesn't buckle under the weight of my camera/lens is the gorillapod zoom. Don't get too excited though, the G-pod zoom barely handles the configuration and most of the time I have to steady the tripod with
my hand
to pull off exposures anywhere from 1/8 to 1 second. Oy!
roast pork tenderloin with potatoes, carrots, celery, fennel, onion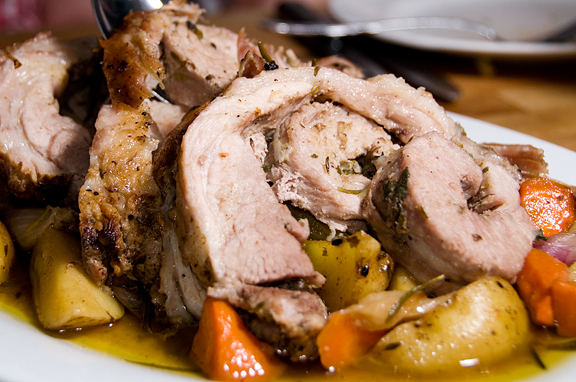 creamy polenta with grilled onions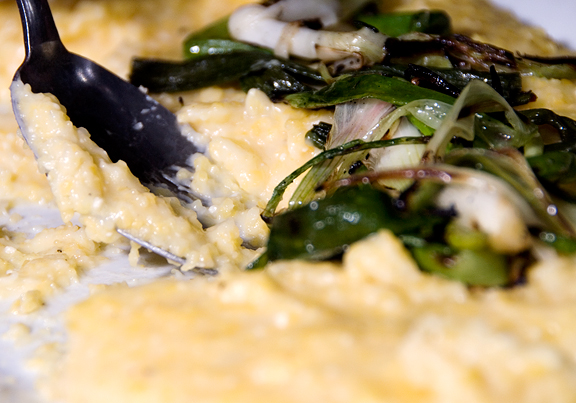 When the tripod doesn't cut it, it's time to bring out the flash (and put tripod away). When I cross the line to flash photography, things become more complicated on several fronts. First off – I am now infringing on the ambiance and dining experience of the people around me. That's why I ask first. Again, no one has EVER had a problem with it so far. One thing I've noticed is that a lot of the people dining at the finer establishments are there for celebratory reasons and they wind up taking a lot of photos for the occasion and use… flash. I've even taken photos for some folks. For some reason, if you are taking snappies of the whole gang at Grandma's 75th birthday, you don't need to ask permission of the other diners to use your flash, but if you want to shoot some sexy prosciutto at your table, it is enough to get some folks' panties in a wad (according to comments on a few food blogs).
Secondly, there is more equipment involved: external flash and diffuser. I lug all of this junk in a compact photo bag which I try to tuck under my table or seat. Juggling photography gear is a nightmare for me – just not what I want to be dealing with at dinner. I usually set up, take a quick shot (just one when using flash), disassemble, put away. This got particularly awkward at Comm Night because my ILs were probably wondering what sort of freak married into their family 11 years ago… The place was so dark though that just trying to focus (manually, always manually) on the edge of the chocolate cake was nigh impossible. Toward the end of the meal, people around us forgot that I was shooting and tucked into the plates straight away. At that point, I did my best guess, fired one shot, and accepted whatever would come of it. There is no time to spend more than 1 second setting up and taking the shot. Maybe if the world were full of food photogs it might be different, but it isn't. Wow, that's a neat concept – a world full of food photogs. I'd love it.

chocolate nemesis cake (flourless chocolate cake)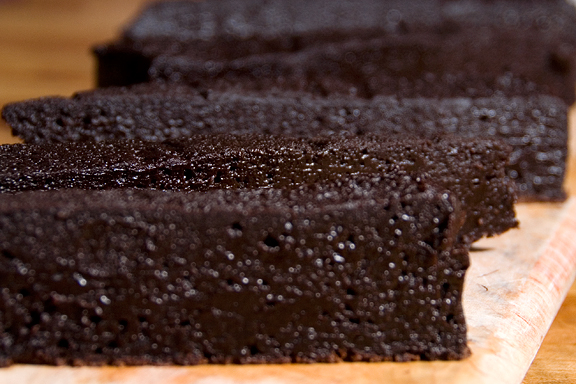 yogurt panna cotta with raspberries and blackberries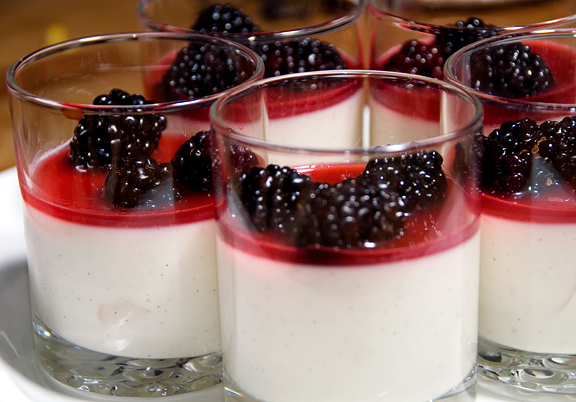 The dinner was fantastic as always. The Kitchen NEVER disappoints me as food goes. And even though the photos were less than satisfactory, they at least convey how much and how varied the food was. Would I be happier to leave the camera at home and just enjoy the meal? I don't think so. Sharing food is such a part of my daily life that I would be sad not to drag everyone along and tell them what a great meal this was. Plus I have this documentation problem (I document and archive just about everything). At least Jeremy puts up with me and even holds the flash or hands me a lens to switch out when necessary. Anyway, I just thought I'd share the consistently toughest meal for me to shoot in Boulder (logistically) for the curious.