Recipe: pan-seared scallops
Ahhh, after all of the horrible heat that was forecast for the past several days, we have been enjoying some afternoon cool offs with dark clouds, gorgeous lightning, and even some much needed rain. The office window is open and the cool (60°F) air is dribbling in across my arms as I type. Oh baby! I love the smell of the mountain forests right after a rain. I think if I lived down on the flats, I would have lost it by now.
Because of the hot weather, we got up early yesterday morning to do a little hiking and shooting. Sadly, the Parry's primroses are on their way out, but I see some king's crown starting to bloom streamside. In another month, the wildflower display will be but a memory here. Best to enjoy them while we can.

bluebells, heartleaf bittercress, parry's primrose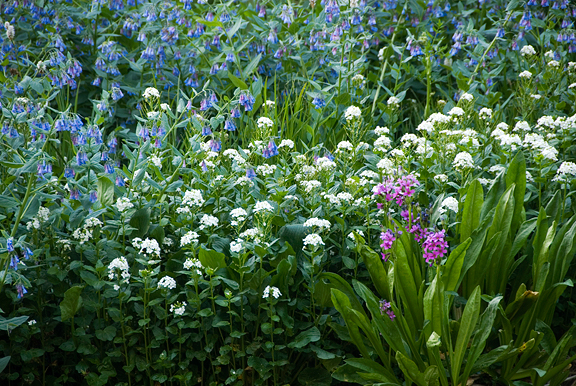 catching some stream action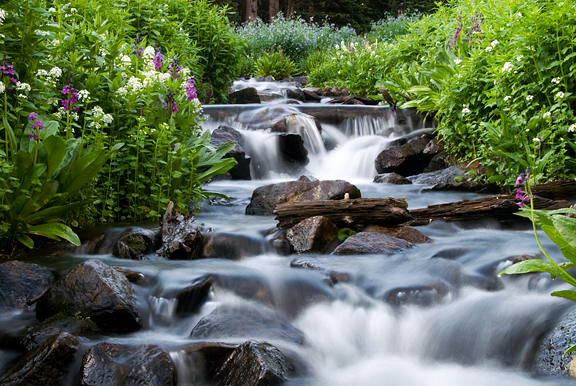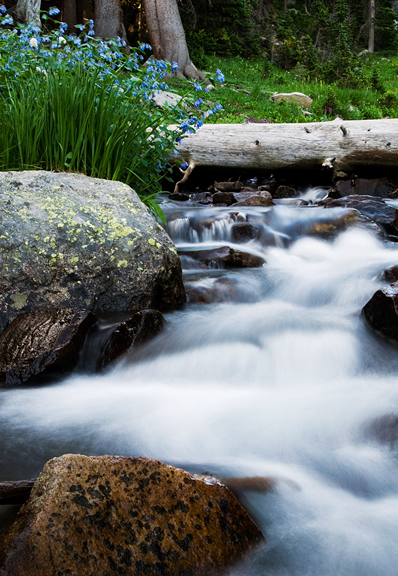 The other day, I found myself in front of the Whole Foods seafood counter once again. That is trouble in a nutshell, let me tell you. "Okay," I told myself, "don't get all crazy." No, no crazies. I decided to go easy on the wallet and ask for four scallops. Four luscious, supple, giant scallops. Oh yes… oh yes…
beautiful scallops make me cry tears of joy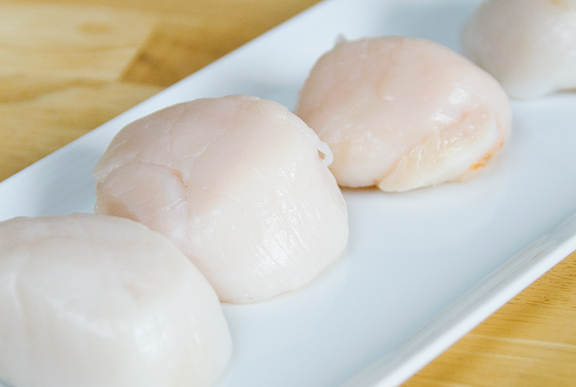 The first time I purchased scallops at the Whole Foods in Boulder, I asked if they were
dry scallops
. Fish dude looked at me funny and said he wasn't familiar with that term. So I asked if they were water-injected and he emphatically replied, "No ma'am." I was relieved to hear that, but what was with the Ma'am thing? Anyway, on the East Coast I had seen two types of scallops: dry scallops and "scallops". I put that in quotes because the little tag will read "scallops", but the words underneath "scallops" written in 3 point font state that these beauties have been injected. Injected with sodium tripolyphosphate for the sole purpose of making those scallops SUCK. No really, it's to prolong shelf life and maintain plumpness, but at the expense of taste, quality, and everything good known to Man.
simplicity in seasoning – just salt and pepper, kids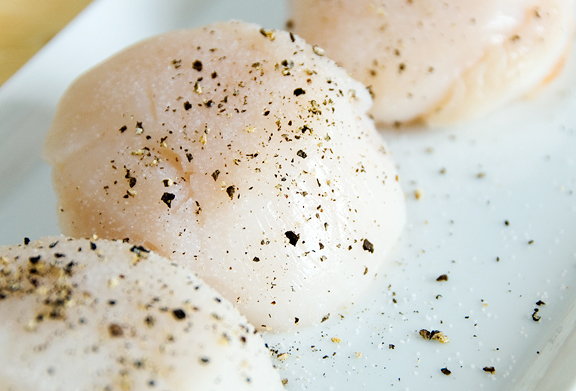 Back in the day, I made the mistake of purchasing these cheaper cousins and trying to pan-sear them. No dice. They oozed out their nasty STP juices (okay, I guess it's mostly just water) and I wound up with braised rubbery scallops that tasted like ass. I learned my lesson and now hopefully you have too.
One of Jeremy's favorite dishes is pan-seared scallops. He couldn't resist ordering them whenever they popped up on a menu. As a cook, I couldn't help but try to reproduce this dish at home. I get my jollies creating restaurant-style meals at home for a fraction of the restaurant price!
So what is the first thing to do? Well?? Get dry scallops. Haven't you been paying attention?
I will pat the scallops dry of moisture first and then season them on both sides with salt and pepper. Next, get out your best pan because we want it to be HOT. I use my trusted 4-qt All-Clad frying pan. Add a little olive oil, set the flame on gi-normous. When the oil is hot, set the scallops into the pan.

pan-sear the right way: with dry scallops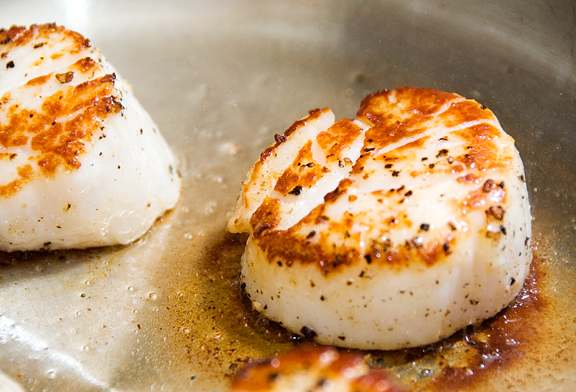 They cook fast and even when you remove them from the pan they will continue to cook. If you overcook the scallops, they will become rubbery, you will have wasted your money, and I will personally show up in your kitchen and thwack your hands with a chopstick. So DO NOT OVERCOOK THE PRECIOUS SCALLOPS.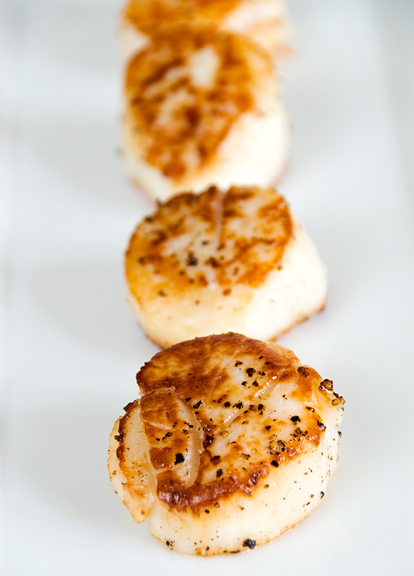 For these scallops (about 2 oz. each) I let them cook about 2 minutes on the first side, flip and cook another minute plus on the second side. I remove them quickly to a plate while I address the sauce.
sauce? you say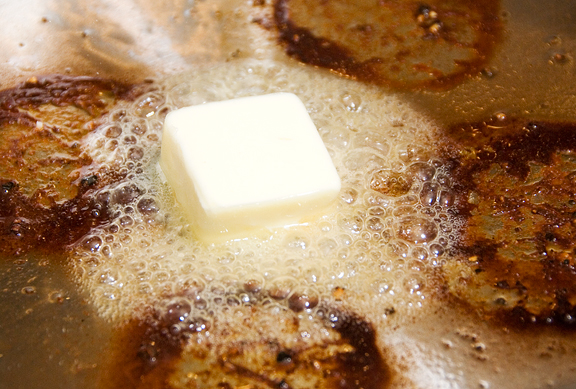 That sticky mess of burnt scallop bits in the pan would be unhappiness for the dishwasher (aka Jeremy), but a dream come true for me. It's fond and it makes some wonderful pan sauce because it is packed full of flavor. With the heat reduced to high instead of gi-normous, I'll slap in a pat of butter and stir it around as it melts.
don't be adding crap wine!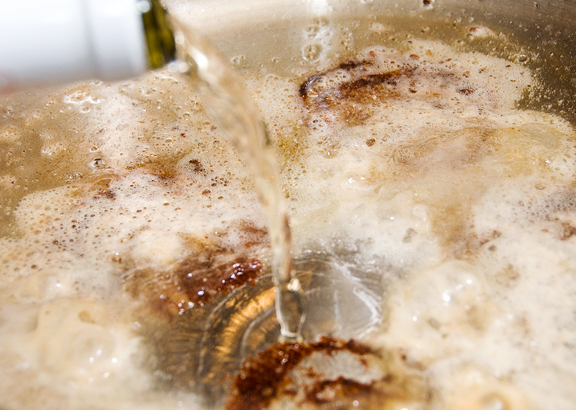 When the butter is completely melted, it's time to pour in some liquid. It could be broth, water(?), or wine. We were having a nice French Chardonnay that night, so I nipped a bit from the bottle. [Note: When I pan-sear steaks I like to use port for reduction.] The liquid will bubble and steam, but you need to get a whisk or spoon in there to stir it around and scrape at that fond sticking to the pan. The fond softens up and dissolves into the liquid, which makes cleaning the pan much easier and flavors that lovely sauce. As it reduces to the right consistency, I remove it from the heat and serve it with the scallops,
pronto
.
pan-seared happiness
Pan-seared Scallops
[print recipe]
4 large dry scallops
salt
pepper
2 tbsp olive oil
1 1/2 tbsp butter
1/2 cup white wine
Pat the scallops dry with towel or paper towels. Sprinkle salt and pepper over the scallops (both sides). Heat olive oil in a frying pan (don't use non-stick) over high heat. When oil is hot, place the scallops in the pan with at least one or two inches between them (so they don't crowd and steam one another). After two minutes, the base should be browned nicely. Flip the scallops and cook for another minute or until base is browned. Remove from heat and set on serving dish(es). While still on high heat, drop a pat of butter into the pan. Move the pat around the pan until melted completely. Pour in the wine and use a whisk or spoon to scrape the fond from the pan and stir it into the liquid. Leave the heat on high and let the sauce boil until it reduces to desired consistency. Immediately remove from heat and serve with scallops.